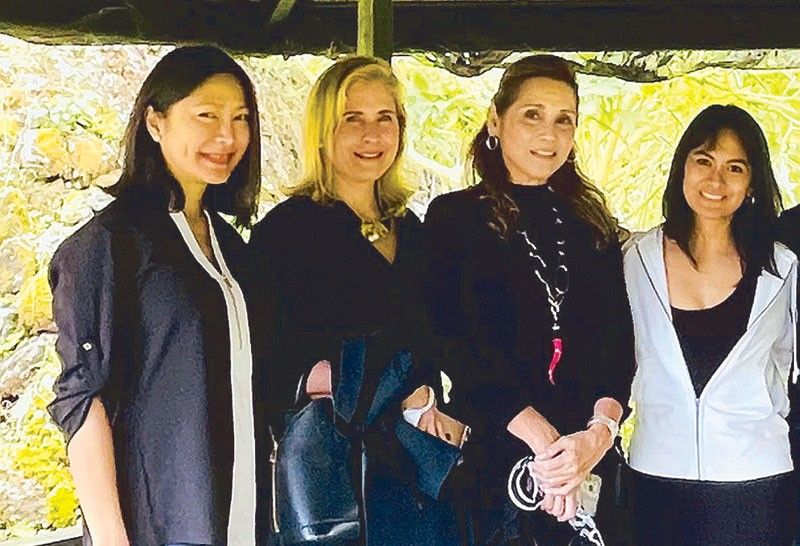 Atty. Karen Jimeno, Courtney Camcam, organizer Carol Garcia, Joanne Gonzaga
Photos by Alex Van Hagen powered by MAC Center
Last month, my good friends headed to Baguio City to catch the chilly weather. Superbly organized by head-turner Carol Garcia, who invited her bible study gang headed by CCF leader and pastor Peter Tan Chi and his beautiful American wife, Deonna.
For most of them, it's been close to 20 years since they were back to the summer capital and it didn't disappoint them. The group stayed at the historical Baguio Country Club, which is famous for its golf course, log cabins, and yes, that to-die-for raisin bread.
The group was originally formed when they went to Israel in 2018, together and followed the steps of St. Paul in 2019.
While in Baguio, the group was treated to lunch by Korina Sanchez Roxas at the Araneta family compound, as well as a lunch at Alphaland given by Donnie and Crickette Tantoco, who were there along with their kids and first grandchild.
After, the group visited National Artist BenCab in his amazing museum, and raved about the restaurants: the popular The Barn and Lemon and Olives, where they celebrated the birthday of brilliant merchandising woman Rhoda Aldanese.
Shopping was relegated to two places: Pilak, which sells silver jewelry, and Philippine Treasures for Christmas decor.
It was a time of celebrating friendships, studying the word of God and getting away from Manille, to enjoy the great cool and fresh air outdoors that only the city of Baguio can provide, dahlings.