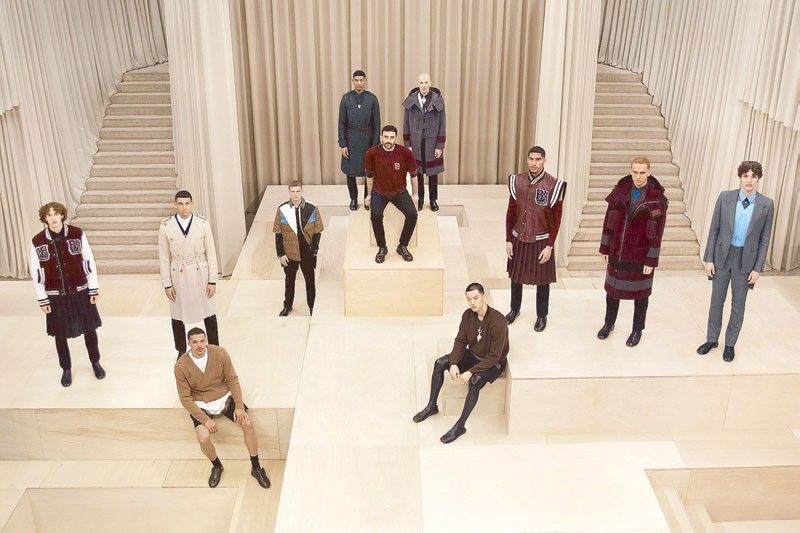 Into the woods: Riccardo Tisci (center) and models at the Burberry A/W 2021 menswear show at the Regent Street store in London
star/ fILE
From the trenches to the wilderness
When you think of Burberry, you immediately think of the classic trench coat. But with his first menswear-focused collection, Burberry chief creative officer Riccardo Tisci had back-to-nature in mind, and a transformation into new beginnings.
Called "Wilderness," his autumn/winter 2021 show at the Regent Street flagship store harked back to the past, but not Burberry's past, exactly. There were typical Burberry reference points on the runway — the classic trench coat and Burberry beige — but taking on new forms. A sense of "twisted classicism" ruled the runway.
The show was populated with traditional trench looks (male models walked a series of tiered blonde-wood ramps, observing social distancing), but layered with outdoorsy details: knapsacks, faux-fur vests and layers, deer-eared woven beanies and hoof-like sculpted boots, and lots of earth tones — bark brown, oxblood burgundy, city grays, olive and army green. Kilts, fur collars and fringed shirts and jackets gave off a hunter-warrior vibe.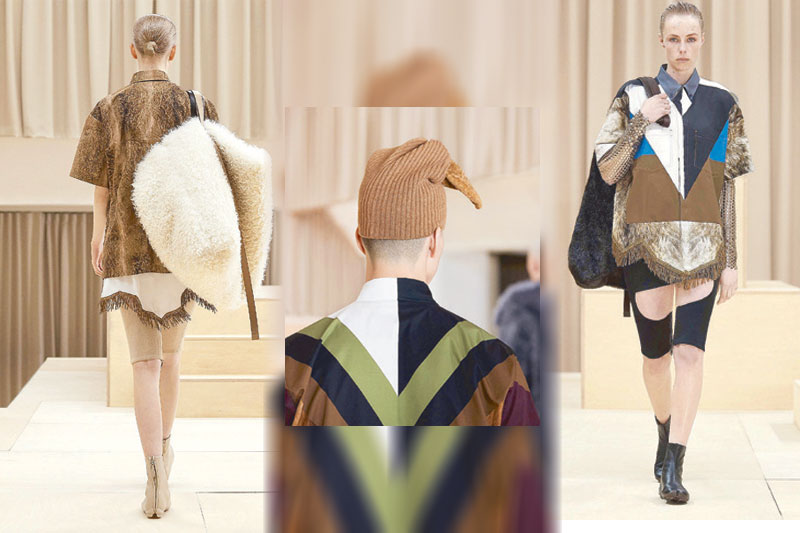 Of course, the trench coat itself comes to us from war. It was two English companies — Aquascutum and Burberry — that first pioneered the breathable, weather-resistant outer garment in the 1850s. Young Hampshire draper Thomas Burberry changed the game completely by inventing gabardine in 1879 — a water-shedding material that made the Burberry coat attractive to the United Kingdom War Office. Both functional and fashionable, the Burberry trench, as its name applies, was worn by officers in the WWI trenches.
Born in battle, the classic trench soon worked its way into professional respectability, becoming the favored garb of aviators, explorers, the upper classes and even detectives in popular culture — whether it's Bogart in The Maltese Falcon, Peter Sellers as Inspector Clouseau, Peter Falk as Columbo, or Harrison Ford playing a hard-nosed detective in Blade Runner.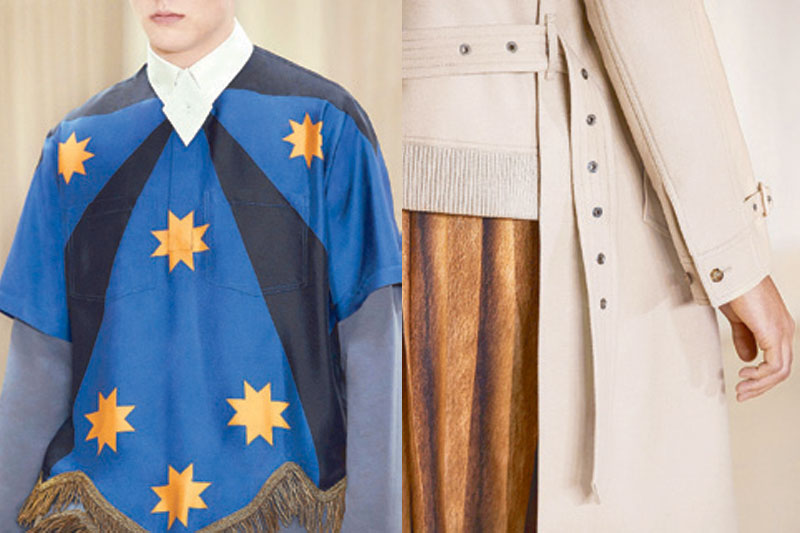 Wartime was apparently on Tisci's mind, as he told Vogue.com before the show: "With everyone being sick (the past year), at one point I thought, 'This is like a war.'" The CCO recalls his mother telling him about people heading back to the countryside after WWII ended — just as we now see a migration of people leaving Metro Manila after our extended GCQ. A bit of cabin fever, perhaps? Or a desire to return to some pre-civilized world? "I became fascinated by the widespread British craft and outdoor movements of the early 20th century, when people escaped to explore the unknown countryside. They formed communities with a deep respect for nature and the outdoors. I was not only drawn to the artistry of their craft, colors and shapes, but also their strong sense of camaraderie and friendship."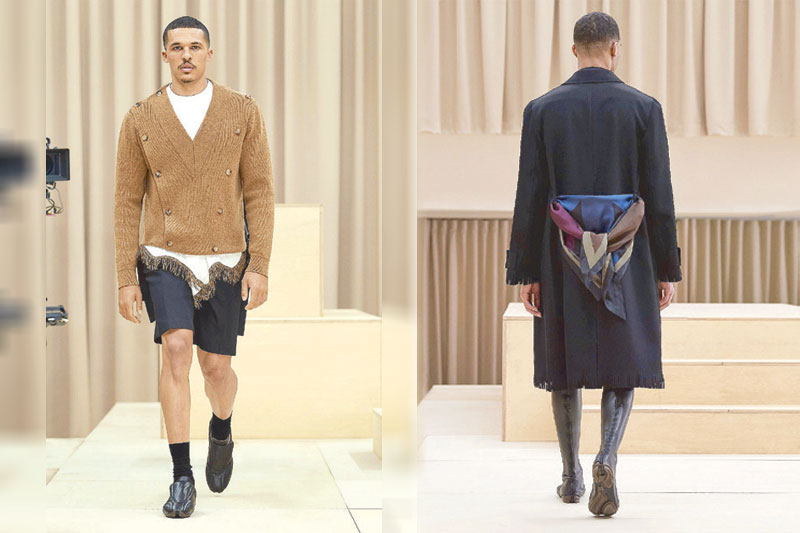 Even as a traditional beige trench opened the show, it quickly morphed into hybrids, layered with back-to-nature details: kilts set off with umbrellas and bedrolls lashed to the back; in front, khaki and brown shirts were splattered with burgundy and orange stars (the orange maybe a reference to Tisci and Peter Saville's revamped logo). Amid all the fringes and kilts, the look was masculine, set off by geometric patterned shirts and outer layers, triangles and other shapes. A tribal or military tone was set with front pockets, badges and ornaments symbolizing "codes of belonging."
Most amusing was the varsity jackets (burgundy and white, with Burberry "B"s displayed) paired with black kilts, trousers and leather boots: a kind of mash-up of a jock/cheerleader look.
"The collection itself is dynamic and young, vibrant and alive," according to the press kit. "Outerwear is key. Clothes are engineered to reflect motion and activity — with pleats, panels and fringes — as if moving in the wind."
Through the years, Burberry has adapted its durable coat to include different colors, materials like suede, python skin and satin, and fashion-forward design. Functional and fashionable, the Burberry trench lives on, no matter what environment it faces.
Tisci terms it all "chic outdoorswear luxury." Welcome to the great outdoors.
* * *
In the Philippines, Burberry is exclusively distributed by Stores Specialists, Inc. (SSI) with stores at Greenbelt 4, Makati and Rustan's Shangri-La, Mandaluyong. Visit ssilife.com.ph or follow @ssilife on Instagram for more information.