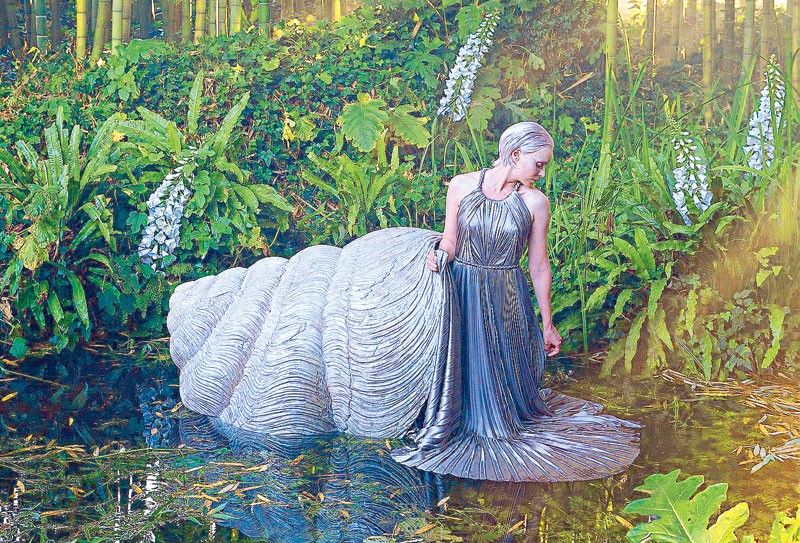 Fashion in film: Dior presents its collection in a short movie.
Fashion is one of the industries that have been hardest hit by the pandemic. I think it is undergoing an existential crisis. However, if we look back, the fashion landscape has always reinvented itself as a reflection of the times. It will always thrive. The conversation has just changed to something more meaningful, more pared down to what is relevant and essential.
According to "The State of Fashion 2020" article published in the Business of Fashion (BOF), the struggles are just beginning. But, rather than seeing it as the end, these times have provided an opportunity for fashion to reset values, rethink strategies, react differently and make way for innovation.
Loewe's 'show in a box'
This Spanish luxury brand sent the much-talked-about "Show in a Box" to editors and buyers to showcase its spring 2021 collection. The concept was storytelling at its most innovative. The box contents were elements of the collection: a letter from the brand's creative director Jonathan Anderson, an inspiration booklet, vertical lookbooks for male and female ensembles, posters with fabulous photography of accessories, a board stand with sunglasses, a pantone color palette, fabric and woven leather samples, silhouettes, and a pop-up garden.
To top it off, there was a 45-rpm record with a working cardboard player to provide the soundtrack of the would-be fashion show. It was also complemented by a 24-hour virtual itinerary in the Loewe website. When social distancing and isolation can be limiting, Loewe provided a tangible experience with the use of their unlimited imagination.
Digital haute couture
The hashtag #GucciEpilogue dominated social media during the unveiling of the fashion powerhouse's resort 2021 collection by creative director Alessandro Michele. The experience was a 12-hour-long behind-the-scenes livestream from Gucci.com, YouTube, Twitter, Weibo, Kakao and the Gucci app with a playlist from Spotify. The virtual fashion show's narrative took place at Palazzo Sacchetti and the creators from the Gucci design team refreshingly wore the clothes, not models.
Everyone was in the front row of the virtual runway of Dior's fall/winter Haute Couture 2021 collection. Dior hired famous film auteur Matteo Garrone to create a beautiful fantasy movie with the theme "Theatre of Fashion," with nymphs, a mermaid and other magical characters, which was livestreamed. As creative director Maria Grazia Chiuri said, "These are not normal times," which called for this extraordinary idea to showcase her latest designs in a short film.
Other couture maisons also presented their collections creatively and virtually, including Chanel, Schiaparelli, Iris Van Herpen, Giambattista Valli, and Valentino, among other notable names in the fashion industry.
Led fashion week by We11done
We11done is a stylish South Korean brand creating a buzz among fashionistas. Behind this cool label are Dami Kwon and Jessica Jung. They are also owners of Rare Market, a concept store in Seoul carrying a curated selection of clothes and accessories from international designers. A sign that they have arrived in the fashion scene is that they had their debut during Paris Fashion Week early this year and it was a success. As per British Vogue, We11done has a following of fashion-forward celebrities, including Billie Eilish, Chinese actresses Angelababy and Yang Mi, Justin Bieber and Korean superstar G-Dragon. We11done's SS21 collection will be showcased via their ingenious LED Screen Fashion Week Project, where they will project a special video of their designs in selected locations in London, Paris, New York and Seoul.
Jacquemus wheat field runway
Social distancing at its most beautiful was the experience Jacquemus provided to a handful of special guests, as it presented its spring 2021 collection in a wheat field just outside of Paris. Simon Porte Jacquemus himself said that the fashion show was called "L'Amour," and was inspired by love that can endure and sometimes even grow stronger in the absence of people being together. Models sashayed up a golden runway, which could not have been a more perfect backdrop. Most importantly, during this time of limitation, his concept of open space was brilliant and very much welcomed.