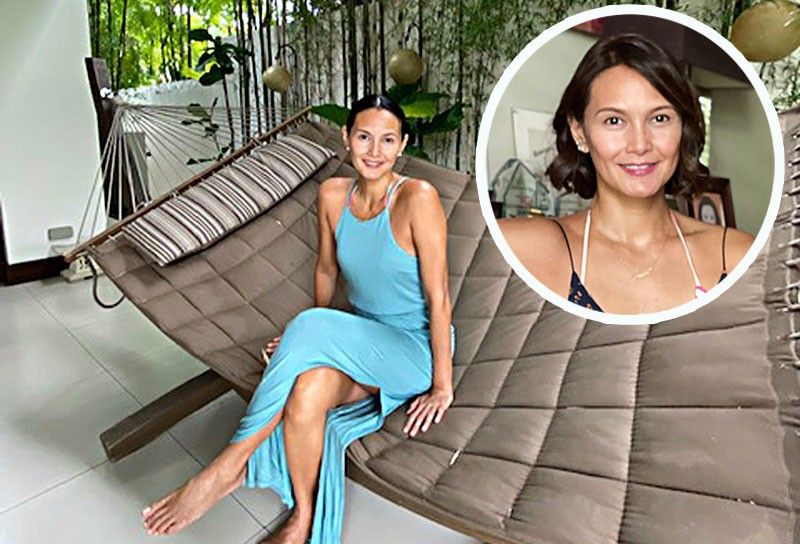 Supermodel and accessories designer Tweetie de Leon-Gonzalez says that during lockdown, "I liked pretending I was on vacation and would suit up in island garb, sometimes a swimsuit under a beach coverup or under a camisole and shorts."
Tweetie de Leon-Gonzalez: Have a humbler heart.
These strange times allowed me a fresh start, new perspectives and a humbler heart.
Many things have changed around me. Many things have changed within me.
Many thoughts raced through my mind. The whole world is in this crisis together and we must all act as one to overcome this challenge. Decisions we make should be in consideration of how it may affect others' safety and wellbeing. We need to constantly remind ourselves that we are part of a community, a nation, the human race. No one gets through this alone.
On the upside, the lockdown rewarded me with unlimited time with my family: sitting together for meals and prayers, playing board games, working out, watching movies and just hanging, all the while witnessing how everyone loves each other's company. These are such precious moments for me.
I endeavored to practice my existing hobbies like gardening, photography and calligraphy. I managed to learn how to weave a chevron friendship bracelet from my daughter Sabrina.
Strength training, yoga, running and walking helped me keep my sanity. Working on fitness goals gave me multifold triumphs in focus, discipline and productivity.
Fe Rodriguez: We need little to be happy.
My daily life in lockdown is a ritual. Coffee, fresh air and sunshine in the morning. Holy Mass at noon with Fr. Tito Caluag who delivers the best homilies that make you understand what the Gospel is all about. An hour of exercise. Checking email, IG, WhatsApp, Viber. Friends from way back would resurrect. There are always stories told, jokes, some fake news, words of encouragement and prayers.
But the highlight of the day would be rosary with the family on Facetime, preceded by kwentos from the children and grandchildren. The night ends with watching Netflix and my favorite K-dramas.
As we approach the easing of lockdown, our priority is the opening up of our businesses to give livelihood to our employees.
There are many lessons learned during this pandemic. How little we need to be happy. How we should live each day with gratitude.
We will be living in a new world, a new normal. I am happy, but also afraid. So I will take one day at a time and see what tomorrow brings.
Mandy de la Rama: Waiting to burn bras & masks
In the new normal, masks have replaced bras. I cannot wait for the day we burn the masks as well, and can walk around without both.
When that day comes, I will miss the blue smog-free skies, the white noise that is EDSA and the screeching of the birds in the morning.
Perhaps I am one of the few who actually enjoyed the lockdown. It was quite a productive time for me. I revisited old recipes, and just cooked my way through lockdown with friends and frontliners as beneficiaries. (Apologies for any upset stomachs I may have caused.) I also learned that I don't need the gym to keep fit, that I can do my own nails when desperate, and I even learned how to DIY wax, albeit with a few minor burns. I also climbed my roof and cleaned all the leaves weekly.
I also touched base with people whom I'd lost touch with, and got close to people who were merely acquaintances pre-quarantine.
A definite upside was being able to spend every waking (and sleeping) moment with my 15-year-old daughter who otherwise would not be spending this much time with her un-cool mom.
Criselda Lontok: Share love, be generous.
There are many things I've missed during the past three months. I miss going to work and talking to my customers at my boutique in Rustan's, some coming from Singapore and Brunei.
I also miss going to church, but then now I am able to hear the Mass of Fr. Tito Caluag through my iPad. In fact, the iPad has become my favorite companion. Through it, I am able to work from home and communicate with our suppliers. I also enjoy Zooming with friends from other countries.
I normally didn't have time for old movies and Netflix, but now I am able to watch Audrey Hepburn, Grace Kelly, Ingrid Bergman, Clark Gable and Rock Hudson (who was my crush even if he did not officially come out of the closet).
This pandemic made me realize that material things are far less important than our health; that sharing love and generosity should be foremost in our lives, especially when we see families with nothing to eat due to loss of jobs. The accumulation of material things and riches is no longer important.
With the new normal comes a new attitude in life.