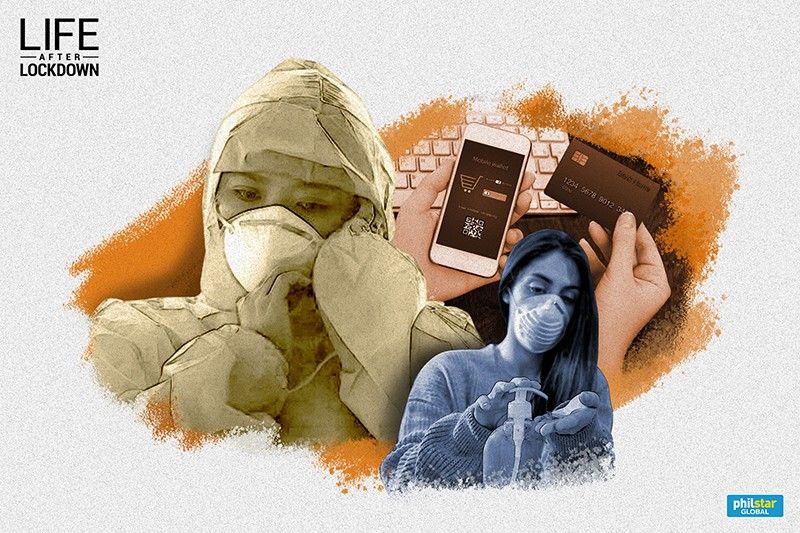 Life After Lockdown: Fashion and beauty brands try to win back shoppers, plan for the long-term
Philstar.com's Life After Lockdown is a compendium of references on Filipinos' shift to a new normalcy during a coronavirus pandemic.
MANILA, Philippines (Updated 12:30 p.m.) — As cities reopen one after another after half of the world's population spent time on lockdown, getting new clothes are understandably not on people's list of urgent priorities. Fashion's near future looked bleak but self-care emerged more valued, opening opportunities for the beauty industry, particularly skin and personal care.
Designers and fashion brands redirected labor and other resources toward the production of personal protective equipment (PPEs), alcohol and other sanitizers with decline for new clothes.
Nurse Adrian Pe and Michael Leyva, both designers, volunteered their production lines to produce and donate PPEs.
Avel Bacudio started selling designer face masks online.
Dennis Lustico ventured into designing laboratory gowns for medical front liner clients.
Rajo Laurel is among those who welcomed commissions for PPEs.
Luxury brands like Zegna Group, Yves Saint Laurent, Gucci and Balenciaga dedicated their production facilities to manufacturing PPEs.
Filipino-owned fashion retailers: Bench focused on producing more Alcogel, its brand of hand sanitizers, for donation and selling in supermarkets, while Penshoppe similarly manufactured PPEs for donation.
Sunnies Specs Optical pivoted to crafting medical-grade goggles as part of the PPEs for front liners.
Malls are now partially open, but these centers of Filipinos' weekend and after-work life continue to sell online and deliver to customers.
SM malls and department stores are now open, with squares stuck on lobby floors indicating social distancing. Entering and exiting mall goers now have to walk on separate lanes as indicated by arrows. Garment fitting is allowed but fitted garments not sold are sanitized first in an ultraviolet room before being returned to the stocks on display. While fitting is allowed, the fitting rooms of SM's partner brand, H&M, are still closed.

Contactless transactions are encouraged to avoid crowding in malls. SM urges customers to utilize its e-commerce sites as it focuses on offering PPEs, essential clothing needs such as underwear, sleepwear and loungewear, active wear for staying fit at home, and protective outdoor pieces like shirts, jackets and hoodies to equip individuals who have to leave home for important errands.

Rustan's re-activated its online store and delivery services but with focus on self-care items. A wider range of products from top brands in fashion, fine jewelry, home, beauty and kids are available for purchase now but will be scheduled for delivery once the enhanced community quarantine has been lifted.

AyalaMalls installed thermal imaging scanners with 99% accuracy of +/- 0.3 degrees Celsius and added security features that can help detect pickpockets or shoplifters through facial recognition. The technology measuring temperature is used globally in international airports, modern healthcare facilities and headquarters of top corporations.

Fashion boutiques carried by Stores Specialists Inc. open with the following procedures: fitting rooms are disinfected before and after use; shops are sanitized before opening and after closing hours; sellers are always equipped with face masks, gloves and sanitizers; and customers are required to always wear face masks, observe one-meter distancing and use hand sanitizers provided on the counters.
Online sellers and salons try to assure clients and customers that personnel observe proper sanitation and social distancing in their physical establishments.
Online fashion and beauty retailers on Lazada said its warehouse and facilities are always disinfected and strict implementation of hygiene practices and regular temperature checks are observed. Warehouse staff and delivery personnel are required to wear facemasks and gloves.

Customers receiving packaging are asked to observe physical distancing and to sanitize deliveries right away. Cashless transactions or online payments are still preferred over cash-on-delivery.

Among customers' top searches on Lazada are fitness clothes. The company also observed about a 400% increase in demand for PPEs and masks during ECQ periods of March and April. "We have been experiencing continued high demands and have seen 15 times increase in orders of essential goods, including food staples like canned food, personal care items, and household cleaning items, which have been on our top-selling items list," the company told Philstar.com.

Salons are required to be regularly sanitized. Clients are advised to book for their schedule in advance instead of walking in to avoid overcrowding in shops. Salon employees also wear masks and gloves to reassure customers, who are similarly not allowed to enter without masks. If customers are not able to settle their payments payment via cashless modes or online, they are being asked to place their payments in a box to avoid hand-to-hand contact. Some salons also set up plastic screens around cashiers.

Many salon professionals opt to go on-site to service COVID-19 front liners by appointment, while salons also opened online skills training.

Product testing in shops are temporarily not allowed while beauty consultants in pop-up stores and stalls will no longer provide free makeovers. Beauty counters and tools will be regularly disinfected.
Major fashion events like the Red Charity Gala are postponed for next year, while the much-awaited Met Gala moved indoors in an untypical way: by getting social media influencers and designers involved. Italy will stage its first digital Milan Fashion Week in July, as the luxury fashion sector struggles to rebound.
More sustainable solutions are favored as the fashion industry plans for the long-term.
Brands and designers are rebelling against over-production due to an unsustainable fashion calendar, with Saint Laurent pulling out of Paris Fashion Week to "launch its collections... driven by creativity."

"I think fashion has become saturated with too many seasons (main collection, pre-collection, etc.) — just too much clothing!" said London-based Filipino designer Lesley Mobo.

Joey Samson sees the online selling of personalized items as a move toward more sustainability in fashion. Dennis Lustico, meanwhile, envisioned customers to have a heightened consciousness for goods produced with more sustainable and indigenous materials and with less new fabric and less carbon footprint.

More and more brands like Banana Republic are committing to sustainability by modifying the soucing and use of fabrics and chemicals as well as methods of dyeing. "In these uncertain times, and as members of this global community, it is more clear than ever that we are all connected and we have a shared responsibility to protect each other," the brand's chief marketing officer Mary Alderete said.
Even in brand communication, fashion labels are now highlighting their sustainable efforts, like Tod's rollout of handmade products and Michael Kors' reduction of carbon footprint in its supply chain.

Ad campaigns show celebrities or models using more sustainable products. Kendall Jenner, for one, donned a Longchamp bag in recycled canvas while Harry Styles wore Gucci eco denim pants in the music video of his latest hit, "Watermelon Sugar."