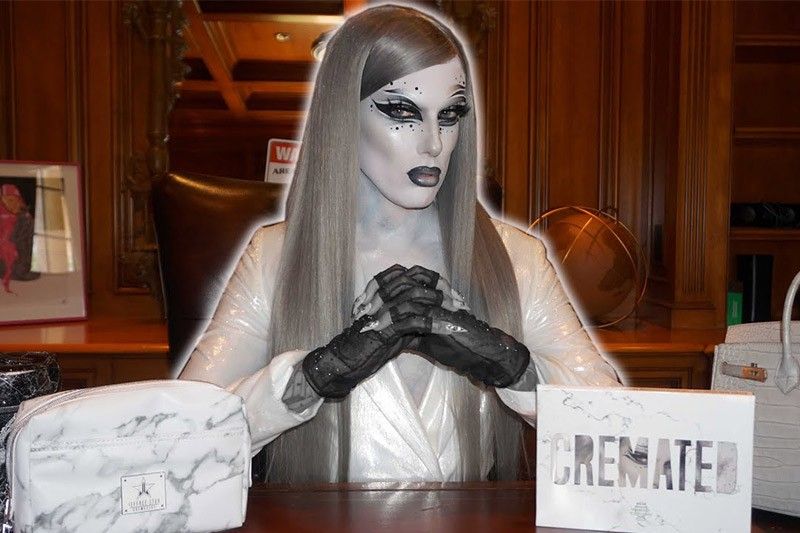 Jeffree Star
Jeffree Star via YouTube, screen grab
Jeffree Star explains 'untimely' release of 'Cremated' makeup collection amid COVID-19 pandemic
MANILA, Philippines — Makeup entrepreneur Jeffree Star's controversial new product "The Cremated Collection" will not be laid to rest despite public backlash owing to the release coinciding with the novel coronavirus disease 2019 (COVID-19) global pandemic.
Described by the beauty influencer as a "gothic neutral dream," the Cremated eyeshadow palette and collection retails for $58 and features 24 shades, with several monochrome swatches sampled by Jeffree through his YouTube channel.
Sold separately at $18 is "The Gloss," which includes "Heaven's Gate," "Funeral Parlor," "Coroner's Kiss" and "Six Feet Under."
Some cosmetic consumers, however, are not feeling Jeffree's embalming fantasy, describing it as "insensitive" in the face of more than 300,000 COVID-19 fatalities worldwide.
Notwithstanding, the collection is set to push through today, according to the Jeffree Star Cosmetics website.
The top-paid vlogger said that Cremated was conceived long before the coronavirus health crisis, explaining that the release initially slated for a Spring 2020 release had already been pushed back and could "expire" if shelved longer.
In lieu of a eulogy, Jeffree made the following statement in a YouTube video to move on from the issue and affirm that Cremated will stay.
"It takes months and months and months, sometimes a year plus to actually make a product. So there were some people saying Jeffrey it's a little weird timing, there's a lot going on in the world. But for me this is art and I never come from a negative place, you guys. My own father who passed away and my two dogs who passed away last year are all cremated, and it is a tradition in my family.

Now, nothing ever comes from a bad place. So if you were thinking that, absolutely not... I created this to make people smile. I created a brand for all the weirdos and people that really didn't feel like they fit in. So in no way was this created to be offensive ever.

Now this idea I created over a year ago. I trademarked it. The trademark went through in September of last year, and we delayed this already a lot. And sadly with production and in a makeup world, if I were to try to move Cremated, it wouldn't have fit anywhere in this year. This year is full... I couldn't put Cremated anywhere else. I would have had to move it into like later in the fall of 2021 and I never want to give my customers about experience. I never want to sell expired makeup.

So, as a business owner, I'm like, 'We gotta get this out.' So I made the executive decision to delay the collection over a month and a half. And before my real crazy summer collection comes out, I wanted this to be here.

So, I want to end by saying I'm never discrediting anyone's feelings. Everyone is allowed to feel how they want and interpret things how they do... so just know that I only come from a good place."