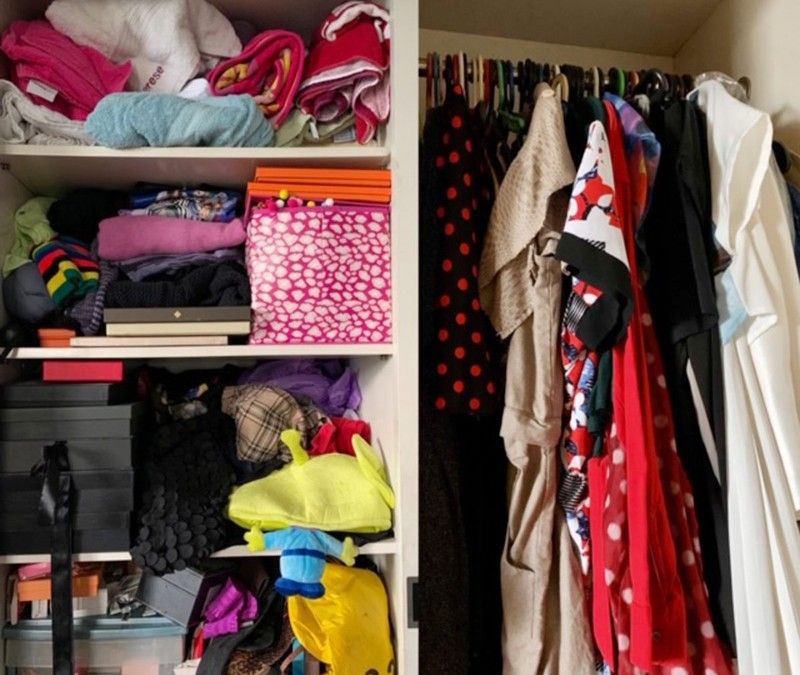 Closet cleanup: Now is the perfect time to curate your wardrobe and fashion accessories.
How to emerge from lockdown looking (and feeling) better than before
Now that we're in Enhanced Community Quarantine, everything's closed and life feels like it's on hold. Though we have the freedom to indulge in the No Makeup Look and bask in our pambahay for an entire month, that doesn't mean we should emerge blinking from our bunkers looking like cavemen and women. Now that we have nothing but time on our hands, here are ways to spend that time fruitfully.
Curate your wardrobe. I've found no better way to do this than Marie Kondo's art of tidying up. I did my own Konmari overhaul two years ago, but find that I have to do it every single year just to make space for new items that tend to accumulate really fast.
Basically you take every piece of clothing from your closet and sort through them, keeping only the ones that "spark joy." The ones that don't anymore I put into large plastic bags or boxes and give them away, first to our household help and then to disaster-relief charities and churches.
The clothes I do keep I hang back in my closet according to color, from dark to light, for example keeping all the blue jeans or white tops together. This makes finding items and putting together fashion ensembles much easier.
Do the same for your fashion accessories and cosmetics. Set aside one or two days each to sort through the rest of the items in your closet; i.e. Day 1: Shoes, Day 2: Bags, Day 3: Jewelry, and so forth.
Do a similar de-clutter with your makeup, tossing expired items and putting aside extras for donation.
Donate toiletry kits to frontliners. If you're a collector of travel-sized toiletries (or happen to have a cache of toiletry kits from airplanes and hotels), you can make basic toiletry kits with antibacterial soap, shampoo, conditioner, toothpaste and toothbrush, and donate them to Covid-19 frontliners at hospitals, security guards — anyone who's putting in long hours thanks to this pandemic.
Get some sunshine. If the news is so bleak it's starting to get you down, make sure to get some sun. Studies have shown that just 15 minutes of exposure to sunlight a day plays a big role in fighting depression.
Set aside time for meditation and reflection. Your time in the sun is also a good time to meditate and reflect upon the many things we still have to be grateful for. I sincerely believe in the power of prayer — especially collective prayer — so if the spirit moves you, do become part of an unbreakable prayer chain in this time of crisis.
Work out with your family. Gyms may be closed, but I've discovered the best way to motivate myself to exercise: doing it with my family. Every day at 5 or 6 p.m. three generations (my mom, my sisters, my daughter and I) gather and put on a YouTube video — Popsugar Fitness is a great resource for workout videos — and exercise together for at least 30 minutes. It's a great way to bond and keep fit at the same time.
Teach yourself how to be your own best makeup artist. Another skill you can teach yourself via "YouTube University" is how to do your own makeup, especially how to apply eye shadow, which seems to be the one makeup item that is most intimidating to women.
Some beauty YouTubers I can recommend are Tina Yong, Judy, and RealAsianBeauty, though I'm also partial to non-Asians like Tati, Morgan Turner and Angela Bright for inspo and expert eyeshadow application.
Do the entire glass-skin routine. Whereas before I only had time to cleanse, tone and moisturize, now we can do all 10 steps in the Korean ritual to luminous, shining skin: 1) Pre-clean with an oil cleanser; 2) Wash again with a foam or cream cleanser; 3) Prep skin with toner; 4) Layer products, starting with an essence; 5) Follow with an emulsion; 6) Apply treatment serum; 7) Relax with a sheet mask; 8) Pat on eye cream; 9) Massage in moisturizer; and 10) Protect your glass skin with sunscreen.
Turn your bath into a nail spa. Light a scented candle, put on some music, and give yourself a pampering hand and foot spa, followed by a proper mani/pedi. First, soak your hands and feet in some soapy water in a basin. Do a foot scrub and rinse. Massage lotion or cuticle oil into hands and feet. Push, but don't cut, your cuticles. Cutting them removes your natural protection from bacteria, fungus and infections. Cut your nails straight across to avoid ingrown toenails. File the sharp edges down in one direction to avoid breaking the nail. Apply a basecoat, two coats of polish, and a topcoat.
Whip up a natural hair treatment at home. If you have a stock of branded hair masks and treatments at home, now is the perfect time to use them. But in case you weren't able to stock up, here are some natural hair-care recipes you can try at home:
If you have dry hair, use 1 cup of milk and 2 tablespoons of honey in a mask. Mix together, leave on for two minutes and then rinse off with cool water.
Treat damaged hair with 2 tablespoons of coconut oil and aloe vera, if you have it.?For oily hair use 1/2 cup egg white and 1 tablespoon lemon juice. Leave on for a minute and do a cool rinse.
For frizzy hair, mix 1 tablespoon of yogurt and 1/4 tablespoon of honey, leave on for two minutes and rinse out with cold water.
Get some fashion and beauty inspiration for post-lockdown. Though it may not feel like it now, the community quarantine will end in a few weeks. If you've been relying on Netflix for entertainment, check out reality shows like Next in Fashion and Glow Up, which are not only entertaining, they're also educational and provide lots of fashion and beauty inspiration.
Keep your sense of humor intact. Along with the news headlines are the inevitable jokes and memes that Pinoys love to concoct and pass around. Far from being trivial, they're necessary survival tools. If we can manage to find the right balance between reality and humor, and keep not only our bodies healthy but also our spirits and minds uplifted, we can emerge from this lockdown period looking and feeling better than before.
* * *
Follow the author on Instagram @theresejamoragarceau and @thebeautytraveler_ph.