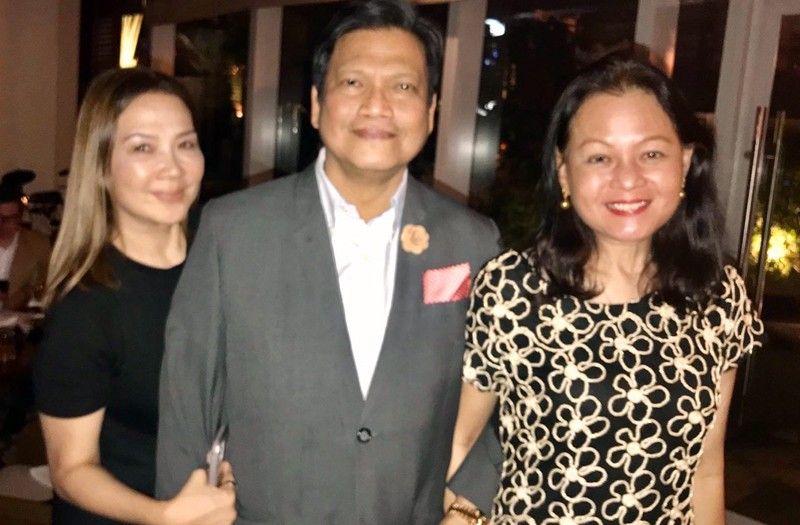 Carol Dee, Noel Oñate, Lizzie Arce at the Long Bar, Raffles Hotel, Makati
Alex Van Hagen powered by MAC Center
Noel Oñate celebrates with good friends over good food
Multi-faceted gentleman for all seasons and self-made magnate Noel Oñate celebrated another chapter of his life with a big bash, dahlings, at the posh Long Bar of the world-renowned Raffles Hotel.
He had a fabulous time with his chosen 60 executive pals munching on finger foods like the delicious Calamari à la Andaluza, gambas al ajillo, Mediterranean olives and feta, Long Bar Fries, and to-die-for US Angus rib eye and Mezze Plate.
Romy Jorolan entertained guests.
A week later, civic-oriented businesswoman and society lady Lucille Jacinto Carlos and her equally brilliant husband, businessman Nick Locsin, hosted a super-fun soiree for the man of the hour Noel at their sprawling, well-designed home.
Lucille, being the grand gourmet that she is, prepared her famous turkey, which was her lola Charing Jacinto's recipe, delectable cochinillo from Bettina Osmeña's kitchen, caviar pie, mixed salad with raspberry dressing, tempura and truffle lengua, plus my favorite truffle ravioli. To burn off the calories, guests rocked and rolled to the music played by Edgardo Duran.
Roll-call time, dahlings. Guests included the well-respected Ambassador Joey Antonio, Ambassador Babe Romualdez; Rep. Bonito Singson, Tony Cojuangco, Gabby Claudio, Nick Alcantara, super smart lawyer Mike Toledo, Justice Andy Reyes, Kiko Laurel, Enzo and Sandie Squillantini, Val Fong, Lee Hae Wook, Ricky and IC Trinidad, Bettina Osmeña, Tess Que, Lizzie Arce, Carol Dee, Agile Zamora, Marivic Vazquez, Ruby Chua, Yvette Oca, Rose Ferro, Gerianne Ejercito, Chechi Magbanua, Allana Montelibano, Kathy Go, Georgia Diaz, Tess Chua, Louie Ysmael, Ramon and Frannie Jacinto, Greggy Araneta, Rante Aguila, Rene Banzon, Lutz Kunack, Monch Cruz, Chris Badiola, and Philip Tuazon, among others.
Lucille and Nick entertained the guests to their utmost delight, palanggas.
Another great year for my true buddy-buddy.