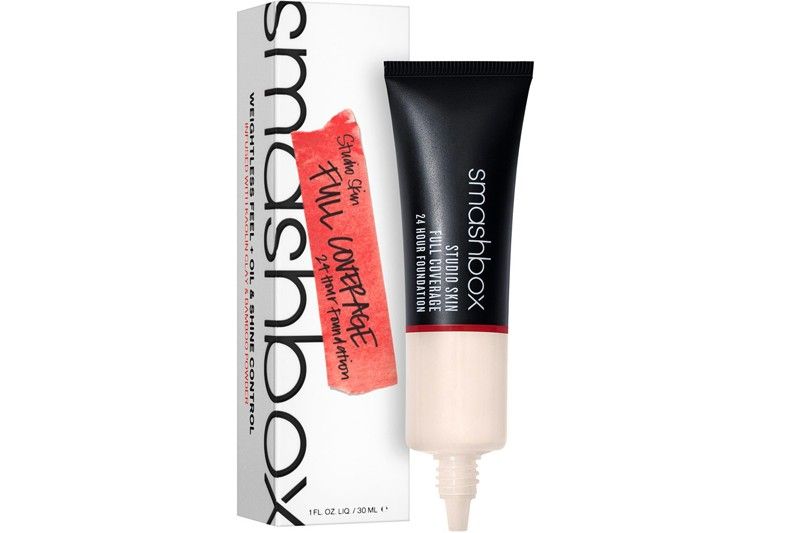 Cali vibe: Smashbox's Cover Shot: Denim eyeshadow palette is available at Beauty Bar.
Kilay is life, cult brands are in at beauty bar, my beauty mecca
When Beauty Bar opened 20 years ago, it was like an answered prayer. This beauty junkie had been hoping for a store that would carry the brands I'd read about in Allure, InStyle and Vogue magazines, and finally, that beauty mecca was here.
Offering hard-to-find cult brands like Smashbox, Burt's Bees and Philosophy, at long last I could try the products these magazines were raving about, like Smashbox's Photo Finish foundation primer, Burt's Bees lip balm and Philosophy's fragrance, Amazing Grace.
And, 20 years later, Beauty Bar is still fulfilling and expanding on its mission of providing consumers the best of beauty from around the world — from Korea and Japan to the USA and the United Kingdom — at midrange, affordable prices.
Smashbox: flawless makeup for shoots & selfies
Smashbox is one of the OG brands that have been with Beauty Bar from the very beginning. It has a Hollywood pedigree: founders Davis and Dean Factor are the great-grandsons of movie makeup legend Max Factor. Both are photographers who founded Smashbox Studios in 1990 in Los Angeles, California, and made it a hot destination for fashion and record-label shoots.
Working with models under hot lights, wind machines and countless wardrobe changes, they discovered that "the only thing missing was makeup that felt amazing, photographed flawlessly and lasted throughout an all-day shoot without touch-ups."
Hence, in 1996, Davis debuted the now cult favorite Photo Finish Foundation Primer, which made makeup look flawless, feel better and last longer. This award-winning product has spawned even more high-tech iterations like the Photo Finish Minimize Pores primer, which I can attest works magic on the face — filling in pores (without clogging them), making your skin look unbelievably smooth and matte (it controls oil for eight hours), and working with any foundation to enhance and make it last all day.
Another heritage Smashbox item is their Step-by-Step Contour Kit, which was rapidly developed in eight months and became a Top 5 product soon after it landed in stores.
With a vision based on disruptive innovation, Smashbox has developed other cutting-edge products like O-Glow Intuitive cheek color and lip gloss, Camera-Ready BB Cream SPF 35, Studio Skin Foundation, multi-awarded Always Sharp lip and eye liners, Cover Shot and Cali Kissed — highly pigmented eyeshadow, blush and highlighter palettes imbued with the sunny California vibe.
Even if you never see the inside of a professional photo studio, Smashbox will make you look flawless under any light, withstand extreme weather conditions and give you a lit-from-within glow for your next selfie.
'Kilay is life' at Anastasia Beverly Hills
Kilay (brow) is life here in the Philippines, so the brow-obsessed will be stoked to know that one of Beauty Bar's newest brands is Anastasia Beverly Hills (ABH), the complete line of the world's premier brow queen, Anastasia Soare.
Anastasia became known for her patented Golden Ratio Method, a technique of measuring the eyebrows based on a client's bone structure to find out precisely where the brow should begin, end, and where the arch is.
The Romanian-born beauty pioneer took her brow expertise from the old world to the new and built her American dream in 1997 with a Beverly Hills salon that catered to celebrities like Jennifer Lopez, Kim Kardashian and Naomi Campbell.
Three years after opening her flagship salon, she launched her namesake brand, Anastasia Beverly Hills, and — no surprise there — the brow products became bestsellers to those in the know.
ABH's cult classics include Brow Wiz, a brow pencil so fine it lets you create hair-like strokes to outline and fill in your eyebrows. It has a spoolie at the other end so you can brush your brows afterward for the most natural look. It also comes in a wide range of colors so you can find your perfect shade.
The Clear Brow Gel is another must. When you groom your brows with this, even if you're not wearing pencil, it will give you beautiful, fluffy, feathered brows. And a fuller brow makes your forehead and face look smaller, thereby giving you a more youthful look.
My personal go-to's are Anastasia's Dipbrow products, which give you the longest-lasting, most defined brows. For the time constrained, Dipbrow Gel is like Brow Wiz and Clear Brow Gel in one — brush your brows upward with the mascara-like wand and it holds your brow hairs in place while filling in with a soft tint.
Dipbrow Pomade is like a paint that comes in a pot: one dip with a fine angled brow brush and you can draw very thin, hair-like strokes that last all day.
What I really love about Anastasia is that she's gone way beyond brows to become a full-fledged beauty brand, and products like her Luminous Foundation, liquid lipsticks and eyeshadow palettes are so creative and professional in quality they've started beauty trends.
ABH sparked the berry eyeshadow craze with her Modern Renaissance palette, inspired by the paints and resins of Renaissance masters like Michelangelo and Leonardo da Vinci. With richly pigmented, buttery eye shadows that were so easy to blend, everyone started doing the berry smoky eye.
Other hit eyeshadow palettes include Soft Glam, which is perfect for everyday neutral looks that can go from day to night, and Norvina, named after Anastasia's daughter, who curated its gorgeous purple and pink color story.
Also try Anastasia's Glow Kits, square palettes featuring four large pans of flattering highlighters. I particularly love the Sugar Glow Kit, with its deliciously shimmery Marshmallow, Gumdrop, Butterscotch and Starburst tones.
Earth therapeutics: kind to the earth, kind to our bodies
Earth Therapeutics was another of Beauty Bar's original brands when it opened 20 years ago. The founders of this American brand from Plainview, New York, were ahead of the curve when it came to sustainability and eco-friendliness. They also believed that what we put on our bodies was as important as what we put into them, hence their emphasis on natural, organic and vegan ingredients in their bath and body products.
Back in the day, Earth Therapeutics products like their popular moisturizing aloe socks and gloves were already free of harsh chemicals like parabens, propylene glycol, mineral oil, petroleum, lauryl/laureth sulfate, harmful colorants and fragrances, gluten, and animal byproducts.
Their containers are also made from recycled, non-toxic plastic and cardboard and are recyclable.
Personally I love Earth Therapeutics' Anti-Stress line. The lavender- and chamomile-infused Anti-Stress Microwavable Sinus Pillow diminishes the pain of tension and sinus headaches when you put it on your forehead. It also works nicely over your eyes to soothe tiredness and puffiness.
In these Covid times when spas are a no-no, their Anti-Stress Massage Lotion is an affordable alternative to an expensive spa night. I've taken to self-massage with this soothing, silky blend of chamomile and lavender, or better yet, trade back and foot massages with my husband.
Another great way to relax and beautify while "social distancing" at home is the Green Tea Hydrogel Under-Eye Patches, which are made in Korea and chockfull of organic, antioxidant ingredients like vitamins A, C and E, aloe vera, cucumber, chamomile, and of course, green tea. Unlike other eye patches I've tried, they don't leave a messy wet residue on the skin but somehow miraculously erase dark circles and fine lines. Obsessed with these.