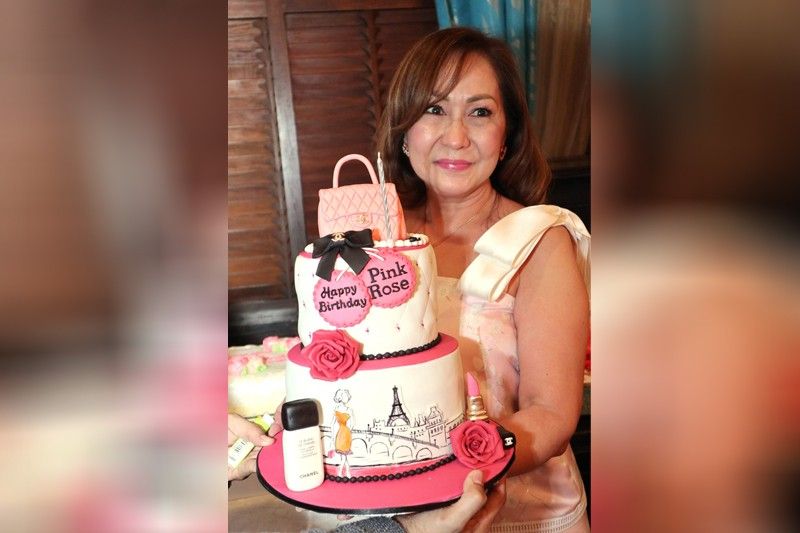 Rose "Pink Rose" Santiago Licup
Alex Van Hagen for power MAC Center
Pink Rose gives back on her birthday
Roses for well-known fashion figure Rose Santiago-Licup.
A few days before her birthday celebration, "Pink Rose," as she is known to close friends because of her fondness for the color pink, received a much-deserved Fashion Icon award from the organizers of Philippines' Elite Awards.
The smart Pink Rose hinted to friends that she wanted a not-so-usual birthday affair this time.
With a traditional turn-of-home as ambience, Barbara's Heritage Restaurant in Intramuros was her chosen venue.
What finally clinched the deal was the stunning cultural show that showcased the best of Filipino music and dance. Barbara's has the winning formula: good food, perfect ambience and eye-catching entertainment that makes every Filipino so proud of his cultural roots.
Pink Rose's birthday bash was organized by her dear friends. She has also been handpicked to join the Select Circle of Fashion Muses in the coffee table book, Obra Maestra: A Portrait of Excellence in Philippine Fashion & Culture.
The compassionate Pink Rose, together with the other chosen ladies, will be supporting the construction of the new monastery and chapel of the Benedictine Sisters, OSB, in Mexico, Pampanga, and the Duyog Marawi Project of Bishop Edwin dela Pena of the Prelature of Marawi City.
How could anyone want a better birthday bash, dahlings?
Cheers to this woman of substance and who has it all going her way.