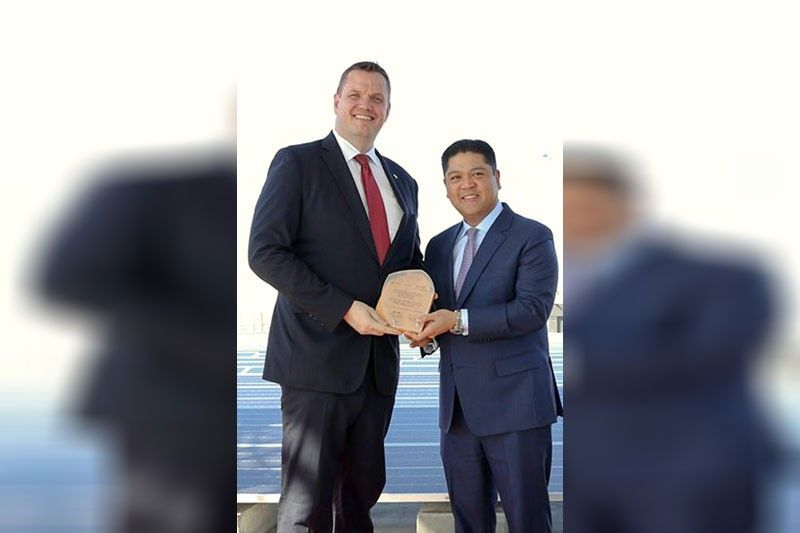 City of Dreams Manila SVP and COO Kevin Benning with Spectrum president and Meralco first VP and head of customer retail services and corporate communications Victor S. Genuino.
Alex Van Hagen powered by MAC Center
City of Dreams Manila realizes its 'sustainable dreams'
City of Dreams Manila inaugurated its 1.2 megawatt, mind-boggling (take note) cool P76 million "solar solutions" facility at the topmost level of its parking building, marking a milestone as the first integrated resort in the country to harness solar energy, palanggas.
For those not in the know, harnessing the power of the sun is considered the best form of renewable energy, as solar solutions create no waste or emissions.
In partnership with Meralco's renewable energy subsidiary Spectrum and global professional services company GHD (Gutteridge, Haskins & Davey), the solar project is the latest initiative of City of Dreams Manila in its continuing commitment to lower environmental impact.
"Under its long-term 'Sustainable Dreams' program, the luxury resort has embarked on a vermi-composting facility and greenhouse nursery on property, and partnered with key organizations for a holistic and sustainable coffee program (with) recycling of used coffee capsules, (as well as) repurposing of used oils and recycling of used batteries and waste electronic and electrical equipment recovery project," explained pubic relations director Romina Gervacio.
"These ongoing projects are in line with the overall sustainability strategy of Melco Resorts & Entertainment Limited, developer and owner of casino gaming and entertainment resort facilities in Asia and Europe, including City of Dreams Manila through its subsidiary Melco Resorts and Entertainment (Philippines) Corporation," added VP for public relations Charisse Chuidian.
Now you know, dahlings.