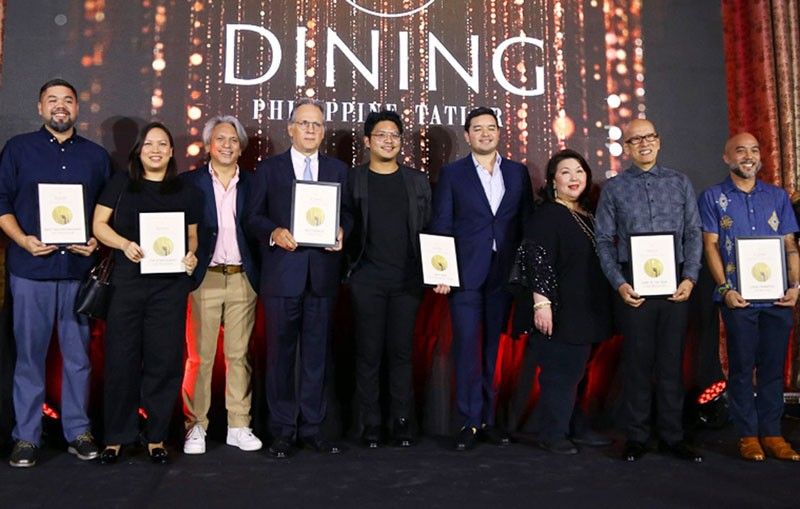 Five Best of Class awardees: Best New Restaurant awardees RJ Galang, Miko Calo and Elbert Cuenca for Metronome; Best Service awardee, Solaire Resort & Casino managing director David Batchelor for Finestra; Best Bar awardees Airell Lam and Michael Hearn; Philippine Tatler managing director Irene Martel Francisco; Chef of the Year Tom Bascon, and Local Champion JP Anglo
Alex Van Hagen powered by MAC Center
'Philippine Tatler' rolls out the red carpet for T. Dining's Best Restaurant Guide awardees
Philippine Tatler did it again. Through the years, T.Dining's Best Restaurants Guide (BRG) has become a trusted source of thorough and judicious coverage of the Philippines' in-demand culinary landscape, dahlings. Now in its 16th edition, it's a très comprehensive compilation and super-inclusive cross-section of the most enticing establishments (including a Best Bars section!) across Metro Manille, Cebu, Davao, Iloilo, Baguio and Boracay.
Celebrating the launch of the BRG 2020, more than 300 of the country's top restaurateurs, chefs, foodies, oenophiles and discerning sophisticates congregated at the ground floor of the High Street Lounge of the Shangri-La, The Fort, to honor the 203 well-deserving restaurants that made it to this year's guide. The 2020 BRG was created in partnership with HSBC.
The program was co-hosted by T.Dining's Food & Wine editor Stephanie Zubiri and RJ Ledesma. Philippine Tatler's woman with a vision managing director Irene Martel Francisco welcomed our town's top foodies and happily announced the continuation of T.Dining's Best Restaurants Week at Rockwell (which will be in its third year), as well as T.Dining's A Culinary Journey through SM Aura Premier (in its second year), something that "gourmet lovers can look forward to later in the year: these events will highlight special dishes and discounts from participating BRG restaurants that are available to the public during the promotion period."
This coming September, a unique and very exciting two-day foodie festival, Off Menu Manille, is set to definitely shake up the dining scene in a very delicious way. Watch this space!
The anticipated part of the evening, naturellement, was the grand reveal and awarding of the Top 20 (now in its fifth year). BRG co-editors, Maritess Garcia Reyes and Shauna Jay Popple Williams joined Irene Martel Francisco in the awarding.
Representing the best of what our dynamic dining scene has to offer, the 2020 awardees were Antonio's, Bar Pintxos, Benjarong Thai Restaurant, Blackbird, Bondi & Bourke in Davao, China Blue by Jereme Leung, Crystal Dragon, Finestra, Gallery by Chele, Hua Yuan Brasserie Chinoise, Kyo-to, M Dining, Metronome, Mosaic Latin American Grill in Boracay, The Pig & Palm in Cebu, Raging Bull Chophouse & Bar at Shangri-La BGC, Red Lantern, Sala, Summer Palace and Wildflour Italian.
In 2018, T.Dining introduced five speciality "Best of Class" awards. The categories have changed each year but this year, dahlings, these categories were Best Bar, Best New Restaurant, Local Champion, Best Service and Chef of the Year.
The Best Bar Award went to Poblacion's hottest spot, Run Rabbit Run, represented by Airell Lam and Michael Hearn; The Best New Restaurant Award went to Metronome, helmed by the fantastic gang of four, executive chef Miko Calo, restaurateur Elbert Cuenca, Alain Borgers (former GM of Makati Shangri-La, Manila) and RJ Galang.
Rock star chef JP Anglo was recognised as Local Champion, while Best Service was awarded to the amazing team behind Finestra, Solaire Resort & Casino's fine dining Italian steakhouse, represented by managing director David Batchelor.
Chef of the Year was conferred to M Dining's incredibly talented executive chef Tom Bascon!
For inquiries on T.Dining and the Best Restaurants Guide launch and the awardees, visit philtatlerdining.com and check out @tdiningph on Instagram or T.Dining on Facebook.
There you have it, palanggas. More places to go to indulge in great food and satisfying delights.