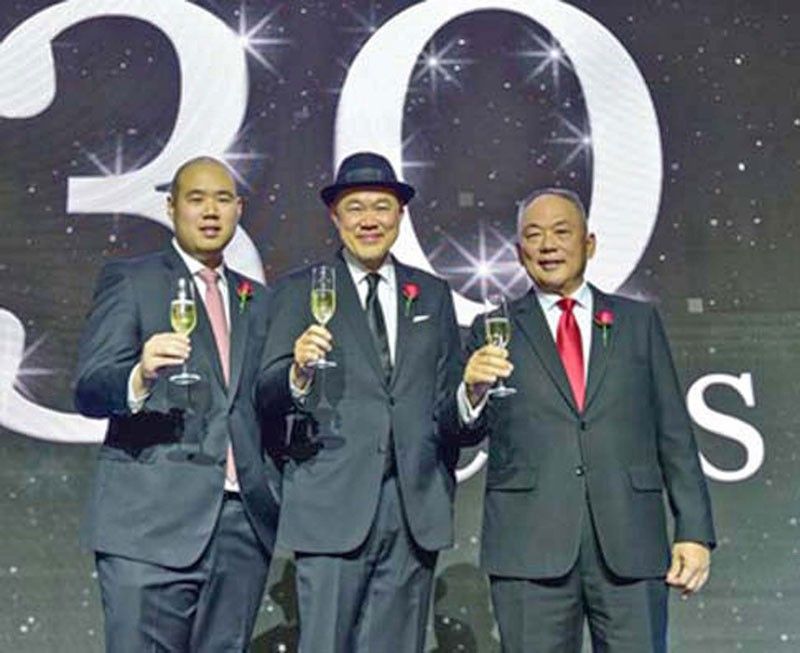 Auto Nation Group COO Frankie Ang, CATS Group founder and Auto Nation Group president Felix Ang, Auto Nation Group chairman Greg Yu
Alex Van Hagen powered by MAC Center
CATS Group celebrated its 30th anniversary and the 60th birthday of its founder and #CATSFather Felix Ang at the Grand Hyatt Manila.
The event, which marked a major milestone in the history of the CATS Group of Companies, was attended by over 800 guests.
It takes guts, passion, vision and a lot of hard work for a business to grow from a small car accessories, tires and servicing shop in Greenhills into a leading force in the local automotive industry. The CATS Group, palanggas, definitely has these in spades as it recently celebrated 30 years of innovation and success with an evening of festivities that were quite cinematic in scope.
And what better way to honor a visionary and his enduring legacy than to hail him as the "Godfather"?
The Francis Ford Coppola classic was the perfect inspiration for the double celebration, as The Godfather is Ang's all-time favorite movie. But more than the theme, the movie's driving message, uttered by its leading character Don Vito Corleone, is a reflection of how the birthday celebrant cultivates relationships and runs his very successful business: "Friendship is everything. It's almost the equal of family. And family is the most important thing in life."
The evening had two parts. The first, hosted by gorgeous Issa Litton and David Celdran, was a celebration of the CATS Group's 30th year, with a presentation of how the company built on milestone upon milestone — from its humble beginnings in 1989 to become the exclusive distributor of prestigious and luxury car brands in the country such as Mercedes-Benz, Chrysler, Dodge, Jeep, Ram, Harley-Davidson, Mazda, Jaguar, and Land Rover. But while the video showcasing the highlights from the past 30 years made it seem as if success came easily, the real story of passion and perseverance behind the business presented a more complete narrative.
"In the three decades that have passed, we have witnessed it all: Success and failures, highs and lows, celebrations and crisis…everything," Auto Nation Group chairman Greg T. Yu said during his opening remarks. "Yet one thing we never did was to give up. We persevered and found solutions to problems and overcame challenges."
Auto Nation Group COO Frankie Ang, who is as old as the CATS Group and son of Felix, also shared the growing pains that the business went through,which he himself witnessed up close. "Just as I went through my own stages, CATS also had its own share of learning, experimenting, mastering and pioneering. And as I reach the age when my father founded CATS and as I look back at my father's achievements the past 30 years, I only hope that my next 30 years would be as amazing as his."
The second part was all about the man himself, Felix Ang. As guests enjoyed the sumptuous buffet prepared by the Grand Hyatt Manila, they were also entertained by a number of musical performances and a medley of songs by the award-winning international performing artist Emmanuelle Adda.
Hosts Issa Litton and Atty. Mike Toledo got the Godfather —wittily transformed into "CATSFather" — theme of the program up and running, with the latter addressing the birthday celebrant:
"You, my friend, have made such a huge impact not only within your company, but more importantly, to the lives of the people around you: your partners, customers, friends and, of course, your family." A tribute video was played, where people whose lives Ang has touched and transformed gave testimony to how he looks after them like his own.
There were also special song numbers dedicated to the man of the evening — from George Yang singing the Italian version of the Godfather theme and Gia Ang, Felix's daughter, singing Somewhere Over the Rainbow, to the surprise production number by his wife, elegant beauty Grace Ang. The whole Ang famillie then gathered to sing "Happy Birthday" to their beloved patriarch as he blew out the candles on his cake, and more greetings and anecdotes followed from Felix's friends and business partners such as Philippine Chamber of Commerce and Industry's George Barcelon, Ben Yam, Art Tan and US Ambassador to the Philippines Sung Kim.
The high note was a performance by Gary Valenciano. Guests, who still wanted to mingle and chat afterwards, had a live performance by Tony Boy Cojuangco and the Glass Onion band and lounge singer Kate Castillo providing them a musical backdrop.
"I seized every opportunity as it came, even up to the point of sacrificing a formal education. Experience taught me the hard way, but I thought to myself, if I don't make it, there is no turning back; I just had to keep moving," Felix reflected in his birthday speech. "CATS is the greatest legacy of my life, having gone this far. It is such an amazing journey and I consider myself very blessed."
Another great year for our celebrant Felix Ang, naturellement.
Merry Merry Christmas to all of you, my palanggas.