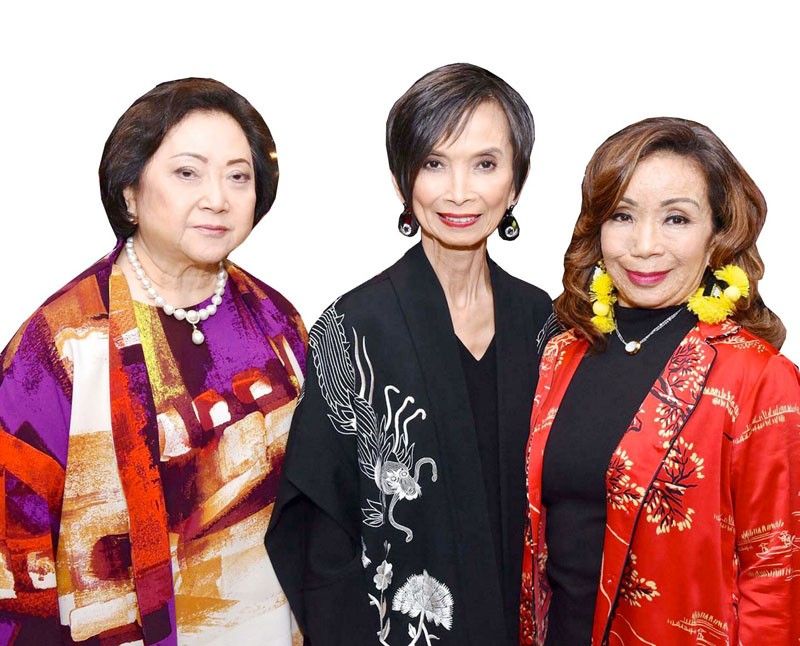 Rustan's chairman and CEO Nedy Tantoco with world-renowned designer Josie Natori and Rustan's member of the board Maritess Tantoco Enriquez
Alex Van Hagen For power MAC Center
Opulence meets glamour in Natori

Rustan's dazzled in the spotlight as it amped up the glamour scale with dynamic fabrics and statement pieces from Natori.
World-renowned designer our very own Josie Natori, no less, dahlings presented fabulous fluid materials in rich patterns and an abundance of eclectic embellishments that channel an opulent spirit.
In Josie's designs, multi-cultural influences are celebrated. Lavish accessories encourage individuality and a more-is-more sentiment.
The collection features a range of flattering silhouettes that epitomize statement dressing. A sense of easy elegance is contrasted with sharp tailoring, while kimono blouses with overtly flowing sleeves highlight the brand's East-West aesthetic, palanggas. An air of exoticism continues throughout the collection — architectural coats layered with matching sheath dresses in graphic jacquards, seamed dresses with the fullest, and the flirtiest of hems. The blazer collection features bold colors. Josie Natori's standard decadently embroidered statement pieces will be appreciated for decades to come.
Josie Natori is available at Rustan's Makati and Rustan's Shangri-La.