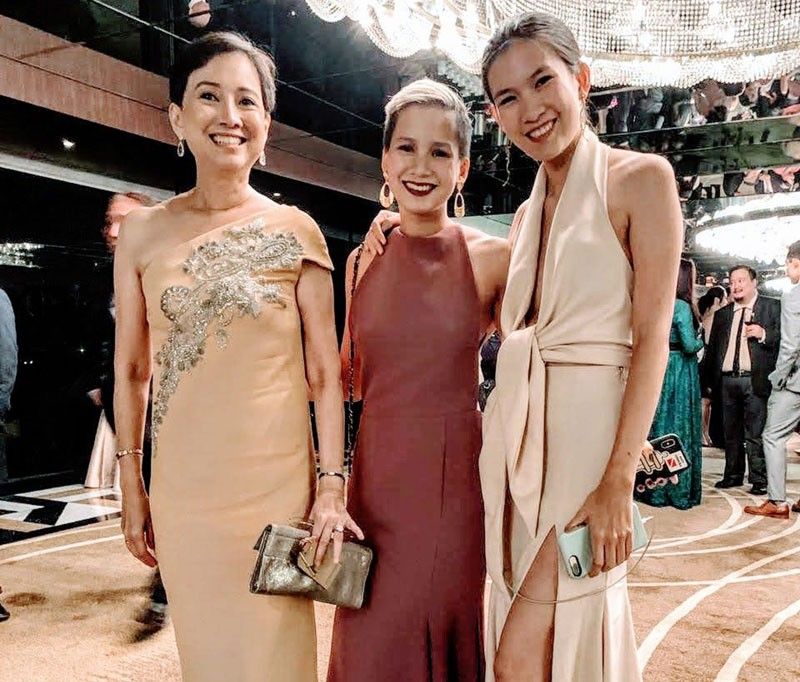 Designer Dani Osmen?a dresses up her mom Bettina and sister Andi for a formal event.
Frannie Jacinto
From Slims, then london and paris, Dani Osmeña launches her own label
It took some time and more than a few odd jobs before Dani Osmeña discovered her passion for design. With a degree in management at the Ateneo de Manila University in 2015 and starting out as a full-time preschool teacher, she eventually felt compelled to dabble in more creative ventures.
Discovering an affinity for clothes design, Dani took up dressmaking classes at Slims Fashion and Arts School, which she thoroughly enjoyed. For the latter half of 2018, the budding designer immersed herself in European fashion by taking courses in London and Paris to get a more global perspective of the industry.
Upon coming back to the Philippines, the Dani Osmeña label was launched, focusing on creating buildable looks that can easily be mixed and matched to create limitless combinations for various occasions. Describing her aesthetic as classic with a modern twist, the clothes easily coordinate with existing pieces in one's wardrobe yet can be worn season after season.
Visiting her atelier in Makati, we were able to get a glimpse of the creative designer at work.
Philippine Star: Where do you get your inspiration?
Dani Osmeña: In my case, the fabric comes before the design. I source for fabrics and am inspired by textures and brocades to come up with statement pieces that are perfect to mix and match from cocktail to formal occasions.
Do you make the pattern and cut the fabric?
I pattern and cut about half of my designs myself and work with a small team based in my studio for the rest. Since everything is made in-house, I'm very flexible with making adjustments to my RTW pieces and love making special order dresses.
What fabrics do you use?
I have a preference for textured fabrics and brocades for my statement pieces. My jewel-tone collection for the holidays is made using gazar for a stiff and structured look. The slightly more casual pieces use crepe. Every piece is lined with silk charmeuse or satin for the wearer's comfort.
What are some highlights from your first year in business?
I'm really excited to have just launched my holiday collaboration with local shoe brand Annie & Lori, which is a capsule collection of three pieces that pair well with the items in my holiday collection. I've also thoroughly enjoyed being very hands-on and meeting clients at my popups to better understand their concerns in terms of fit.
Do you have an outlet?
Currently, I don't have a retail space, but I accept appointments to fit my ready-to-wear pieces or consult on a custom look. My studio is located on Rada St., Legazpi Village, Makati. I can be contacted on Facebook or IG under @bydaniosmena or email: daniosmena@gmail.com. I will also be joining the following Christmas bazaars: Dec. 6-8, Katutubo Pop Up Market, The Curve BGC; Dec.14-15, Soiree by Retail Lab at The Fifth at Rockwell; Dec. 20-22, Midsummer Manila at Shangri-La Plaza East Wing.
For inquiries, check out @bydaniosmena on FB and Instagram or email daniosmena@gmail.com.
* * *
For comments and ideas, email the author at jacinto.fa@gmail.com or IG #frannie.jacinto.