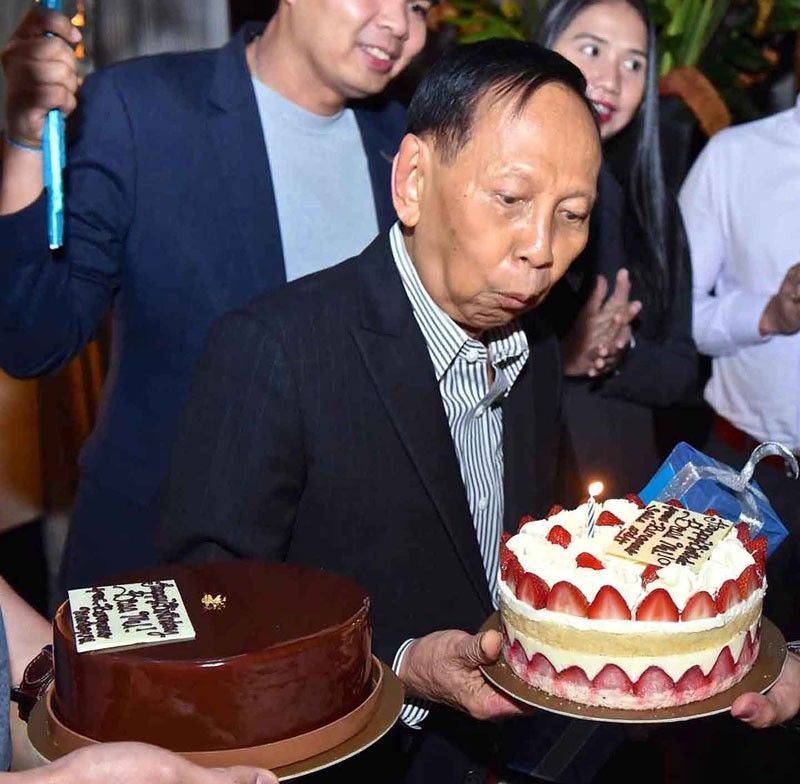 Bergamo owner and CEO Mel Meer blows out the cake candles on the first night.
Alex Van Hagen For power MAC Center
A three-night birthday party for Mel Meer
The birthday celebration of well-loved Bergamo president and CEO Mel Meer was so bright and full of life.
The gentleman for all seasons was a picture of joy and contentment during his three-night dinner celebration at the chic Manila House. The first night was dedicated to his famillie members his nephews and nieces mingling with some of his long-time friends.
The second night was for another group of friends headed by the bubbly couple Jojo and Henry Zabarte, Mia Borromeo and Mayenne Carmona who looked divine in her Rustan's pret-a-porter outfit. They were joined by 300 invitees who have known the celebrant through many decades of friendship. The third night was with the members of his birthday club.
The elegant table setting, which was conceptualized by florist Joel Lopez, had Mel's impeccable signature style: crystal candelabras, fine bone china, silverware, crystal wine and champagne glasses.
Exquisite white phalaenopsis orchids added beauty to the setup. Manila House in-house chefs were challenged by the celebrant's request of a menu that would excite the discriminating palates of his chosen guests.
Entertainment was provided by Manila House in-house acoustic singer Gelo Reyes. Photographer Alex Van Hagen made sure that the birthday celebrant had more than enough souvenir photos of his memorable three-night birthday celebration.
Leave it to Mel Meer to do everything with class and style, the Bergamo way, palanggas.