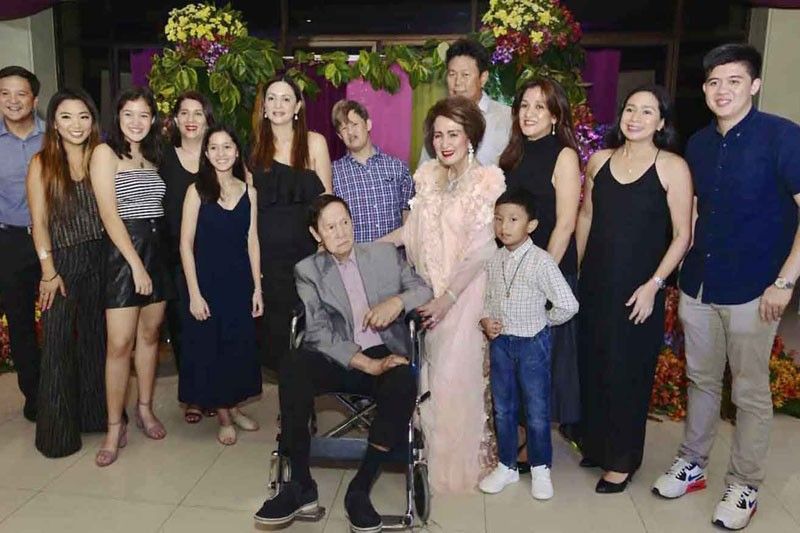 Jun and Nene Leonor with children and grandchildren; Dennis and Mia Leonor with Andrew, Clara and Monica; Gina Ocampo Leonor, whose husband JB is in Malaysia with son Adriel; Lia Leonor Colayco; Dina and Rean Villasor with son Sevie; David Leonor and Shalica Cruz
Alex Van Hagen for Power Mac Center
Nene Leonor's memorable celebration with friends
All roads led to the North Forbes Park Pavilion as our dear one-of-a-kind woman of substance Nene Leonor marked another social and healthy year of her busy, busy life — from being a philanthropist to her endless charity work — surrounded by her loving husband Jun and her dear famille.
Nene welcomed her special friends, like my palangga former First Lady Loi Ejercito, Dr. Elenita Binay, Camille Villar, Fredy Consunji of DMCI, Josie Razon (mother of Ricky Razon), former Ambassador to the Vatican Mercy Tuason, Juliette Romualdez (wife of the late Ambassador Kokoy Romualdez), 100-year-old Doña Pinang Saldana, Consuls Louie and Mellie Ablaza, Dr. Jaime Laya, Former CCP president Raul Sunico and art patron Danny Dolor, among others.
The food was great and overflowing. Guests were treated to a sumptuous feast that included the favorite Elar's Lechon, superb steak, roast beef, turkey, chicken cordon bleu, grilled prawns, lengua, lasagna, puttanesca, callos, salmon, green salad, Russian potato salad, all divinely prepared by her kitchen staff.
Après dinner, guests danced the night away to music provided by Marcy David and his Band, trying to work off what they'd just stuffed themselves with. Some succeeded, but most did not — oops, sorry, palanggas. It was a memorable party for a wonderful person.