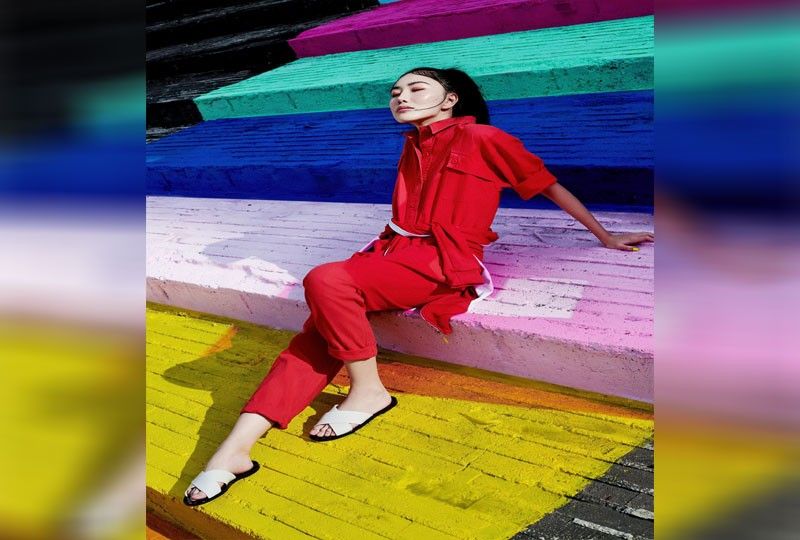 Color me casual: The Melissa Essential Slide is available at Melissa boutiques and www. melissaphilippines.com.
Melissa at 40: Young, fun and colorful
I can't believe that Melissa, the original jelly-shoe brand from Brazil, is 40 this year. At four decades, the brand has retained its youthful heart and designer edge, with ultra-stylish, comfy shoes for all ages and genders that stand up to our monsoon weather with its PVC plastic material.
The brand was born in 1979 with the Aranha, a jelly shoe inspired by the footwear of French Riviera fishermen, which soon caught on with beach-loving Brazilians.
In 1983 Melissa was one of the first brands to instigate the designer collab, creating a collection with French avant-garde couturier Jean Paul Gaultier.
In the decade of the supers, Melissa brought supermodel Claudia Schiffer to Brazil in 1996 and together they designed the Model, a vibrantly colored, block-heeled shoe with wide plastic straps that has been updated for the current anniversary collection.
In 2003 Melissa collaborated with Brazilian fashion designer Alexandre Herchcovitch, while 2004 marked the start of a long affiliation with Brazilian design duo the Campana Brothers, and these collabs showed that Brazil was a design force to be reckoned with globally.
The succeeding year saw Melissa partner with industrial designer Karim Rashid and the opening of the first Galeria Melissa in Sao Paulo, Brazil — a place where art, fashion and design met under one roof.
In 2006 came more design evolutions from Herchcovitch and the Campanas, which have become enduring icons in the Melissa canon.
The year 2007 is when Melissa entered our world: the shoe brand was officially launched here, and Melissa Philippines is now celebrating 12 successful years.
In 2008 Vivienne Westwood came on board, and the partnership has remained phenomenally successful until today.
The following year was notable for Melissa going outside the realm of fashion to partner with world-famous architect Zaha Hadid, which resulted in sculptural but very wearable shoe styles.
In 2010, pop star Katy Perry did a modeling stint for Melissa.
The subsequent year was the start of Melissa + Jason Wu, a collaboration that's still going strong, resulting in bestsellers every season.
In 2012 the late, great Karl Lagerfeld and style icon Cara Delevingne teamed with Melissa to create the "Classic Fantastic" collection.
The year 2016 saw a fun and colorful collection with Jeremy Scott, while in 2018, Melissa teamed up with iconic sports label Fila to release a fun and stylish athleisure collection.
Which brings us up to date: this year Melissa has just released a fun, quirky and colorful collection from Opening Ceremony, the 2019 New York Retailer of the Year famous for its chic streetwear. "They're a New York-based retail brand that's gaining popularity with the hip-hop, casual crowd," notes Melissa Philippines brand manager Joy Dauz.
And that's not all. "Color Me" is the campaign for Melissa's shoe releases from October to December 2019, and it's a wider range with more updated bestsellers, according to Dauz. Highlights include the new Jason Wu Spider, Vivienne Westwood Space Love ballet flats, Papete tourist sandals, a striking shoe-and-bag collab with Brazilian beachwear brand Salinas, and for kids, Disney Little Mermaid and Frozen collections in the Mini Melissa and Mel lines this November. "We're also releasing genderless styles, like Toy Story slides with the characters Buzz and Woody for the boys," says Dauz.
Four styles that depict the 40-year evolution of Melissa have been updated for the times: the Melissa Com Pochete, flat Mary Janes and a fanny-pack reissue of a style originally launched in 1990; Claudia Schiffer's sexy Model; the Star in Love, a rainbow platform shoe from 2002 that has been re-designed as a flatform with a sneaker-like structure; and Speed, a futuristic-looking high-top sneaker from 2003 that became a hit in the ensuing decade.
Going full circle, Melissa has evolved the Aranha into the current Aranha Quadrada, a lighter, more square-toed version of the OG model that is so cute and covetable it reminded me of why I fell in love with jelly shoes in the first place. Here's to 40 more years of Melissa's sustainably fashionable footwear.
* * *
The "Color Me" collection is available at Melissa boutiques nationwide and at www.melissaphilippines.com.
Follow the author @theresejamoragarceau on Instagram and Facebook.