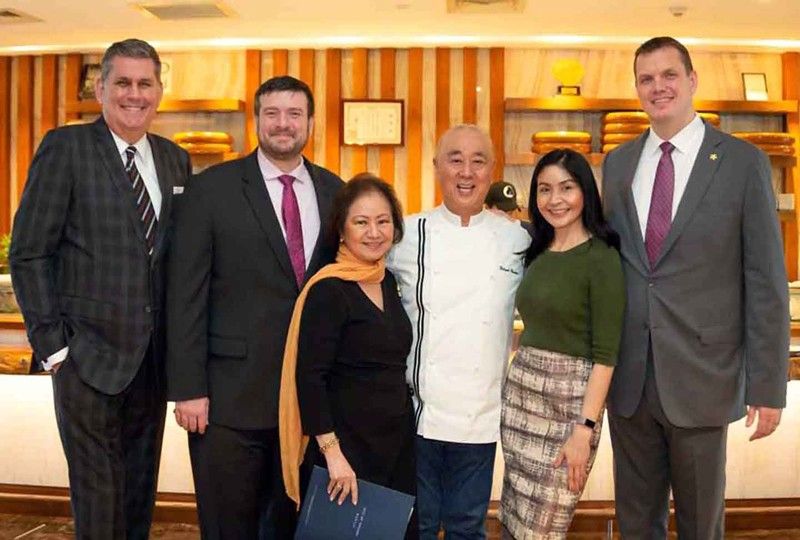 City of Dreams (COD) Manila VP for hotels and F&B Michael Ziemer, with VP for finance Kevin Sweet, VP for public relations Charisse Chuidian, world-renowned chef Nobu Matsu-hisa, director for public relations Mina Gervacio, COO and SVP Kevin Benning
Photos by Alex Van Hagen powered by MAC Center
Chef Nobu Matsuhisa revisits manila
World-renowned chef Nobu Matsuhisa returned to Manila recently, palanggas, for yet another exclusive one-night-only eight-course Omakase dinner affair at his eponymous restaurant at City of Dreams Manila.
A recipient of the prestigious Lifetime Achievement Award at the 2017 British GQ Food & Drink Awards, chef Nobu is behind the Nobu culinary empire spanning five continents, astounding the world with his masterful and artistic approach to Japanese cuisine punctuated with Peruvian influences. The celebrated chef was assisted by Nobu Manila head chef Michael de Jesus, head sushi chef Keiichi Hirukawa and the Nobu culinary team. Traveling with him are Nobu Restaurants chief operations officer Hiro Tahara, and regional director Ichibaku Kobayashi. The impeccably curated eight-course to-die-for menu featured dishes infused with Filipino flavors.
On the menu are yellowtail sashimi with jalapeño and yuzu soy; butter-lettuce salad with yuzu truffle dried miso, parmesan and kizami yuba; mixed seasonal mushroom soup with lime and negi; and umami seabass with green papaya salsa. An indulgent serving of wagyu beef with adobo sake-miring reduction, nasu and roasted garlic precede the dessert — Nobu Chocolate "Zen Garden" with green tea sponge and chocolate soil.
Die-hard Nobu followers and guests can learn more about chef Nobu and some of his inspiring creations in his latest book, World of Nobu, which is exclusively available for the dinner event.
Chef Nobu's Manila visit is part of his Asia Pacific tour, which includes Singapore, Hong Kong and Kuala Lumpur. For those not in the know, dahlings, there are 41 Nobu restaurants and 10 hotels globally, and more hotels are opening in Europe, North and South America, and Asia.
The internationally recognized Nobu brand was founded in Tribeca, New York with chef Nobu, Hollywood actor Roberto De Niro and producer Meir Teper as partners, who were sitting beside us while we were there having dinner that night and applauded my soulmate, the eye-catching Vicky Zubiri, as she danced on the table after all the saké we drank. Wow, what a night!
For inquiries, call Nobu Manila at 800-8080 or email guestservices@cod-manila.com or visit www.cityofdreamsmanila.com.