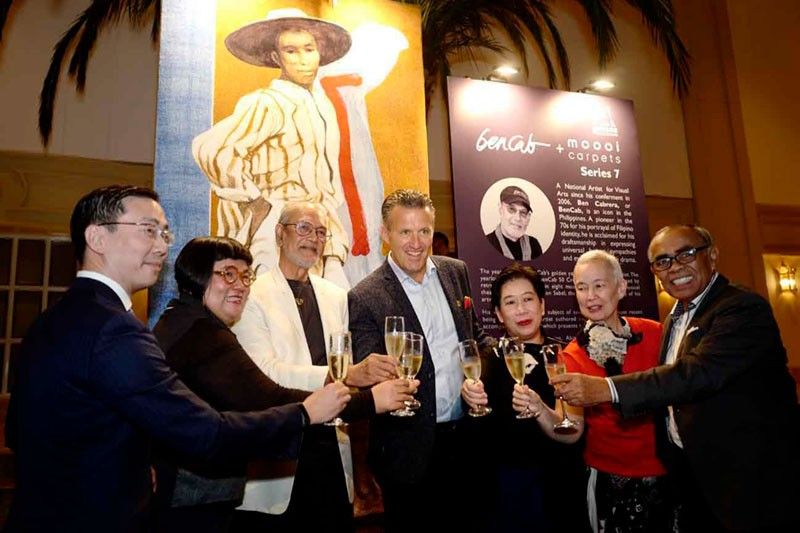 Peninsula Manila GM Mark Choon, Jeane Wee, National Artist BenCab, Moooi Carpets CEO Martien Valentijn, Filaine Tan, Annie Sarthou, Dr. Joven Cuanang
Would you walk on A BenCab x Moooi Carpet?
National Artist BenCab added another feather to his cap as he collaborated with Moooi Carpets and Abitare Internazionale for "BenCab+Moooi Carpets Series 7," which had a successful three-week run at The Peninsula Manila in Makati City.
Simultaneously launched was the long-awaited BenCab: The Filipino Artist by Patrick D. Flores, palanggas. The two-volume book is an extensive coverage of the artist's 50-year retrospective exhibitions in eight museums from 2015 to 2017.
The trés popular Peninsula lobby became a fantastic venue for a glitzy exhibition featuring BenCab's new collection of ground-breaking tapestries with Dutch design company Moooi Carpets. The dazzling affair was presented by the prestigious Abitare Internazionale. This limited-edition digital prints, which any BenCab collector must have, compromises seven masterful works by the National Artist. They're on my wishlist. BenCab's "Milk Vendor" and "Sabel" come to life on large-scale, digitally printed carpets.
During the launch, art collectors, patrons, friends and family from around the world offered a toast to the successful career of one of the country's contemporary masters.
As always, the name BenCab alone is a dazzling star, dahlings. Photos by Alex Van Hagen powered by MAC Center