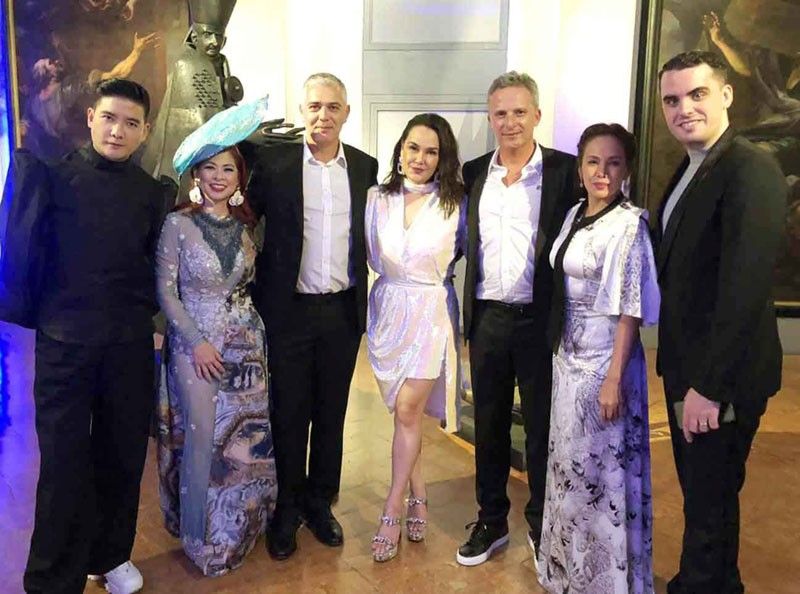 (From left) Tim Yap, Tessa Prieto-Valdes, Antonino Ingrasciotta, Cris Albert, Josef Graesel, Ana Abad Santos and Javi Martinez at the Grand Gala Night of the Fila fashion show at Milan Fashion Week.
Fila Philippines goes to Milan Fashion Week
Yes, for the second straight year, CEO and owner of Fila Philippines, the gorgeous woman of substance and stature Cris Albert, attended the anticipated Fila 2020 spring-summer fashion show at the fabulous Milan Fashion Week held recently at the MegaWatt Court at 12 Via Watt, 15 Milan, together with teams from Fila Japan, Korea and Germany, global celebrities, stylists and models.
Led by creative directors Antonino Ingrasciotta and Joseph Graesel, who joined Fila last year, the sportswear brand is leading the '90s sportswear lifestyle look and presented the eye-catching spring-summer 2020 collection at MFW.
The much-talked-about runway show featured men and women wearing athleisure clothes inspired primarily by the beach, the pool and the sea. Sailing jackets and anoraks were on deck, as were satchels, fanny packs and those sock-style boots Fila is well-known for, palanggas.
"This amazing new collection has a strong soul born from natural elements, making one think of the beach, the pool and the world of surfing and sailing," explained Cris Albert. "A story that starts from the Fila archives of the Fondazione FILA Museum in Biella, where all the brand's key pieces are kept."
Cris wore an elegant outfit designed by Puey Quiñones, while her sister, exotic beauty Ana Abad Santos, celebrity actress and VP for advertising at Fila Philippines, wore a Daryl Maat and John Herrera.
Tessa Prieto-Valdes, long-time Fila brand ambassador; Anton San Diego, Philippine Tatler editor in chief; Tim Yap, celebrity influencer and owner of Yaparazzi Events; and with his long-time partner, managing director Javi Martinez, admired all these masterpieces on the runway and also represented the Philippines during the fashion show. Cris received a très, très warm welcome from Fila International chairman Gene Yoon.
Team Fila Philippines also met with influential designers, Korean celebrities and the Fila Germany crew.
The show was succeeded by a Grand Fila gala dinner at Museo Diocesano Corso di Porta Ticinese.
Bravo, Fila!
Checked all the right boxes for the spring-summer 2020 "See Now, Buy Now" collection. Most of the collection will be available at FILA.com.ph soon.
Bernardaud x Jeff Koons at Rustan's
Rustan's, one of the country's top high-end department stores, and the exquisite French porcelain brand Bernardaud, launched its newest collection in collaboration with American artist Jeff Koons.
The event was attended by Bernardaud Asia Pacific Sales and Marketing vice president Thibault Pointe and Bernardaud area director for Southeast Asia, Pacific & India, the gentleman Gianni Phan.
Guests included Rustan's Merchandising Home Division vice president and hard worker Marilen Tantoco, Lizzie Zobel, Claudia Tambunting, Anne Marie Saguil, Monique Albert Lopez, Kaye Tinga and Erica Concepcion-Reyes, among the namedroppables present.
Incorporating the vocabulary of his iconic Celebration sculptures "Balloon Monkey," "Balloon Rabbit" and "Balloon Swan" in a new collection marked a spectacular new chapter in Jeff Koons's oeuvre. Whether it's the seductive, reflective surfaces, or the intricate knots, creases and twists, no detail of the work was compromised in rendering these balloon animals in porcelain. Koons, intrigued by Limoges porcelain, partnered with Bernardaud to realize this complex work.
At 150 years, Bernardaud has worked with the most skilled artisans at their workshop in Limoges and most recently created new technologies to achieve the porcelain "Balloon Swan (Magenta)," "Balloon Monkey (Orange)" and "Balloon Rabbit (Violet)" by renowned artist Koons.
Don't forget to check out this one-of-a-kind porcelain series and add it to your collection of art and sculpture. A must-have for all porcelain collectors.
As you should know, Bernardaud is exclusively available at Rustan's Makati, Shangri-La and Cebu, dahlings.
Photos by Alex Van Hagen Powered by MAC Center