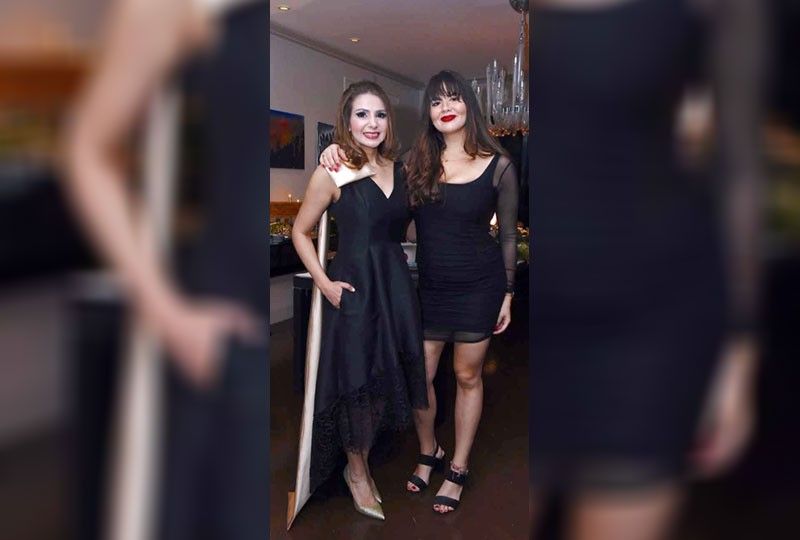 Serla Russell and her daughter Ceara Russell, who flew in from the United Kingdom.
There is something magical about turning gold. Celebrating half a century? Golden Jubilee year?
Fabulous 50! The stunning Serla Russell celebrated half a decade with an unforgettable touch of a gold-themed party. She wore a stunning black gown accentuated with an elegant gold ribbon by Monique Lhuillier, no less. Aprés a few hours through the evening, she then changed into a sophisticated, glitzy-glam, full-beaded Alice + Olivia cocktail dress to dance the night away.
This trés special occasion was attended by close friends from the well-heeled Indian social set, a small local community circle and famille members who traveled from across the globe such as Serla's youngest daughter Ceara Russell, who jetted in from the United Kingdom, and Serla's dearest sister Jennifer Kewalram from Sydney, Australia, who would not miss this special day for the world!
It was like a beauty contest where tons of beauties filled up the venue. The amazing candle-lit ambience that filled the room set a seductive tone, which was complemented with a mind-boggling buffet of French, Japanese, Vietnamese, Spanish, Italian, Lebanese and Thai dishes. The presentation alone of the buffet could make anyone speechless. Each buffet table was accented with exotic flowers and brass serving ware. Super chefs stood behind each counter doing live cooking right on the spot, to the delight of the guests. There was also a a fabulous gin bar manned by a talented mixologist, who concocted each variety of gin with condiments to complement its flavors.
Serla couldn't be more grateful for having family and friends make this happen for her. Having her closest and dearest near her is more precious than gold.
Serla said that turning older should never hold anyone back."It is a continuous learning process. With each passing year, we should strive to work harder in getting better as a person. We should hold on to happy and sad memories that make us stronger. I am truly looking forward to face new challenges and experiences as life takes me to the next decade and on."
"Here endeth the lesson… and this journey. Be your authentic self. The key to happiness is 'to love, and to making the world dance again!'" the gorgeous Serla added, borrowing a quote from Jennifer Lopez.
Well, it deserved a good five minutes of loud applause from everyone. Cheers to you, golden girl! Photos by Alex Van Hagen powered by MAC Center