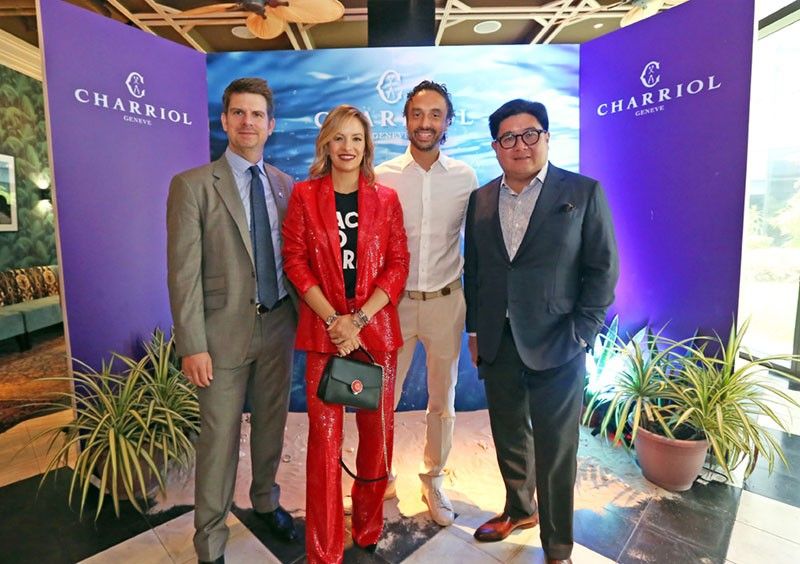 SSI Group president Anton Huang (right) with Charriol CEO Ludovic Lesur, executive chairwoman and creative director Coralie Charriol-Paul, and art director and director of licenses Alex-ander Charriol.
Walter Bollozos
It's the ocean forever for Charriol
The late Philippe Charriol's family — wife Annick, daughter Coralie and son Alexander — took a special trip to Manila to see the Tantoco family and memorialize their father, who died tragically in a racing car crash last February.
"The relationship between our families has spanned almost 40 years and three generations, beginning with my grandmother having worked with their father, then my mother, aunts and myself as well," said Anton Huang, SSI Group president. "Now I have the opportunity as well to work with Coralie and Alexander, which is incredibly exciting as they take on the reins of their family business. With the sad and untimely passing of their father, it was all very shocking for us."
Huang said that at the memorial, his mom, Nedy Tantoco, recalled texting with Philippe right before he died. "He passed on a Tuesday, and he was supposed to arrive in Manila on a Friday," Huang said. "So it was very sudden for all of us and we miss him greatly, but we remembered him and celebrated him very fondly last night."
Philippe's children have donned the mantle of the business he founded in 1983, Philippe Charriol International. Coralie is now executive chairwoman and creative director, while Alexander is art director and director of licenses. Ludovic Lesur is CEO.
"I woke up a little bit with puffy eyes, but I wanted to thank the Tantoco family," Coralie said. "Without the three generations, Charriol wouldn't be here. And it's 30 years of Charriol in the Philippine market and it's pretty incredible what we have built together."
Now that she's chairwoman, Coralie recently moved from Germany to Geneva, where the company is headquartered. "It's going to be a different kind of leadership," she predicts, "leadership from the heart. Charriol is more than a brand for me. This was my father's passion, his life's work and his legacy. As chair, I pledge to give it my all each day, and to keep delivering luxury, elegance, and wonder to our loyal clients and hopefully get a few new ones, too."
She declares that Charriol will remain the undisputed world leader in luxury cable products. "We cannot undo the DNA, which thank God we have. We're going to stay faithful to our core values, and you will see the same incomparable quality materials, attention to detail, and commitment to craftsmanship."
She says what's changed in the retail landscape is distribution, marketing, and the way the new generation shops. "Young people want to wear something that has a message," she observes. "They like experiences and travel, so you need to be innovative."
From Art to the Ocean
Alexander, meanwhile (he says he prefers his name spelled "Alexander" to "Alexandre"), is an artist who — in addition to his corporate duties — continues to paint every day, and plans to exhibit in Bangkok in 2021.
"As an artist, I always try to steer away from cliché and prefer to think outside the box," he says. "Our intention is to appeal to energetic, dynamic customers and give them what they want. My artistic side means I am attuned to feelings and trends, and I know we have to open up and have more of a conversation around the brand."
Sister Coralie is the more outdoorsy type — an avid surfer who's been riding the waves for the past six years. "I'm totally addicted to surfing, so when my children are working, I take surf trips," she says. Which is what led her to her current advocacy: "I started paying attention to the ocean, and what is happening in our oceans around the world. My kids want to recycle, they want to reduce, they want to reuse — they don't want plastic straws anywhere. So I got involved with an organization called Lonely Whale Foundation that my friend, actor Adrian Grenier, started three years ago, and now is an award-winning nonprofit that has really incredible ideas that drive impactful change on behalf of our ocean."
Coralie's passion for the ocean has led to Charriol's new Ocean Forever Turtle watch, the first piece she designed as chair of the company. It's a beautiful timepiece with a mother-of-pearl dial that sports turtle and wave accents.
"The turtle represents the ocean," Coralie says. "It's one of the oldest animals in the ocean, and everybody loves the turtle. There's just something magical about it."
Charriol plans to give a portion of the Turtle watch's sales to ocean conservation organizations around the world.
In addition to being a surfer, Coralie is also a film buff who took a summer program at New York Film Academy. "I realized I was not a filmmaker but I wanted to be part of the message and power of film, so my husband and I, about 10 years ago, created an organization called React to Film, where we took issue-based documentaries and then brought them to high schools and colleges and exposed kids to different issues."
Her debut as producer was on a documentary about American politics called Slay the Dragon. But it's her most recent film that tackles the issues closest to her heart: The Story of Plastic.
"It portrays the terrible of the truth of what is happening: about plastic in our oceans and how recycling is sadly not working," she says. "But the Philippines is portrayed in a very hopeful light, because they actually have created solutions and they are very actually instrumental to reducing plastic, especially with the zero-waste movements."
Charriol, Rustan's and SSI held a sneak-preview screening of The Story of Plastic at Central Square cinemas, attended by Malabon Mayor Antolin Oreta III, Nedy Tantoco, Anton Huang, Maritess Tantoco-Enriquez, Renato Enriquez, and representatives from the Mother Earth Foundation and Greenpeace.
The docu, which shot on location in Indonesia, India and the Philippines, featured communities like the one in San Fernando, Pampanga, which is eliminating unrecyclable plastics like sachets and snack bags in their bid to reduce plastic pollution. It's a shocking but very educational and compelling film about the true source of the plastic problem and how we can possibly solve it. (We can do our part by stopping our use of sachets, straws, plastic bags and PET bottles.)
Coralie is so proud of the film that she and the filmmakers plan to enter it into the Berlin Film Festival. And at Charriol itself, "We are actively committed to reducing our use of plastic, and we pledge to use 100 percent plastic-free shopping bags by 2020," Coralie promised.
* * *
In the Philippines, Charriol is exclusively distributed by Stores Specialists, Inc., and is located at Central Square in Bonifacio High Street Central, Gateway Mall, Greenbelt 5, Newport Mall, Podium, Power Plant Mall, Robinsons Magnolia, Robinsons Place Manila, Rustan's Makati, Rustan's Shangri-La, Rustan's Ayala Cebu, SM Mall of Asia, TriNoma, 158 Designers' Boulevard (Alabang Town Center, Marquee Mall Pampanga), and Abreeza Mall Davao. Visit facebook.com/CharriolOfficial and www.ssilife.com.ph or follow @charriolph and @ssilifeph on Instagram for more information.
Follow the author @theresejamoragarceau on Facebook and Instagram.