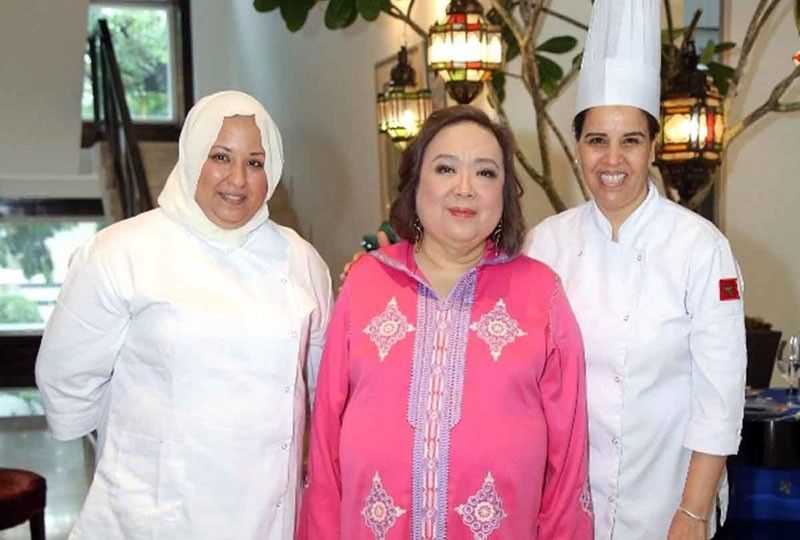 Rustan's VP for Merchandising-Home Division Marilen Tantoco with chef Rashida Bousta and sous chef Fatima Zara
Taste the real Morocco at Rustan's
With its breathtaking and exotic sights, scents and sounds, Marrakesh is one of my favorite destinations. I've been there four times already and am hoping to go again. Marrakesh envelops you like a soothing embrace, and you immediately feel the warmth of the people and the culture deeply touches your spirit.
Rustan's brings to you the mystery and magic of Morocco with its festival, aptly titled "Fall in Love with Morocco," which you surely will, I assure you, my palanggas. Now in its second year, the month-long event is in partnership with HSBC and popular Adventure International Tours, Inc., plus Ralph's Wines & Spirits. Naturellement.
The fantastic highlight of the festival was the opening of the iconic Café Casablanca on the fifth floor of Rustan's Makati.
For a special culinary presentation, Rustan's Makati gave us the opportunity to savor the decadent bites at Café Casablanca, which will open for a limited period, and will be headed by authentic, renowned Moroccan chef Rachida Bousta. From the to-die-for richly spiced lamb and beef roasts, to sweet and nutty deserts, travel through your taste buds with these amazing dishes, dahlings.
With their super presentation of Moroccan culture and food this second time around, discover a deeper love and inspiration this season at Rustan's. Photos by Alex Van Hagen powered by MAC Center