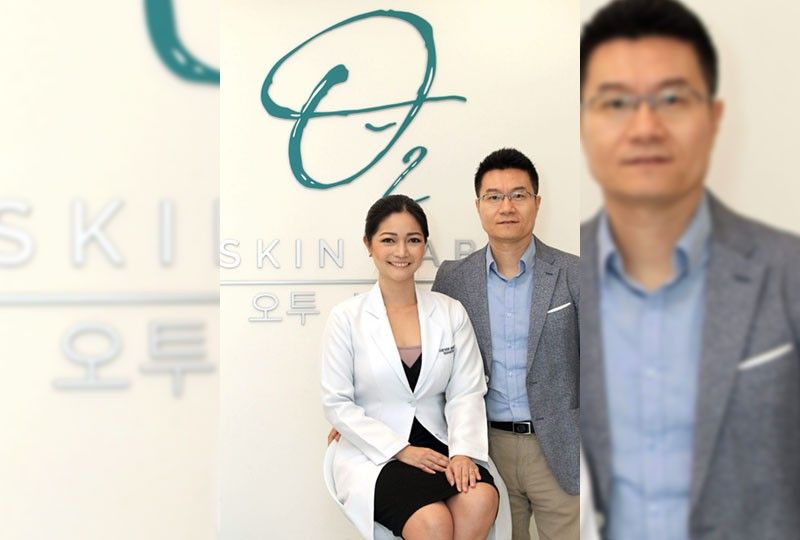 O2 Skin Lab master in Korean aesthetic technology Phillip Cho and dermatologist Dr. Cherry Ann Co
Korean beauty secrets: Weekly facials & K-POP makeup
I'm as obsessed with Korean glass skin as the next Koreaboo, but the 12-step skincare routine can get tedious at times. If you don't want to expend that much effort and feel like pampering yourself at the same time, I've discovered another way Koreans get that K-pop star sheen: they get facials every single week.
"For Koreans, once-a-week facials aren't an occasional treat or luxury but a necessity," says Phillip Cho, a master in Korean aesthetic technology at O2 Skin Lab. "Korean women do facials every week, and Korean men do, too. In Korea the culture of beauty is about putting your best face forward and making the best impression when meeting people. If you go to a meeting looking haggard, that says a lot about you, and nothing favorable."
That's why Koreans in the Philippines go to O2 Skin Lab, a beauty mecca in BGC that offers all the non-invasive beauty procedures Koreans need to maintain their glass-skinned good looks. Cho says they want to be the mid-priced, more affordable alternative to celebrity derm clinics that charge an arm and a leg just for one procedure. They also want to share their Korean beauty secrets with more Pinoys; one of the welcoming faces at O2 is that of Dr. Cherry Ann Co, a dermatologist so beautiful she's a walking advertisement for the Lab's services.
The most popular beauty treatment at O2 is the 10-step Korean Signature Facial, 110 minutes of beautification and pampering that costs P2,800. They also offer a more affordable facial at only P800, an attractive price when you're having it done every week.
First timers are given a consultation in which your skin is analyzed via computer to determine what your issues are and what kind of treatments you'd need. My findings were that even if my skin was very elastic, that my "skin age" was a year older than my actual age, thanks to sun damage (I should have started applying daily sunscreen when I was younger).
Cho recommended various treatments I could try, but for my first time I was keen on experiencing the Korean Signature Facial.
It starts off as most facials do, with a double cleaning using cleansing oil. Then it gets high-tech: they exfoliate with an ultrasonic machine to open your pores and slough off dead skin. Another nice touch is they give you 10 minutes of low-dosage radio frequency to stimulate collagen and elastin production. It's such a low dose it's painless and there's no need for anesthetic.
Then comes a pumpkin mask to brighten and purify. While the mask worked its magic for 10 minutes, my therapist gave me a Korean massage on my face, back, neck and shoulders. Using very vigorous movements with fluttering fingers, this was a unique massage I enjoyed a lot. She also massaged my hands, arms and lower legs. Cho says they aim to relax you as well.
Next comes a vitamin C mask, which they thickly layer over gauze. Then they have you hold a device and pass a micro-current over your face to increase absorption. (This might entail a little discomfort for those who have a lot of metal fillings in their teeth.) They leave the mask on for another 10 minutes while you're treated to an arm and leg massage, then finish the facial with moisturizer and sunscreen, if you're having the treatment in the daytime.
O2's therapists undergo two to three months of training so they're skilled at what they do. Aside from facials, O2 has all the latest technology for other non-invasive beauty treatments like Ultherapy, IPL (intense pulsed light) and body tightening. Cho believes in enhancing your beauty gradually to the fullest using non-invasive methods before doing something like threading as a last resort.
"You may get dramatic results, but it won't be your natural beauty," he says. "It's not about being model-beautiful or handsome, but that you care enough to make a good impression."
* * *
O2 Skin Lab is located at Unit 1218, High Street South Corporate Plaza, Tower 1, 26th St. corner 9th Ave. in BGC, Taguig. Call (0917) 182-2727 or visit www.o2skinlab.com.ph to book an appointment.