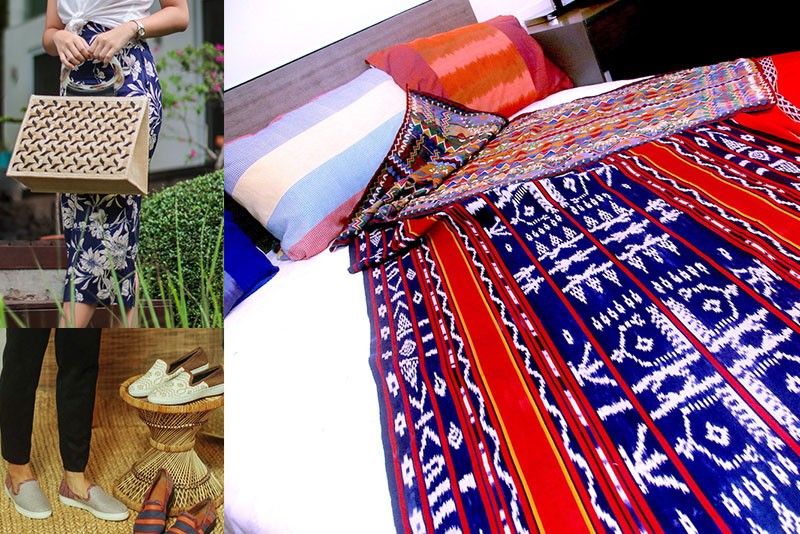 The 9th Likhang HABI Market Fair is on October 11 to 13 at the Glorietta 3 Activity Center in Makati City. With the theme The Highlights of our HABI Journey, this year's edition will feature artisan market fairs and Filipino indigenous textiles.
Photo release
LIST: September style essentials to remember
MANILA, Philippines — September is not only the title of a popular Earth, Wind & Fire song. It is also considered as the biggest month in fashion ever since international fashion magazine Vogue and its influential editor in chief Anna Wintour made a tell-all documentary on how they form their thickest issue of the year, "The September Issue."
Take home a piece of Fashion Weeks happening this month in the world's fashion capitals Paris, Milan and New York by checking out the following fashion trends, must-haves and updates.
Fashion houses collaborate with tech brand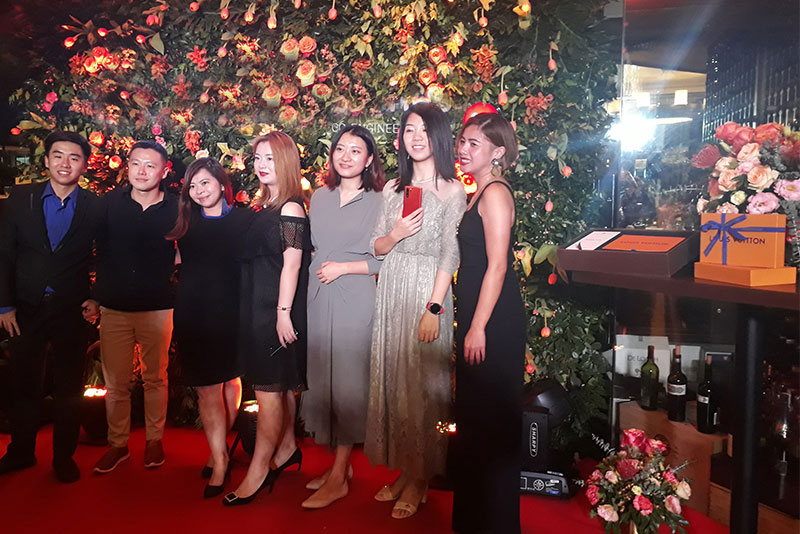 The brand's officials and principals launching the new LV and Swarovski cases. Philstar.com/Deni Bernardo
Huawei recently introduced to the Philippines its limited-edition Louis Vuitton and Swarovski cases for its P30 Pro Amber Sunrise 512GB series.
It is the tech company's first time to collaborate with French fashion house LV, whose famed monogram is embossed in a pattern in the folio-style leather case.
Swarovski, meanwhile, has collaborated with the tech giant before, but this time, the crystal-studded case comes in Ice White and Pearl Pink.
The phone series has been known for its triple camera setup with up to 50x hybrid zoom, large 6.47-inch FHD+OLED display, and other unique features.
Availability for the limited-edition cases is yet to be announced, but the phones come with free limited-edition Bluetooth earphones and smart watch.
Rainy season must-haves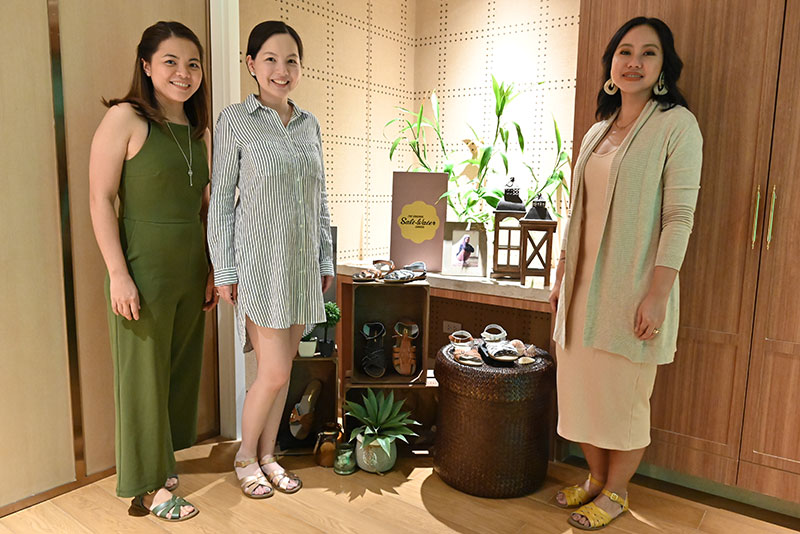 Salt-Water Sandals Marketing Director Vanessa Chua, Managing Director Joanna Co and Brand Manager Joy Dauz. Photo release
With the rainy season kicking into full swing, it's high time to invest in footwear that can withstand the unpredictable weather and take you from weekdays in the city to weekends in the outdoors. Salt-Water Sandals are an answer for those looking to strike a balance between form and function this season, with material that molds itself to fit snugly against the wearer's feet and a variety of styles to suit every kind of woman.
The hand-stitched leather material of these sandals is coated in water sealant that shields it from water and moisture, giving each pair the unique ability to become even more durable when wet. This makes the shoes an ideal companion for city crawlers, beach lovers and frequent travelers alike.
The sandals, known for simple yet versatile appeal through the decades, recently introduced new styles, from trendy brights and metallics to classic neutrals. The Retro sandal, like its name suggests, is a blast from the past. An archive model being relaunched by the brand 50 years later, this style is reminiscent of the Mexican Huarache sandal that was well-loved in the 1960s due to its basket-woven upper and ankle strap. Along with new styles come new colors like metallic pewter, a matte-finish mustard and warm olive colorways.
Available at CommonThread (Greenbelt 5 & Rockwell), Mothercare (Alabang, ActiveFun BGC, Glorietta 4, Greenbelt 5, Podium), The Playground Store (Robinsons Magnolia, The Podium, TriNoma), Rustan's (Alabang, Makati, Shangri-La), Mosaic (Powerplant, SM Aura, Shangri-La, Alabang Town Center and Vertis North) Baobao Babies (Cebu) and Modern Mama (Cebu), the brand also keeps the young ones in check for the rainy season and beyond.
The brand's kid range aims to give children the freedom to play without worry with its spongier base. In particular, the Swimmer style will also be made available in a fresh tan color, with size five for kids and extending all the way to adult sizes for a "twinning #OOTD" moment.
It all started in the 1940s, when Missouri-based Walter Hoy created sandals for his own daughter with sturdiness and practicality in mind—at the height of the Second World. To achieve this, he constructed simple plaited sandals from leftover leather from military boots. Hoy's legacy carries on for over 70 years now, as the brand continues to offer comfortable footwear anchored not only on necessity but reliability in one's hectic daily life.
Style for every size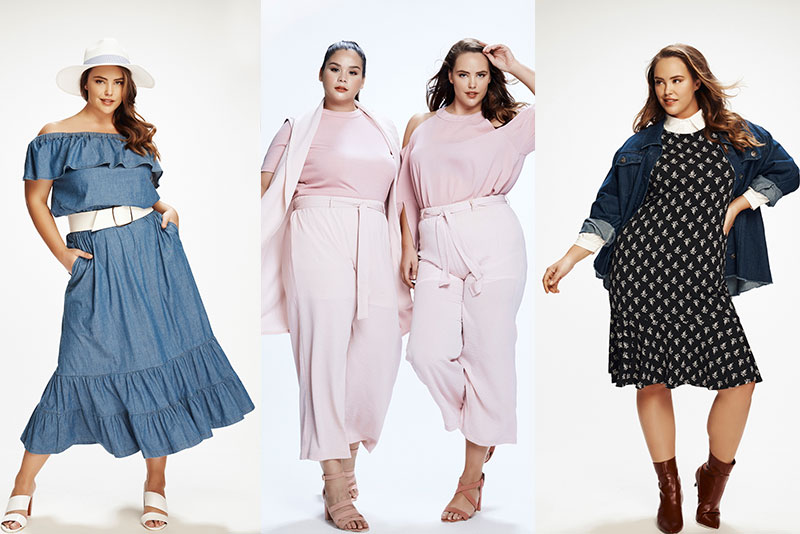 Denim, pastels and black and white flatter women of any size. SM/Released
Plus size? SM Woman Plus recently gave tips on how to pull off three of the season's hot trends.
First, black and white. Opposites attract, as seen in the classic non-color fashion duo black and white. Elongate legs instantly with black pants. Use optical illusions to your advantage by cinching a black and white dress with a slim black belt. Freshen up a black and white look by topping it with a dark denim jacket. Make black and white separates pop with a crisp white top.
Second, denim. As fashion's legendary neutral fabric, denim offsets just about any piece in one's wardrobe. Universal in function, denim is acceptable in almost any function—from the beach to the boardroom.
Style denim by first, pairing green denim overalls with green tee and green denim jacket. Add a feminine touch to your denim pencil skirt with a ruffled cold-shoulder top. Make your denim-o-denim outfit look fresh by pairing different washes.
Finally, pastels and neutrals. Go for muted pastels and nudes. A pastel pink jumpsuit is a go-to piece. Happy shades make you look easy on the eyes.
Made for 'The Conscious Generation'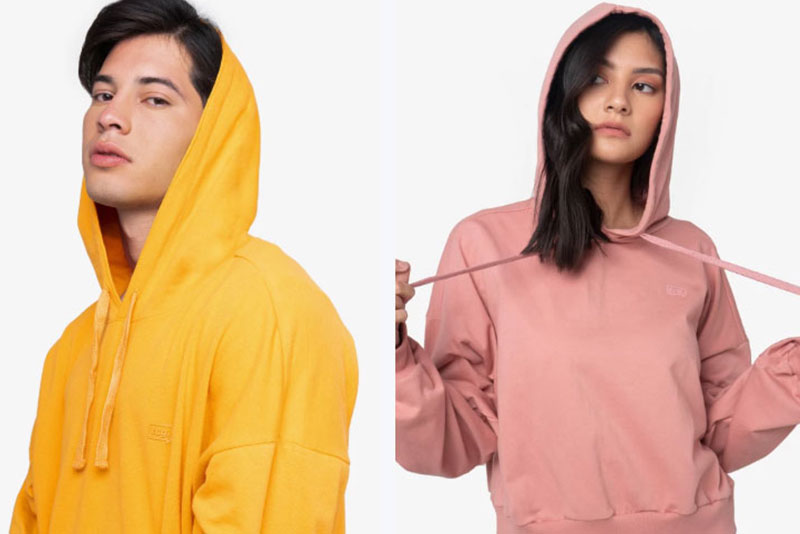 TCG hoodies
Global fashion retail brand Penshoppe is taking fashion retail to a new level of consciousness. The brand is edging out its rivals with a novel collection that provides a fresh array of style staples and acknowledges those who are next in line of shaping the future.
Aptly named TCG or The Conscious Generation, the collection is created for a whole new breed of individuals who are into a new and deeper mission of making the future their own.
The collection is made for individuals who are committed to making a difference in their own way. They know – aware of the issues that surround them, not turning a deaf ear to the call of need. They speak – not afraid to confidently voice out and drive the discussion on the things they believe in. They act – to fuel momentum for all ideas, plans, and decisions that will elicit positive change.
Jeff Bascon, Golden ABC's Vice President for Brand Management explains the collection further, "This (TCG. / The Conscious Generation) is a group of individuals who are dedicated to shaping their future.
With this collection, we want to empowerThe Conscious Generation to not be afraid to recognize, talk and take action on the issues concerning them and get a better grasp of what lies ahead.
He adds, "And this is just the start for TCG! We are excited about the activities we've lined up especially for this collection that we've designed to create an avenue for The Conscious Generation to be heard."
Available in select Penshoppe stores nationwide and online on the brand's website, Lazada, Zalora and Shopee, the collection is composed of elevated essential items in universal basics of nudes, browns, grays and blacks. To add a punch of visual flair, newness and intensity, the collection also features mustards, blush and electric blues. Firmly grounded on casual clothing, all silhouettes are in relaxed cuts to make the pieces more inclusive to support effortless style.
The TCG emblem and speech bubble in high-density print. This embossed print logo symbolizes how the brand wants the call to take a stand to be all-encompassing, to cut across divisions and differences. The speech bubble that co-mingles with the TCG logo across the whole range signifies how we want to encourage people to start conversations about their beliefs and ideas.
Global label collaborates with Filipino brands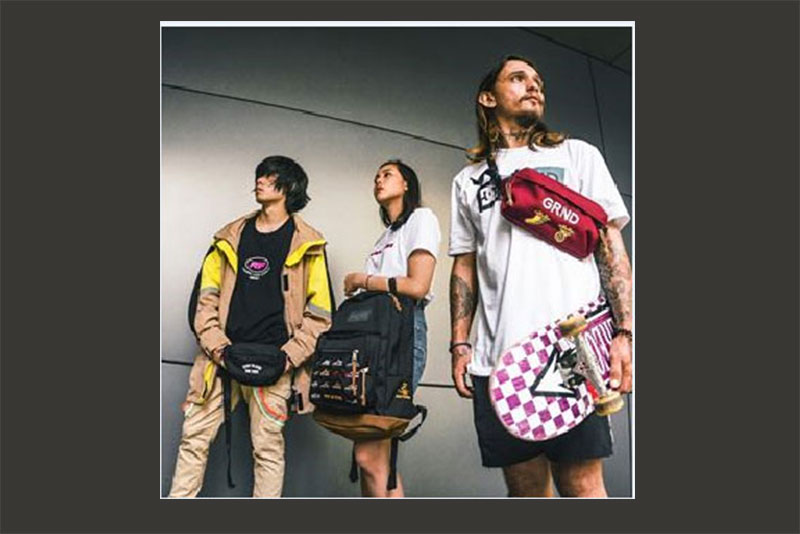 Teaming up with Don't Blame the Kids, Sole Academy and Grind, the brand's limited-edition signature series for 2019 features three collections of packs that each showcases unique embroidered designs. Photo release
An iconic outdoor gear brand that embraces a life of adventure, JanSport has since committed to making durable, functional, and versatile products. Among the brand's highly-anticipated projects is the Signature Series, a collaborative effort of the world-renowned brand with select retailers from all over the globe to produce limited-edition backpacks.
Over the years, the brand has enlisted the craft of over 20 retailers in North America, South America, Asia, and Europe. On its eighth year in the Philippines, the Signature Series returns with a collection of bags by working in tandem with three of the country's most influential urban lifestyle stores.
Teaming up with Don't Blame the Kids, Sole Academy and Grind, the brand's limited-edition signature series for 2019 features three collections of packs that each showcases unique embroidered designs.
To be released in limited quantities, this year's Signature Series bags will be available in select stores nationwide: DBTK collection (DBTK Flagship Store, select Bratpack stores in Greenbelt 5, UP Town Center, Robinsons Ermita, Alabang Town Center); Sole Academy collection (Bonifacio Global City, UP Town Center, Alabang Town Center, Ayala Cebu, Trinoma); Grind Philippines collection (Gateway, Glorietta, Ayala Cebu, Harbor Point, Legazpi, Fairview, KCC Gen San, UP Town Center, Ayala Abreeza).
Established in 1967, the outdoor gear brand that embraces a life of adventure as it aims to develop products for freedom-loving individuals worldwide.
Two decades of Spanish style in the Philippines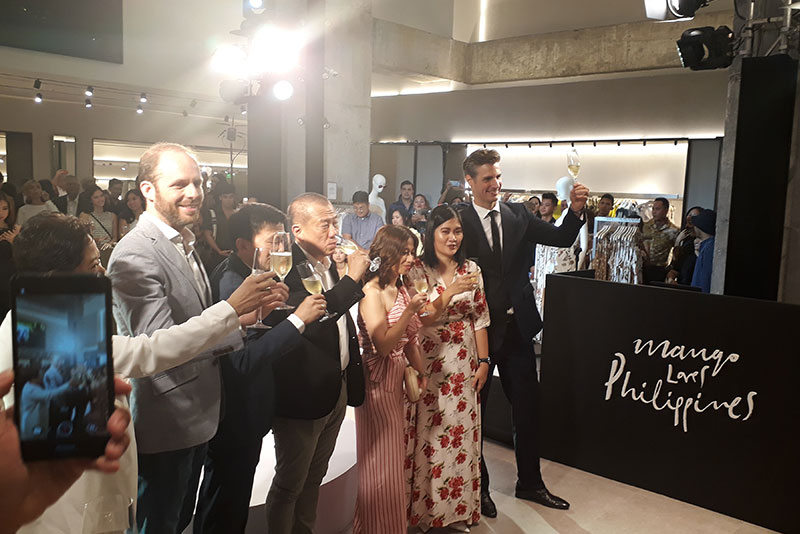 Mango principals were in the Philippines recently to celebrate the brand's 20th anniversary in the country. Philstar.com/Deni Bernardo
Spanish fashion label Mango recently celebrated its second decade in the Philippines by announcing that in its portfolio, the country is among the top nine for sales all over the world for women's apparel and the only Southeast Asian country in the top 10.
Reaching 20 years in the country on its own is a big feat, the brand's Philippine representatives told Philstar.com in an interview.
"We have surpassed a lot of competition. We're still here growing and stronger than ever," the representatives declared.
According to the representatives, the brand is able to defeat counterfeits by continuously expanding and renovating its 35 stores, and through evolving, from women's to men's and children's apparel to accessories.
Likewise, the brand strengthens its commitment to the environment though sustainability efforts such as using organic cotton and other sustainable fabrics.
This year, the brand also launched its New Voice campaign, which aims to promote unity in diversity.
"We look forward to more stores and a stronger brand. Fashion is always changing and evolving and we are doing that as well—forever catering the needs of women," the representatives said.
Redefining the gentleman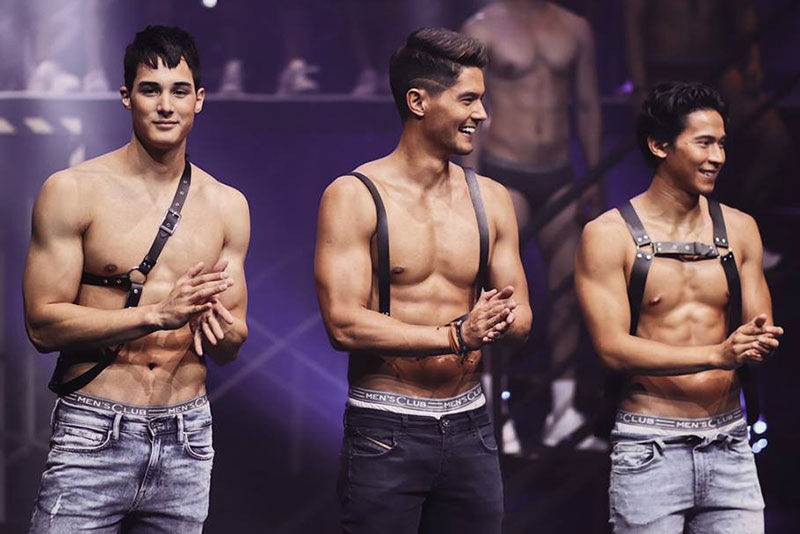 From left: Tanner Mata, Daniel Matsunaga and Enchong Dee. Facebook/Avon Philippines
There was a time when strength and stoicism were seen as the ultimate male ideals. Society created the archetype of a strong, suave man who never loses his composure. But while there's nothing wrong with that image of a dashing gent, it just doesn't paint a full picture of what a modern gentleman is.
Times have changed, but the popular notion of what's considered manly does not seem to have kept up. Men still face discomfort for showing tenderness, emotion, and other things outside the traditional mold of manliness.
"There's more to men than just being strong, masculine, and suave," says Tisha Rodriguez, Avon Philippines' Head of Marketing. "Avon believes that men can also be graceful and emotional, and still be considered manly."
As a company built to empower others, the brand is celebrating the many unsung facets of a modern gentleman with its latest campaign called Gentleman Up. The campaign is a call for all men to come forward and embrace the traits that society has set aside in favor of traditional gender connotations.
"We're not trying to discount the popular idea of what a gentleman is. Instead, we're expanding it to show a more inclusive picture of the modern gentleman," adds Rodriguez.
Fashioning fast ironing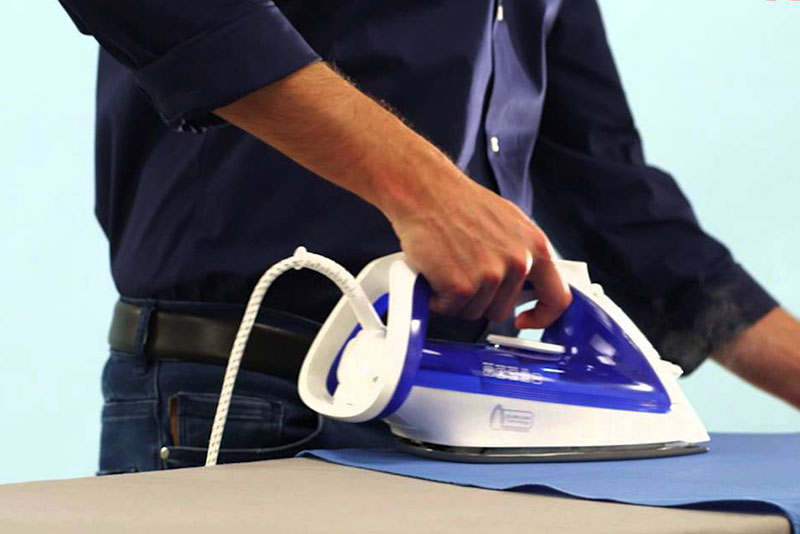 Made with dual enamel coating, the steam irons' soleplate with new Durilium Airglide has been touted to be made to be scratch-resistant against hard objects like buttons and zippers.
For those who want to upgrade to fast and effortless ironing, Tefal's Easygliss steam irons are said to be equipped with new Durilium Airglide technology soleplate for better glide and effectiveness, as opposed to the dry iron where you have to manually spray water and run the iron over the garment many times to straighten tough creases.
The brand's exclusive and patented Durilium Technology that has sold over 150 million irons worldwide since 1985 has yet another breakthrough innovation with the release of the new Durilium Airglide Soleplate that promises over 33 percent smoother glide as compared to the brand's other soleplates.
Meanwhile, the brand's Easygliss range has a 100 percent Active Steam Holes feature, which gives its soleplate maximum steam distribution to remove stubborn creases. The steam irons are both time and energy saving with fast and effortless ironing. Made with dual enamel coating, the steam irons' soleplate with new Durilium Airglide has been touted to be made to be scratch-resistant against hard objects like buttons and zippers.
Fighting signs of clothes aging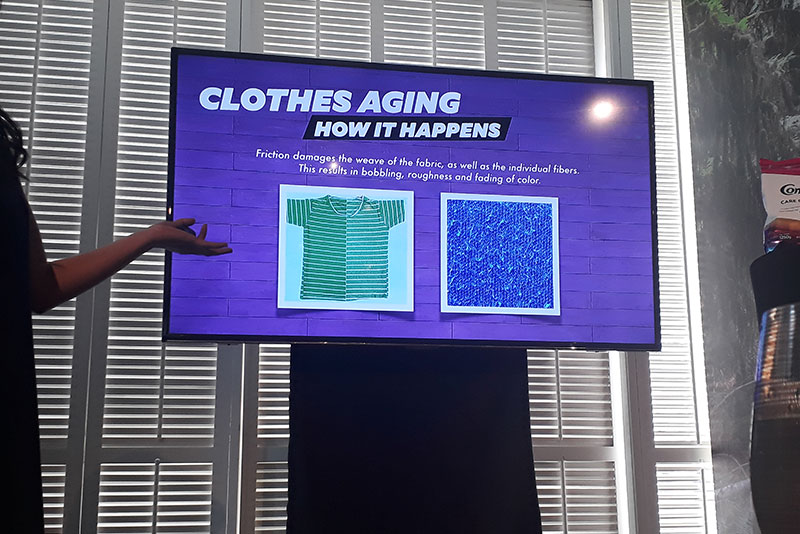 A clothes expert explaining how clothes aging happens through friction and harsh detergents. Philstar.com/Deni Bernardo
Like skin, clothes also reportedly age due to wear and tear. As such, Unilever recently introduced its latest innovation, Comfort Care Detergent and Fabric Conditioner, with a new formulation that aims to fight five signs of clothes aging: bobbling, color fading, roughness, shape loss and yellowness.
During a recent demonstration, Unilever Philippines officials showed to the press how the new detergent and fabric conditioner can reportedly make clothes make look newer, instead of older, by washing the clothes more often using the new products. The officials explained that the new formula does this by reconstructing and strengthening clothes' fabric and color strands.
Season's 'it' jeans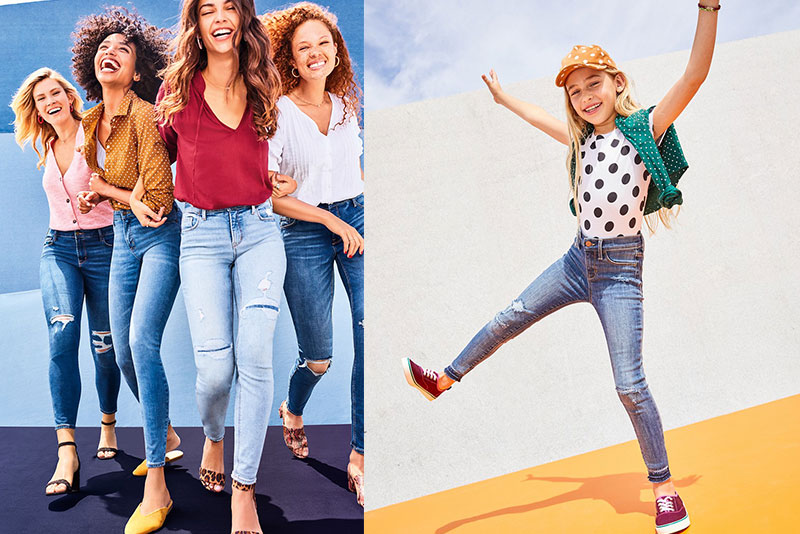 Old Navy fall-winter 2019 collection. Photo release
The newest denim fit for women is cut clean and straight down until the ankle. Made of soft, thicker denim, the High Rise Power Slim Straight Denim reportedly has just enough stretch to flatter everybody (and booty). Get an instant confidence boost with clever Secret-Slim front pockets that hold in for a slimming effect. It even has the much loved Never-Quit Shape retention that hugs in all the right places, wear after wear.
These jeans are available at Old Navy, exclusively distributed by Specialty Lifestyle Concepts, Inc. (formerly Casual Clothing Retailers, Inc.), a member of SSI Group, Inc., in Bonifacio High Street, Estancia in Capitol Commons, Glorietta 3, Robinsons Galleria, Shangri-La Plaza Mall and SM Megamall.
The Rockstar's easy-going twin sister has a slightly less narrow leg that makes you look longer and leaner instantly. Fitted through the hip and thigh, the Pop Icon Skinny Denim is universally flattering for straight or curvy shapes. It also has the Never-Quit Shape Retention that banishes those baggy and saggy issues.
Engineered with innovative Built-In Flex stretch technology, the Relaxed Slim Denim for Men has a bit more room at the waist and hips and tapers down the thigh and leg. The Built-In Stretch in the denim incorporates the right stretch to eliminate the feeling of being restricted.
As for the kids who need the ultimate pair for spins, twirls, and high-kicks, meet the Ballerina Jeggings for girls and Karate Jeans for boys. Both have Built-In Tough technology, which reportedly has twice the strength of regular denim, making it ideal for playtimes.
The return of '90s grunge and goth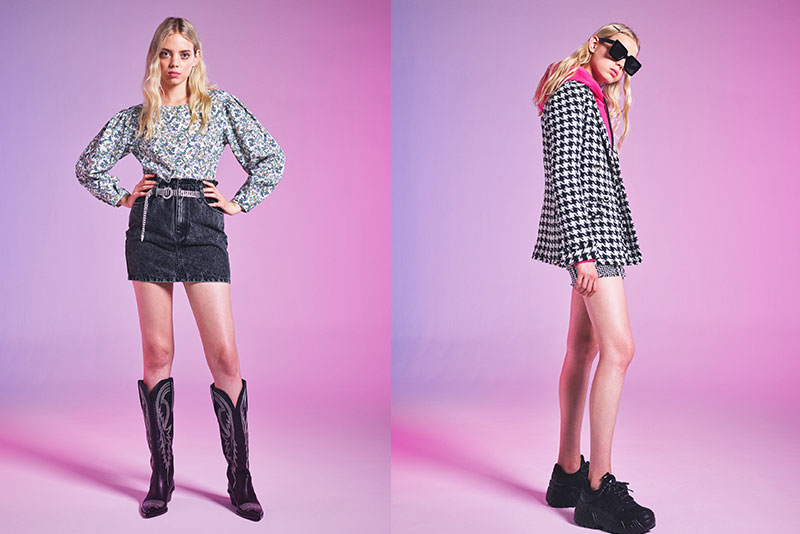 Bershka presents its AW19 look. Photo release
New season. New moods. Bershka presents its AW19 look book and it's all about bringing the attitude. For women, grunge, goth and fierce femininity are all having a moment. Grunge styles keep the '90s vibe alive with baggy jeans, bombers and chunky boots playing off against ditzy floral prints.
And there's good news for closet goths, with modern mashups allowing you to get up on the cult trend, split into two camps: black and white with workwear influences, a.k.a pockets aplenty, and the color pop camp, with clashing green and red, dragon prints and prairie blouses all dialing up the drama.
Parisian chic gets edgy -- we're talking about houndstooth checks and hot pink combos worn with ladylike accessories (pearly headband, anyone?) and storm-the-streets platform boots. And for modern heroines, we've riffed off the so-now western trend to create tough looks – think moody grey denim – with romantic styling such as cinched waists, voluminous sleeves and crystals across all accessories.
Scandicool street style also features with sportswear classics like puffer jackets, joggers and statement knits redone in pastel colors and put together in an ultra-feminine way. For guys, it's shaping up to be a season like no other with exciting color combos, clashing checks, maxed-out graphics and unbelievable outerwear. We're giving it up for the great outdoors with performance-inspired outerwear mashed up with urban pieces, and natural tones contrasted with pop colors – oh, and check out the latest silhouettes of chunky trainers and trek sandals.
Alex Gonzaga loves denim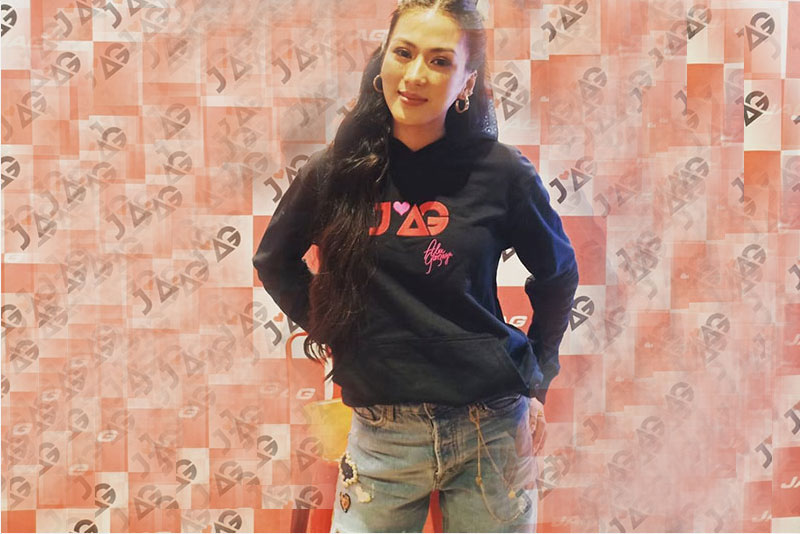 Alex Gonzaga - Philstar.com/Jan Milo Severo
Denim brand Jag has introduced its newest endorser, Kapamilya actress and vlogger Alex Gonzaga.
The brand said Alex caught its attention with Alex's witty Instagram posts and funny Youtube videos as she also won the hearts of millions of followers on social media.
As one of the country's most popular content creators, the brand finds Alex's personality synonymous to what the brand stands for – authentic, original, vibrant, stylish, and values its customers like family.
With her youthful energy, genuine wit and humor, and sense of style, the brand sees Alex as the perfect brand ambassador and denim girl for its newest product line.
"I have always just wanted to be myself, to be comfortable with who I truly am… with my own brand of humor, my infinite energy and sense of style. The brand allows me to be all the things that I am," Alex said.
The new line is for the brand's younger market segment, featuring a new denim technology to keep up with today's generation's fun, active and creative lifestyles. The line will feature some of Alex's favorite pieces such as the non-stretch/ comfort stretch boyfriend jeans, the 360 flex jeans made of four-way stretch fabric, the hoodie, along with a collection of shirts and jackets bearing the line's special logo.
Breathing new life into nylon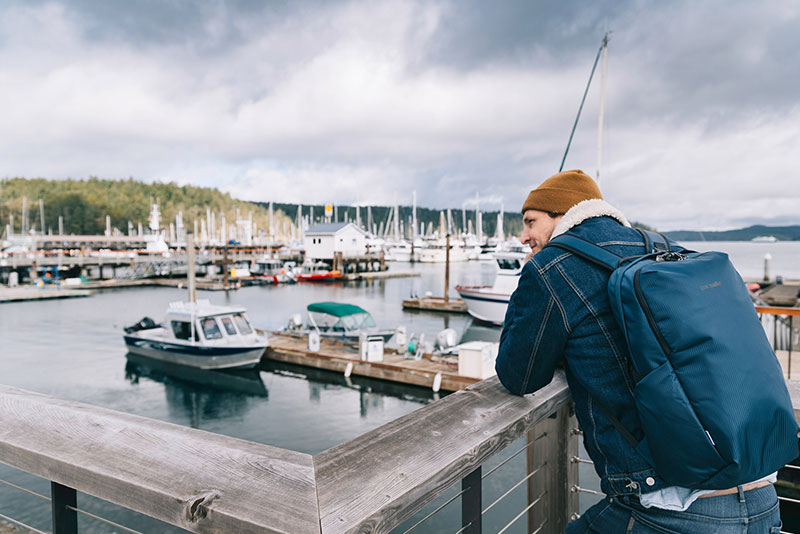 An innovation-focused collection, Econyl uses regenerated fabric made from fishing nets and other discarded nylon. Photo release
One of the most common plastics in the world, nylon has long been favored for its strength and durability but has a high environmental impact and is increasingly becoming a target in the fight against pollution.
An innovator in anti-theft travel gear, Pacsafe, recently introduced a new collection that gives plastic waste a second life as the brand launched the new Econyl collection.
An innovation-focused collection, Econyl uses regenerated fabric made from fishing nets and other discarded nylon. This collection is the first of many steps the company is taking to demonstrate its commitment to removing virgin plastic from all new products by 2025.
The new collection highlights the bestselling styles, such as the award-winning Venturesafe EXP45 and Metrosafe LS350, and recreates them utilizing recycled waste.
The unique regeneration process creates durable, long lasting yarn that performs to the same standard as brand new nylon. Unlike other recycled materials, the nylon can be rewoven infinitely without losing its high-performance qualities, creating a circular loop of reuse.
"Our brand was founded out of a passion for adventure and exploration, and with that comes a deep love of our planet and preserving its natural beauty," said Magnus McGlashan, co-founder and managing director of Pacsafe.
"Our partnership with Econyl means less plastic in our oceans and landfills, and fewer resources used to create new products. It's all part of our wider commitment to reduce ocean plastic while helping people protect their gear and the planet at the same time."
Star Wars team up for a cause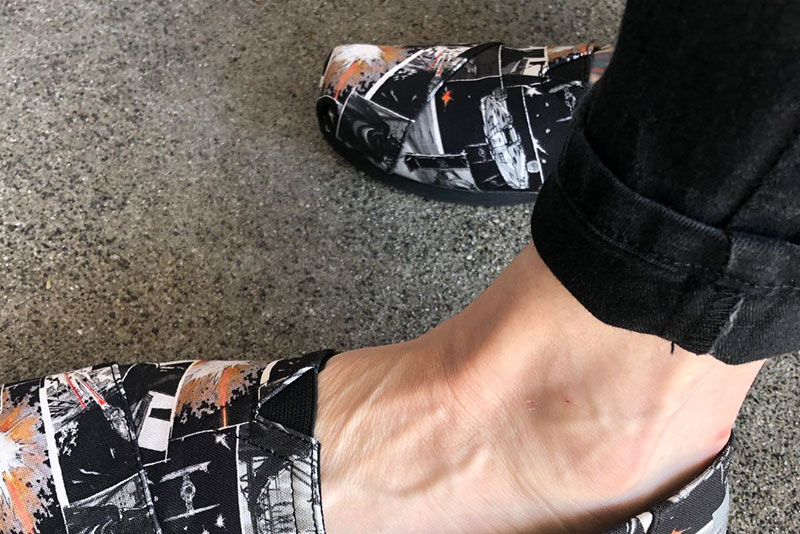 The limited capsule collection features prints inspired by the Star Wars saga.
Star Wars and Toms have teamed up for a limited capsule collection inspired by the legendary saga. Every purchase enables the footwear brand's community – and now, Star Wars fans – to be a force for good.
Not so long ago, in a studio not so far away, the brand paired a fleet of slip-ons and sneakers with artwork inspired by the original Star Wars trilogy to create a collection with intergalactic appeal, in sizes for men, women and kids, now available in the brand's stores in Glorietta 4, SM Megamall, Powerplant, AlabangTown Center and SM Baguio.
Classic Alpargatas featuring custom, storyboard-style prints based on each of the three films, along with star-studded selects from the TRVL Lite, a lightweight collection designed for life at the speed of the Millenium Falcon.