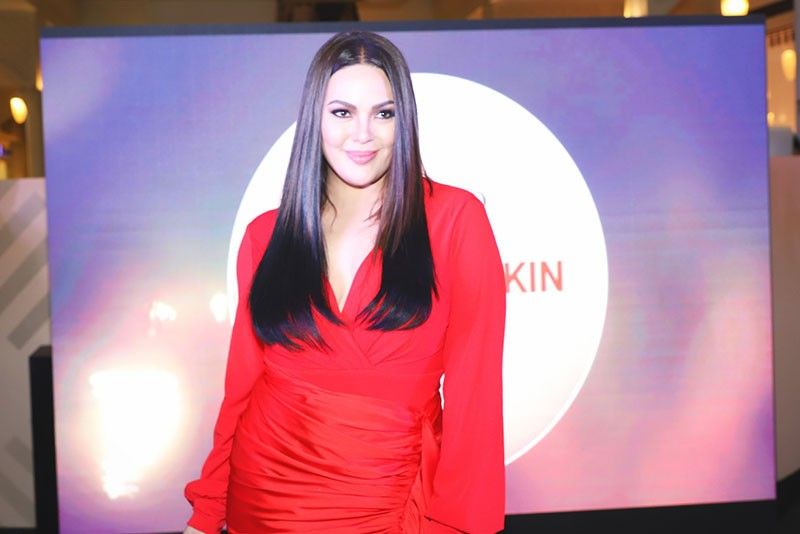 Actress KC Concepcion
Photo release
KC Concepcion defies beauty standards as global brand's first Filipina face
MANILA, Philippines — Days after making headlines for being described as "mukhang clown" (clown-looking) on social media due to her alleged thick makeup, KC Concepcion has been recently launched as the first Filipina brand ambassador of an international beauty brand.
Early this month, an Internet user commented on the singer, actress and entrepreneur's Instagram: "Mukha kna clown sa kapal ng makeup mo. Sorry for the comment beautiful kpa nman."
KC, however, just shrugged off the comment and told the basher: "Oh! Ang ziiiiweet mo."
In a recent interview with Philstar.com following her launch as Shiseido's first Pinay endorser, KC admitted that she loves red lipstick, which was probably why her look was compared to that of a clown.
She also confessed that she is into the natural face and bold lip beauty trend.
"Kung anuman 'yung pwede nilang sabihin para laitin ako, parang okay lang. Siguro sa tinagal ko na rin dito, you can see na mabilis din naman magbago isip nila. Kunwari, 'Ang taba, ang taba,' pero 'pag biglang payat ka, wala rin naman silang masasabi. Nag-iiba naman lahat. There's always seasons naman," said KC, who has also been described as "balyena," "extra large" and "Crispy Pata," among others, on social media.
"Baka mamaya, kung sino pa 'yung nilalait mo, 'yun pa 'yung tutulong sa'yo," she warned her bashers.
"Kasi nangyari na sa'kin 'yun. Kasi super basher, super basher and then may nangyari sa kanya, sa'kin din s'ya lumapit."
She, however, advised everyone to respond to bashers with compassion as these critics might also be having a tough time.
"Matututunan mo din na baka kawawa rin sila, bitter din sila, kaya sila ganun."
First Filipina endorser
Despite being recently criticized for her alleged heavy makeup, Shiseido enlisted KC as its first Filipina ambassador because the actress is "a natural beauty," "smart, confident and not afraid to go after what she wants," said Shiseido Philippines General Manager Genevieve Yalung.
"We noticed how KC talked about (the brand) on her social media and it really caught our attention. It's not usual for someone of her stature to have so much belief and love for a brand so we decided that she would be the perfect fit as the ambassador of our latest make-up launch," Yalung explained.
It all started, said KC, when she looked for an eyelash curler but the brand's Powerplant Mall store was closed for an event.
"I've made emergency lash curler runs to the store in the mall right before closing time just because my face doesn't feel complete without using it. Their lash curler helps open up my eyes and make me look alive," she explained.
She then posted a message for the brand. The next day, the brand sent her all the makeup from the new collection, which she then tried in New York.
She said she was raving about the products in her Instagram stories, and so many people said they bought the products, "So, they ended up calling me and pinauwi nila ako nang mas maaga sa flight ko going home because may surprise sila sa'kin. Kinuha na ko ng brand as its first Filipina face."
KC said she is relieved to be the brand's first Filipina ambassador.
"I'm very relieved because at least ngayon nakikita na ng mundo 'yung Filipina that it could be a global type of influence and Filipinos are all over the world," she expounded.
Apart from eyelash curlers, KC loves the brand's Synchro Skin Self-Refreshing Foundation, a lightweight liquid product that aims to deliver breathable and buildable coverage for 24 hours.
"I have dry skin so I always look for hydration when it comes to my foundation, but it was hard to find hydrating foundations that weren't gunky, sticky or thick until I started using the self-refreshing, sweat-proof, water- proof, transfer-proof Synchro Skin," she explained.
"I never break out with it. I can wear it all day, every day, from day to night, without worrying I'll get bumps or pimples after a day or two. It has skincare in it that gives me the confidence to wear a full face of makeup every day."
She said she loves how the formula melts into her skin to even out her complexion. "People are always shocked when my skin comes out makeup-free. They can't believe I just wiped off all the foundation because it syncs so well with my skin tone."
Beauty tips
For those who want to find the perfect foundation shade for them, the singer-actress advised blending two shades to get a neutral tone and also keeping a darker shade at bay when one's skin gets darker when one goes outdoors like the beach.
"Choose the makeup that will always hydrate your skin because if it's too dry, papache-pache. With the right foundation, your makeup is like sealed, so konting retouch lang (needed)," she advised.
"I really use makeup that has skincare. Because if you try too many products, sometimes, d'un nagbre-break-out eh. So, if you can find something na all in one, it's simpler and it's also safer to use."
It takes her only five minutes to put her makeup by following this routine:
First, foundation, which she applies using a sponge all over the face first, then she uses a brush to put some under the eyes.
Second, powder on the T-zone and under the eyes.
Then she uses a whipped cream blush and also sometimes in the eyelids to enhance her eye shape.
She applies lipstick and uses eyelash curlers
She has not discussed having her own makeup collection with the brand, but it is her dream to have her own makeup line.
"Maybe, one day," she enthused.
She admitted that she also had her share of beauty regrets, but it was not the time when she was described as looking like a clown.
"I hate my look when I was 16. Ang nipis ng eyebrows ko and it even didn't match my face. And I wish I played more with my eyes. But it's okay… I'll just use that to excuse myself, I'm too young to care!" she shared.
Nowadays, she loves her eyebrows so much that she makes it a point to have them peeking from under her hair.
Her key to staying beautiful is to strive for self-improvement every day.
"Para kasing bago n'yo pa ko laitin, nalait ko na 'yung sarili ko or 'di naman nalait, na-observe ko na 'yung sarili ko. And 'di naman nila alam 'yung every day na ginagawa ko," she maintained.
"Because ikaw lang naman makakita ng progress mo and then there will come a time na everyone else will see it."