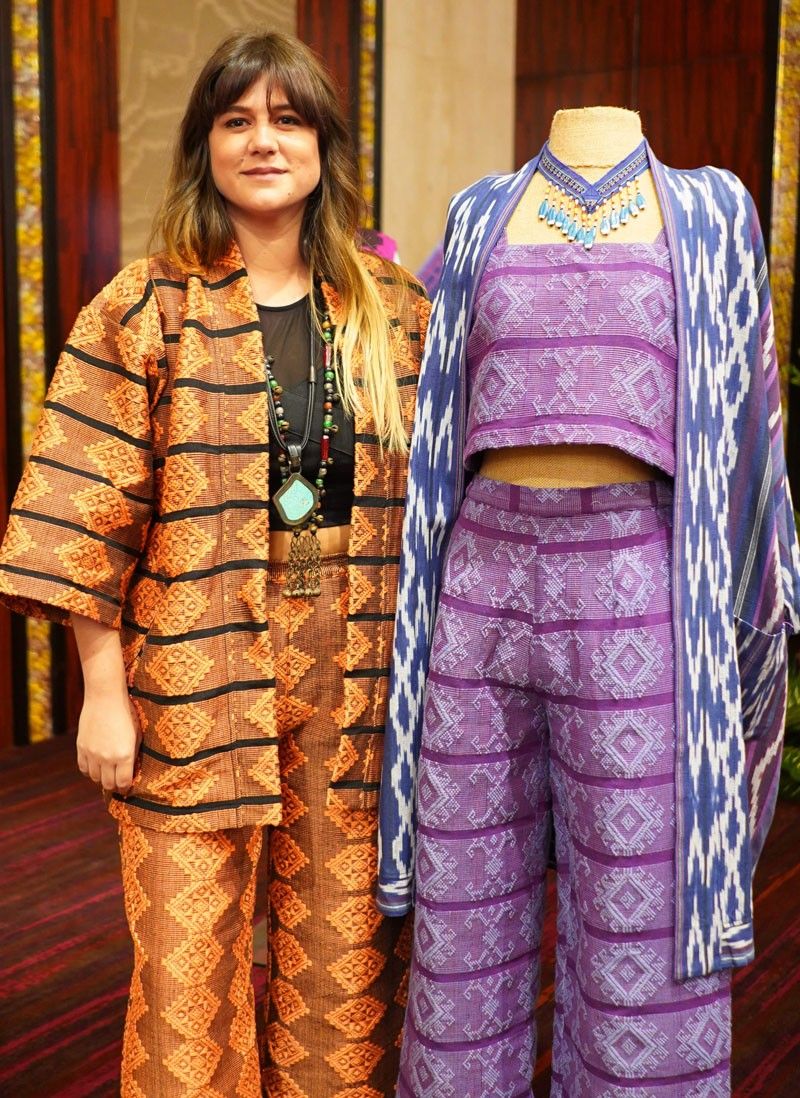 For Paloma Zobel of Piopio, Baro at Sayá is all about taking traditional textiles and making them relevant again for the younger generation.
This fashion show has got game
Gone are the days when our kids would play games outdoors — traditional Pinoy games like patintero, piko (my personal fave) and luksong tinik. These days, my daughter is usually indoors glued to her cellphone and iPad.
"A lot of young people do play, but only with two fingers on the screen," affirms entertainer and UNICEF ambassador Gary Valenciano. "There's really nothing wrong with that, but when it's all a child does, they miss out on everything else."
Most kids nowadays don't even know how to play games like sipa or tumbang preso, so, to introduce them to an invaluable part of our heritage, Bambi Mañosa-Tanjutco of Tukod Foundation Inc. and Gary V are holding "Baro at Sayá," a fashion show featuring eight local designers whose collections of eight looks each will not only incite youngsters to make Filipino a part of their daily wear, but also preserve that more innocent spirit of play.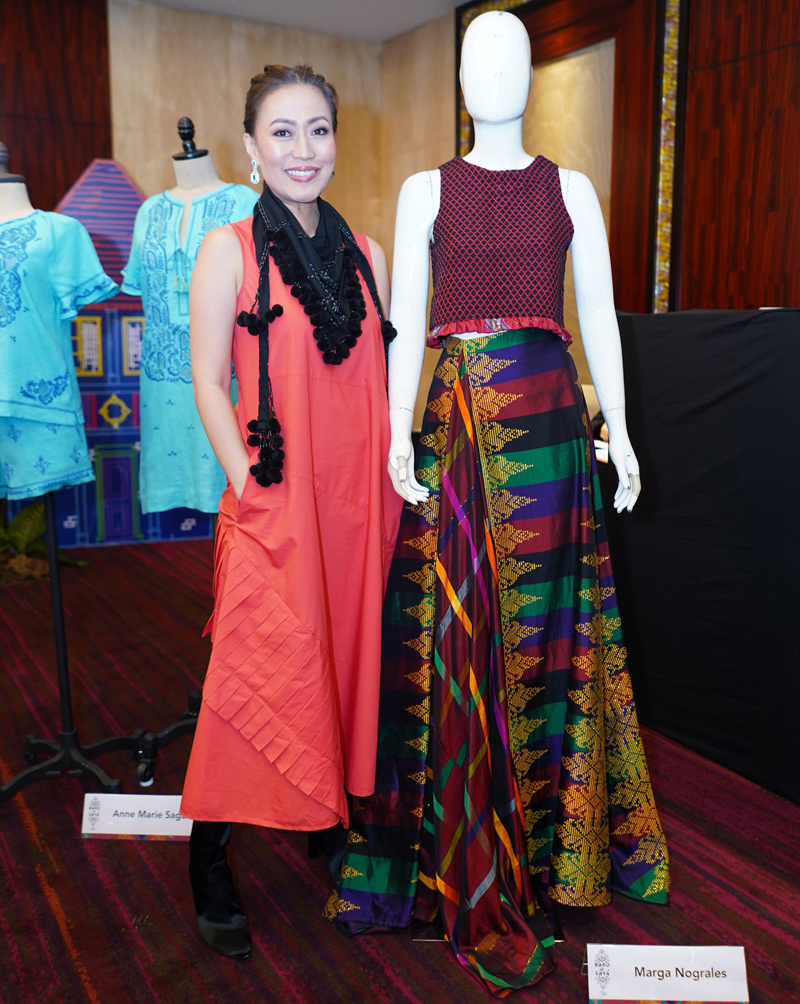 Kaayo Modern Mindanao's Marga Nograles says her collection will be fun.
Baro at Sayá (the accent is on the second syllable of saya to denote happiness instead of the traditional Filipino skirt) is actually the follow-up to Awit at Laro, which Tanjutco and Valenciano launched last year to celebrate the spirit of play through music and the arts and raise funds for UNICEF, Tukod, Shining Light Foundation and Museo Pambata.
"We put together a music album featuring reimagined versions of original Filipino play songs, together with artists who did artworks, and all of it was put into the album Awit at Laro," Mañosa-Tanjutco says. "This year, moving forward, Awit at Laro continues to promote Filipino play and games to the new generation, this time through fashion. So the first-ever Awit at Laro fashion show is called 'Baro at Sayá,' an interactive fashion show that will be held at the Grand Hyatt Manila on Sept. 22."
The show will feature fashion designers Rajo Laurel (who also serves as the project's overall fashion consultant), Len Cabili, Ito Curata, Rhett Eala, Zarah Juan, Marga Nograles' Kaayo, Anne Marie Saguil, and Paloma Zobel's Piopio. Each designer was given a Pinoy game or play song as a peg from which they could draw inspiration.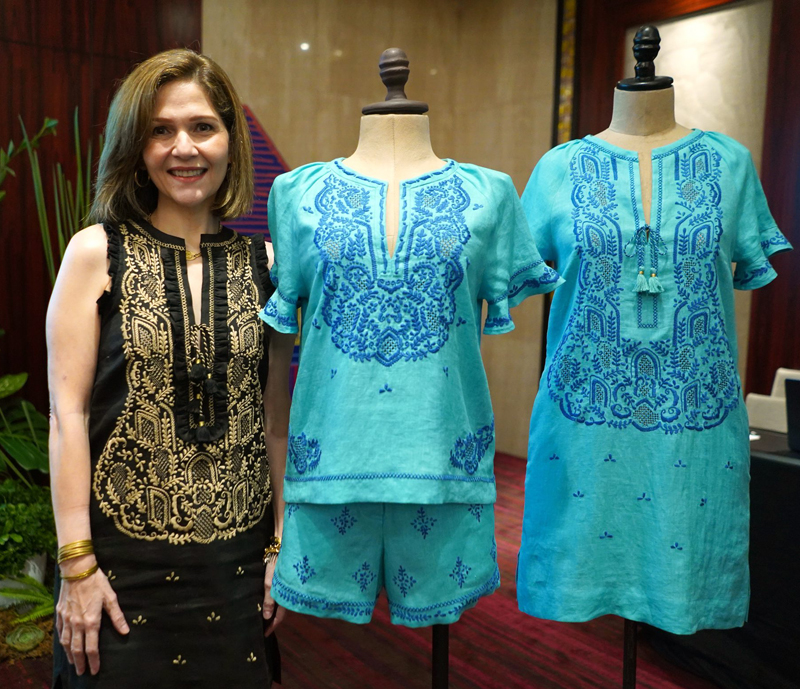 Amarie's Anne Marie Saguil designs everyday wear based on the hand embroidery of the Barong Tagalog
"My portion is called Sitsiritsit Alibangbang," Rajo says. "My dress is the painted one. I just wanted to incorporate my nephews and nieces in the process, so one weekend I went to my mom's house, they laid out fabric, textiles and paint, and we literally just played. My collection is a product of that interaction. I wanted a real literal translation of how play can be part of the process of creating fashion."
For Paloma Urquijo Zobel of local label Piopio, Baro at Sayá is all about taking traditional textiles and making them relevant again for the younger generation. "We were given sipa as our game, so we created a collection that was comfortable, could be worn day-to-day, kind of street style and also multi-generational, so a lot of our outfits, we'll have a mother and daughter walk out so they can share the bonding of old traditions."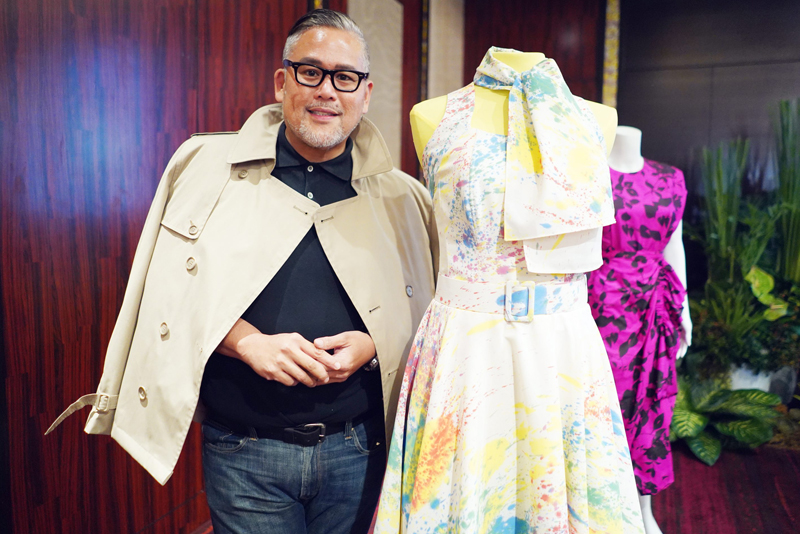 Rajo Laurel made the fabrics for his collection from textiles he and his nephews and nieces painted on.
Anne Marie Saguil's brand Amarie is a resortwear line based on the hand embroidery of the Barong Tagalog. "I feel like we don't see it enough in our everyday wear, so the brand is really about hand embroidery and making it more mainstream," she says. Taking off from the game tumbang preso, Saguil created a more playful, colorful collection: "Shorts, tops and easy dresses for both older and younger. I have teens that wear it and their moms wear it, too, which I love."
Designer Rhett Eala was given the song Bahay Kubo, so he plans to show mainly indigenous fabrics from Mindanao and the Ifugao province. "Mostly tops, cover-ups, and Southeast Asian influences from Thailand and Indonesia," he notes. "And maybe a little bit of Africa. I'm presenting the collection at ArteFino this month, so we're previewing it there before the fashion show."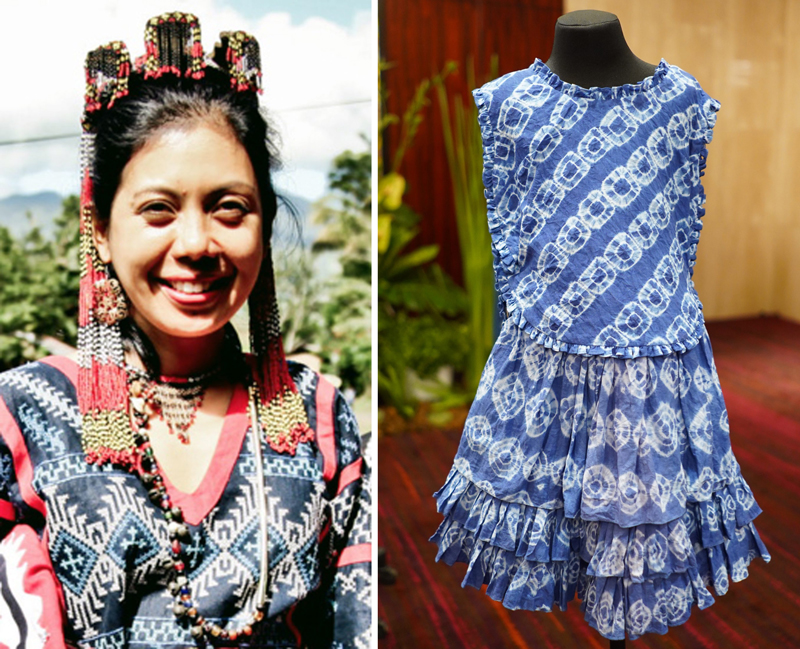 Len Cabili (inset) will highlight her children's line for Baro at Sayá.
Kaayo Modern Mindanao founder Marga Nograles is currently working with two new tribes: "The Tagakaolo tribe from Davao Oriental and Blaan from Kiblawan, Davao del Sur, so I kind of want to launch them here," she says. "My game is luksong tinik, so I did it with my kids just to be inspired by play. Our collection will be fun, like ball skirts worn with sneakers, flats or sandals. We also have playsuits — there's a lot of mommy-and-me in the collection."
Like Nograles, fashion designer Zarah Juan first played the game assigned to her, piko, and found a lot of inspiration in the pato — the smooth, flat stone players throw in this Filipino version of hopscotch. "It made me appreciate the game, and that was my creative process. As a brand we have to engage different communities like the Paete woodcarvers. We're making shoes and bags using wicker, rattan, and engaging people from Benguet to create specially hand-woven straps." Abra weavers wove the lining in parts of the collection, and Juan also involved Cavite cane weavers, Bulacan bag artisans and Marikina shoemakers.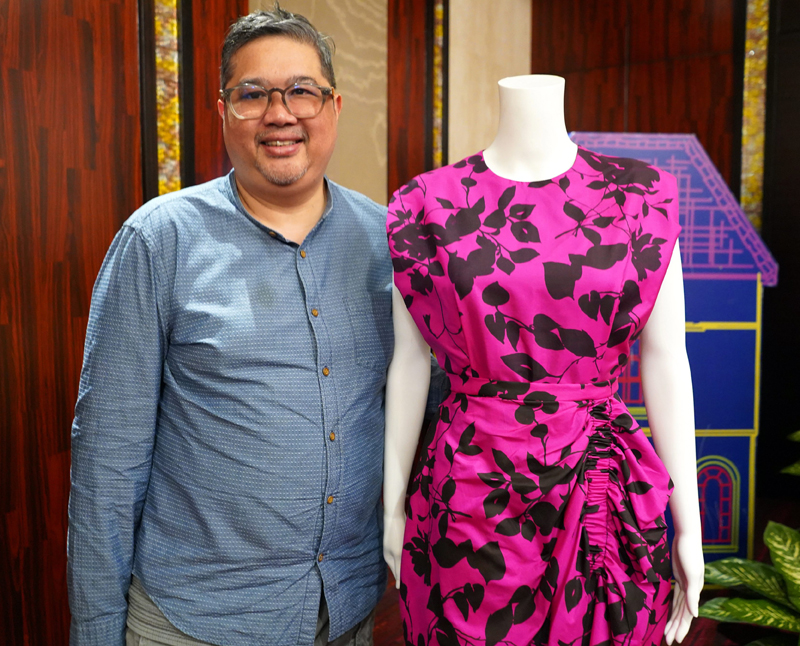 Rhett Eala plans to mix indigenous fabrics with Southeast Asian and African influences.
Len Cabili, who was given the song Paru-parong Bukid, will highlight her children's line, saying that the revival of the games we grew up with is something close to her heart. "The theme is really unique and fun; we focused on our core competencies and found a way to relate it to the whole thrust of the project."
The project and being assigned the game jak en poy brought back childhood memories for Ito Curata, as well as the moments he spends playing with his son. "It brought out so many emotions in me, and I was challenged because designing with a Filipino game in mind brought me out of my design comfort zone," he says. "I am also very excited because the project is extremely worthwhile."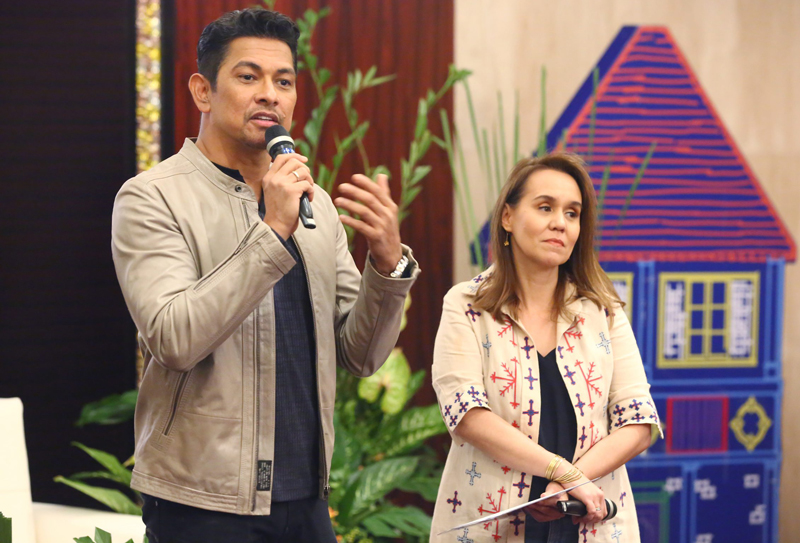 Baro at Sayá is the brainchild of Bambi Mañosa-Tanjutco and Gary Valenciano. Photo by Walter Bollozos
* * *
The Baro at Sayá by Awit at Laro fashion show will be held on Sept. 22 at its co-presenter, the Grand Hyatt Manila in BGC, Taguig City. For ticket bookings, reservations and other details, contact Ann Loren Yu, executive director of Tukod Foundation Inc. at 0917-123-2724.
Follow the author @theresejamoragarceau on Instagram and Facebook.