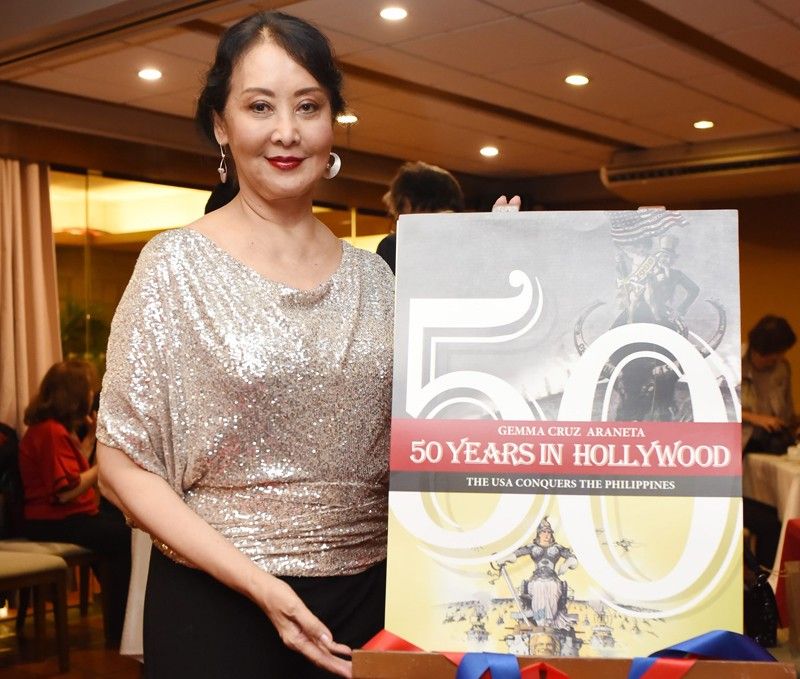 Gemma Cruz Araneta launched her ninth book at the Cameron Forbes room of the Manila Polo Club.
Photos by Alex Van Hagen Powered by MAC Center
Hermit Tonypet Araneta was absent, but 'Mark Twain' attended Gemma Cruz Araneta's book launch
Our palangga beauty & brains Gemma Cruz Araneta's ninth book, 50 Years in Hollywood: The USA Conquers The Philippines, was recently launched at the Manila Polo Club. The event was held at the Cameron Forbes room, which Gemma explains she chose for being a "remnant of the American colonial period." Named after Governor William Cameron Forbes (1909-1913), the venue was festooned with red, white and blue swathes (no stars and stripes though) and tri-color flower arrangements. Oskar Atendido styled the Cameron Forbes room and Tony Guerrero Padilla did the flower arrangements. Hernan's one-man band of seven musical instruments played period music.
Dahlings, guess what! At 6 p.m., a tall, white-haired gentleman strolled into the Cameron Forbes room wearing a white suit with a waistcoat; he looked around, smiled wryly at the guests as Gemma led him to the podium. "Ladies and gentlemen, dear friends, I am happy to introduce our guest of honor and speaker, Mr. Mark Twain, president of the Anti-Imperialist League. You probably know him as the author of Tom Sawyer and Huckleberry Finn books we were made to read in school. But none of our teachers ever told us that Mr. Mark Twain was the leading light of the Anti-Imperialist Movement, which was vehemently against the United States of America's expansionist policy and the war against the First Republic of the Philippines. This evening he will read two of his articles about the imperialist policy of the USA and the Philippine-American War. These articles were suppressed during his lifetime and published only after his death. I am quite sure, this is this first time you will hear about what happened then. Mr. Mark Twain, you have the floor…"
Mark Twain (portrayed by thespian Leo Rialp) read articles about the days leading to the Treaty of Paris when American Cabinet members did not even know where Manila was located or whether it was a town or a country; the second article was about the unspeakable Bud Dajo massacre in Jolo led by Gen. Leonard Wood himself.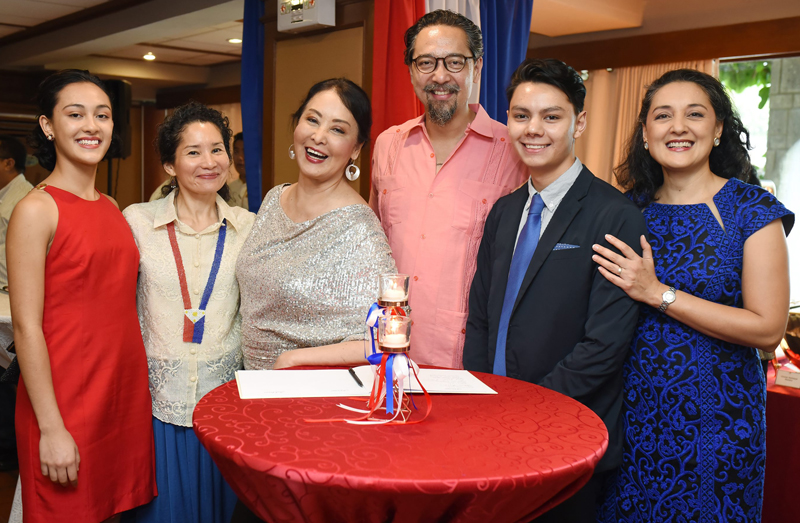 Tonypet's legal family: Aurora Araneta-Morales, granddaughter; Karla Delgado-Araneta, Leon's wife; Gemma, Leon Araneta, Tekwani Morales, Fatimah Araneta
Gemma's guests were spellbound as they listened to "Twain"; after all, very few of us know about the anti-imperialist activities of the famous satirist and writer. They congratulated Rialp for his riveting performance and Gemma for including history at the launch.
Gemma's colleagues and friends came in full force. Her former classmates from Maryknoll College were first to arrive, then came the advocates of the Heritage Conservation Society of which Gemma was chairperson for 12 years; among them were urban planner Nathaniel von Einsiedel, Italian-trained restorer Tats Manahan and writer Bambi Harper. From Intramuros came the administrator himself, Atty. Guillermo Asido and assistant Johann Arao. Gemma's historian friends — Dr. Ma. Luisa Camagay whose blurb appears on the back cover, DLSU history professors Michael Xiao Chua and Lars Ubaldo — were also present.
The "Rizal Ladies," a charming and cohesive group of descendants of the national hero's siblings, always support their cousin Gemma's events. Ester Azurin and Marlene Jacinto, descendants of Paciano Rizal were present together with great -granddaughters of Maria and Saturnina like Atty. Minney Reyes, Rosie Filart, Ica Laurel Loewen, Barbara G. Ventura, Mia and Alexandra SyQia Faustman; Tato and Diego Faustmann.
Cultural glitterati Dr. Joven Cuanang, Bal Endriga, formerly with the CCP, artist Princess Monjeira Disini, collector Boyet Palma, Howie Severino, Patty Araneta and Evelyn Forbes toasted the author's success with friends Robert and Lorraine Sylianteng of the Escolta Commercial Association, fashion's grand dame Criselda Lontok, Lolita Mirpuri of All Nations Women, Virgie Moreno, and National Artist Rio Alma. There was a merry assortment of friends and colleagues from Gemma's days as Secretary of Tourism, among them former Secretary of Finance Titoy Pardo and spouse Marilyn, former Rep. Marcelino Libanan and family, Marylu Fernando of Los Angeles, Ryan Palad of GSIS and family Rose Celis and Pepe Alas of San Pedro Tunasan.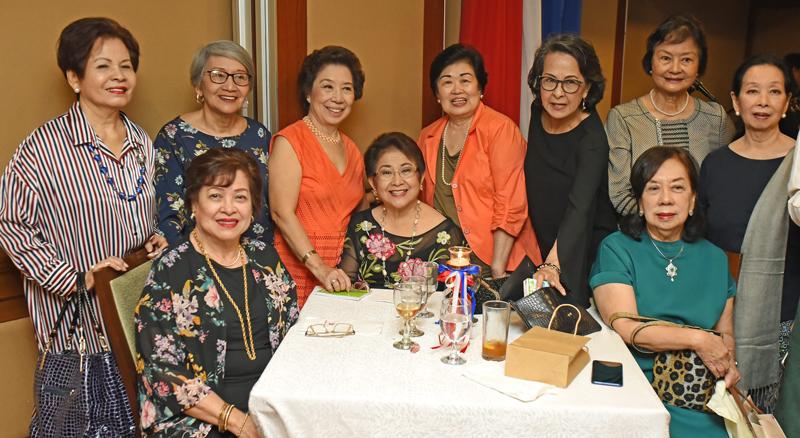 Gemma's former classmates: (Seated) Lani Bernardo, Lucy Panganiban, Mila David; (standing) Charito Galang, Edita del Mundo, Mila del Fonso, Clarita Tang, Baby Cruz, Sevie Santos
The launch was held on the first anniversary of Carmen Guerrero Nakpil's death and members of the CGN Group, which Gemma had formed for her mother, among them Ambassador Jaime Yambao, economist Toti Que, Vic Valbuena, Epi Valbuena, Mav Rufino, Gil Yuson, Nonon Padilla, Deanna Ongpin Recto and Eddie Fajardo.
Tonypet Araneta, Gemma's husband, was conspicuously absent ("He has become a hermit!" said Gemma), but his family was there — son Leon Araneta and wife Karla Delgado, eldest daughter Fatimah Araneta Tellez and her two children Tekwani and Aurora Yol Araneta Morales. Family friend Techie Velazquez came with her son and daughter.
A second launch was held for Gemma's friends who live in the Quezon City area. "Due to the horrendous traffic on EDSA, I thought of a second launch for my Quezon City friends," said Gemma. Held at the TriMona cooperative café (not to be mistaken for Ayala's TriNoma) in Sikatuna Village, Gemma presented her book to her MAKIBAKA sisters, members of the Phil-Cuba society like Dr. Dodong and Princess Nemenzo, Tony Paris, Jenney Laguño, Cristina P. Hidalgo of UST Press, Prof. Jose David Lapuz (Rizalista de Vanguardia), historian Dr. Jaime Veneracion who wrote the introduction for Gemma's book, Dr. Ed Tadem of UP's CIDS, members of the SARILAYA cooperative and Felice P. Santa Maria of Manila Studies.
Dahling, Gemma's latest book is available at Fully Booked, Solidaridad (Padre Faura St), Popular Books Store (Tomas Morato St), National Book Store, Ortigas Foundation Library (Ortigas Center), Silahis (Gral. Luna, Intramuros), TriMona Cooperative Café (112 Anonas Ext. Sikatuna Village, QC) and Tesoro's Makati and Manila.