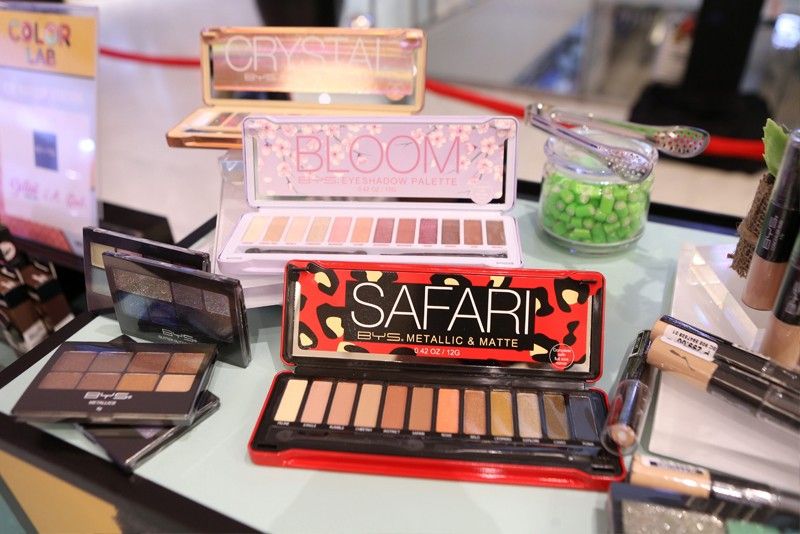 Me and my shadow: BYS eyeshadow palettes and select color products are on sale at SM Beauty Color Lab in all SM Stores until Aug. 28.
Photos by Joey Mendoza
When makeup is as tempting (and as affordable) as candy
With its mouthwatering colors and juicy textures, makeup has always been like candy for big girls. It's the ultimate cheap thrill when you can't afford the calories of real candy, or the price tags of designer fashion and jewelry.
Mindful of this, SM Beauty has launched its Color Lab: a month-long sale in which you can get up to 50 percent off on selected colored products from SM's vast range of local and imported makeup brands.
"We're celebrating color," says Viki Encarnacion, marketing director of SM Beauty and Watsons. "We've been doing this for five years now, but this time we said it shouldn't be just lipstick, it should be everything color to make your life more colorful. So we're also promoting eye, face, cheek, hair and nail color as well."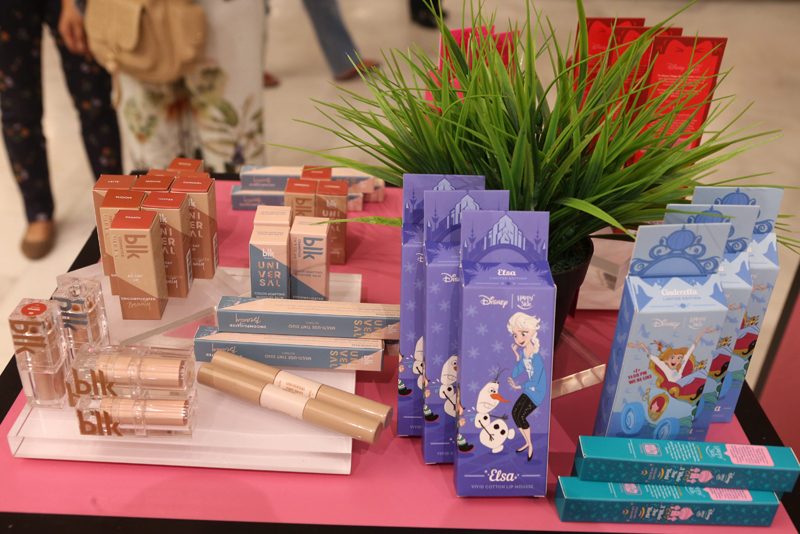 Get discounts on the Happy Skin x Disney collection and Anne Curtis' Blk Cosmetics at SM Color Lab.
A bunch of beauty influencers talked up their favorite products from the brands on sale, like singer and TV host Joyce Pring, who singled out L'Oreal Excellence hair color as her favorite tool to express herself. "You can color with confidence to achieve the look you want," said the blogger, who colored her own locks with L'Oreal's Cool Ash collection.
Beauty Junkee blogger Martha Sta. Barbara recommended Revlon's new Candid range of foundations, which has SPF, antioxidant, anti-pollutant, and anti-blue light ingredients, and no parabens, synthetic dyes, phthalates, oils or harsh fragrances. "I know kilay is life, but base is lifer," she said.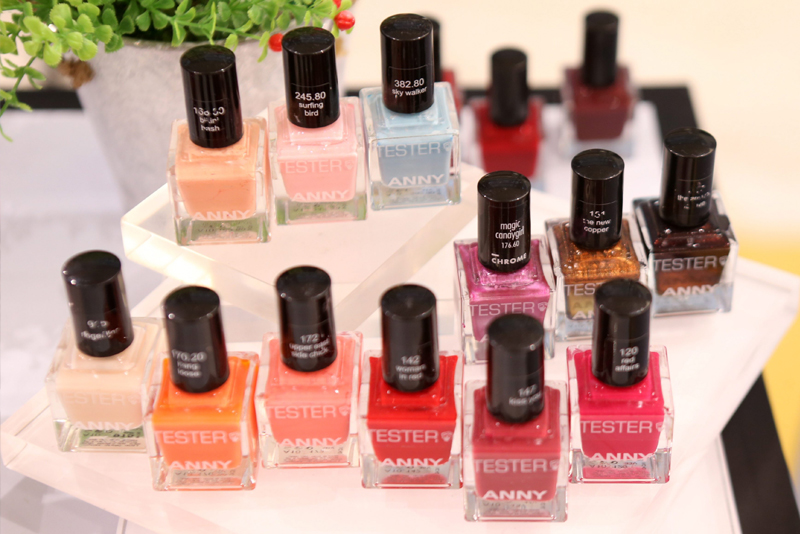 Nailed it: SM Beauty has testers for products like rainbow-hued Anny nail polish.
Beauty duo Jarvis and Rosie said that Maybelline keeps them trendy, and chose the brand's Sensational Liquid Matte lip tint, a highly pigmented yet weightless stain that you can also use to get a natural flush on your cheeks. "With just one product you can look fresh and blooming, and it's only P219," noted Rosie.
Makeup artist Laura Barber touted BYS: "I love that it's more focused on being your own expert," she said, recommending eyeshadow palettes like BYS Nude for everyday looks, Safari for its vintage colors, and Prismatic to create night-out party looks. "BYS is very user-friendly and aimed at people who don't know much about makeup," Barber said.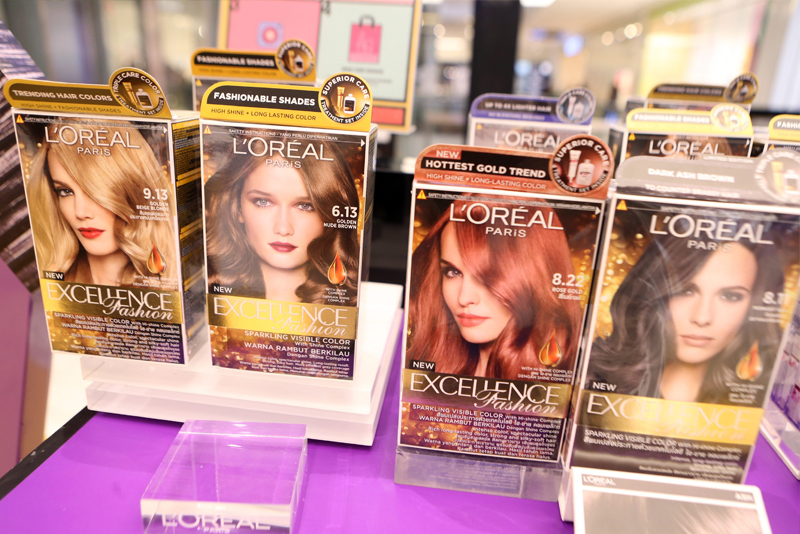 Express yourself: L'Oreal Excellence Fashion has hair colors to suit every style whim.
Beauty and fashion YouTuber Helen On Fleek's top five color picks under P1,000 included Anne Curtis' Blk cosmetics liquid eyeshadow (P299), trendy blue gel eyeliner (P239), 4U2 Love Me More blush (P294), Colourette Colourtints for lips (P299), and Maybelline lipsticks (P100 off with the sale).
YouTube vlogger Rei Germar picked products from Wet N Wild, Careline lip gloss and 4U2's cream blush: "It looks more natural and catches the light," she said.
"These products are going to be on discount the whole month, so there's a lot of reasons for you to come to the store," Encarnacion says. "We have a lot of beauty advisors to explain what's the best color for you depending on your skin tone, hair and lifestyle. We also have testers so you can play around with the products."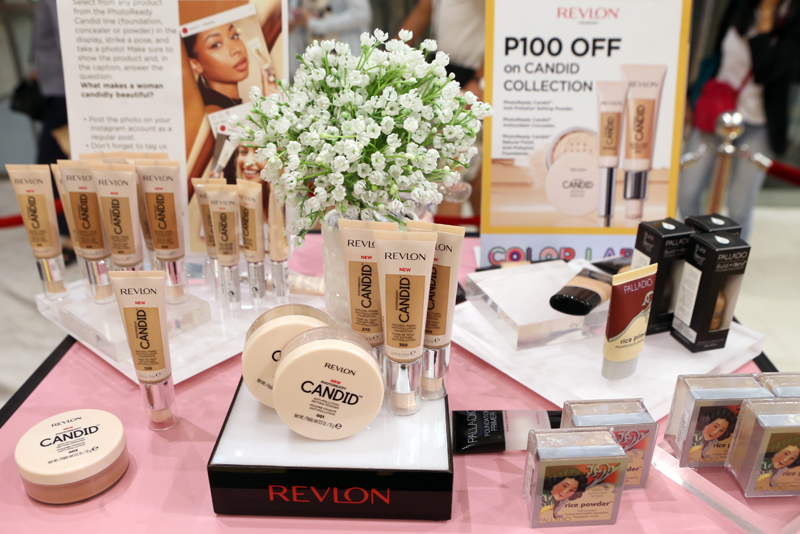 Smile, you're on Candid camera: Revlon's new Candid foundation has both UV and blue-light protection.
* * *
Get 50 percent off selected color products at SM Beauty Color Lab, which is ongoing until Aug. 28 at all SM Beauty sections in SM Supermalls nationwide.