Conchitina Bernardo finds her (painting) style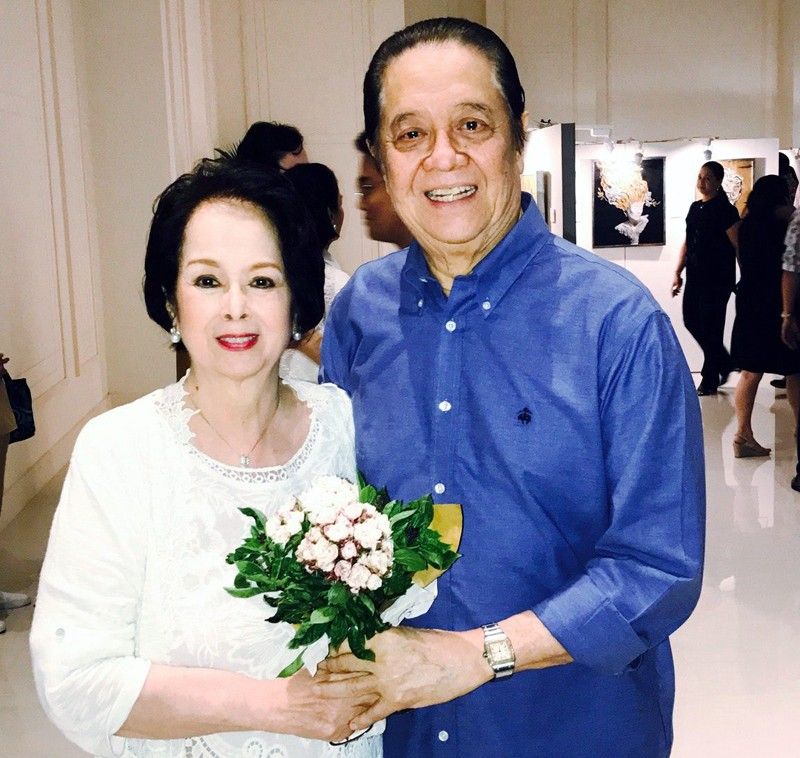 After a series of health scares due to a heart condition several years ago, Conchitina Sevilla Bernardo decided to take up painting at Sunshine Place in Makati to de-stress. With no background in visual arts, Conchitina was encouraged by maestro Fidel Santiago who told her: "Every human being has an artist in him. It is just a question of bringing it out." Slowly, she feels her creative juices flowing.
Conchitina delved in various painting styles — from portraits and birdscapes to more contemporary and surrealistic themes — ultimately finding her trademark style using stark graphite amid an opulent gold and silver leaf background.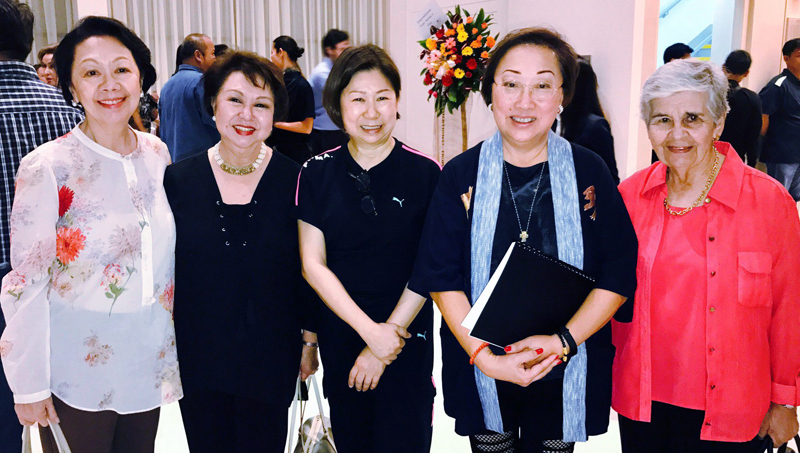 Nancy Tambunting, Mert Loinaz, Tessie Sy Coson, Vivian Yuchengco, Maribel Ongpin
Conchitina's first exhibit, "Gilded Graphite," which opened recently at her balaes Francis and Bella Tiu Laurel's Frabelle Corporate Plaza, was truly a family affair. Her daughter Lia Bernardo, together with sisters-in-law Fay Tiu-Laurel and Lisa Gallaga, set up the physical arrangements for the 42-piece show just to make sure Conchitina wouldn't be stressed out. Her supportive husband, former Ambassador to Spain Lani Bernardo was astounded when over 200 guests showed up on a lazy, rainy Saturday weekend.
Megaworld's Andrew Tan was first on the list to purchase a colorful mural depicting our rich colonial history. Latecomers wistfully had to add their names to the growing waitlist for future artworks by this genteel lady.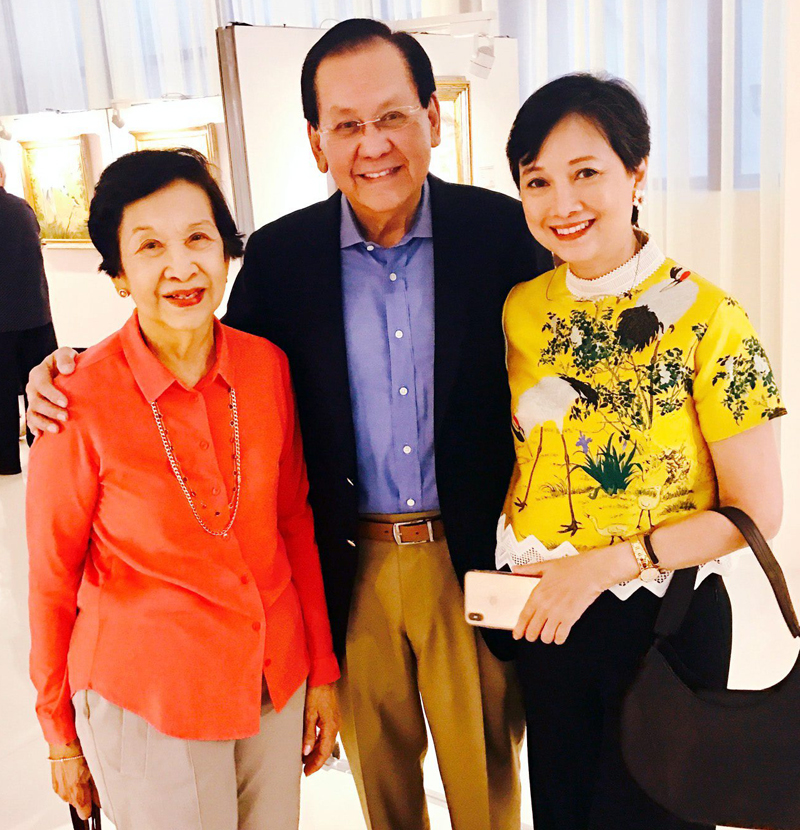 Lourds Montinola, Serge and Bettina Osmen?a
During the opening, Conchitina thanked artist Betsy Westendorp-Brias, her "beloved friend, mentor and inspiration." Together with another friend Stella Marquez Araneta, the trio try to get together bi-monthly with Betsy giving them pointers on "how to make the canvases look better."
Conchitina is very spiritual and ecologically conscious. Her flora and fauna subjects include those that are almost at risk of extinction. The deer is her personal favorite animal because "it is my animal spirit. I relate to its free spirit and its vulnerability. Silent and strong, the stag, the doe and the fawn, make beautiful subjects to paint. The endangered Visayan spotted deer is my featured deer. Specifically the fawn, which is gentle, vulnerable and full of promise. The Visayan spotted deer is small, no larger than a big dog. It has a thick, sloping body and very short legs. It is hunted for its meat and is now close to extinction because of loss of habitat."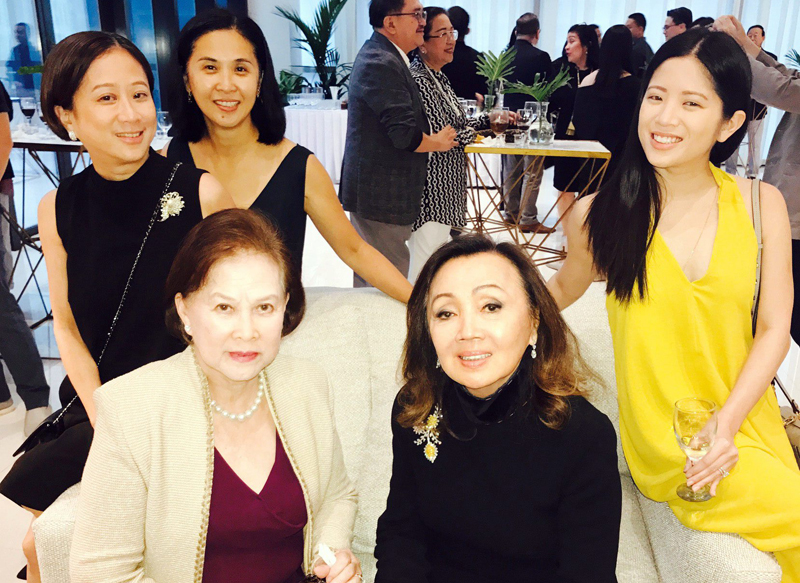 Bella Tiu Laurel, Kristine Yang, Fay Bernardo, Dindin Araneta, Nicole Chan
In fact, this deer painting titled "Psalm 42," named after her favorite prayer, is the only artwork that she has kept for herself.
Celebrating the art of luxury travel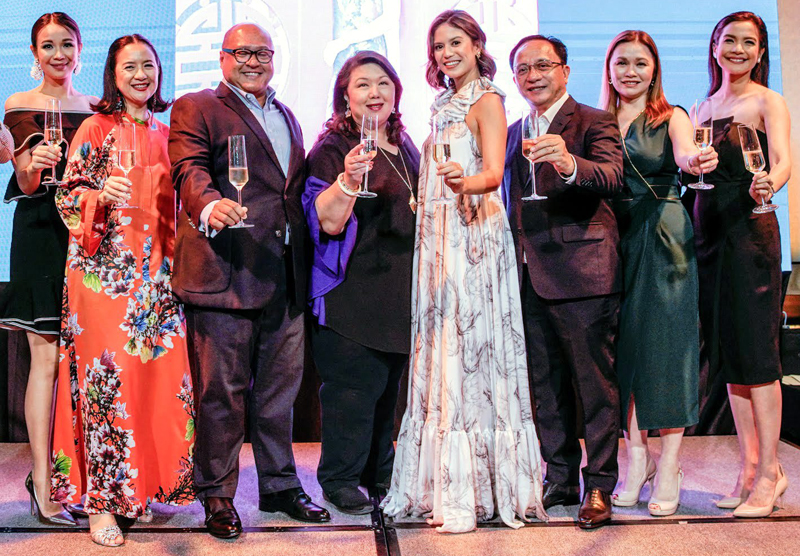 Tootsy Angara, Mia Borromeo, PNB president and CEO Wick Veloso, Irene Martel Francisco, Marion Branellec de Guzman, PNB's Bernie Tocmo, Raffles & Fairmont Makati's Monique Toda, Standard Insurance's Pia Echauz Chua
Even if one cannot physically travel due to various reasons, just glancing through Philippine Tatler Traveller will transport you to places that are on most everyone's bucket lists.
During the lavish cocktails at the Raffles & Fairmont Makati Ballroom, an overflowing group of Manila's stylish globetrotters once again celebrated the art of luxury travel.
The hugely successful occasion was also the official launch of the glossy's latest volume featuring Jewelmer's Marion Branellec de Guzman in its cover story shot on location in Hanoi, PAL's latest Southeast Asian destination.
Welcoming everyone onstage was guest host, the debonair Mike Toledo, along with Philippine Tatler Traveller editor Mia Borromeo and Philippine Tatler director Dr. Randy Francisco.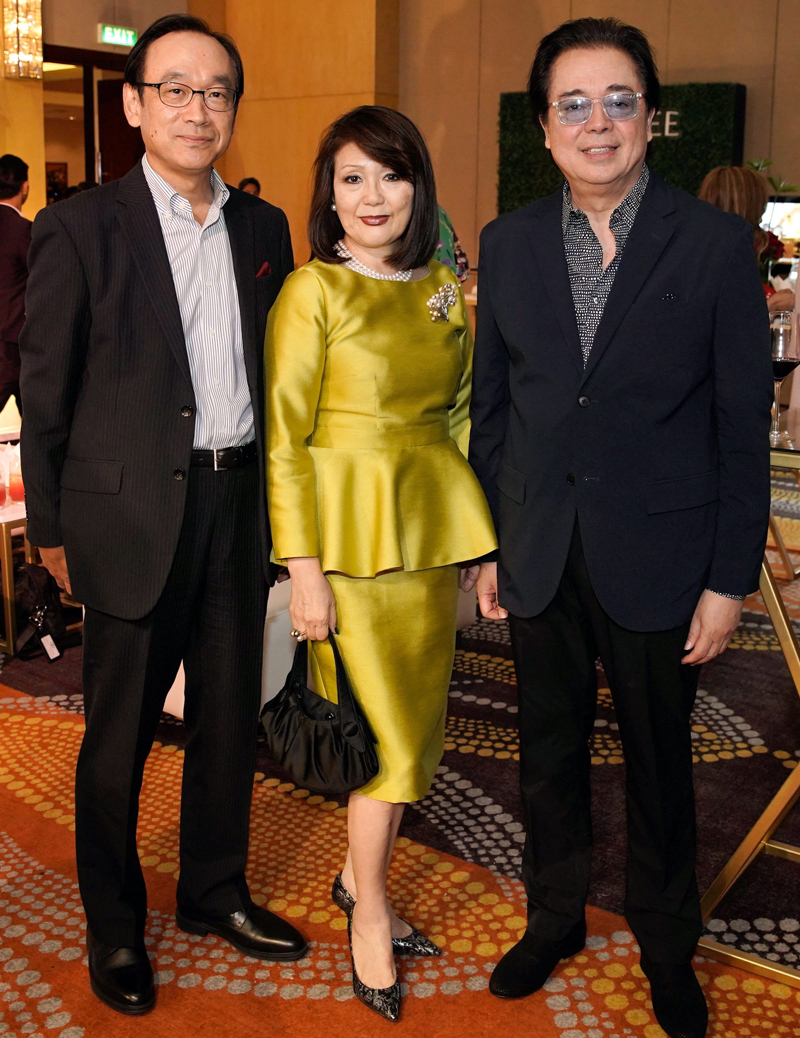 Ambassador Koji and Ihoko Haneda and Ramon Jacinto
It was heartwarming to see multi-generational guests such as grand dame Isabel Wilson with her handsome grandson Nacho Wilson Tambunting, and beauteous Dawn Zulueta Lagdameo escorted by her son Jacobo, enjoy the culinary delights whipped up by the hotel's chefs, with everyone's favorite, Raffles' to-die-for chicharon.
Gourmet food selections included traditional Vietnamese specialties, a lamb carving station, sushi bar, and grazing table complete with raclette.
A ceremonial toast with Philippine Tatler managing director Irene Martel Francisco, PNB president/ CEO Wick Veloso, EVP of Retail Banking Sector Bernie Tocmo, Standard Insurance's board director Pia Echauz Chua and Tootsy Angara, Raffles & Fairmont's Monique Toda, cover lady Marion Branellec De Guzman, and Philippine Tatler Traveller editor Mia Borromeo, kicked off the official unveiling of the stunning cover shot in Hanoi's iconic Ngoc Son temple.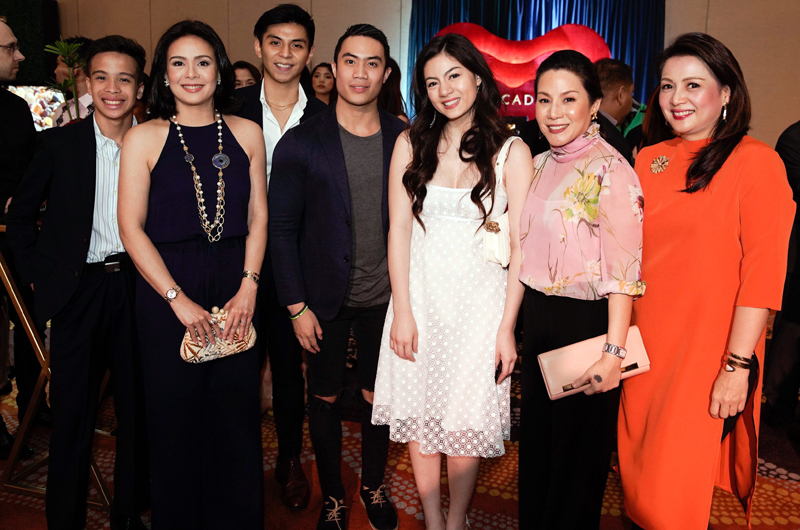 Jacobo Lagdameo, Dawn Zulueta-Lagdameo, Tommy Tiangco, Jaime de Ocampo, Kerry Tinga, Ana de Ocampo, Michelle Tiangco
Throughout the night, almost 40 luxurious prizes were raffled off, ranging from the latest in fashion and beauty, hotel and resort stays, gourmet experiences, aesthetic and wellness services, home furnishings, and exciting trips.
The luckiest of guests won a PNB/Philippine Airlines Mabuhay Miles Certificate worth 88,000 miles given by PAL's efficient Ria Domingo; Miguel Oliveira, winner of a Jewelmer South Sea pearl pendant set in 18-karat gold; vivacious Tina Cuevas, who took home a Turkish Airlines business-class ticket to any destination of her choice in Turkey or Europe; and last but not least, fashionable Duday Tuason, who capped the night with a splendid Amawaterways river cruise for two courtesy of Intas Luxe and Intas Destinations.
* * *
For comments and ideas, please email: jacinto.fa@gmail.com.