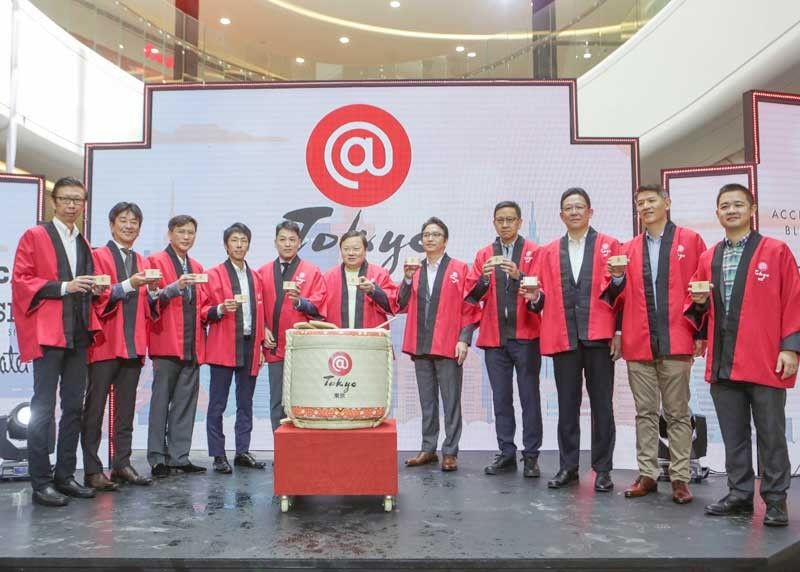 @Tokyo chairman Ivan Yao (center), managing directors Roy Chua (left), Emerson Yao (eighth from left), Marnie Chua and Vohne Yao (10th and 11th from left) with SM Supermalls COO Steven Tan and Secretary of the Economic Division for the Japanese Embassy Junichi Hirano (third and fourth from left) and Japanese partners, Carrot Company president Takashi Yoshida, SL Holdings executive director Katsuyoshi Hirano, Flex Japan Inc. managing director Yasushi Miyashita and Taka Trends director Takahiro Kawaguchi.
Photos by GEREMY PINTOLO
Where To Shop For Trendy Japanese Items Right Here In Manila
Do you love shopping in Japan but don't have the funds to go there on the reg, like I do? Fret no more. A sugoi place that gathers many of Japan's most kawaii, trendy and reasonably priced brands under one roof has just opened: @Tokyo, a homegrown concept created by the Lucerne Group.
"We started with Owndays and then Anello, and because we were looking to expand very quickly, word spread around communities of small Japanese manufacturers that, 'Let's partner with the Lucerne Group because they do a good job,'" says Emerson Yao, managing director of @Tokyo. "So they all started flooding in: 'We want to work with you, we want to work with you!' 'Okay, let's do a collection of stores together.'"
In various malls like The Podium, @Tokyo is laid out like a shopping street you would find in Japan's great capital city, with a row of stores featuring nine brands: newly introduced labels like Karuizawa Shirt, Legato Largo and Mis Zapatos bags, Accessories Blossom fashion jewelry, Waterfront umbrellas, the popular Anello backpacks and Owndays eyewear, and established watch brands Seiko and Casio.
"Standing here feels like I'm in Shibuya Crossing with all these Japanese brands," observed Steven Tan, chief operating officer of the SM Supermalls. "You don't need to go to Tokyo to have a glimpse of and taste of Tokyo. You can find it here now at The Podium."?@Tokyo managing director Vohne Yao says it's a unique shopping experience: "As you enter the store, you will be surrounded only by quality, affordable and trendy Japanese brands," he notes. "Our curated list of Japanese brands will increase over time as we discover more of what Japan has to offer. @Tokyo is also where we want people to shop for unique gifts, which is why our tagline is 'The Joy of Gifting.'"
The concept started with the vision of Vohne's father, @Tokyo chairman Ivan Yao, who noticed many interesting Japanese brands that were absent from the Philippine market. "Together with our managing directors Marnie Chua and Roy Chua, who spent months working on the project, they have brought this vision to life," notes Vohne. "Filipinos can now find a taste of Japanese shopping right here in the Philippines."
* * *
@Tokyo is located on the G/F of Uptown Mall and second floor of One Bonifacio, BGC; G/F of Market! Market!; G/F of Estancia in Capitol Commons; and the second floor of The Podium, Mandaluyong. Follow them on Facebook: AtTokyoStorePh and Instagram @attokyostoreph.
Follow the author on Instagram and Facebook @theresejamoragarceau.
ANELLO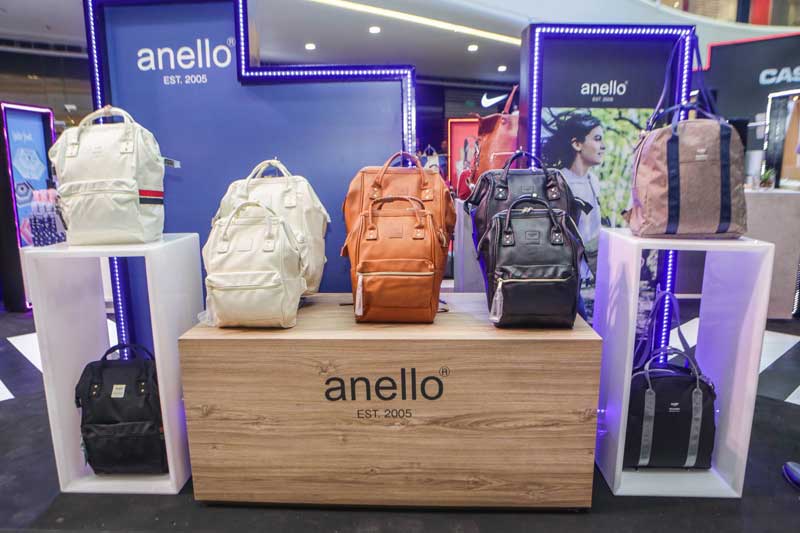 What it is: Anello, which means "annual ring" in Italian, made its name with the iconic Kuchigane Rucksack, a roomy, lightweight backpack with a distinct shape and structured opening that's so stylish and fashionable it changed the way people wear backpacks in Japan and Asia.
Best buys: The Kuchigane backpacks, of course, which come in a myriad colors, sizes and styles with prices ranging from P2,200 to P4,150.
CASIO?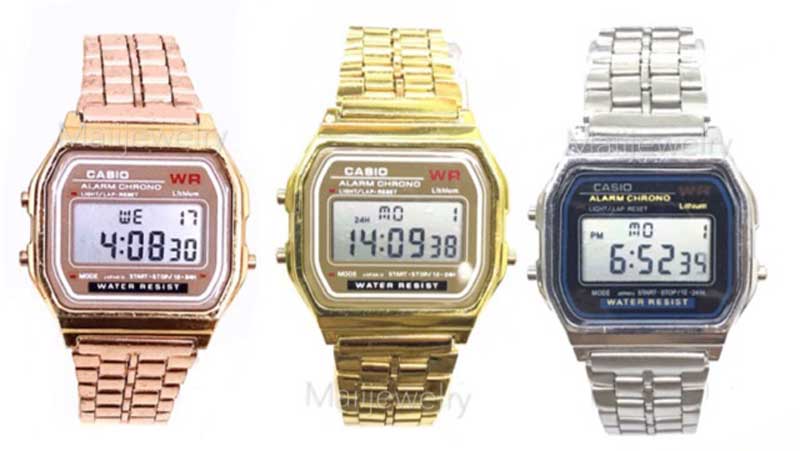 What it is: If you still don't know, Casio manufactures reliable, reasonably priced, sturdy timepieces that anyone can wear on a daily basis.
Best buys: The classic analog watches (which have made a comeback as stylish nostalgia pieces), multi-function digital watches and G-Shock watches.
OWNDAYS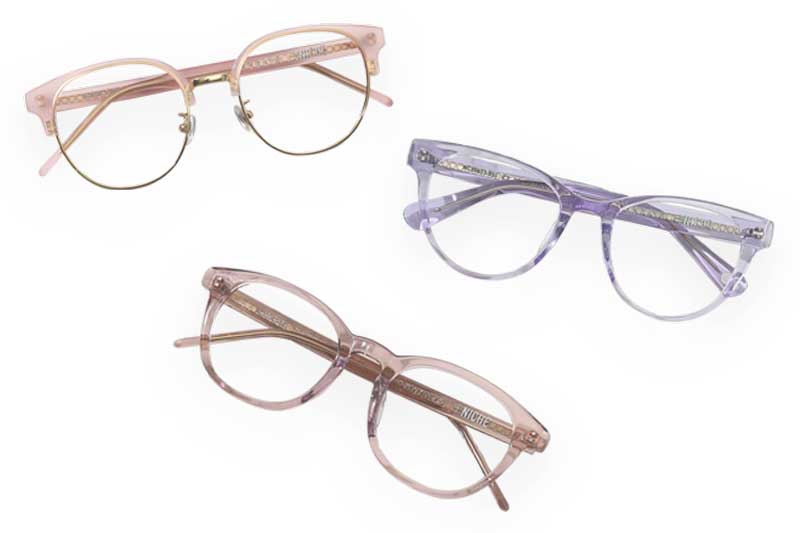 What it is: One of the biggest Japanese eyewear companies in the world with 44 branches in the Philippines, Owndays offers a wide variety of eyeglass frames and sunglasses that are updated every two to three weeks. On top of that, after your checkup you can get your glasses done in just 20 minutes.?
Best buys: The trendy eyeglass frames, with prices starting at P1,990.
KARUIZAWA SHIRT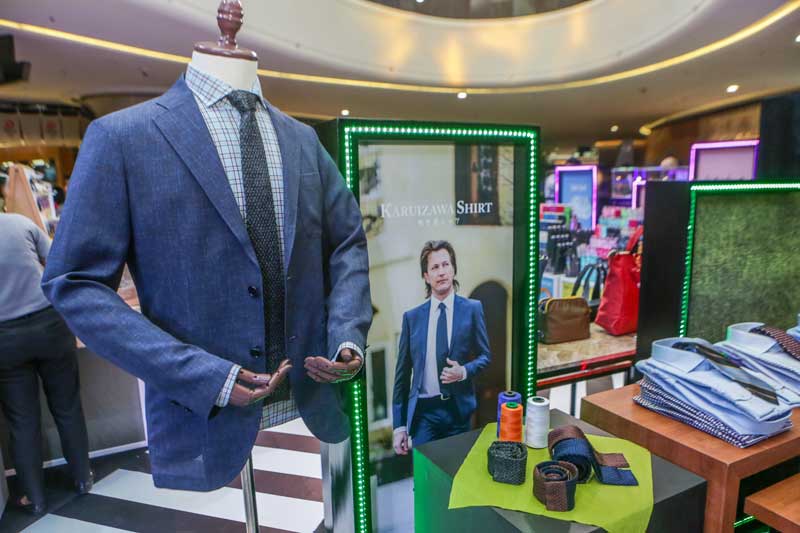 What it is: One of the biggest shirt manufacturers in Japan, Karuizawa Shirt originated in 1940 with a small shirt factory that produced simple, white, comfortable shirts for Japanese working men. With their precise and quality manufacture, Karuizawa became a global supplier for multinational fashion companies and now the house brand features shirts and ties in on-trend styles and colors for every occasion.
Best buys: The men's shirts, which feature the perfect collar, according to Emerson: "They make it so nice, so perfect and so rigid; it doesn't curl or pull to one side. Even if you don't iron it so well, it's still standing." Prices start at P2,190.
WATERFRONT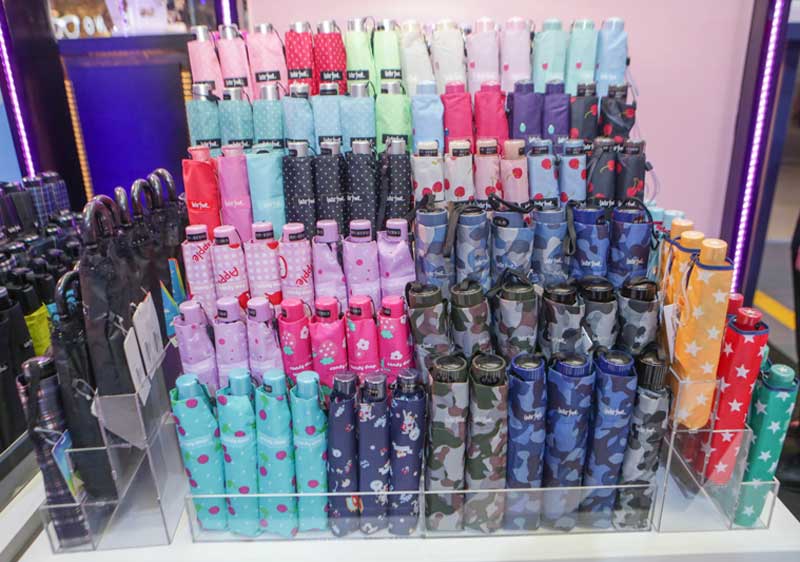 What it is: Japan's No. 1 umbrella brand has a rainbow logo representative of the infinite colors, ideas and styles of the umbrellas they invent, from simple, pocket-size models to innovations like an off-center handle to fit two people under a single umbrella.
Best buys: The flat umbrella, which is the runaway bestseller; the one with the off-center handle and the umbrella with a flashlight, a la Blade Runner. Prices start at P595.
SEIKO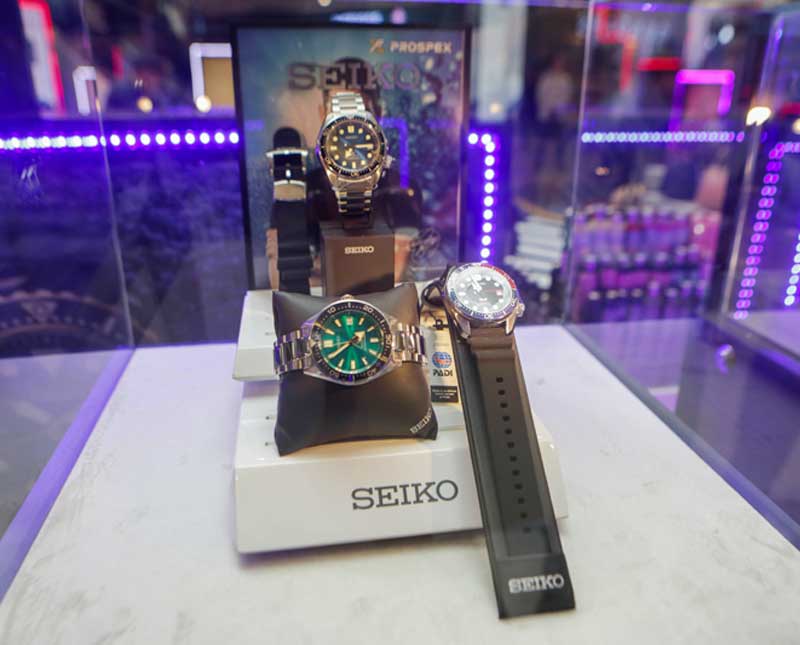 What it is: Japan's most well-loved mechanical watch brand has a wide variety of timepieces ranging from dressy to casual. Their movements can last a lifetime with proper care and servicing.
Best buy: The stainless-steel Seiko Astron, the world's first GPS solar watch, which adjusts to different time zones and never needs a battery change because it's powered by the sun.
LEGATO LARGO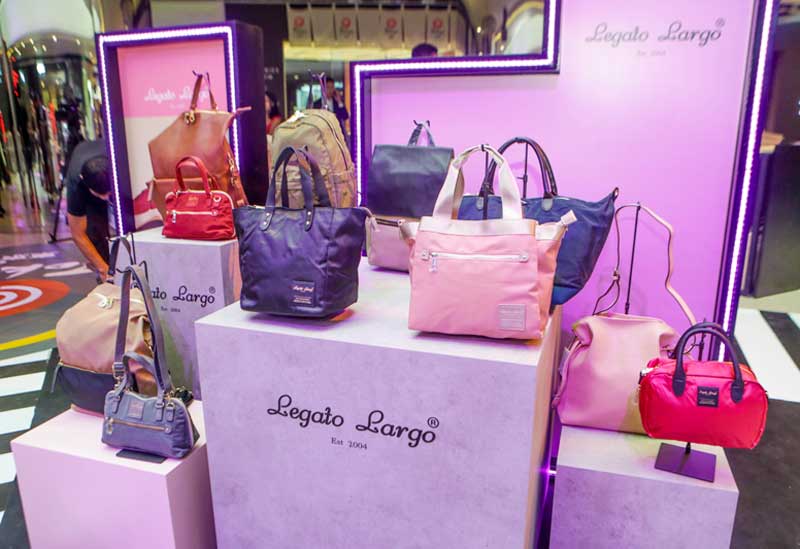 What it is: The sister company of Anello, Legato Largo manufactures totes and bags using best-quality, affordable materials like nylon and canvas. In basic styles and colors like navy and taupe, with feminine pops of color like red and pink, Legato Largo's minimally embellished handbags are an everyday option for the more classic set.?
Best buys: The lightweight shopping totes, with prices starting at P1,650.
ACCESSORIES BLOSSOM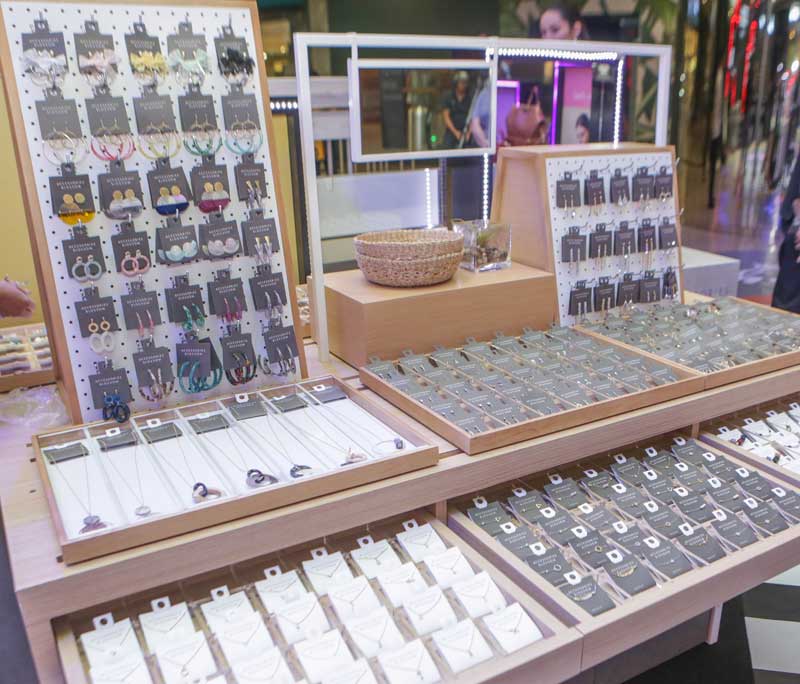 What it is: With fashion accessories inspired by seasonal flowers, this store is always packed with young people in Japan, according to Emerson Yao: "It's always full because they offer the lowest price points in Japan, and they have this innovative way of selling, like for a certain price, they bundle two or three pieces."
Best buys: Earrings, hairclips, necklaces and bracelets pegged at three prices: P300, P500 and P700.
MIS ZAPATOS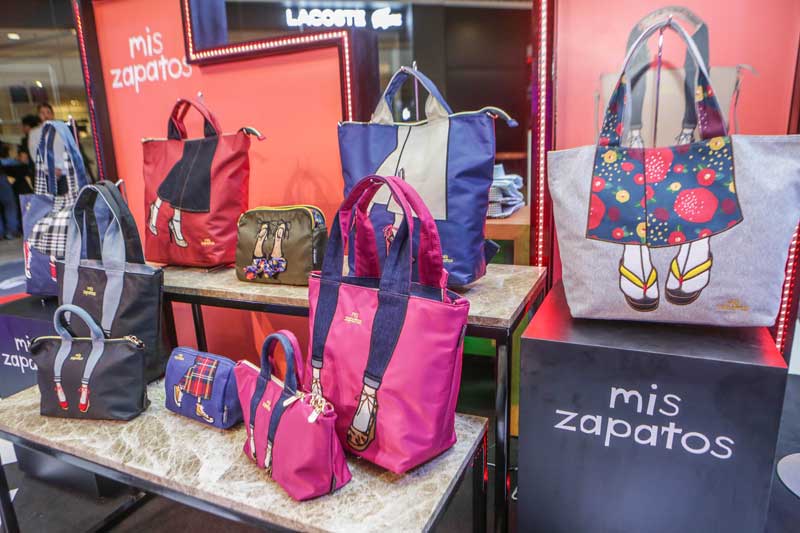 What it is: Spanish for "My Shoes," Mis Zapatos is actually a bag brand with a cute and quirky design signature: on a solid-colored background are illustrations of legs clad in pants or skirts, each wearing a unique pair of shoes.
Best buys: The retro-motif bags, which come in different styles. Prices range from P1,850 to P3,650.