Osteria Daniele's Dani Aliaga and Anton Barretto flank Italian Embassy deputy head of mission Eugeniu Rotaru
Photos by Alex Van Hagen Powered by MAC Center
Manille was recently introduced to Bistronomia's latest concept, Osteria Daniele. Aprés seven years of focusing on Spanish cuisine, the group realized that it's time to open an Italian restaurant. Their familiarity with many Italian flavors, recipes and its culture encouraged partners — the super gang of four composed of Dani Aliaga, Sergi Rostoll, Uri Singla and Anton Barretto — to explore this new world.
Over the past years, some of them have been traveling to Italy to discover dishes and ingredients and immerse themselves in Italian culture and lifestyle. After thorough fieldwork, they launched Osteria. Although "osteria" technically refers to an establishment serving simple and straightforward Italian food and wine, recently, the term has adapted to the times and, if you've noticed, most Italian restaurants in the world are referred to as osterias, naturellement. The owners opted to have a short but well-curated menu offering simple dishes that are loaded with flavors, dahlings.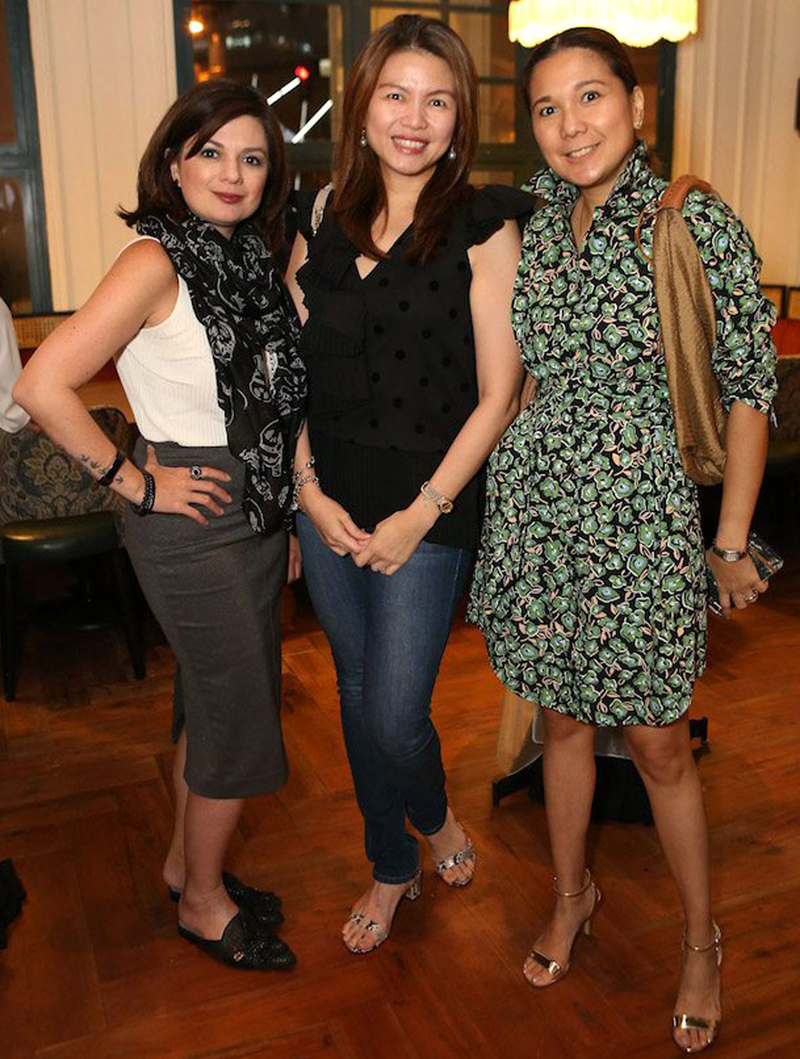 Lexi Berenguer-Testa, Ana Gloria, Cecile Wieneke
Osteria Daniele is located at High Street Corporate Plaza, 9th Ave. and 26th Street, Bonifacio Global City. Its bold green exterior and arched windows are quite easy to spot from afar and its design, which I'm sure was done with the help of Anton Barretto, captures the attention of passersby.
Guests who attended the launch despite the stormy weather sampled a selection of cold cuts and cheeses, as well as scrumptious bites from Osteria Daniele's menu. Savory selections like mini arancini balls, mini airbaguettes, tomato bruschetta, tuna carpaccio, grilled octopus with orzotto, meatballs in tomato sauce, mushroom risotto, and porchetta served in mini buns were passed around for dinner, while mini cups of all-time favorite tiramisu were served for dessert. Drinks included red and white wines, gins and Aperol spritzes courtesy of Wine Warehouse, Bares & Estrellas, Sommelier Selections and Bacchus PWX, no less.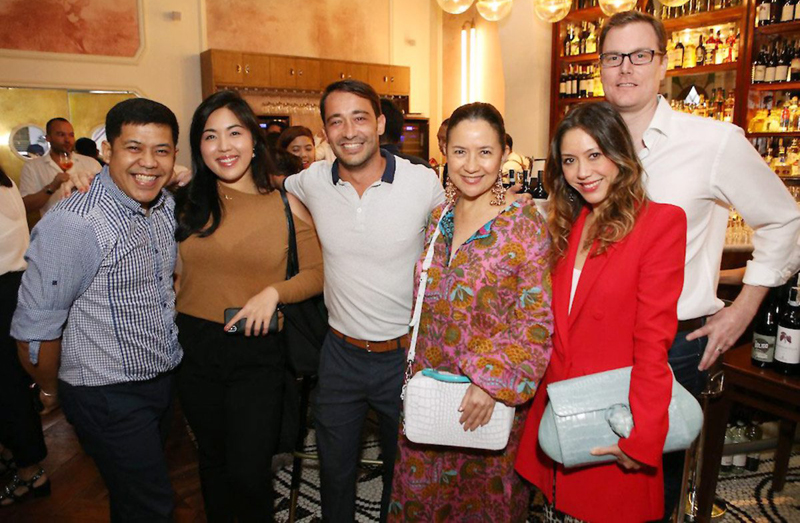 Ron Mabanag, Isabel Francisco, Dani Aliaga, Mia Borromeo, Shauna and Matt Williams
Savor Italy at Osteria Daniele. Don't forget to try their smoked burrata, orecchiette (pasta) and their crispy delicious porchetta. Their wine selection follows a similar approach — a short but curated selection of wines, covering some of their favorite regions like Sicily, Veneto, Puglia and Piedmont.
For reservations, palanggas, call or SMS 0915-8745792 or follow Osteria Daniele @osteriadaniele on Instagram.
A fun gathering of women of substance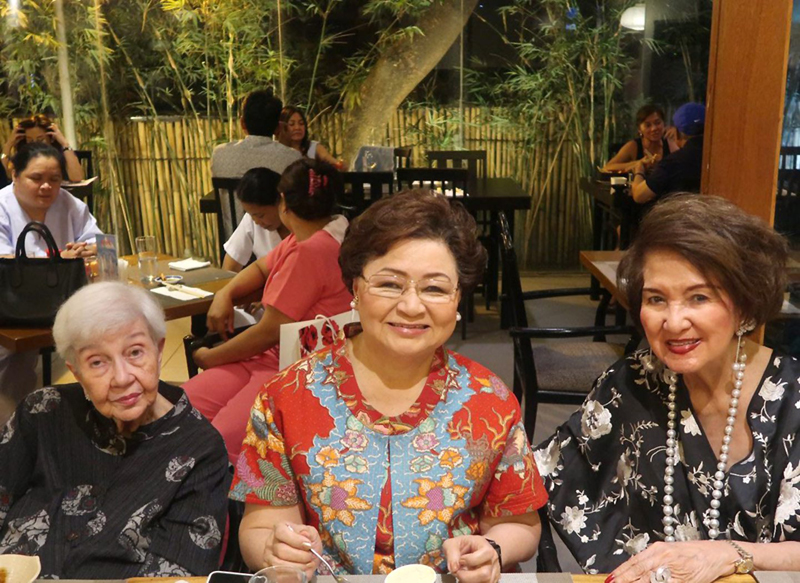 Josie Razon, Dr. Rosalind Wee, hostess Nene Leonor
Nene Leonor, the hostess with the mostest, recently feted a despedida party in honor of Dr. Rosalind Wee of W Group of Companies and wife of Philippine Ambassador to Indonesia Lee Hiong Wee who was here for a short visit. The event was held at Nan Ten Restaurant at Manila Polo Club, the stable of the rich.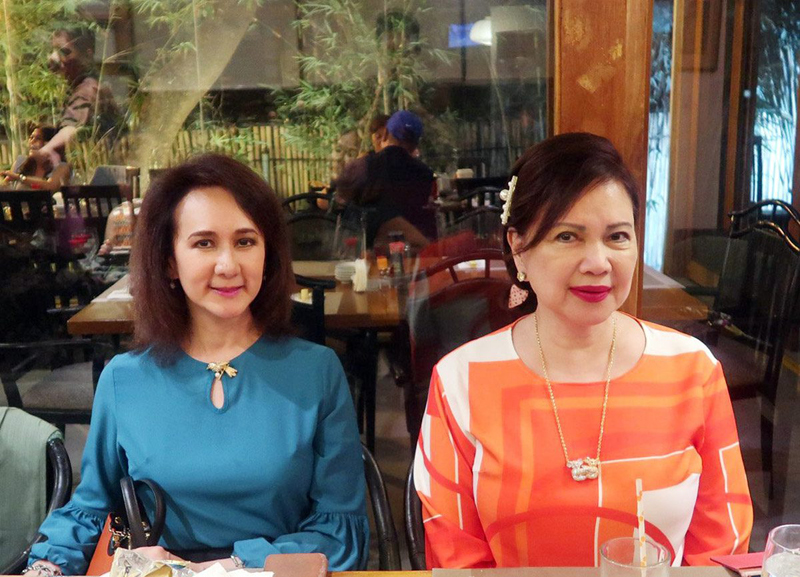 Financial Institute of the Philippines executive VP Grace Tiongco, Nini Licaros
The birthdays of Ching Montinola and Chit Salud were also celebrated that night at Nan Ten, which was well attended by the usual gang of close friends, dahlings.
As always, guests were treated to a sumptuous Japanese spread, which consisted of sushi, sashimi, tempura, misono, gindara, teriyaki and chicken yakitori.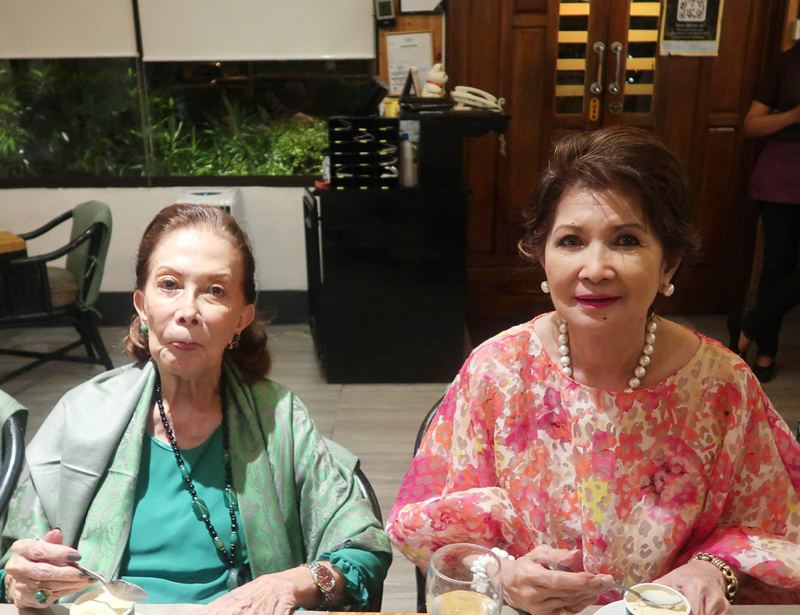 Ching Montinola, Criselda Lontok
It was a fun night, palanggas.