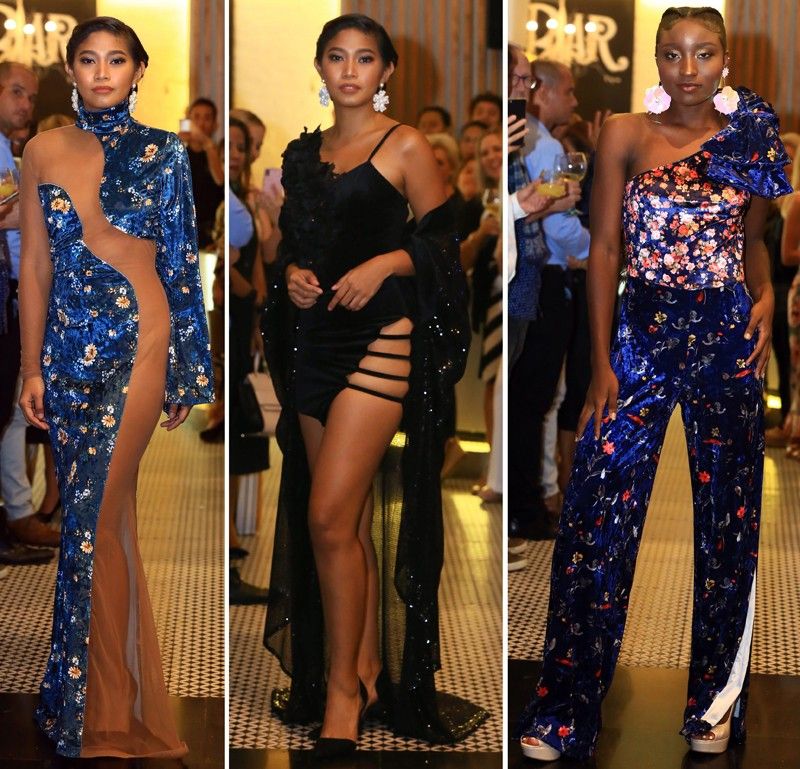 Velvet buzzsaw: Fashion designer John Guarnes used Fabrics Nation's imported silk velvets for his "Velvet Collection."
Photos by Walter Bollozos
This was a fashion show that happened through unusual circumstances. First, the owners of Fabrics Nation, a textile showroom in Marikina, wanted to showcase their range of imported fabrics.
One of the owners, Mehdi Moussaoui, had the idea of getting a talented fashion designer to create a collection, so he enlisted John Guarnes, a professor of fashion design at St. Benilde, who's won awards in Parisian and Australian design competitions and supplied ready-to-wear to Japan and Australia.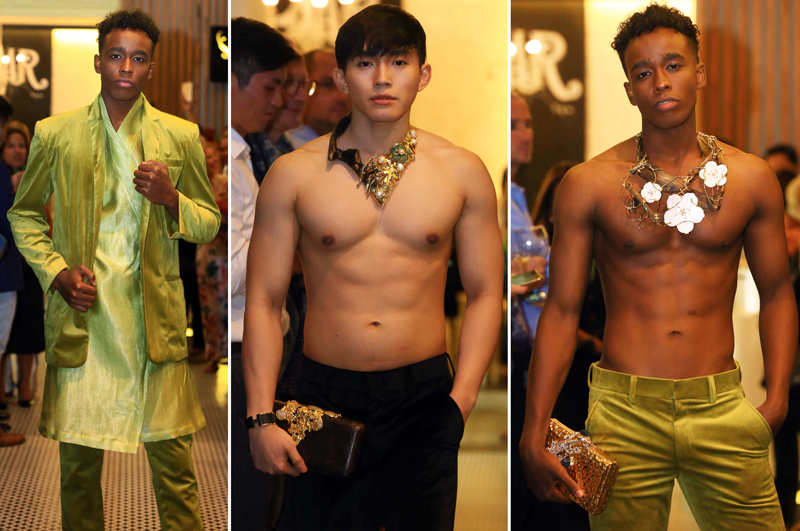 Rising sons: Japanese kimonos and obis were the inspiration for Guarnes' outfits, which were accessorized by Ann Ong's neckpieces and clutches.
"When (Mehdi) told me I was going to use velvet, I was like, what?" Guarnes laughs. "But I said okay, I'll take the challenge."
Adds Moussaoui, "I told him, do what you want, and he did amazing, amazing, amazing."
Another Fabrics Nation owner was a client of jeweler Ann Ong's, so she brought Ann into the fold to accessorize Guarnes' outfits.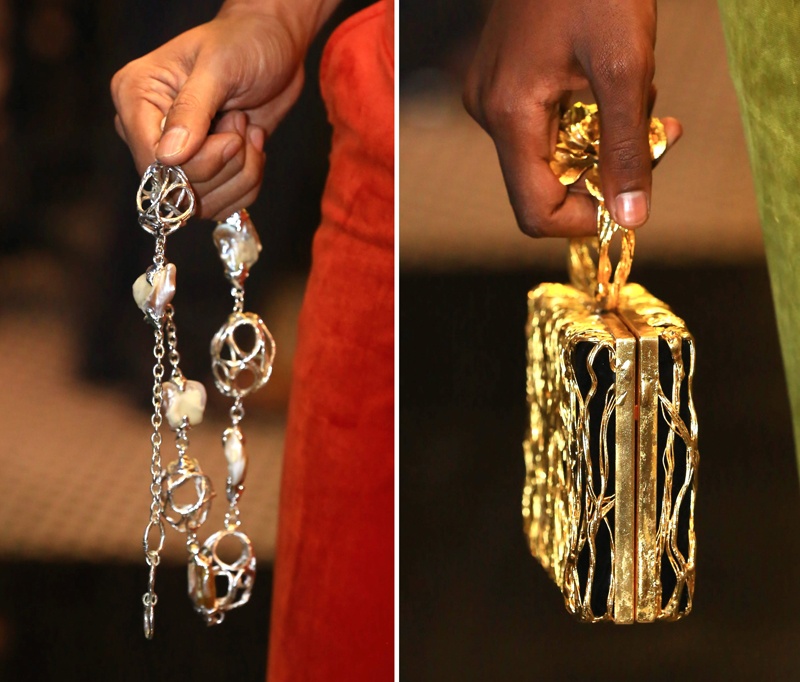 Inspired by nature: Ann Ong necklace and bag
"It's a new collection, still inspired by nature, for my shows in New York," notes Ong. "A lot of (Guarnes') clothes are printed, so I decided we'd just use earrings for the women. Some of the men went topless, and that worked better with my jewelry."
Since Moussaoui was also the creative director of La Provence hair salon at Central Square Mall in BGC, he suggested using the salon as a venue, and boom! They now had a fashion show Guarnes calls "The Velvet Collection."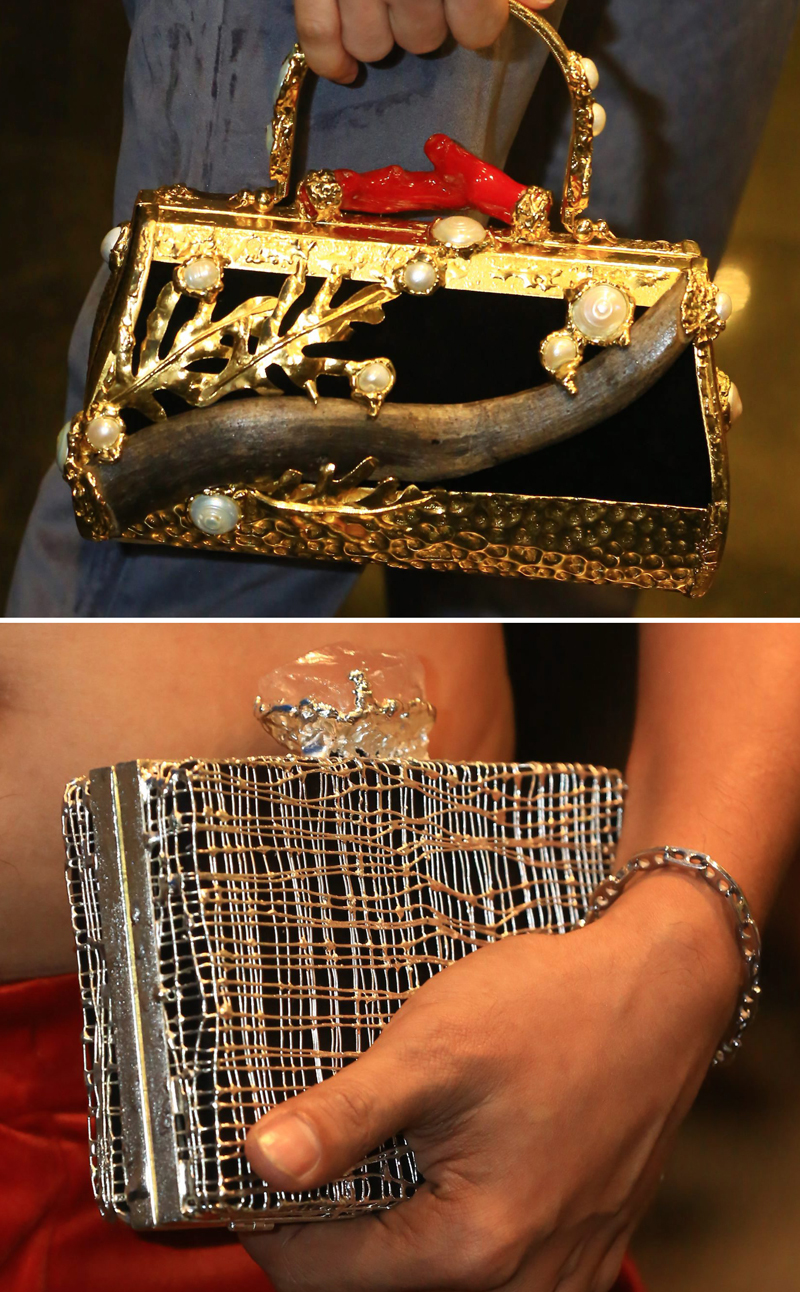 Natural woman: Ann Ong's new bag collection
"This is a Japanese inspiration from the kimono and obi sashes and belts," Guarnes says. "It's a 20-piece collection that also showcases Ann Ong's accessories. This was a challenge for me: Filipinos don't really like velvet, maybe because of the hot climate, but this one is a pure silk velvet, so it's kind of cool and doesn't crease or wrinkle. You can wear it when traveling, and you can wear it for afternoon to evening affairs."
Guarnes says the pieces he designed are adaptable: "You can wear it with sneakers, you can wear it like a sexy dress, you can wear it like sportswear."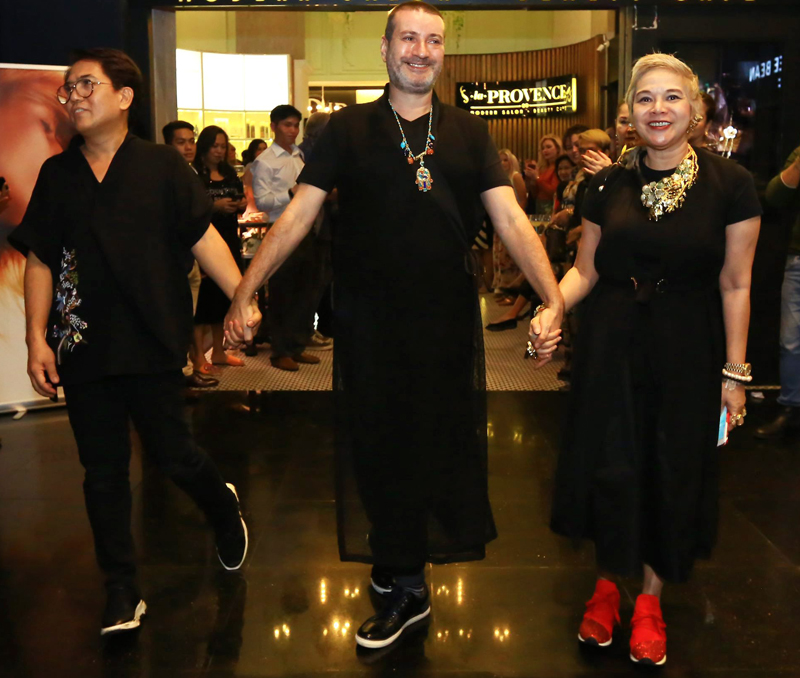 Fashion designer John Guarnes, Fabrics Nation co-owner Mehdi Moussaoui, and jewelry designer Ann Ong
A 25-year veteran of the fashion biz, he feels a designer has to be as versatile as his clothes and flow with the times to stay relevant and survive.
"I would place my aesthetic from classical to modern to compromising on the time," Guarnes says. "Like, if this is a millennial time, then I have to be millennial in approach."
* * *
Fabrics Nation is located at 10-B Cherry Street, SSS Village, Brgy. Concepcion 2, Marikina City. Visit www.fabricsnation.com or Fabrics Nation Manila on Facebook.
Contact John Guarnes at (0915) 869-6078, johngguarnes@yahoo.com or Facebook: JohnGuarnesClothing.
Ann Ong's jewelry boutique is at Shangri-La at The Fort, Bonifacio Global City.