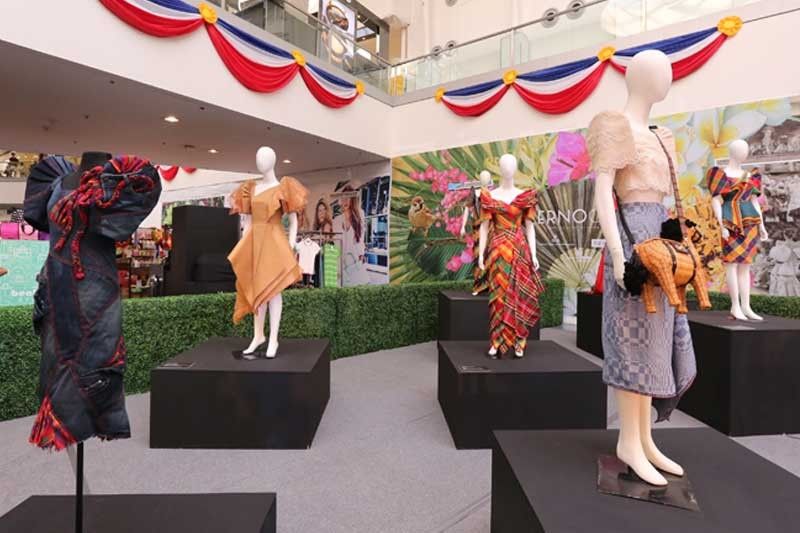 Ternos on exhibit at SM MOA include those of Ternocon 2018 double gold winner Marlon Tuazon who was honored by his Angeles, Pampanga hometown with a congratulatory billboard.
Photos by WALTER BOLLOZOS
'The whole country has to see these ternos,' says #LoveLocal stalwart Ben Chan. Hence, there will be a traveling exhibition of Ternocon in SM Malls throughout the country until the next CCP event in January 2020.
What could the actress Lovi Poe and almost a hundred mall-goers be drawn to in the Mall of Asia Main Atrium on Independence Day?
#LoveLocal trendsetter Bench and Cultural Center of the Philippines' Ternocon, the terno-making convention, contest and event that revived the terno for a new generation, is hosting a traveling exhibition of its Batch 2018 ternos, on view in SM Malls throughout the country until the culminating Batch 2019 event in the Cultural Center of the Philippines on January 26, 2020.
Bench founder and Ternocon chair Ben Chan says of this next step: "The whole country has to see these!"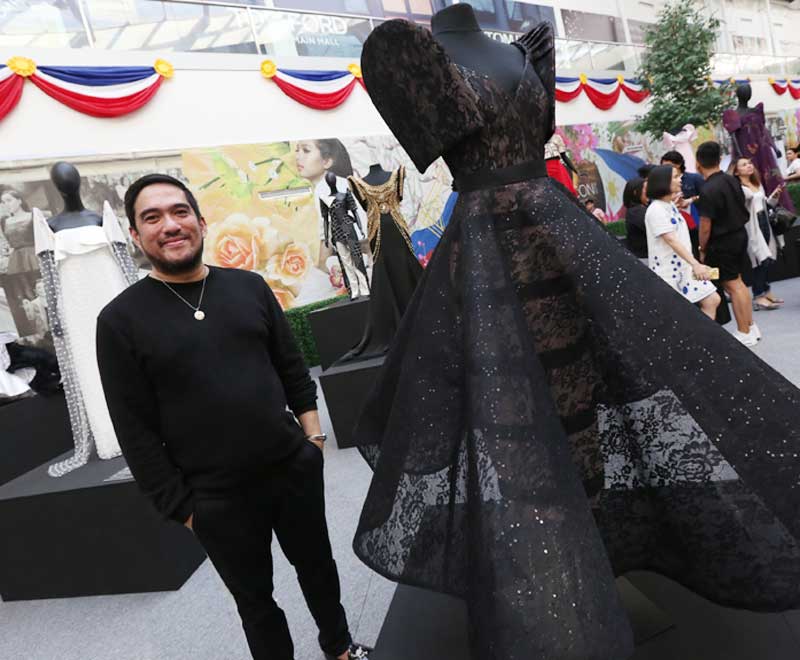 "Sabi nila masyadong elitist yung presentation sa CCP, even if we involved the entire Philippines and invited regional guests," says artistic director Gino Gonzales, looking back on the by-invitation-only affair mounted on the very stage of the CCP Main Theater last November.
"But for one movement to be successful, it cannot be confined to one small sector of society," he adds. "Hindi pwede puro social influencers. Kailangan sa lahat."
The exhibit features 30 of 90 ternos by the regional contestants, including the balintawak (country version of the terno that makes use of a kerchief called alampay) and formal evening entries, including grand winner Marlon Tuazon's ternos, as well as mentors JC Buendia (displaying a reproduction since his collection has sold out), Cary Santiago, and Len Cabili. It is divided into three sections that represent the three prevalent looks: the use of black, white, and/or gray; jewel tones; and indigenous weaves and textiles, on view only until today.
Marlon's hometown, Angeles, Pampanga, congratulated him with a billboard. He shares, "Dumami ang clients ko as I focused on my love for Filipiniana. My clients wear the terno mostly to oath-taking ceremonies, but now they also wear it to parties instead of the usual cocktail dress. They also wear it with casual pieces."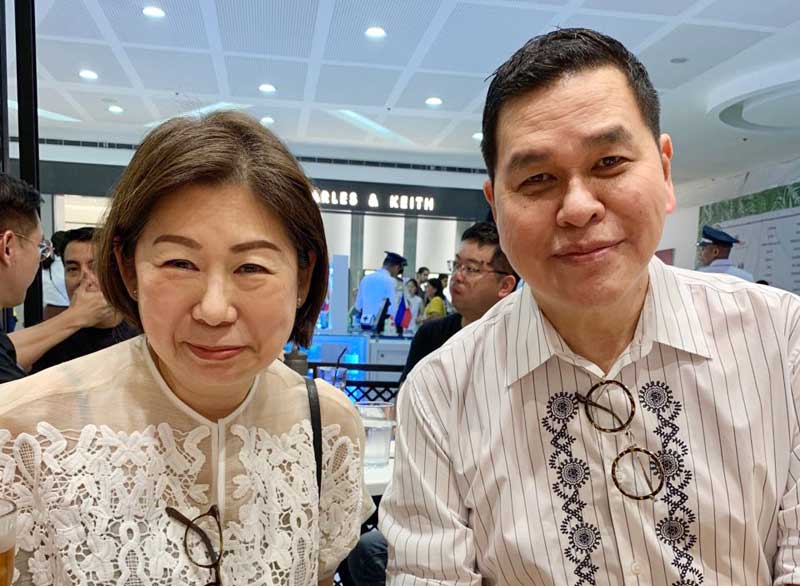 SM boss Tessie Sy-Coson tells Bench founder Ben Chan: "Whenever you do something, it goes trending!".
Marlon observes, "I think babalik sa dati, na ang balintawak dress will be worn pag namamasyal. The love for the terno, dapat hindi mawala."
Today, the official Instagram page @ternocon_2018's tagged photos contain posts of Filipinos either making or wearing the terno in their own way from different parts of the world. Last year's Ternocon event had over 50,000 viewers in the official live stream. Turns out, an interest in the national costume has always been there; it's just that people never really knew where to look, whether it's for references on the correct dimensions that differentiate the butterfly sleeve from the rest, or how it can be modernized in its fabrications, silhouette and styling.
Gino, a production and set designer who works with the country's top museums, notes, "For this particular project, I think mas tama na dalhin siya sa mall. So it's open to anyone and everyone. They don't get intimidated. They just walk in. It's libre. You literally pull them in into appreciating the dress. This is the first step."
Countering the country's lack of a museum costume institute with SM's strategic locations and foot traffic, Gino adds, "SM is the perfect partner for that."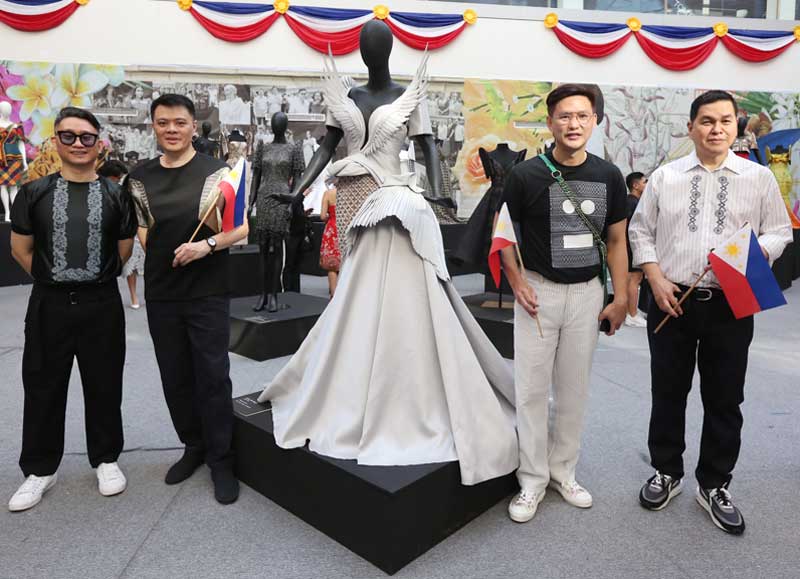 Flanking Cary Santiago's signature terno are (from right) Ben Chan, SM Supermalls COO Steven Tan, Ternocon artistic director Gino Gonzales and stylist Noel Manapat.
Touring the country by way of landmark malls hints at the bigger, wider reach next year's Ternocon is aiming for. Gino reveals, "Instead of the stage, the audience will be moved to the main theater," previously occupied by chief mentor Inno Sotto's exhibition of the most grandiose ternos that have been made in recent years, floating above the chairs in a set designed by Gino. The Main Theater has a seating capacity of 1,853.
In April, Ternocon opened its symposium featuring speakers from the fashion and academic communities to non-participants for the first time. "It was very well attended. Ang dami palang baliw sa terno sa Pilipinas!"
The Batch 2019 mentors are new-generation designers Lesley Mobo and Ivarluski Aseron, and Cebu-based old guard Philip Rodriguez. Gino thinks aloud, "Patay, puro detalye ang gawa nila, hindi pwede malayuan. Yung problema is baka hindi ma-appreciate when people are seated, but there is a clamor for tickets."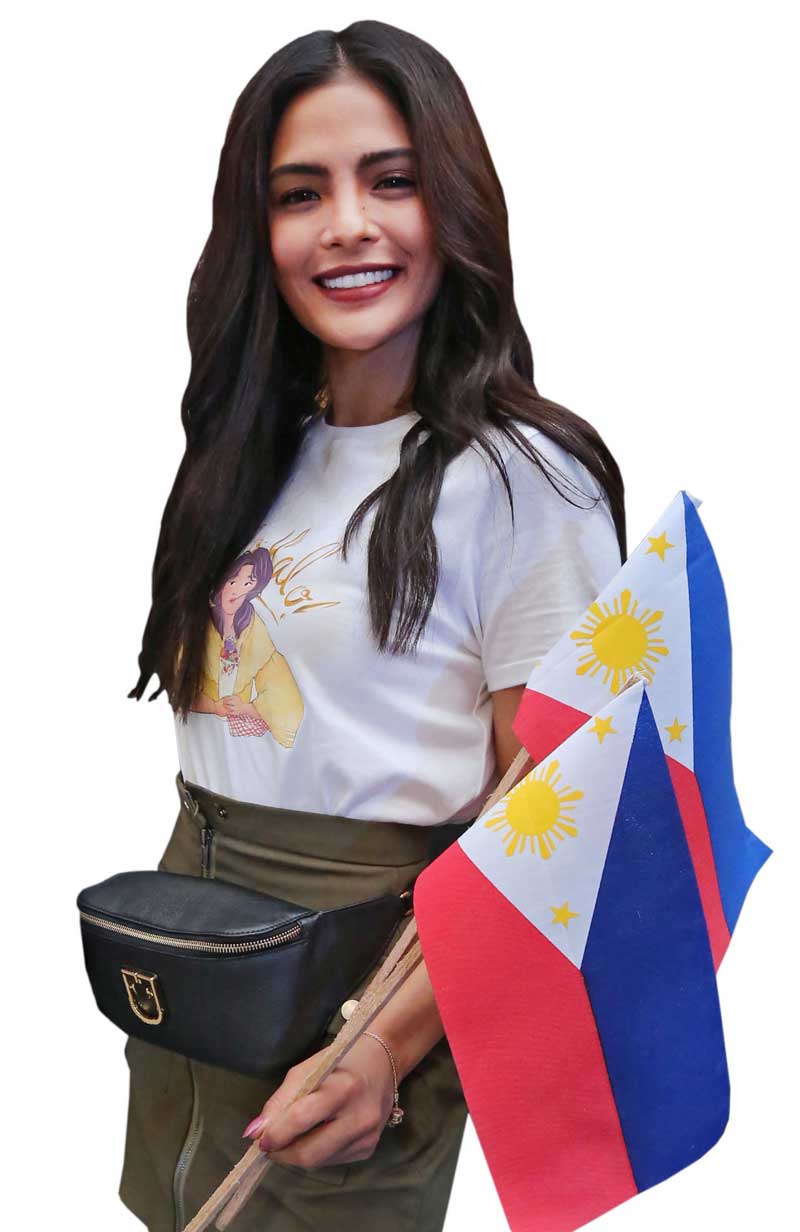 Proudly Pinay beauty Lovi Poe.
In this year's Ternocon, the bayanihan spirit in mounting what was once deemed so formidable remains.
"The beauty of this project is that it involved the government sector, the private sector, and the business sector," Gino says. "The arts and the schools help us. Slims helped us set this up. We also have volunteers."
* * *
The Ternocon 2018 exhibition will be in the Mall of Asia Main Atrium, Pasay City, until today. Follow @ternocon_2018 for updates.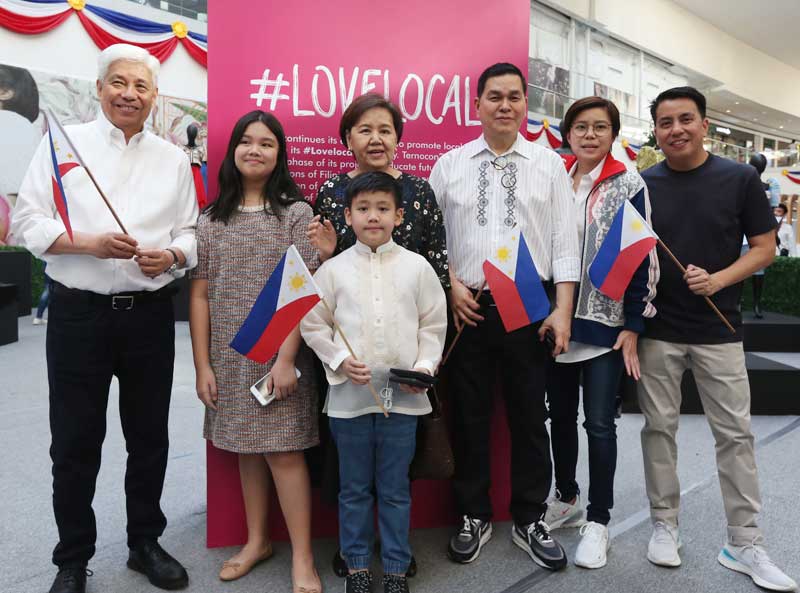 The Bench family waves the Philippine flag at Ternocon exhibit in MOA. From left are Virgilio Lim, Yumi Lim, Aki Lim, Nenita Chan-Lim, Ben Chan, Kristine Lim and Bryan Lim.