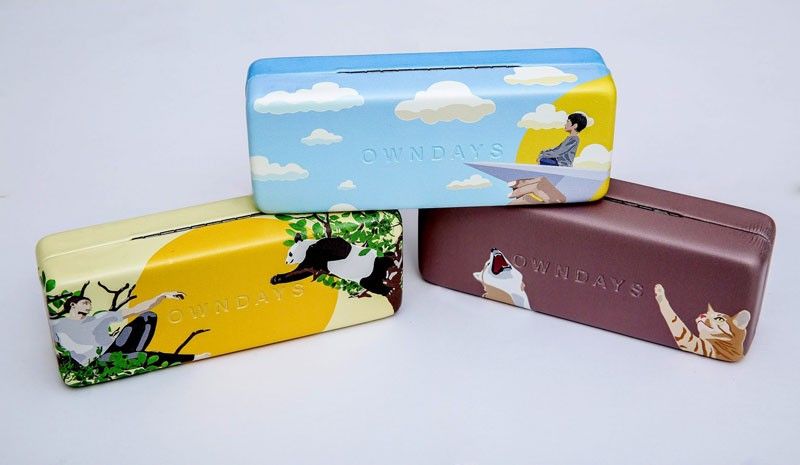 Charity cases: The eyeglass "Cases for Change" for (from left) World Wide Fund for Nature Philippines, World Vision, and Philippine Animal Welfare Society Philippines are available at Owndays.
Photos by Bening Batuigas
Cute cases designed to help children, animals & the environment
Shopping for a cause is always fun, and Owndays, the hip eyewear brand that's made the tedium of getting prescription glasses into a modern, Japanese-efficient experience, has put its own spin on the concept with "Cases for Change."
Owndays Philippines has partnered with three non-profit organizations — WWF (World Wide Fund for Nature Philippines), World Vision and PAWS (Philippine Animal Welfare Society) — and designed a special, limited-edition eyeglass case for each, with its logo and motto inside. You can choose to buy one outright for P500, or match it with a pair of glasses for only P250. Whatever the case (pun intended), 100 percent of the money goes to the charity of your choice.
CSR (corporate social responsibility) has always been a vital part of Owndays' mission. "Even the CEO of Owndays and other bosses travel to Nepal, India, Pakistan and Philippines to do CSR once or twice a year," notes Vohne Yao, managing director of Owndays Philippines. "Normally they do it through Eye Camp, which is distributing glasses to the poor. First we measure everyone's prescription, and then fly back a week later to give the glasses to them. So when we franchised Owndays, we started copying the Eye Camp concept here."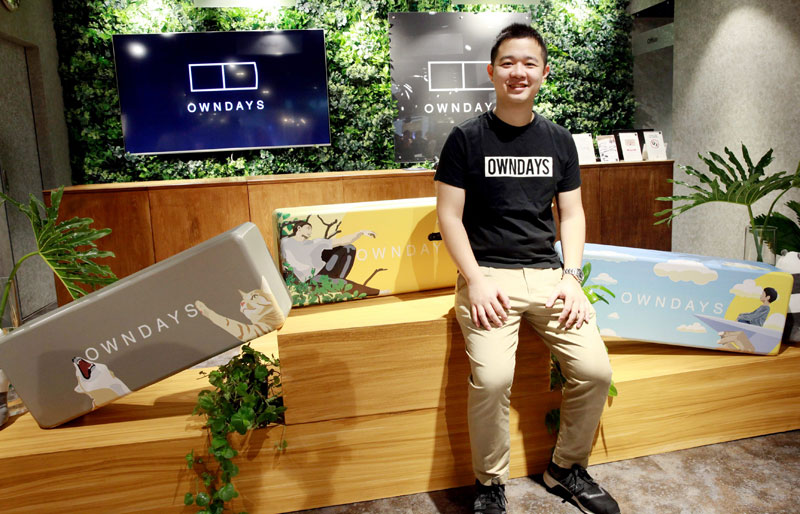 X
"Cases for Change" is a new CSR initiative, however. Yao started it so the company could donate to causes other than vision-related ones. "I'm very much into pets so I chose to partner with PAWS," he explains. "For people who are not into pets, there's also the environment and for kids."
For kids the non-profit is World Vision, a Christian organization centered on children's education, health, and well-being. "This year we're focusing on digital education," says Jun Godornes, World Vision's resource development director. "Right now we're piloting in about 500 schools in partnership with the Department of Education. For every purchase of Cases for Change, proceeds will go to World Vision's programs so children can go to school, finish school and reach for their dreams."
That would explain the design of the case, which shows a child sitting on a paper airplane about to be launched by a hand into a blue sky.
PAWS' mission is to prevent animal cruelty and to end pet homelessness. "Our advocacy is to prevent them from having to be rescued in the first place by making people aware of how they should be responsible pet owners," says Anna Hashim-Cabrera, PAWS Philippines' executive director. "The sad thing is, every month, an average of about 200 dogs or cats are put down or euthanized in city pounds everywhere. We have a lot to learn about responsibility."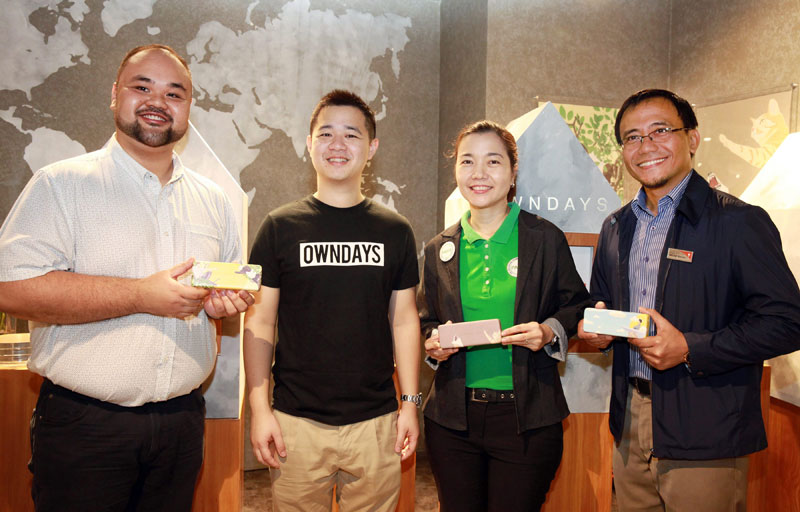 Vohne Yao with the representatives from his chosen charities (from left) Dan Ramirez of WWF Philippines , Anna Hashim-Cabrera of PAWS Philippines and Jun Godornes of World Vision Philippines
Photos by Bening Batuigas
Cabrera says Yao has been very active with rescues and has adopted animals from PAWS, so the case Owndays designed, which shows a dog and cat playing with the brand logo, is like coming full circle. "We have several rescued animals that have been run over. It's very costly to rehabilitate them and that's why we need all the help we can get."
Dan Ramirez, communications and media manager of WWF Philippines, urges all eco warriors to check out Owndays. "What's good about this partnership is that it empowers individuals to do something good for the environment on a very personal level," he says.
Proceeds from the case, a playful take on Michelangelo's "The Creation of Adam" that shows the first man reaching for a panda, will go towards WWF's environmental efforts. "Through our environmental education sessions we raise awareness and make people believe in the power of individual actions," Ramirez says. "A lot of people find the word 'environmentalist' daunting, but we want them to realize that we can all be environmentalists because all these individual actions can spark a collective movement."
Owndays made only 2,000 pieces per case, so get yours now while supplies last. Better yet, get all three. "We're aiming to raise up to P1 million for charity," Yao says. "This is something new; I don't think I've seen this at other optical stores: the opportunity to shop for a pair of glasses and you get to give back."
* * *
Owndays Philippines has 40 branches nationwide in major malls, and is opening in Zamboanga this year.
Follow me on Instagram @theresejamoragarceau.