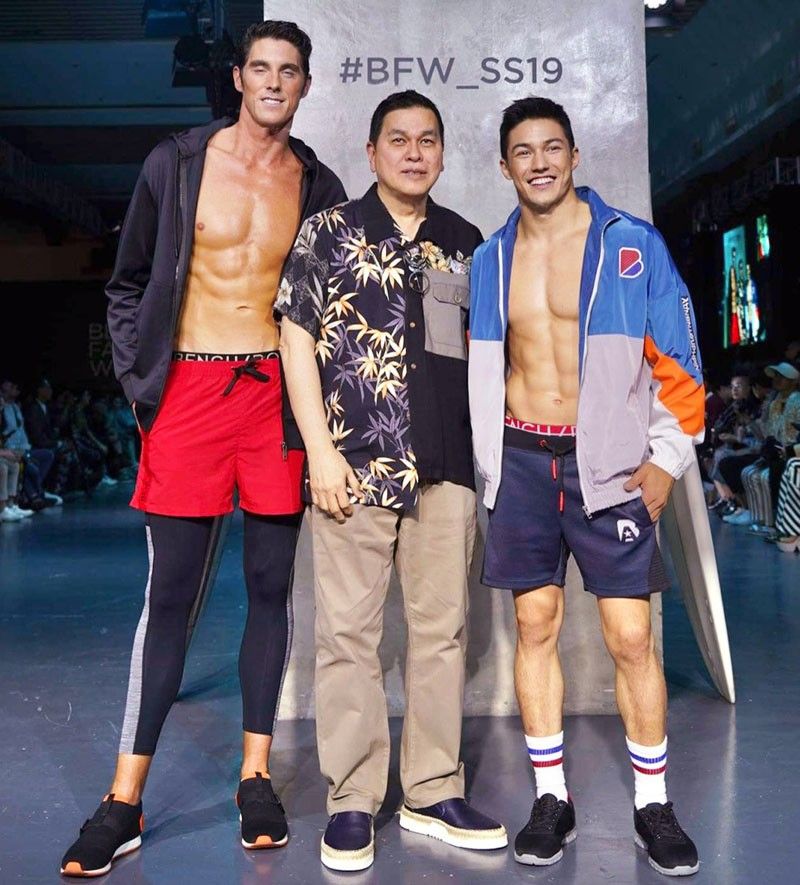 Conor Dwyer and Arthur Nory take a bow with Ben Chan during Bench Fashion Week.
On an olympic high with Conor Dwyer, Arthur Nory and Bench
Bench welcomes summer with the winning endorsements of competitive swimmer and two-time Olympic gold medalist Conor Dwyer and Arthur Nory, bronze medalist for men's floor gymnastics at the Rio Olympics in 2016. The Olympians walked during Day 3 of Bench Fashion Week spring/summer 2019 edition over the weekend, wearing pieces from the latest collection of Bench Swim and Bench Active.
It's a summer of chasing dreams and pursuing your destiny — something that these two athletes fully embody. Thirty-year-old Conor is one of the pillars of the US National team now, but he had to walk on the University of Florida team himself as a non-qualifying swimmer in his junior year of uni and two years later won his first Olympic gold against swim record-holders Ryan Lochte, Ricky Berrns, and Michael Phelps in 4x200-meter freestyle in London. The 25-year-old Brazilian-Japanese Arthur was under pressure to pursue a judo black belt and braved confrontation with his father until his mother supported his decision to follow his bliss in gymnastics, a sport that was dismissed as "too feminine" in his Sao Paolo hometown. When the first-time Olympian nabbed his bronze medal, he also had ladies all over the world crushing on him, lovingly nicknaming him "The Internet's Brazilian boyfriend."
But they're not resting on their laurels. They're just getting started. Arthur (full name Arthur Mariano) has the Pan American Games in July in Lima, Peru and is also preparing to qualify for the Tokyo Olympics in October while Conor's next event is the 2020 United States Olympic Trials. Conor shares: "It is probably harder than the Olympic Games. If you don't make it there, you don't get to swim at the Olympics. I gotta be very disciplined."
It's Conor's first time in the Philippines, and his girlfriend Kelsey Merritt, the Filipina-American endorser of Suyen Corp. (Bench's umbrella company) ladies' ready-to-wear brand Kashieca and the first Filipina to walk the Victoria's Secret show, is showing him around the islands — but more on the "it" couple later.
Before they made a big splash on the Bench Fashion Week catwalk — Arthur did so with cartwheels and backflips — we got to know more about the young Olympians over chicken and pork adobo and iced tea at Paul Café of Bench Tower.
Philippine STAR: How did you first get connected with Bench?
Conor Dwyer: I was in Japan for the Pan Pacific Games last summer and got in contact with some of Kelsey's management. I've seen and heard of Bench but didn't know much about it until Kelsey brought it to my attention. I have had friends, Zac (Efron, actor) and Sean (O'Pry, model), shoot with Filipino brands before. I know Bench is a leader in the industry over here and it's an honor and I'm very thankful to be a Bench Active user and ambassador for the lifestyle brand.
Arthur Nory: My big brother Israel Mariano is a fashion designer (formerly assistant designer for Mihara Yasuhiro which Suyen's multi-brand store Assembly carries) and he met Mr. Ben Chan in Paris Fashion Week. It came up that I was his brother and they had been looking for me. Mr. Chan told him to keep in touch for work in the future.
How did you get started with your sport?
CONOR: My mom taught us how to swim when I was two in my grandparents' backyard pool and I did every sort of sport that you can think of in the States — hockey, baseball, basketball, lacrosse, waterpolo — but swimming chose me. I'm 6'5" right now but I averaged 5'7" early in high school. My frame shot up in senior year and then I knew this is the sport I'm meant to do. It's just finding the inner drive to wanna be the best I can be in that sport. I think I got it from my mother. She can do headstands on a stand-up paddle board and she's 50. She was an incredible swimmer in college and I think I inherited that. But my parents never forced me to do any sports or go to practice. They said, "Pick what you want to do, and go all in at it." I made that decision junior year of high school to go after that dream myself.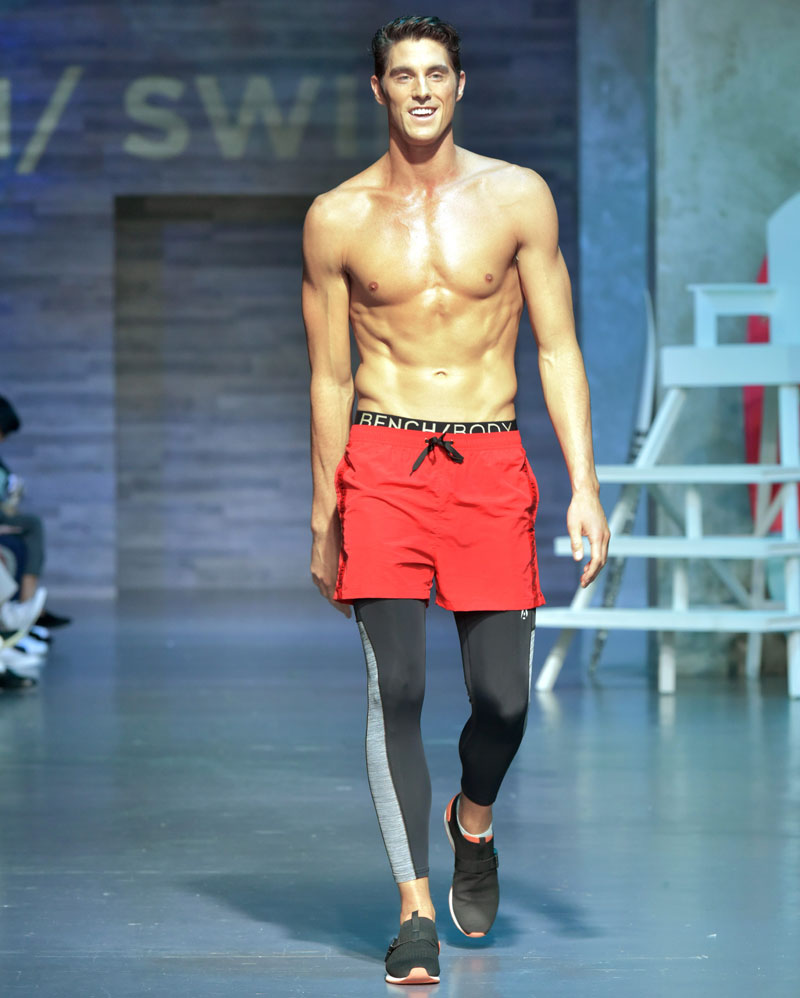 Conor wears Bench Swim apparel for Bench Fashion Week. Photos by Joey Viduya
ARTHUR: I used to be a judo player. All my siblings — there are four of us and the two youngest ones, me and my sister Rebecca are the most active in sports — started with judo from the influence of my dad who was a black belt judo player so we had to reach the black belt in judo. Next to the judo place, there's a gymnastics place. After I finished my judo training, I would watch the girls training, flipping around, flying. I realized that I liked that more than judo. When our parents divorced, I stayed with our mom and she told me to listen to my heart and allowed me to practice gymnastics only. I started late. I was already 11.
Competition time — what goes on in your mind?
CONOR: Oh, I love competing. It's like an inner fire inside of me. The Olympics is "it" for me, being in front of 20,000 people competing against the best guys in the world. I don't know where I'll be able to get that competitive fire from once it's done. I'm thankful I've been able to use my competitive drive on the world's biggest stage.
ARTHUR: Just to be part of the Olympic is my dream. I'm thankful for that. But at the moment of my presentation, I try to shut down my brain and don't think about anything — as if there is no one in the audience, no judges, nothing. I just do what I was training for. What my body is prepared for.
CONOR: Kelsey gets pretty competitive with me, actually. She can beat me in a lot of stuff. I gotta teach her how to swim better, though.
How about you Arthur, what's the score between you and your "Olympics wife," American artistic gymnast Simone Biles?
ARTHUR: We have known each other since 2013 and we've become good friends. We share our experiences with each other — the struggles we go through juggling our studies and relationships with sports. We don't talk so much (about) sports, but life itself.
Conor, how would you compare winning your second Olympic gold to your first?
CONOR: I was more on top of my game than I had ever been in Rio and it seemed more business-y. There was more pressure. I wasn't the youngest kid in the team by four years and people knew I was the best turner freestyler maybe in the world. I was gonna be leading off the relay with Michael then, so it was more like "Okay, you're a leader and you need to get an individual medal," so I started off the games with a 400 free and I got fourth. That was a tough race. The next event, I got a bronze, my first individual medal in the 200 free, and then I finished up with a gold in the relay. That was three events, putting pressure to win medals in all of them and it was even better than London (when I got my first gold medal). I give more credit to Michael Phelps who had to win eight gold medals at the Beijing Olympics.
Has Michael Phelps, the most decorated Olympian of all time and your mentor, given you swimming advice?
CONOR: We lived together for two years in Baltimore and he's given the team advice. For the Olympic Games, he said, "You should wake up, look in the mirror, and say 'I'm the best in the world. I'm meant to be here and I'm gonna win a gold.'" If you can't say that to yourself and you don't honestly believe it, then you're done before you even stand up in the blocks with the eight other swimmers in the world. You gotta believe it first before you go on to achieve it. Besides that, no, we're playing cards or video games, golf, betting against each other. We're competitive outside of the pool. It's a friendship and we go through the training and push each other.
Arthur, as a man in gymnastics, did you have to overcome any challenges being in a sport typically associated with women in Brazil?
ARTHUR: Nowadays, it has a very good image, especially after the Olympics in Rio and the good results we got, but in the past, it was very different. There was not so much practice and people thought it was only a woman's sport. But I hope I can change that when I go to Tokyo next year. My idol is Daiane dos Santos, a Brazilian artistic gymnast — a woman. She was one of the reasons I was interested in gymnastics, when I first saw her on TV. Now, she trains in the same club as me.
What is the biggest challenge of your career?
CONOR: I've had a lot of scary workouts, but it's more about dealing with stress, pressure and sacrifice from ages 18 to 23, when I was chasing my Olympic dream, I had to outwork the best guys in the world to compete with them. I had to sacrifice a lot of weekends in college, going to a football game and partying. Sacrifice and hard work were the hardest things I had to overcome but it's made me who I am today.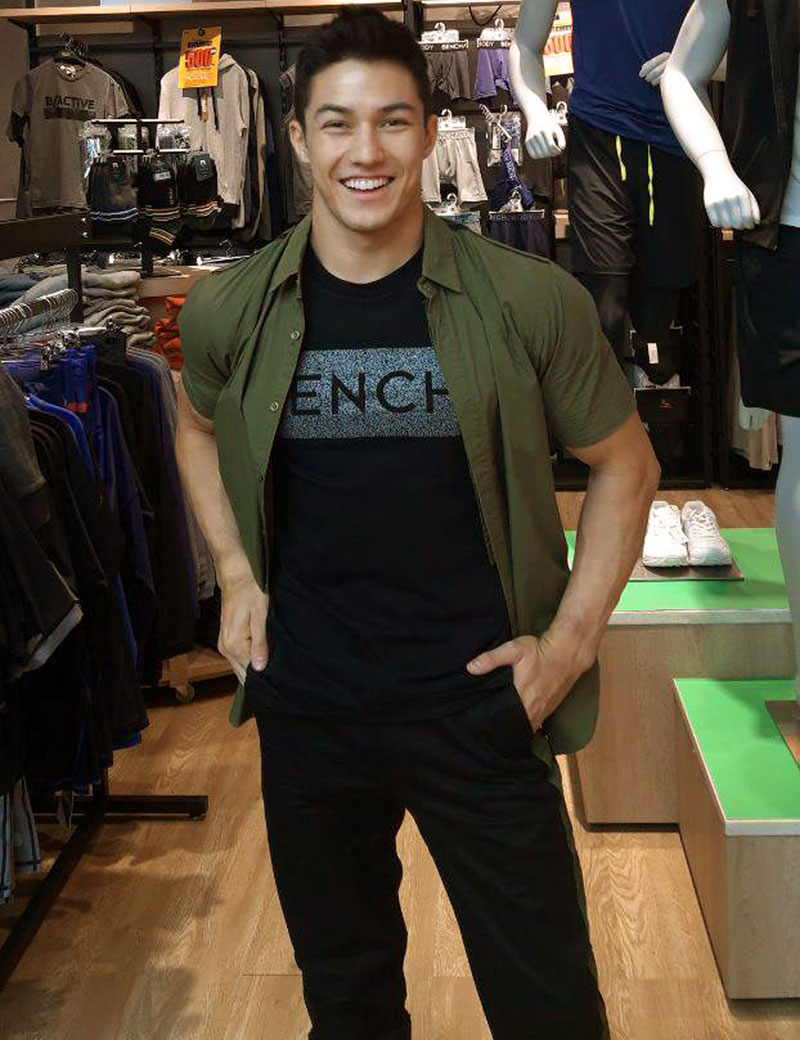 Arthur Nory goes shopping at Bench for leggings and shorts from Bench Active, and also likes casual pieces from Bench fashion.
ARTHUR: I had to go through surgeries for my shoulder and eyes. Recovering from that and not knowing if I could be part of the team again was the hardest part for me. Gymnastics uses the whole body so much and there's a lot of impact on the shoulders, knees and feet. I didn't give up because I had a dream to go to the Olympics. I left judo to do this — I can't just give up. It's also hard to do school and a sport at the same time. It's very important to me to keep studying. It's hard on our personal relationships, too, because in Brazil, we bond by going out to party but I can't go out as much and I always have to make the sacrifice. It is bad for my training. When I do, I get tired easily, so I try to stay home and sleep early.
How often do you train?
CONOR: From when I was 22 to Rio Olympics, I would train from 6 to 8 a.m. and then we do strength training in the gym — Olympic lifting or functional mobility training — from 8:30 to 10 a.m., then I go back home and train again from 2 to 5 in the afternoon. I like to do all sorts of things outside of the pool that my coaches don't love. Pilates with Kels is fine, but skiing, surfing and skateboarding are overtraining and they don't want me getting injured.
ARTHUR: I train six days a week, six hours a day, divided into two sessions, morning and afternoon. For exercise, in the gym, we do more weights for strength so we can make quick movements and our times routines is quick. Not cardio but a lot of strength and power. Cardio is not our primordial training. We do it for recovery.
Do you have a special diet that keeps you in shape and fuels your performance?
CONOR: I'm pretty crazy about my diet since I was 22 and in college. I've learned a lot about diet over the course of my career and I've worked with a nutrition tech company in Santa Monica over the last two years to understand more about blood, biomarkers in the body, and what my food intolerances are. I don't have too much dairy but besides that, I keep pretty balanced. As a swimmer, when we're training six hours a day, you just have to consume calories. Eating away, getting proper nutrition, because if you go calorie deficit when you're training four to six hours a day, you'll just run out fuel and you're done.
ARTHUR: We have to follow a nutritionist for what we have to eat, measuring how much fat or nutrients my body needs to control my weight. In gymnastics if you get too heavy, it's hard to flip and that can cause injuries. There is one cheat day in a week when I can eat what I want. I look forward to rodizio, all-you-can-eat Portuguese barbecue that is popular in Brazil. They come with the meat on your table and cut the meat on your plate. You have a sign on your table, and when it's green the waiter has to keep bringing meat. When you're full, you turn the sign to red and they stop bringing it. When I'm traveling, I eat everything to try something new, just not a lot.
You just went shopping at the Bench flagship store at Bonifacio High Street! What pieces did you pick?
CONOR: The store's great! I thought the store could be in SoHo. I like the fashion trend pieces like the jackets and shirts. I got four new suits for the islands we're going to and some active gear which is great to work out in around the pool.
ARTHUR: I got a lot of leggings and light shorts from Bench Active which I use all the time even outside the gym. I also got casual pieces from Bench fashion because the weather in Brazil is the same as Manila.