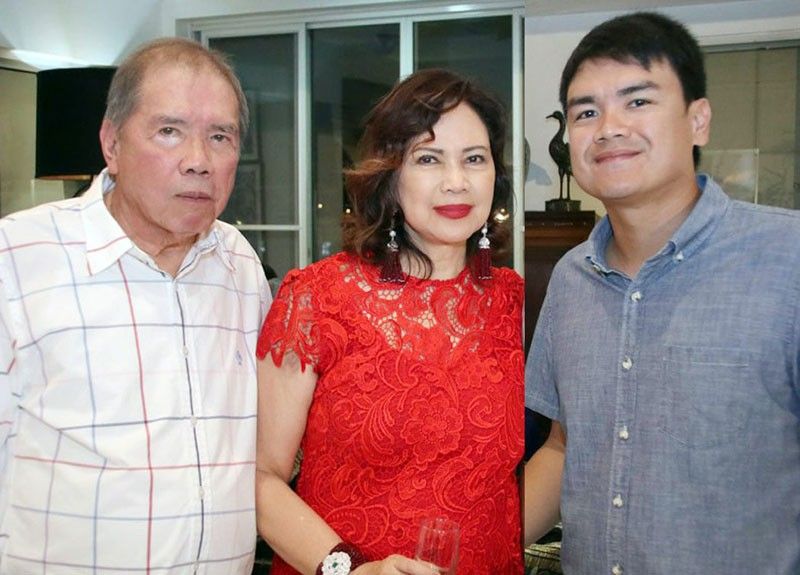 The celebrator Abe Licaros with his wife Nini and son Angelo Photos by Alex Van Hagen Powered by MAC Center
A 'top secret' suprise for abe licaros with his Ateneo Class '57
Successful real state and business magnate Abelardo "Abe" Licaros celebrated his birthday with the Ateneo Class '57. The memorable event was organized by his ever-supportive family, friends, nieces, nephews and loving wife Nini Licaros, naturellement.
Abe knew that he was having a party, but he had no idea who among his close friends would be coming. His charity-oriented wife and fashionable woman of substance kept the guest list a "top secret" — and it surely worked out that way.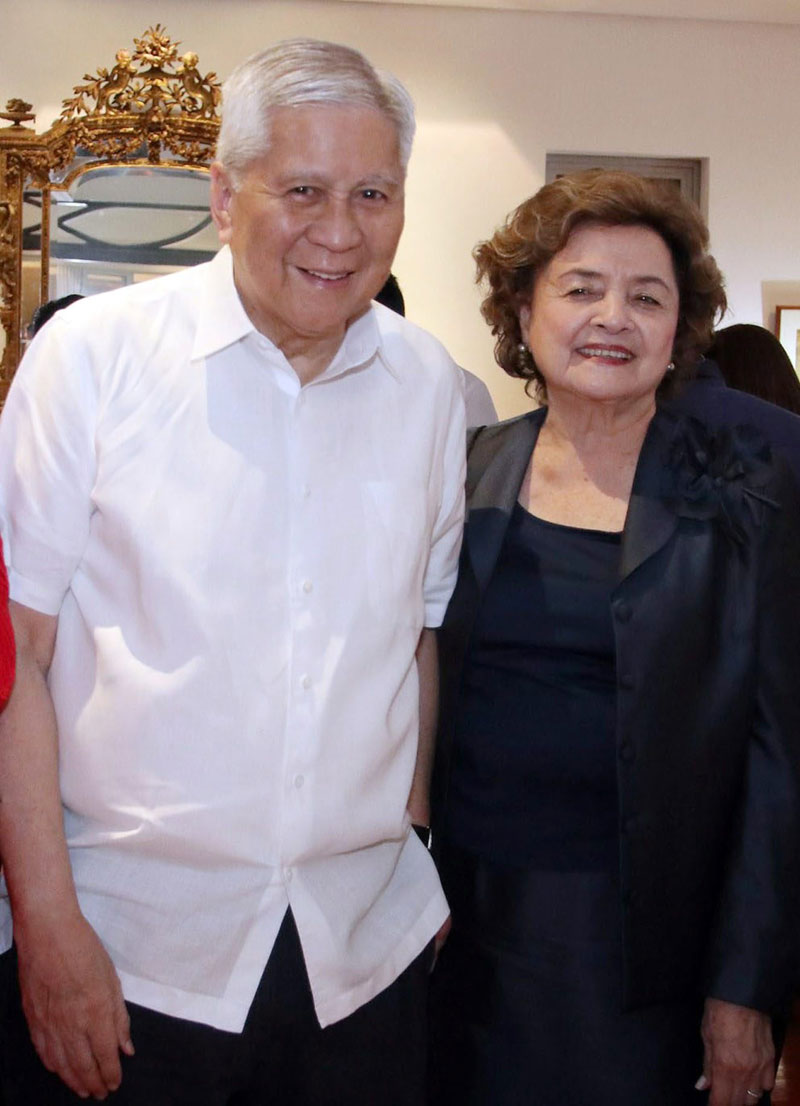 Former Foreign Affairs Secretary Albert del Rosario and wife Gretchen
Guests included former Foreign Affairs Secretary Albert and wife adorable Gretchen del Rosario; Dr. Sluggo Laudico, Jun Urbano and Justice Hilario with wife Gigi Davide, dahlings.
A great surprise birthday bash for the well-respected and admired Abe Licaros.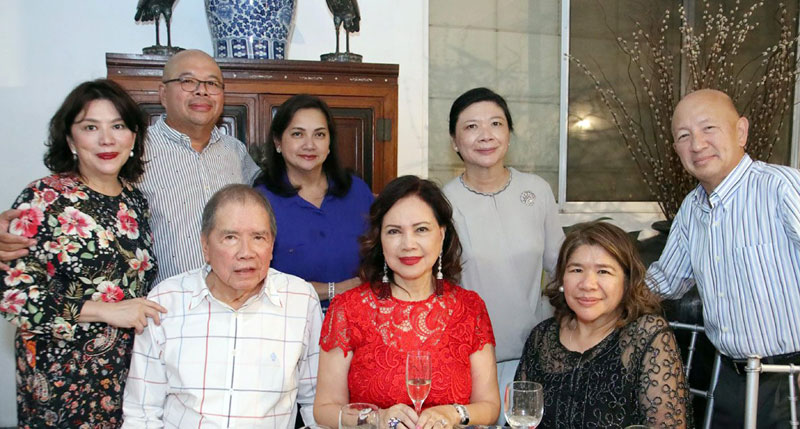 (Standing) Donna Licaros, Roby Licaros, Lizette Licaros, Ariane Dee Licaros, Alvin Dee, (seated) Abe and Nini, and Rinna Licaros
Asian Cultural Council, Leon Gallery showcase rare artworks in auction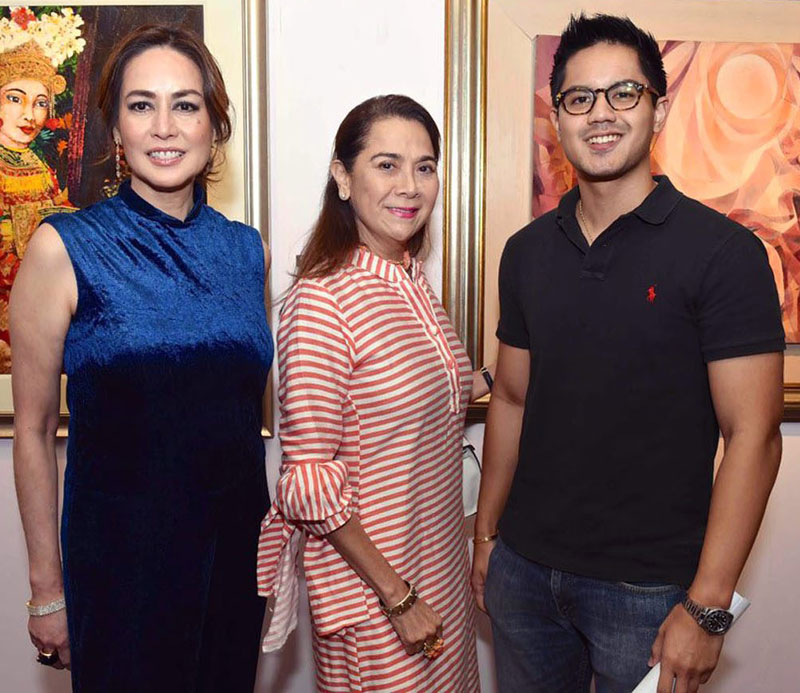 Vicky Panlilio, Marivic Vazquez, Ramon Campos
The Asian Cultural Council (ACC), in partnership with Leon Gallery, held the Asian Cultural Council Art Auction 2019.
The event showcased rare artworks, furniture pieces, and important historical documents.
Now in its fifth year, the auction is for the benefit of the ACC Philippines Fellowship Program, which has helped hone homegrown artists and produced eight National Artists such as Lamberto Avellana, Francisco Feliciano, Jose Joya, Lucrecia Kasilag, Jose Maceda, Alice Reyes, Ramon Santos and artist Kidlat Tahimik, no less.
Established in 2000, the ACC Philippines Foundation has been giving out four to six grants every year.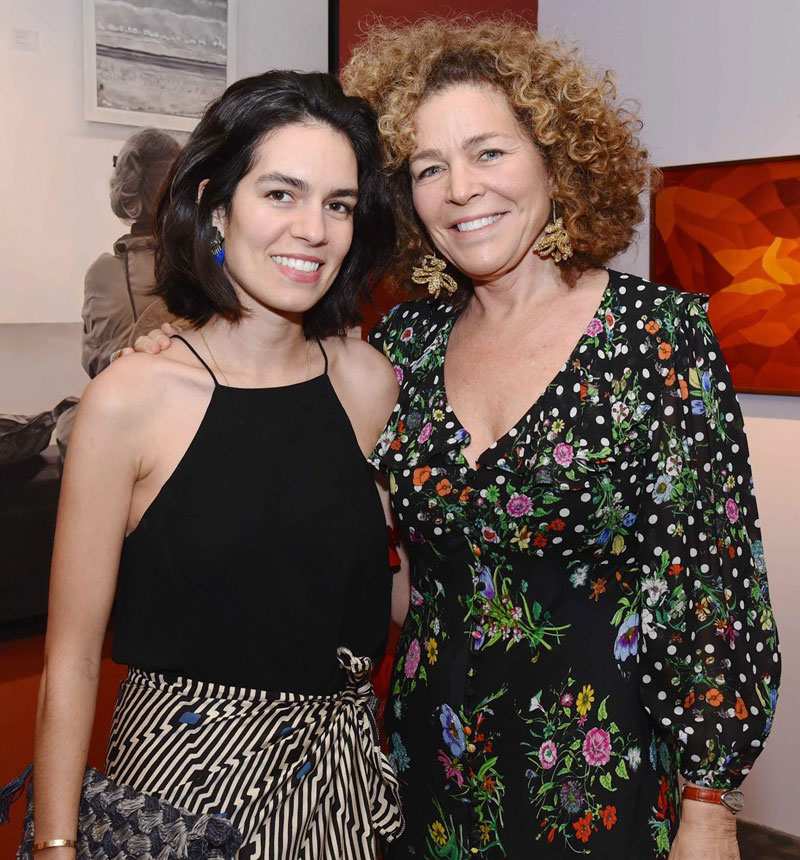 Ava and her mom Dedes Zobel
"Our partnership with Leon Gallery has been very fruitful, thanks to Jaime Ponce de Leon who has a very big heart for Filipino artists," said director Teresa Rances in her opening remarks, palanggas.
This year, over 100 lots went up for bidding among fabulous works of in-demand artist like a rare Lorenzo Guerrero, "Manila" (1868); a pair of signed Damian Domingo watercolors on paper, "Una India de Manila" and "Un Indio Noble de Manila"; Anita Magsaysay-Ho's "Sineguelas Gatherers" and "Two Women"; Vicente Manansala's "Ang Pulubi" (1979); and a 34" x 50" Fernando Amorsolo, "Cooking Under the Mango Tree."
Also in the last auction were H.R. Ocampo's "Nude" (1970), Ronald Ventura's "Untitled" (2014), Lao Lianben's "Asian-3" (1989), and BenCab's "Draped Figure III" (2010).
There was also a lot consisting of Juan Luna watercolor sketches, as well as the artist's actual leather pencil case, palanggas.
A narra and rattan four-poster bed from the last quarter of the 19th century by foremost furniture maker Ah Tay went up for bidding. Isabelo Tampinco was represented by a rare divan (aka Cleopatra) that displays all his iconic motifs. A first for this auction was a lyrical hat rack in kamagong designed by Maximo Viola, Jose Rizal's best friend in Europe.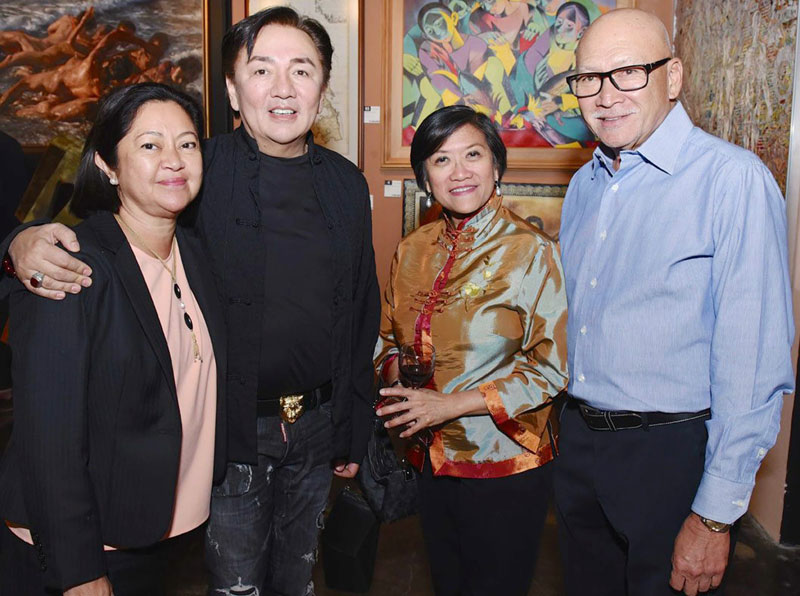 Lisa Marcos, Anton Mendoza, Tess Rances, Ernest Escaler
ACC fellows also had works up for auction including Anton del Castillo's "Kapit Lang" (oil on gold leaf); Riel Hilario's "The Guardian of One's Flowering and Fruition" (carved wood); Dex Fernandez's "Barred in the Wilderness" (acrylic, ink, thread on paper); Ambie Abano's "Malaya" (woodcut on textile on board with canvas painted with acrylic); Leeroy New's "Moonscape" (fiberglass, automotive paint, epoxy, wooden frame); and Sam Penaso's "Humanscape" (acrylic on stainless).
"2019 is a milestone year as we celebrate the fifth anniversary of the Asian Cultural Council Philippines Foundation's amazing partnership with Leon Gallery," ACCPF mega collector chairman Ernest Escaler says. "With profound gratefulness, we recall the past four years as grace-filled opportunities for charity through our fundraising campaigns bannered as the ACCPF Art Auction. Our events would not have been as successful if not through the leadership and acumen of Jaime Ponce de Leon and his tireless team."