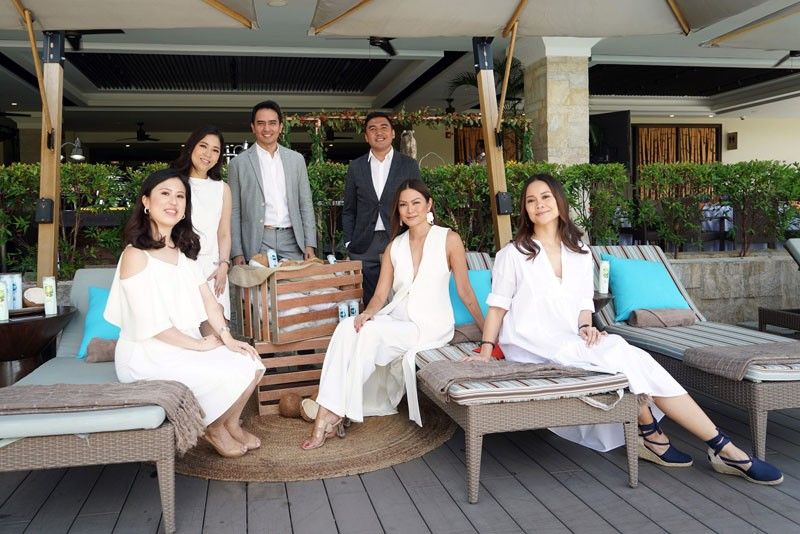 Unilever Philippines' leadership team: (from left) Dorothy Dee-Ching, vice president for Beauty and Personal Care; Ann Esteves, marketing director for Haircare; Paolo David, marketing director for Skincare; Clint Raypon, Premium Business Group manager; Apples Aberin, head of PR; Cara Favila, marketing director for Oral Care and Deos
Want instantly bright skin? Shiny hair with volume? Your summer beauty concerns solved here
Gen Z beauty is on the rise and natural beauty products are more "in" than ever. This we learned at "Beauty That Cares," Unilever's beauty and personal care summit at Anya Resort & Residences Tagaytay.
The three-day summit unveiled the latest trends in the beauty industry and launched Unilever's new innovations designed to address them from iconic brands like Cream Silk, Dove, Pond's, Closeup, Axe and Rexona.
"The two key Beauty and Personal Care thrusts are about us becoming more future-fit and purpose-led," says Dorothy Dee-Ching, Unilever Philippines' vice president for Beauty and Personal Care. "To be future-fit means us being able to fulfill the needs of modern-day Filipinos."
Unilever does this by working closely with their consumers, gleaning their insights, and then developing products that answer their needs. Take the Gen-Z beauty trend, for example. "Filipinos are using more and more products in their regimens and they use a lot of different formats, as well as trying a variety of sensorials," notes Dee-Ching.
Another key trend is "salonization," or bringing the salon into your home with professional-quality hair products like Tresemme's new micro-mists. "Filipinas like colored hair in different styles, a reflection that today, not one size fits all; everyone just wants to express themselves."
The third trend is on naturals, as women today become more and more conscious of what they're putting on their bodies and are drawn towards natural ingredients and products.
Dee-Ching explains that Unilever's purpose is "beauty that cares for people, for society, and for the planet," as seen in Dove's Self-Esteem Project for young girls, Closeup's #FreeToLove campaign (which champions love, diversity and inclusivity) and eco brand Love Beauty and Planet's whole reason for being. "We take sustainability to heart as we develop our products, and it's across the value chain," she says. "We practice responsible sourcing, where we source 100-percent agricultural raw materials sustainably."
Unilever's factories are certified zero-landfill, meaning they recycle all their industrial waste, and the company has made a global commitment to design all its packaging to be reusable, recyclable or compostable by 2025. "We have a very comprehensive 'zero waste to nature' program where we want to produce products that use less plastics, better plastics and no plastics," Dee-Ching says. "For example, when Sunsilk re-launched, our bottles used 25 percent less plastic. Even Rexona deodorant lotions use 10 percent less."
Another sustainable move the company has made is a test run of the All Things Hair Refillery, pop-up stations where customers can refill empty bottles with their favorite Unilever shampoo and conditioner brands and save on the cost of packaging. The move went viral after it was announced and even Greenpeace lauded them for the effort.
After the summit it became clear how the company doesn't just talk the talk but also walks the walk. Here is our comprehensive guide to Unilever's latest beauty innovations designed to solve all your summer beauty concerns.
Pond's

Concern: I want instantly brighter skin.
Solutions: Pond's White Beauty Instabright Tone Up Milk Cream is enriched with milk essence to hydrate skin, vitamin B3+ to renew and brighten, and sunscreen to protect against UV damage.
Pond's White Beauty BB+CC Cream covers dark spots, acne marks, sunspots, and dullness for natural, even-toned skin, with SPF 30 PA to protect skin against UV damage.
Pond's White Beauty BB Magic Powder blurs pores and spots for smooth-looking skin. Perfect for mattifying midday touch-ups, it also blocks the sun's UVA and UVB rays.
Pond's White Beauty Instabright Tone Up Powder instantly brightens skin. Infused with vitamin B3+ and double UV protection, it also contains Stardust technology — light shimmer for a bright glow.
Concern: How do I clean away all this summer sweat, dirt and makeup?
Solutions: Pond's White Beauty Brightening Micellar Water gently cleanses skin to lift away the stubborn impurities and makeup.
Pond's Mineral Clay-To-Foam Wash with 100-percent-natural Moroccan clay has four times the dirt-absorption power of regular cleansers to purify skin while leaving its protective layer intact.
Concern: I want to pamper my skin K-beauty style.
Solutions: Pond's Mineral Clay Masks with Moroccan clay and bio-minerals provide a deeper clean and better absorption for supple, "bouncy," glowing skin.
Pond's Age Miracle Serum Mask harnesses the power of one bottle of serum to help reduce lines, sagging and dullness. Each variant contains the necessary ingredients to help boost skin cell regeneration.
Pond's Age Miracle Double Action Serum is infused with double Retinol-C complex to instantly prime, renew and smooth skin for makeup application.
For more information on the Pond's range, visit https://www.facebook.com/PondsPhilippines.
Cream Silk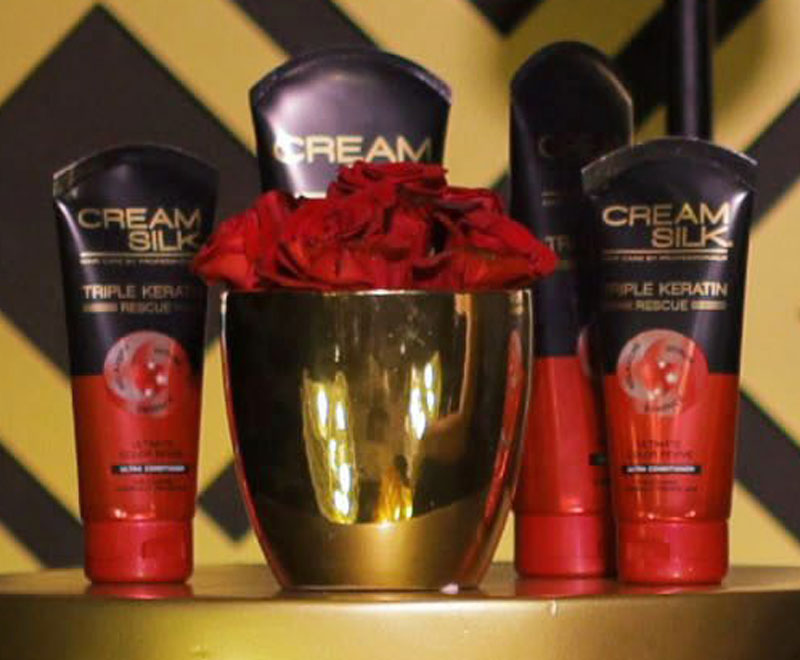 Concern: My colored, chemically treated hair is dry and dull.
Solution: New Cream Silk Triple Keratin Rescue Ultimate Color Revive has Triple Keratin Complex, an advanced formula with keratin relaxers to tame rebellious frizz, keratin serum to revive chemically treated hair, and keratin essence to restore extreme dullness. Sulfate-free technology allows hair color to stay on longer, replenishes lost nutrients from coloring, and leaves hair soft and vibrant.
Where to get it: All leading supermarkets, drugstores and department stores nationwide for P5.50 for 10ml, P149 for 150ml, and P259 for 300ml. For more information, visit https://www.facebook.com/creamsilkph/ and follow Cream Silk on IG @CreamSilkPH.
Love Beauty and Planet
Concern: I want a sustainable beauty brand that's kind to the planet.
Solution: Love Beauty and Planet's five color-coded collections address different hair and skin needs while sustainably sourcing all its natural ingredients from different parts of the world. Certified vegan and cruelty-free, with zero silicones, dyes, parabens or colorants, each bottle is made with 100-percent post-consumer recycled plastic, and is 100-percent recyclable as well.
Concern: I want to repair damaged hair and prevent split ends.
Solution: Love Beauty and Planet's Coconut Oil and Ylang-Ylang collection is infused with organic Philippine coconut oil to provide moisture, and ylang-ylang for a floral, jasmine-like scent.
Concern: I want strong hair full of volume and bounce.
Solution: Love Beauty and Planet's Coconut Water and Mimosa Flower collection uses coconut water from small farms in the Philippines to lightly moisturize and leave your hair strong and volumized. Mimosa flower provides an energizing, delicate scent.
Concern: I need to save water in these water-strapped times.
Solution: Love Beauty and Planet uses fast-rinse technology in its conditioners, which means that it will break down and wash off faster, leading you to use less water in the bath.
Where to get it: Love Beauty and Planet's summer collections are available in select Watsons stores and ecommerce retailers. For more information, visit www.lovebeautyandplanet.com/ph or https://www.facebook.com/LoveBeautyAndPlanetPH, and follow @LoveBeautyandPlanet_PH on Instagram.
Dove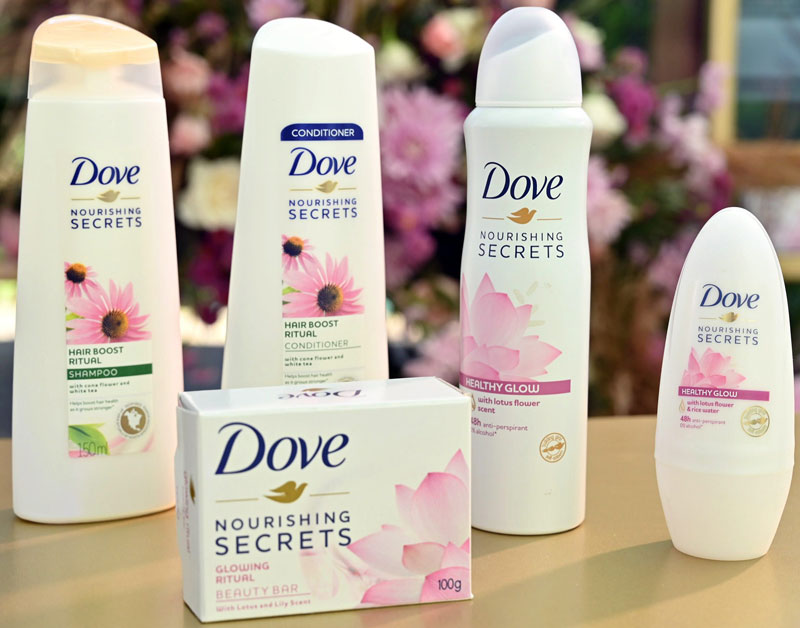 Concern: I'm big on self-care and beauty rituals using products with natural ingredients.
Solution: Dove's new Nourishing Secrets range combines natural ingredients lavender, coneflower and pink lotus for your hair, body and underarm routine. Coneflower helps control hair fall and promotes healthy hair growth. Calming lavender relaxes and helps soothe and moisturize skin. Pink lotus in the Healthy Glow deodorant helps restore underarm skin's healthy glow while giving you 48-hour protection.
Where to get it: At leading department stores, supermarkets, drugstores, and e-commerce sites nationwide. For more information, visit https://www.facebook.com/DovePH/.
Sunsilk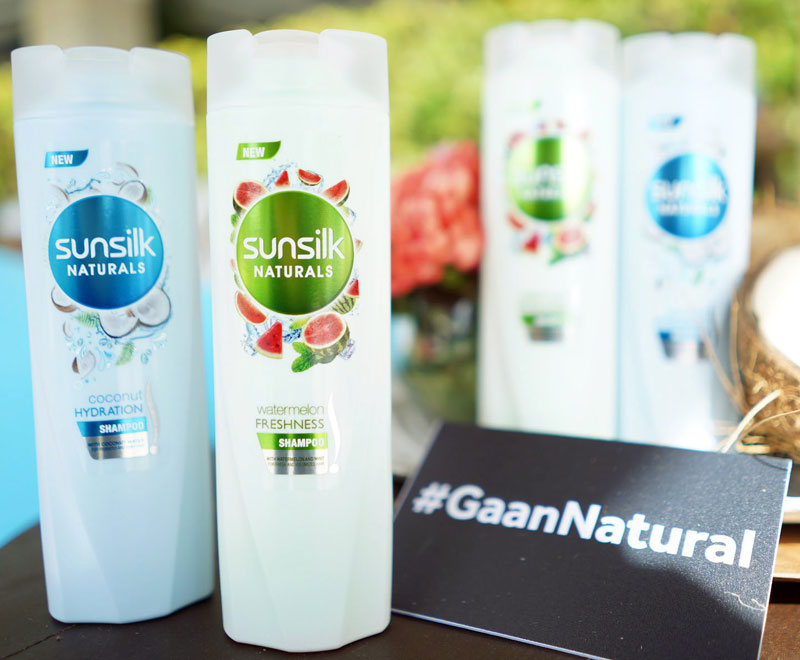 Concern: Sticky, limp, lifeless and flat hair
Solution: Sunsilk Naturals Coconut Hydration has an exclusive formula of coconut water infused with vitamins and minerals that leaves hair hydrated, shiny, and #nacocogigil.
Sunsilk Naturals Watermelon Freshness uses watermelon and mint to refresh and cool hair, leaving it fresh, volumized, and #pakwanderful.
Where to get it: Sunsilk Naturals variants are available in shampoo bottles of 170ml for P106 and sachets of 11ml for P5 at all leading supermarkets, groceries, drugstores and department stores nationwide.
Tresemme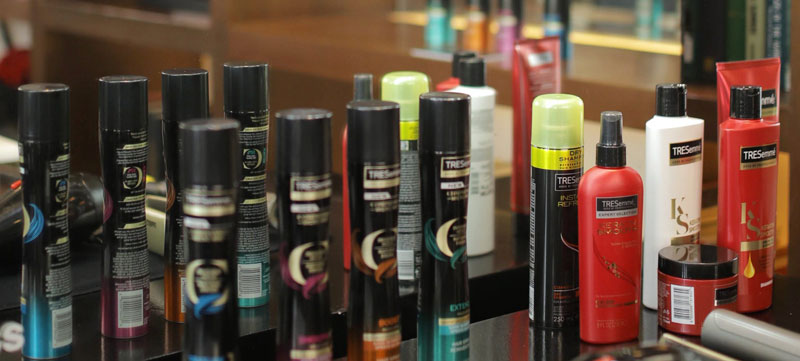 Concern: I want to style my hair without the stiffness of hairspray.
Solution: Tresemmé's Compressed Micro Mist is a salon-inspired spray that creates a protective barrier to lock out frizz and humidity. Four variants offer different levels of hold: Texture Hold Level 1 provides long-lasting, touchable hold; Smooth Hold Level 2 smooths and sleeks hair while allowing it to move and stay frizz-free; Boost Hold Level 3 gives a voluminous boost, perfect for styling with curls; and Extend Hold Level 4 gives you all-day hold for your boldest looks.
Where to get it: The range is available at Watsons stores nationwide and ecommerce channels Lazada and Beauty MNL for P435. For more information and how-tos, visit https://www.TRESemmé.com/ph or https://www.facebook.com/TRESemméPH/.
Rexona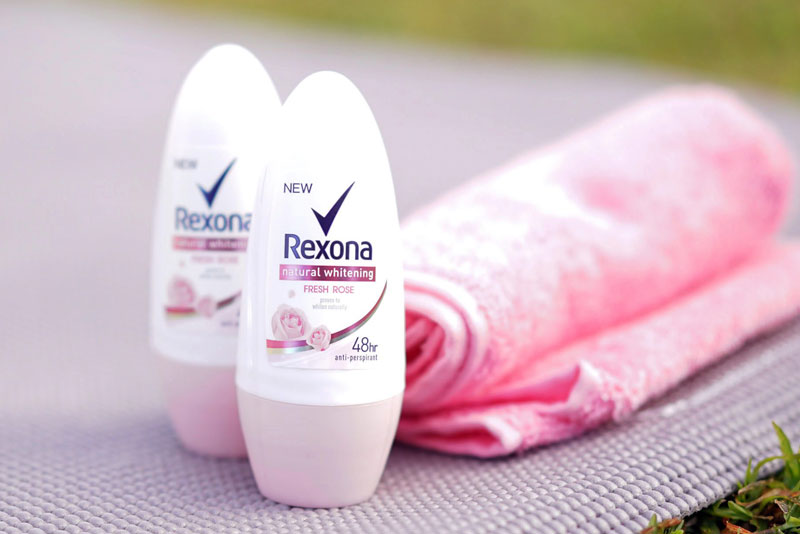 Concern: Dark, sweaty underarms
Solution: The new Rexona Natural Whitening Deo is made with licorice extract and vitamin E from sunflower oil, two natural ingredients known to actively prevent dark spots from forming on skin. Fresh Rose and Fresh Sakura scents also come with the brand's leading antiperspirant technology.
Where to get it: 40ml roll-ons are available for P92 at all leading department stores, supermarkets, and drugstores nationwide. Visit https://www.facebook.com/RexonaPH/ for more information.
Vaseline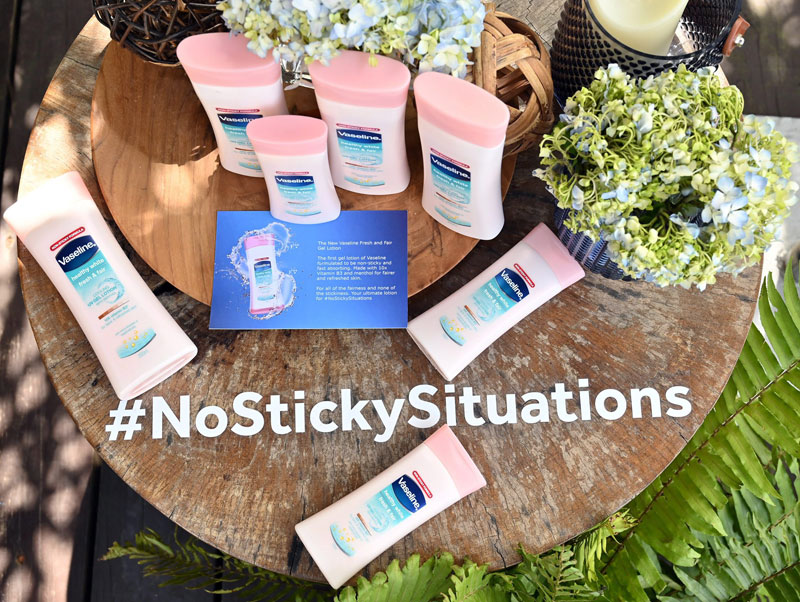 Concern: Sun protection that's not sticky
Solution: The new Vaseline Healthy White Fresh & Fair Cooling UV Gel Lotion is the brand's first non-sticky lotion specially formulated to be easily absorbed and leave a light, non-greasy feeling. With SPF, 10 times the vitamin B3 and cooling menthol, it protects against UV damage, restores fairness and keeps skin feeling fresh all day. Bonus: micro-droplets of Vaseline petroleum jelly add moisture and healing properties.
Where to get it: At leading department stores, supermarkets and drugstores nationwide for P318.50/350ml. For more information, visit https://www.facebook.com/VaselinePhilippines/.
All things hair refillery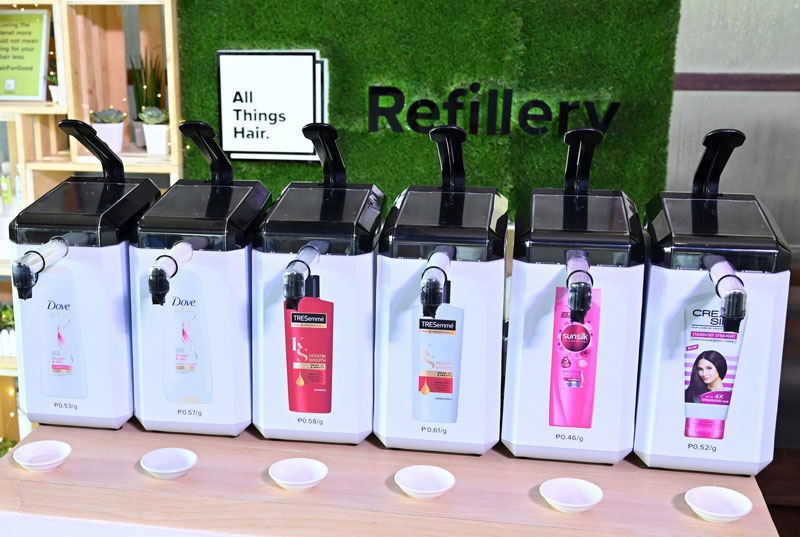 Concern: I want to restock my haircare needs sustainably, without all the wasteful plastic packaging.
Solution: Unilever Philippines' All Things Hair Refillery, the first refilling station for its top haircare brands Cream Silk, Sunsilk, Dove and Tresemmé. ATH Refillery is being introduced in three Ayala Malls this summer for its pilot run. Simply bring your old shampoo or conditioner bottles to a station and top up on the haircare product of your choice at a discount: you just pay for the weight of the product you restock on. In case you don't have empties on hand, you can buy a 100-percent-recyclable bottle from the Refillery for P10.
What's more, if you have old plastic bottles or sachets, you can dispose of them at the station and Unilever Philippines will take care of upcycling them with partners Linis Ganda Recycling Network and Villar SIPAG Foundation.
"This is just the beginning," Dee-Ching says. "We hope to be able to roll out the Refillery to more areas of the Philippines, as well as extend it to our other brands."
The pilot run is ongoing until April 14 in TriNoma, Glorietta 3, and Alabang Town Center. For more information on pricing and future runs, visit https://www.facebook.com/AllThingsHairPH/.
* * *
Follow me on Instagram @theresejamoragarceau and @theresesbeautyworld.