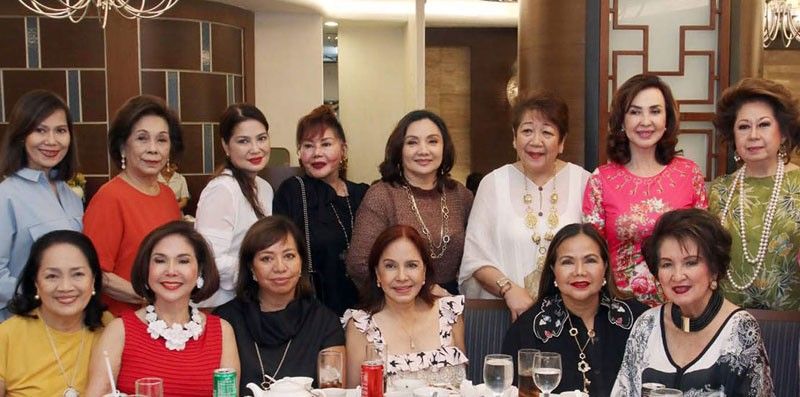 Celebrant Marissa Fenton (seated, second from right ) with (seated) Glecy Mojares, Fortune Ledesma, Joanne Matschuck, Len Olbes, Nene Leonor, (standing) Roi Philips, Chit Dee, Yoli Ayson, Monette Guevara, Alice Samson, Marieliese Evaristo, Cory Quirino, Olga Martel
Photos by Alex Van Hagen Powered by MAC Center
Of birthday lunches and political gossip
Nene Leonor hosted separate birthday lunches for Marissa Fenton, the vivacious and caring Marieliese Evaristo and woman of substance Nini Licaros at Peking Garden at Greenbelt 5, Makati; Shang Palang, Makati Shangri-La Hotel,; and at Jasmine Chinese Restaurant at New World Hotel, respectively, dahlings.
Marieliese also co-hosted with Nene Leonor the birthday celebrations of Linda Floirendo Lagdameo, Freddie Consunji and Mely Hechanova held at Canton Road, Shangri-La Hotel The Fort, palanggas.

Liberty Ilagan, Monette Guevara, Nini Licaros, Criselda Lontok
It was fun chatting about politics and gossiping among friends, and support their various causes.
Everyone enjoyed the excellent lunch, palanggas.
QTA celebrates its 95th year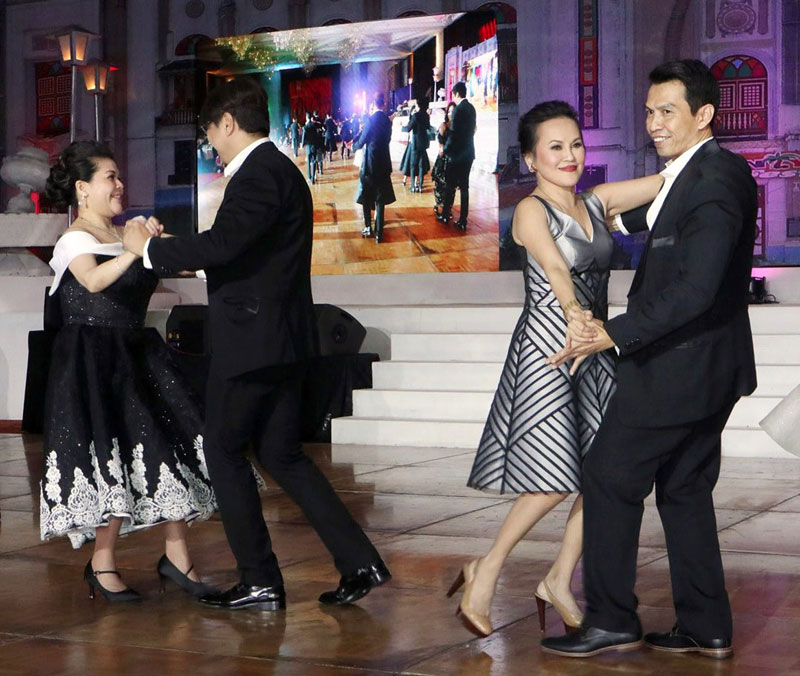 Cristina Vilar, Ramil Estrope, QTA president Joanna Suarez, Renato Delgado
The Quezon Tayabas Association (QTA), one of the most enduring civic groups in the country, recently celebrated its 95th founding anniversary at the Grand Ballroom of Sofitel Philippine Plaza.
The event's highlight was the rigodon de honor led by QTA Joanna Suarez and Ronnie Padillo. All the women participants outdid themselves in their Filipiniana fineries, while the males wore the traditional barong. The rigodon was well choreographed by Dala Pia and Budjing Danao.
Seen at the plush event were BUHAY Party List Rep. Lito Atienza, Pangasinan (3rd District) Rep. Rosemarie "Baby" Arenas, COOP NATCO Party List Rep. Tony Bravo, AGBIAG Party List Rep. Michelle Antonio, AASENSO Party List Rep. Ted Montoro, Iligan (Lone District) Rep. Fred Siao, former Presidential Political Adviser Francis Tolentino, former Presidential Spokesperson Harry Roque, and Fr. Jerry Juarez from Quezon, who gave the invocation.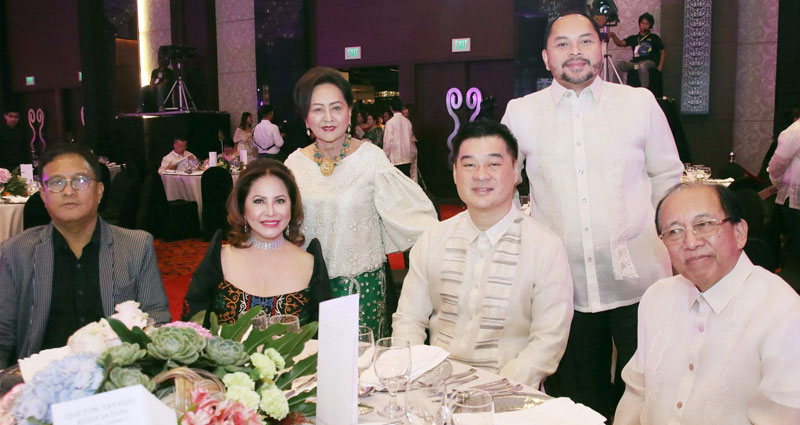 (Seated) Rep. Ted Montoro, Rep. Michelle Antonio, Rep. Fred Siao, Minority Floor Leader Danilo Suarez, (standing) former Rep. Aleta Suarez, Gov. David Suarez
This year's beneficiary was the Quezon Medical Center. The QTA gave the hospital some 200 much-needed mattresses.
The other highlight was the presentation of the QTA's Lakambini 2018 muse Syndey Padillo, who was escorted by Kiel Quimundo.
Cheers, QTA for helping Quezon Medical Center with their needs!