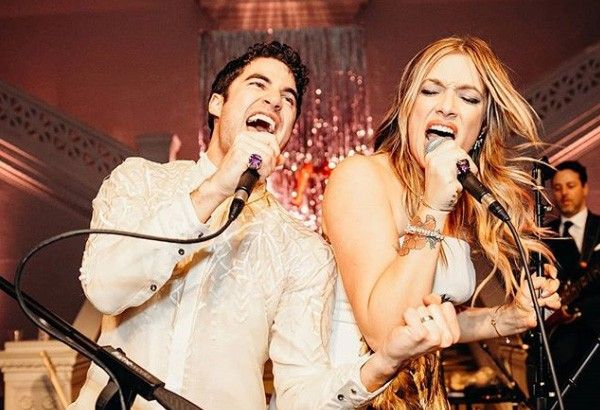 Criss with wife Mia Swier
Instagram/Francis Libiran
Vogue features Darren Criss' Francis Libiran barong Tagalog
MANILA, Philippines — International lifestyle magazine Vogue featured Filipino designer Francis Libiran's barong Tagalog in an article about the wedding of Filipino-American actor Darren Criss and wife Mia Swier.
The magazine recently published the article on the wedding that was held in New Orleans. In the photo gallery, Vogue showed Darren wearing the Libiran-designed barong Tagalog as he danced with his Filipino mother.
"Darren honored his Filipino heritage by wearing a traditional barong tagalog by designer Francis Libiran while dancing with his mother," the caption said.
"This custom-designed piece was hand-loomed from pure pineapple fabric, and the intricately embroidered design was inspired by the famous tattoo patterns of the indigenous people of Cebu," Vogue added.
The Filipino designer shared the news on his Instagram page, together with photos from the wedding.
"What a great Pinoy Pride moment!! It feels wonderful to be featured on Vogue Magazine as the fashion designer of multi-awarded Hollywood star Darren Criss (@darrencriss), who honored his Filipino heritage by proudly wearing the traditional Barong Tagalog I designed for him on his extravagant wedding. Mabuhay!!!" Francis proudly shared.
A GMA News report narrated that Francis and Darren met at the Golden Globe Awards last January 6 in Hollywood. A few days later, Darren's fashion stylist Ashley Weston got in touch with Libiran's business partner, Arsi Baltazar, to inquire if Libiran can create a modern barong Tagalog for the Hollywood star.
"Seeing Darren Criss wear my design makes me extremely happy and proud to be Filipino. What better way to promote the Philippines but through the Barong Tagalog, and worn by a multi-awarded Hollywood star, who happens to be half Pinoy! How awesome is that!" Francis said.
"The entire process was smooth and I am so honored to have the privilege to be part of his very special day. What makes it even more special is that he chose to pay homage to his Filipino roots by wearing our national dress on his wedding day. This, for me is what makes Filipinos so amazing!!!" Libiran enthused.