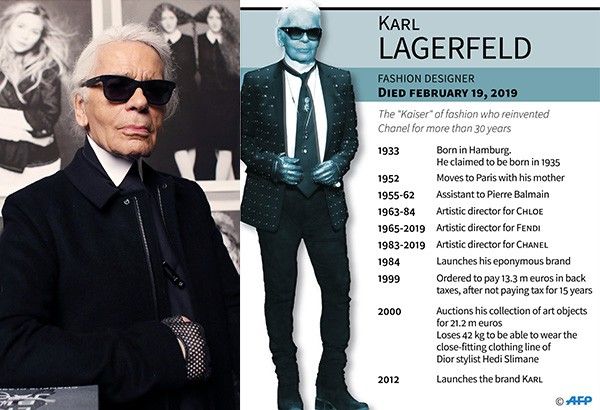 Left: In this file photo taken on November 8, 2012 Chanel's creative director Karl Lagerfeld poses before the opening of his photo exhibition entitled "Little Black Jacket" at the Grand Palais in Paris. German fashion designer Karl Lagerfeld has died at the age of 85, it was announced on February 19, 2019.
AFP/Patrick Kovarik
Karl Lagerfeld: A life in dates
(Agence France-Presse) - February 20, 2019 - 1:03pm
Paris, FRANCE — Here are some key dates in the life of German fashion designer Karl Lagerfeld, who has died at the age of 85:
- September 10, 1933: Born in Hamburg, though he was later known to knock a few years off his age. His father ran an evaporated milk company.
- 1952: Moves to Paris to complete his education.
- 1954: Wins the prestigious Woolmark prize, jointly with Yves-Saint Laurent, awarded to outstanding fashion talents.
- 1955-1962: Works as an assistant to French fashion designer Pierre Balmain.
- 1963-1984: Artistic director for Chloe.
- 1965: Is appointed artistic director for Fendi.
- 1983: Also becomes artistic director for Chanel.
- 1984: Lagerfeld launches his own fashion label, under his own name.
- 1989: His long-time partner Jacques de Bascher, a French aristocrat, dies of AIDS.
- 1999: Ordered to pay 13.3 million euros ($15.6 million) in back taxes by French authorities.
- 2000: He sells his 18th-century art collection for 21.2 million euros.
- 2004: Designs a capsule collection for low cost retail chain H&M. It goes on to lift the company's monthly sales by a quarter.