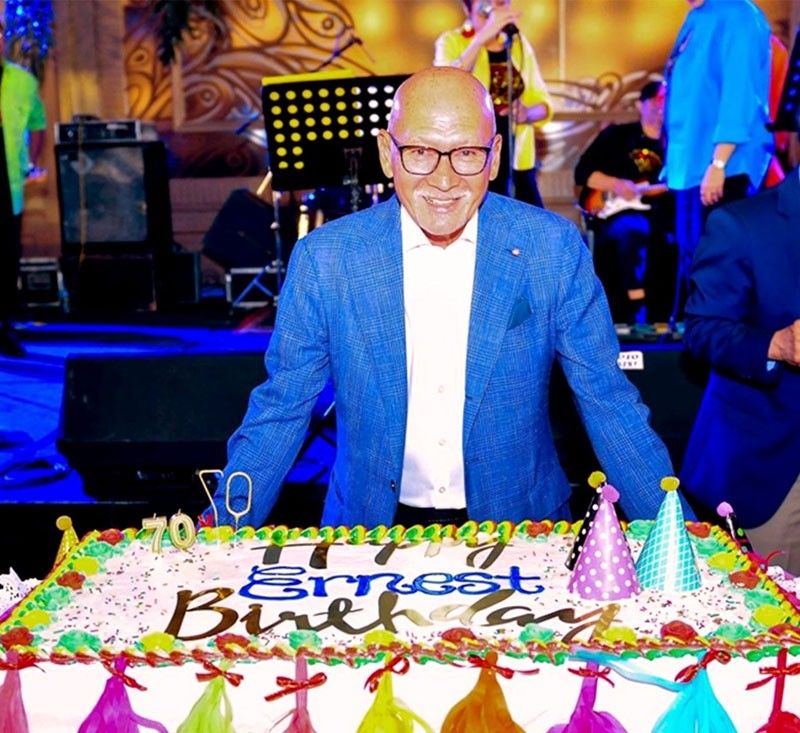 Ernest Escaler's thanksgiving at 70.
Photos by Alex Van Hagen Powered by MAC Center
Ernest Escaler dances into his 70s in an elegant night market
The Chinese believe in celebrating only the birthdays in which the age contains the digit "0" after we reach 60. And the celebrant has to give cups to his guests to mark the occasion.
Well, palanggas, my friend Ernest Escaler danced into his 70s with his usual debonair elegance. The ballroom of the Dusit Thani Hotel was transformed into an elegant night market, one that his close family, friends and colleagues from agriculture, coffee trading, banking, the arts, various religious communities, diplomatic and cinema production would be happy to roam.
Pandot Ocampo made a rare appearance from his cozy garden nest in BGG. John and Pam Bartko jetted in from Los Angeles just to greet him. Greggie and Irene Araneta chatted with Vivian Yuchengco, Doris Magsaysay Ho and Helen Ho-Delgado.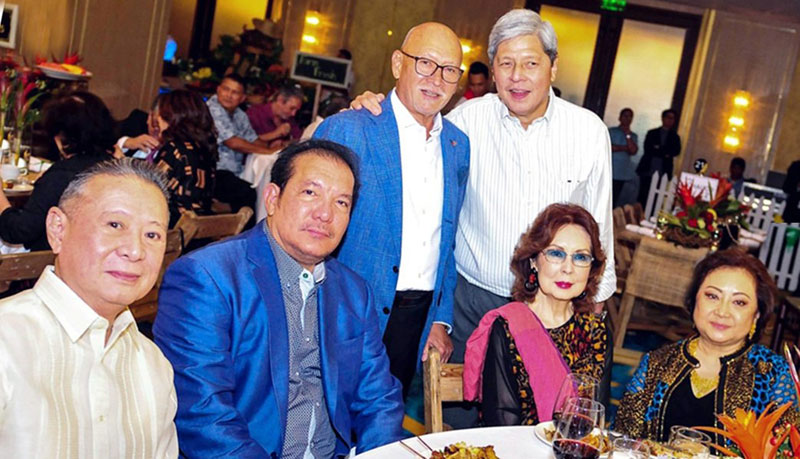 Mario Katigbak, Patrick Jacinto, Diana Jean Lopez, Nedy Tantoco, (standing) Ernest Escaler, Greggy Araneta
Strings of bare bulbs alternated with colored paper flags overhead; stalls brimming with everyone's favorite food items lined three sides of the large room; and hawkers carrying taho and balut, pushing carts of dirty ice cream or warm dimsum delighted guests.
In another corner, 10-man band Titus Santiago's Rockin' Sixties hopped onstage and got the party started. The dancing queens and bandstand kings danced the night away.
Food overflowed — two large lechons from Cebu; chicken inasal from Bacolod; fresh empanada from Ilocos; fresh fruits from Davao; curried fish balls from Thailand; mangga verde and bagoong; zesty kilawin and barbecue sticks of every fish, fowl or meat imaginable. Naturellement, dahlings, mounds of greens straight from his fields in Silang were on the large buffet table with choices of his much-favored dressings. Guests also enjoyed stir-fried chop suey and cold salads. Halo-halo, buko pandan and the delish Thai sweets the Dusit's Benjarong kitchen is known for were also served.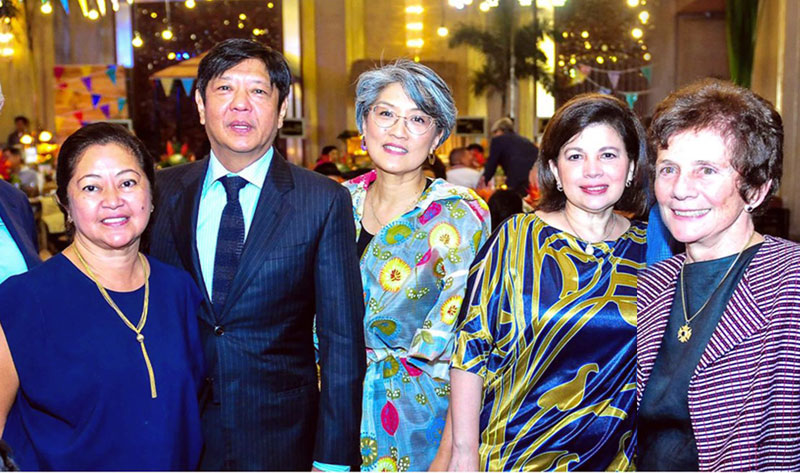 Lisa Marcos, Sen. Bongbong Marcos, Irene Araneta, Millie de Seguerra, Pam Bartko
Thin girls with ravenous appetites were everywhere. Evelyn Forbes, Monique Villonco, Lin Bildner were joined on the dance floor by Vicky Lopez, Grace Marie Katigbak and Mary de Leon.
It surely was gorge-ous night, palanggas, and everyone forgot what was on the front page of The Philippine STAR: "Stop the pigging out and save the planet!" Ouch!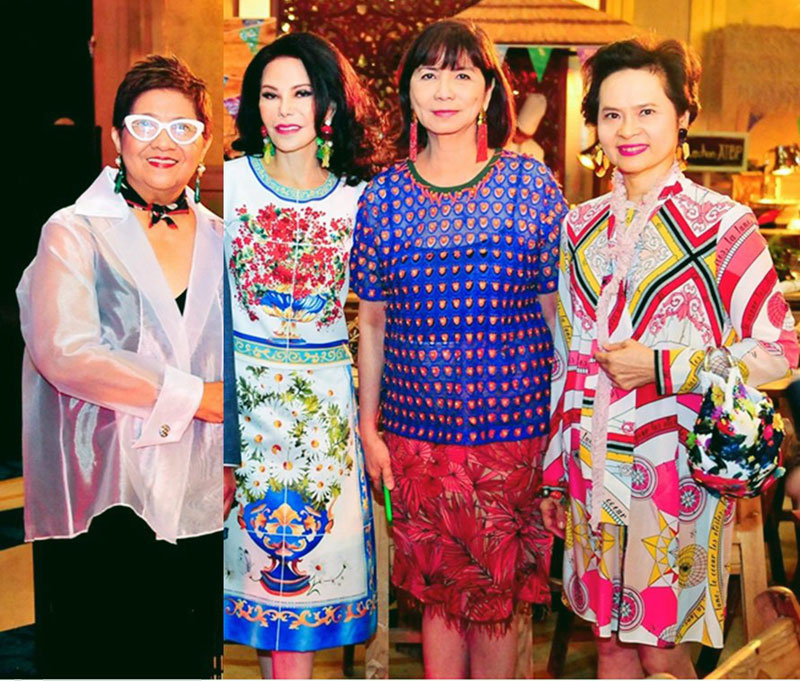 Susan Joven, Ching Cruz, Millet Mananquil, Marilou Pineda
Because Ernest is an Italian diplomate, there were ambassadors everywhere. Adorable Isabel Wilson, Chuching Tambunting, to name a few. The dancing and drinking stopped for a Broadway musicale presented by Ernest's siblings Noel, Michael, Pancho and Therese, including Michael and Celine Fabie's show-stopping duet on Endless Love.
This was followed by the wheeling in of the largest birthday cake with cousins Mari and Angie Imperial, Santi and Anna Palomares, Marot de Leon and Ching Escaler crowding in to watch him blow out the candles.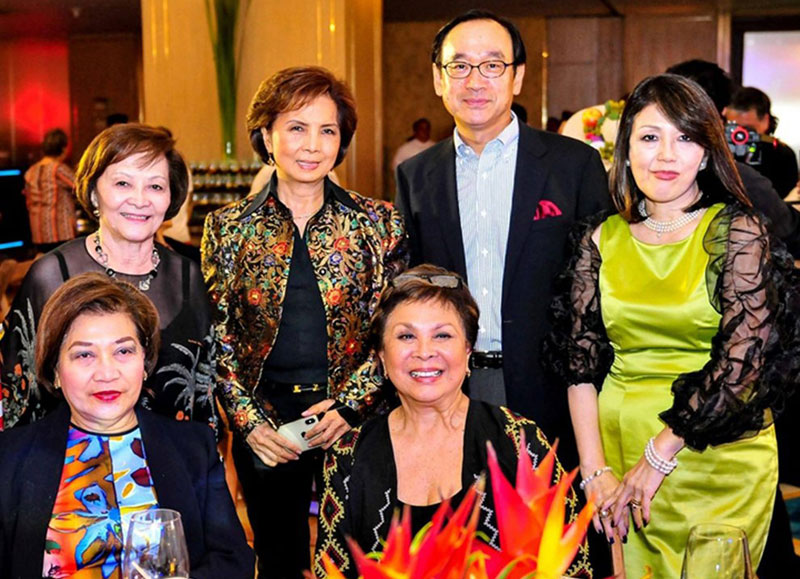 (Standing) Isabel Juan, Lin Bildner, Ambassador Koji Haneda and Ihoko Haneda, (seated) Evelyn Singson, Cristina Tahora
The dancing started up again… and continued until the staggered final departures. But to each guest: the traditional porcelain cup. In this case, a mug, and sachets of his newest coffee baby: the solo drip sachet!
Enough good luck and big blessings to go around from the happiest personality of the evening, Ernest L. Escaler, dahlings.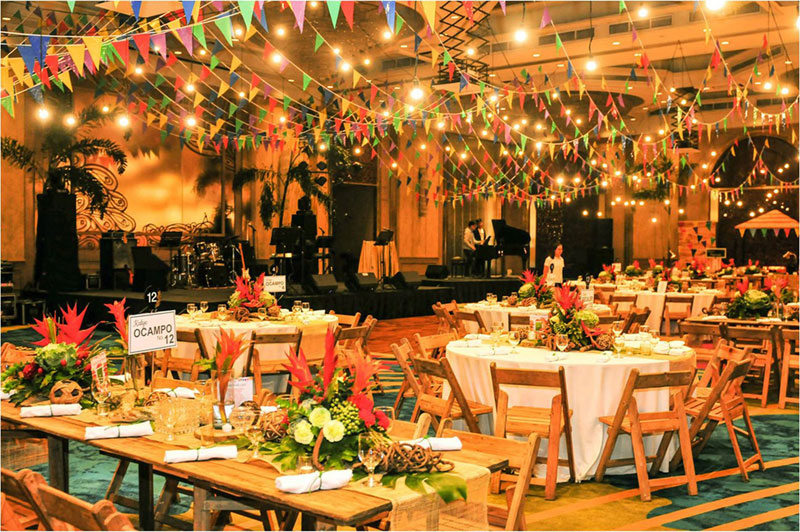 Dusit Thani Hotel was transformed into an elegant night market.