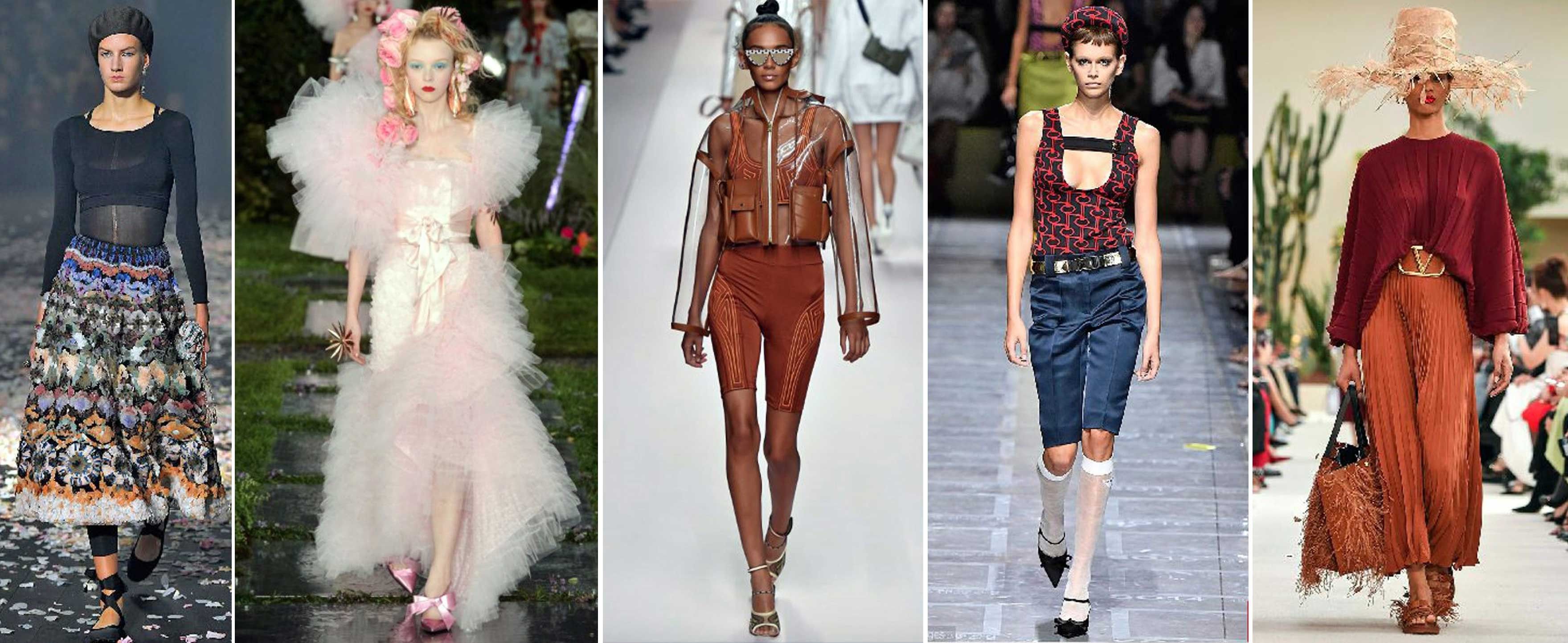 From left: Back to leotards at Dior, Dolled up at Rodarte, Biker athleisure at Fendi, Board shorts at Prada and Sunny shades at Valentino
Dressing for 2019: Nostalgia, Femininity and Liberation
This season, you can be as fanciful as you wish with ruffles, bows, feathers and lace.
With yellow vest protesters fomenting riots that had boutiques building protective walls and shoppers scampering away from their favorite haunts on rue St. Honoré and Place Vendôme, the symbolic epicenters of fashion and luxury, the holidays were not and may never be the same again. On the other side of the Atlantic, even bigger walls were being proposed, spanning the border between two countries, causing a controversy leading to the US government's shutdown that caused just as much fear and uncertainty. With this prevailing mood that has been going on for some time it is no wonder that designers have turned to happier memories in their fashion offerings.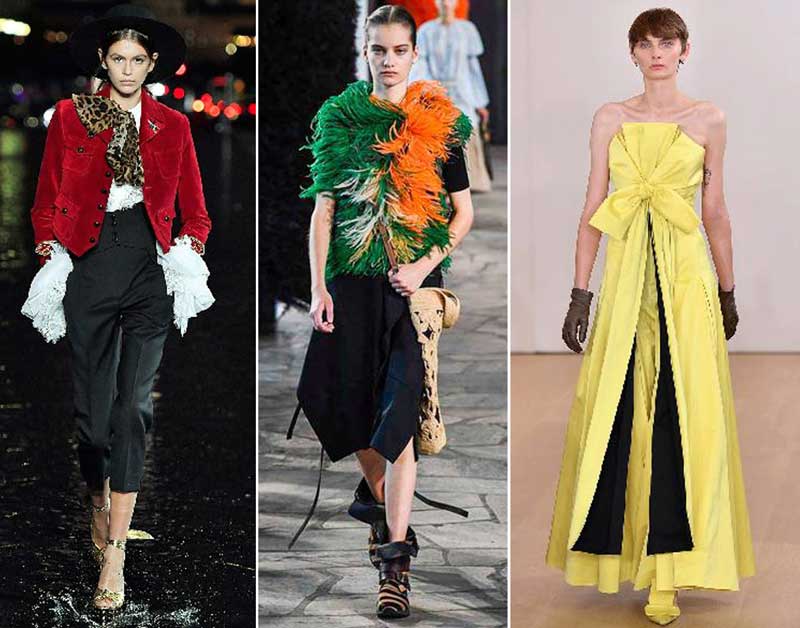 Embracing femininity: YSL, Feathers at Loewe, Bows at Emilia Wickstead
Reassuring nostalgia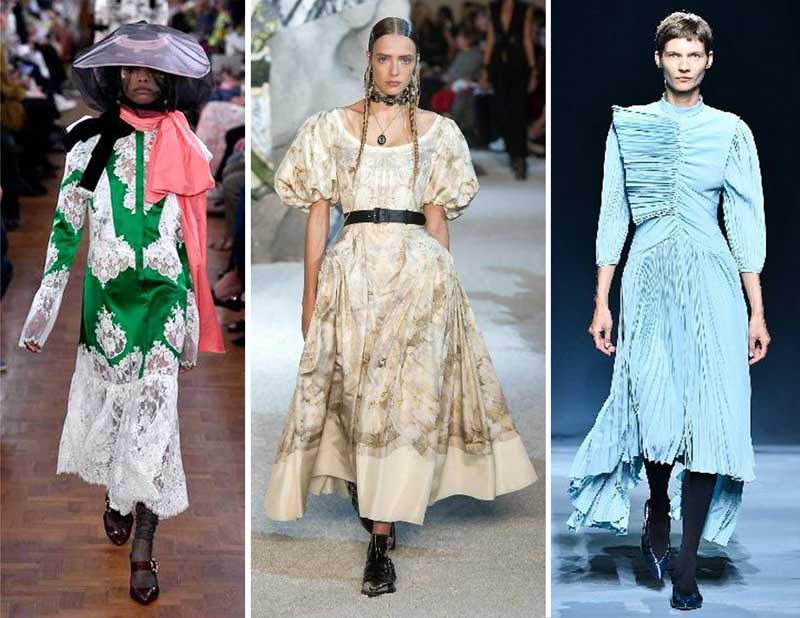 Lace at Erdem, Prarien luxe at Alexander McQueen, Ruched and rugged at Givenchy
"The comfort of nostalgia is a powerful influence right now — as always happens in times of socio-economic uncertainty," according to Emily Gordon-Smith of the trend forecasting company Stylus. Just look at how the '80s references keep recurring. Alexis Carrington Colby Dexter with her power shoulders is a reassuring image despite and because of her bitchiness. It may be the only way to cope with all the aggression and madness in the world. Balmain's voluminous pleated fan dress and Rick Owens' sculptural leather armor top are reminiscent of' 80s stars Claude Montana and Thierry Mugler. Other vestiges of the decade of greed can be seen in the prevalence of neon shades from House of Holland's fuchsia gowns to Versace's neon green cocktail dresses and Preen's lace sheaths in aqua. For a subtler take on the '80s, there's the return of bleached denim in dresses by Proenza Schouler and as a cropped jacket at Off-White paired with swimming pool blue satin trousers.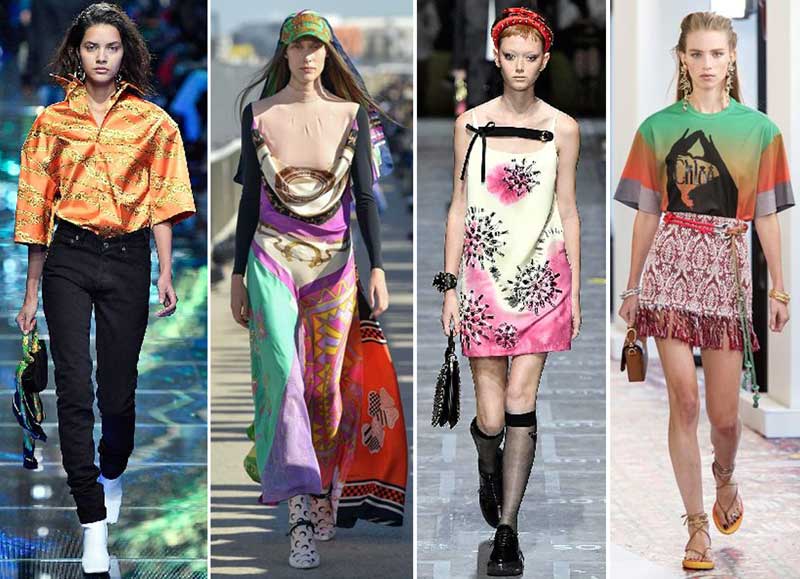 New tailoring: Balenciaga, Reassuring nostalgia: Marine Serre, Prada and Chloe
The '70s is just as ubiquitous with all the boho and hippie incarnations. Tie-dye is big this season but juxtaposed with other patterns like snowflake medallions at Prada and kaleidoscope florals at Dior. The print-on-print designer silk scarf gives boho an uptown lift, multilayered at Versace and mixed with wetsuit neoprene at Marine Serre. The '70s DIY preoccupation with craft is also a major trend with macramé net dresses at Altuzarra embellished with shells. The beach, in fact, is a happy memory that keeps recurring with sunny resort shades like terracotta mixed with wine at Valentino, surfer shirts mixed with brocade mini skirts at Chloe and for a hint of danger there are "Jaws" singlets layered with printed dresses at Calvin Klein. For an even more nostalgic journey, there are vintage vacay looks of the '50s with postcard prints at Isa Arfen and the folksy souvenir appliques at Stella Jean.
Embracing femininity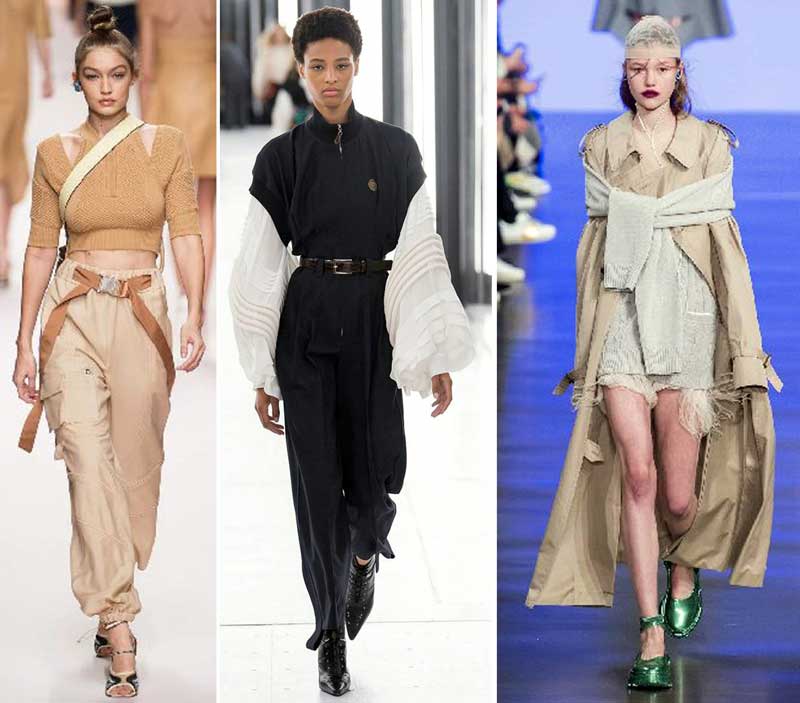 Sweet liberation: Fendi, Louis Vuitton, and Maison Margiela
It's not all nostalgia for 2019, however. "One of the biggest trends we saw during the shows was the overarching theme of the real woman; a welcome return to femininity, women empowerment and wanting to dress for yourself by feeling confident and comfortable," observed Elizabeth von der Goltz of Net-a-Porter. Perhaps the ultimate symbol of the eternal feminine is the ballerina, which was a key inspiration at Dior where leotard tops were paired with voluminous skirts and at Stella McCartney and Chanel with wide-leg trousers. Off-White transformed the tutu into asymmetric cascades of tulle. Tulle went even more haywire, all dolled up at Rodarte. This season, you can be as fanciful as you wish, with layers and frills. Ruffles are huge at Marc Jacobs, off-kilter close-to-the-body at Simone Rocha and have a rocker Prince vibe at YSL where they peep out as cuffs from a red velvet cropped jacket. Bows are everywhere, even on accessories. They dominate the neckline on a Celine polka dot mini and less fussy at Emilia Wickstead. Feathers also give a dramatic flourish as seen in abundant high glamour at Marc Jacobs and sportier at Loewe. The feminine appeal of lace is always irresistible but this year, it is treated with a little more irreverence where it is sliced and reworked into masculine silhouettes at Christopher Kane and Erdem. The prairie dress appeals to those who want to dress casually but with a whiff of romance as seen in Alexander McQueen's aquarelle sepia print midi with puffed sleeves. A practical alternative to invest in would be a ruched dress, still romantic but hard-working, with a figure-enhancing advantage for the slim and a more forgiving stretch at the right places for fuller figures. Givenchy mixed the ruching with accordion pleating while Roksanda Ilincic went asymmetric and chose key accent points on the body.
Sweet liberation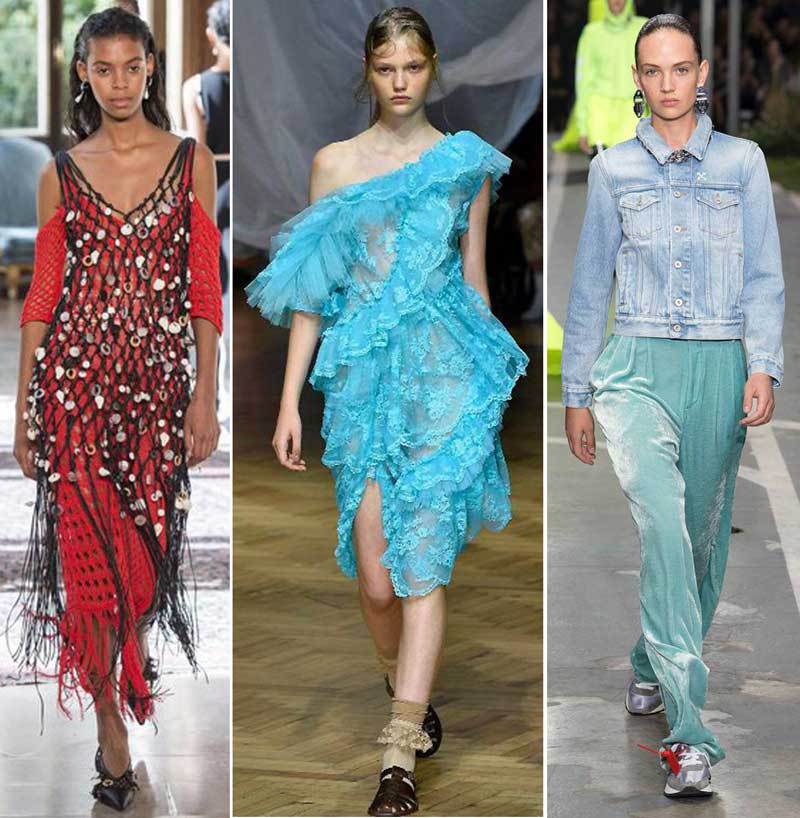 DIY sensibilities: Altuzarra, Preen, and Off-White
Ultimately, women would want to dress for a sense of freedom to be themselves and to be able to get on with their daily lives unencumbered. With global warming and a more active lifestyle, biker shorts are a major trend in many of the fashion houses, paired with blazers or sweatshirts. If the unforgiving elasticity is too much for you, go for the duchesse satin board shorts in muted jewel tones at Prada. Utility is also a big theme with the appearance of boiler suits, combat trousers and utilitarian jackets. Fendi employs the utility of safety belts while still maintaining a feminine allure while Givenchy's boiler suit stays elegant with a lapeled suit top. Beige and earth tones like sand and oatmeal are all over the runways, often worn head to toe for easy, functional fashion. Maison Margiela's ensembles may look neutral in color but have intricate cuts that integrate the pattern of one garment into another. Although there is a predilection for relaxed fashion, sloppiness is a no-no with the preference for a new tailoring characterized by a sharper silhouette like tailored trousers with a loose but properly cut top at Givenchy and Balenciaga where the look was softer than a suit but still pulled together. Ease and freedom may be desirable but ultimately, dressing up is all about looking and feeling good.