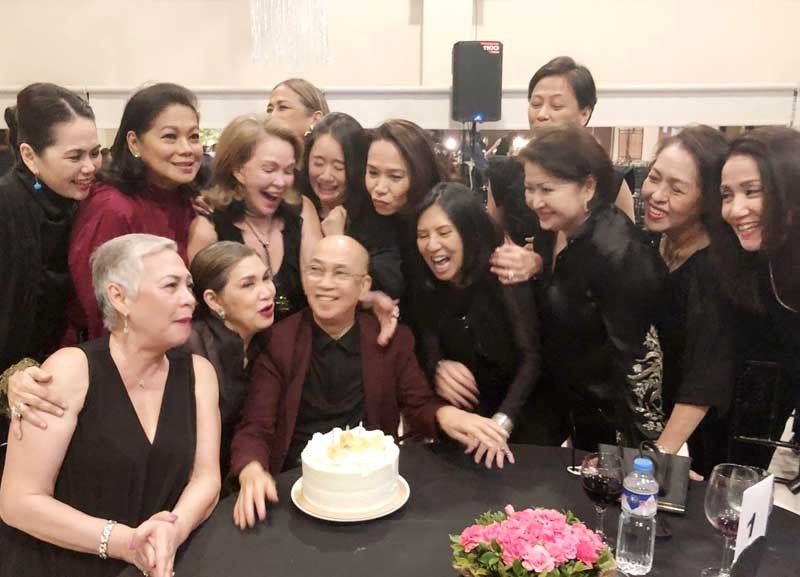 Seated: Malyne Fernandez-Lorayes, Celine Magat Lopez, Cesar Gaupo. Standing: Suyen Chi, Desiree Abesamis, Henri Calayag, Wanda Louwallien, Ella Mercado, Myla Javier-Aexel, Lulu Tan-Gan, Izza Agana, Charito Aguilar, Mary Grace Sanchez
Cesar Gaupo's birthday dance made us laugh, in a black party that made us cry the morning after
Lulu Tan-Gan
(The Philippine Star) - January 23, 2019 - 12:00am
The morning after his party, I messaged Cesar that Henry Sy Sr. had passed away. He didn't reply. He, too, died peacefully in his sleep.
Last Jan. 18, Cesar threw a birthday party, asking guests to come in black chinoiserie. I wasn't sure that I wanted to wear black for his birthday. Then I thought: I should not overthink. Just follow. Surrounded by his closest friends in fashion, his family members and his Christian friends, he was equally joyful in receiving each and every guest.
During the party Danny Mercado, his partner in business, and Tonette Salcedo, an old-time friend, sang for him. Asked if he could sing, he said: ''I'm a dancer!" So, we egged him on to dance.
His dance performance was greeted with laughter though he complained of tiredness after.
The night was filled with music and laughter as he went on from one table to the next.
He took time to express his reasons for being happy with the different groups that were present: designers, models, his SM boss Tessie Sy-Coson, Betty Sy, Christian friends and his immediate family.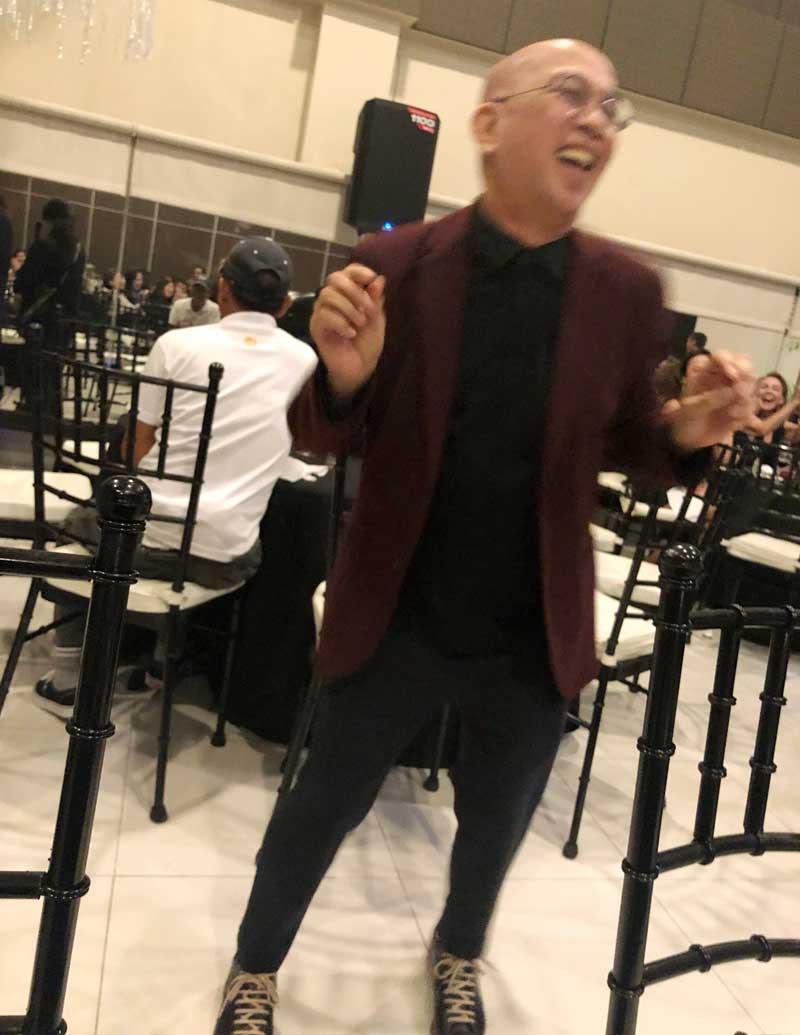 Cesar Gaupo: ''I'm a dancer!''
We parted happy that night. He hugged me so tenderly and was sentimental about moments we had spent.
The next morning, I messaged him regarding the demise of Henry Sy Sr. He didn't reply. Little did we suspect that he, too, had peacefully died in his sleep.
While we shed our tears and mourn for the unexpected loss of our dear Cesar Gaupo, there is no doubt in my mind that the angels in heaven must be roaring with laughter at the arrival of Cesar. Cesar was a beam of light and force of joy that left a trail of laughter and tears - from too much laughter. Every encounter with Cesar was memorable because he had a way of making us — each one of us — laugh and feel good.
Cesar Gaupo and I went back a long way. Every decade since the late '70s we kept in touch personally and professionally. In the '70s we quickly became friends during our creative tenure and beginnings at Shoe Mart as fashion designers. In the '80s he designed my wedding gown and we spent many weekends at the beach together with my family. At that time we also frequently traveled together to Europe to exhibit our designs during fashion weeks. In the '90s, we grouped together for the sector in hopes of paving the way for future designers when we created the fashion councils FDAP, FDG and FDCP. Through the years we created and judged several fashion competitions and presented at several group fashion shows. Our last show together was the Salon 2015 at the Samsung Hall at SM Aura.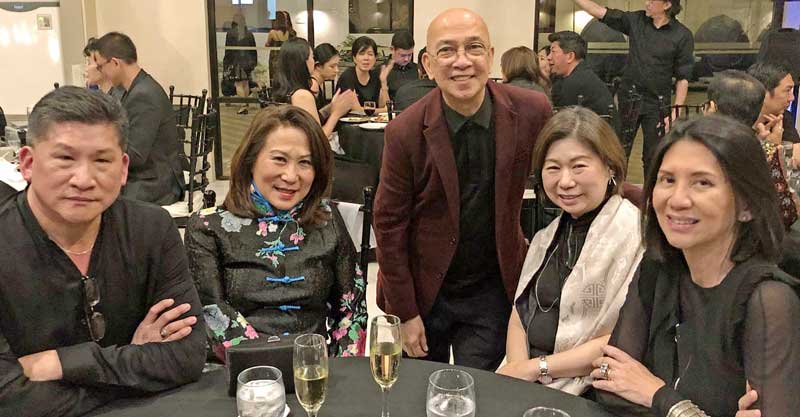 Cesar Gaupo with his beloved SM boss Tessie Sy-Coson, and Betty Sy, flanked by SM stalwarts Tonichi Nocom and Lulu Tan-Gan
I miss Cesar, I am broken. Cesar was my idol, my icon, my couturier, my mentor, my comfort and bagets friend, my comediante, tita and lola to my grandkids. He inspired me to become a fashion designer.
Cesar was genuine and humble, kind and caring, gentle and spiritual, always joyful, real and really funny. He was always truly young at heart. He was a big part of my life. I had not shed tears in plenty of years up until I heard the news of his departure. I wish that he could hear me because I've never ever expressed myself to him — we were always too busy laughing and having a good time.
I wish I could thank him for that last goodbye kiss and hug, that came with thoughtful words the night before we parted at his last birthday party.
Cesar was a great couturier. Already known in the '70s as one of the best Filipino couturiers, he spearheaded the RTW (ready-to-wear) Filipino fashion in the '70s. This was, in particular, at Shoe Mart (later transformed into SM Department Store), working under Tessie. At that time, Shoe Mart was a new department store known for fabulous window displays and setting local trends.
Cesar was always quick to adapt to changes. His style was timeless and will always remain relevant. His designs transcended trends.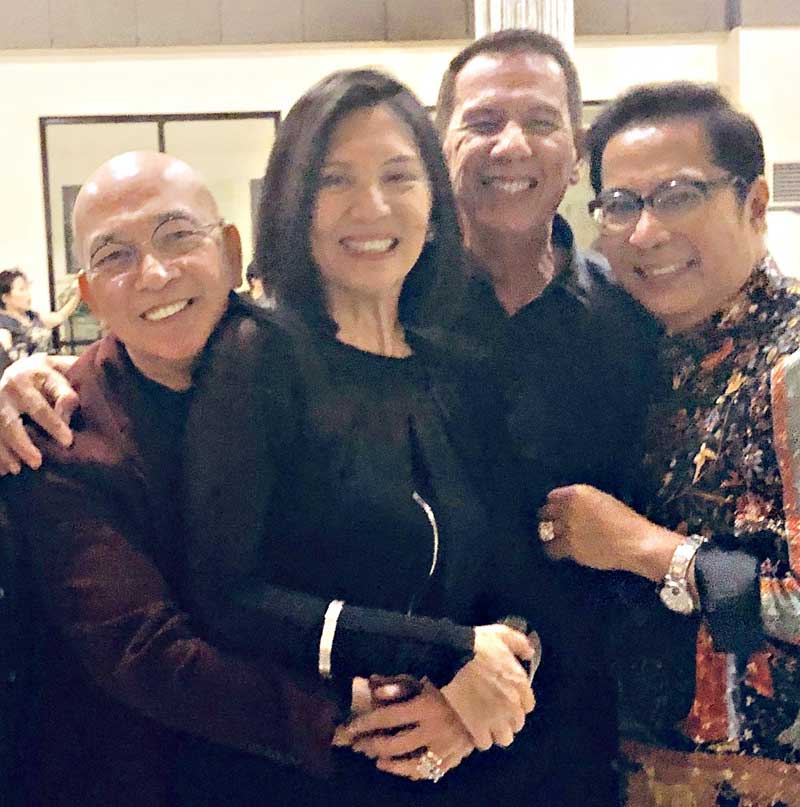 Cesar Gaupo, Lulu Tan-Gan, Mike dela Rosa, Danny Dela Cuesta
He kept it elegant by avoiding ostentation. Cesar was also a sculptor, shaping and draping fabrics, as this was his unrivaled strength. Yes, unrivaled. Cesar was a mover, definitely an inspiration to us designers. Being a low-key designer, he didn't think his fashion was an element of social status but more an expression of his client's personality. And that was his success. Cesar was my creative hero.
He was the lone couturier of Tessie Sy-Coson and a close family friend of the Sys. Cesar loved to joke. And maybe his words came true. He was asked "Sino pipilian mo sa mga anak ni Mr. Sy?" Cesar quickly replied, "Eh di siempre, si Tatang Henry Sy Sr., no less at siya ang pinaka magaling." By a strange coincidence, he passed away on the same morning as his idol Tatang Jan. 19.