FULL LIST: Filipino designers, trainers behind Miss Universe 2018 contestants
December 14, 2018 | 9:13pm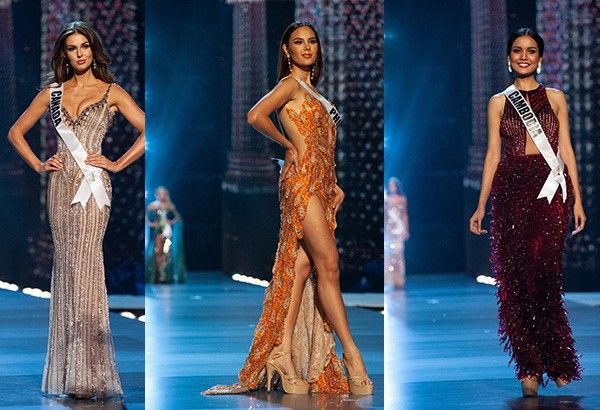 THAILAND — Besides Miss Philippines Catriona Gray, who wore a Mak Tumang creation inspired by the mythical bird Ibong Adarna, there are other Miss Universe candidates who tapped Filipino designers to create their evening gowns and national costumes for the pageant.
Marta Magdalena Stepien, Miss Universe Canada 2018, competed onstage in her evening gown by Filipino Dubai-based designer Michael Cinco during the Miss Universe Preliminary Competition at Impact Arena in Bangkok, Thailand, on Thursday, December 13.
Stepien will reportedly change to another Cinco couture dress for the finals on December 17 since she got two or three gowns from the designer's Dubai atelier for the pageant. The gowns reportedly came from Cinco's recent "Impalpable Dream of Persia" collection. Cinco is expected to watch the finals in Bangkok.
Besides Stepien, Miss Nepal Manita Devkota will reportedly wear a gown by Filipino designer Albert Andrada for the finals night. Andrada famously made Pia Wurtzbach's iconic royal blue gown when she won Miss Universe in 2015.
Pageant fans have also observed the surge of fringe dresses as a popular evening gown choice among candidates this year, a trend arguably started by Filipino designer Rhett Eala for Miss Universe Philippines 2016 and top 6 finalist Maxene Medina.
Miss Ecuador Virginia Limongi (who wore a gown by Filipino designer Mark Bumgarner during the evening gown portion) and Miss Nepal (who wore a Bea Bianca Mackey creation) reportedly trained in the Philippines.
Miss Cambodia Nat Rem (who wore a creation by Filipino designer Rian Fernandez) was also reportedly taught by another Filipino, Miss Cambodia pageant's national director Romyr Abello Libo-on.
While French-Filipina designer Monique Lhuillier sits in the all-women selection committee, Filipino designers made the Miss Universe stage their own runway showcase.
Miss Japan Yuumi Kato wore Joel Escober, Miss Guam Athena Su McNinch wore Paolo Blanco, Miss Kenya Wabaiya Kariuki wore Jian Lasala, Miss Belize Jenelli Fraser wore Joey Galon, Miss Nicaragua Adriana Paniagua wore Benj Leguiab IV, Miss New Zealand Estelle Curd wore Sydney Eculla and Miss Malta Francesca Mifsud wore Ivanka Hipolito.
Miss Mauritius Varsha Ragoobarsing will reportedly wear Kirsten Regalado during the finals. Regalado also did the national costumes of Ragoobarsing and Miss Iceland Katrín Lea Elenudóttir.
Another Filipino designer, Edwin Uy, created the national costume of Miss Guam.
It was Andrada who started this universal recognition of the Filipino design talent when he created the "Pia Blue" gown.
"I am so happy and proud of all the Filipino designers, that this is happening. We should continuously bare our being Filipino whatever we do and wherever we are. Let's all support one another to further establish ourselves in the global platform. Let's all do it not only for ourselves but for being a Filipino and not to forget to pass it on to the next generation," Andrada told this writer in an interview.
The Miss Universe contestants have been touring, filming, rehearsing and preparing to compete for the Miss Universe crown on December 17 in Bangkok, Thailand.