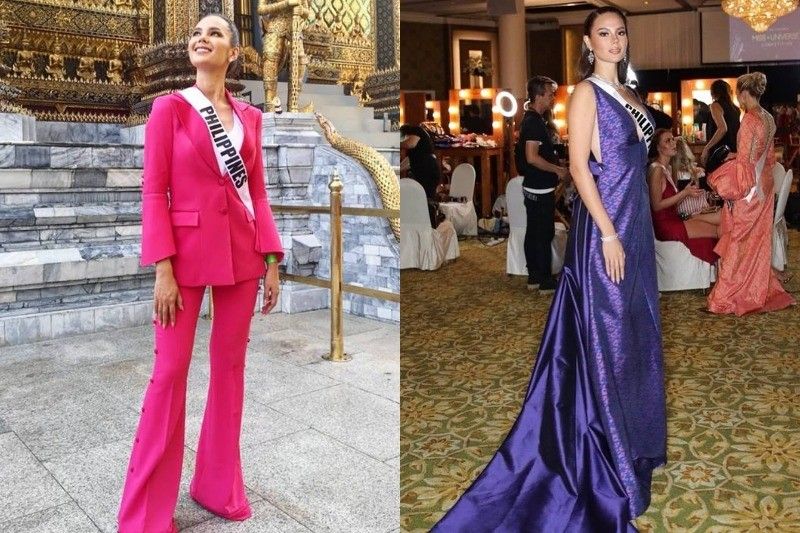 In this composite photo, Philippine representative Catriona Gray visited The Grand Palace in Bangkok, Thailand and attended the Thai night.
Facebook/Catriona Gray
Vogue Thailand features Catriona Gray's looks for Royal Palace visit, Thai night
MANILA, Philippines— Vogue Thailand featured Philippine bet to Miss Universe 2018, Catriona Gray, on its Instagram account.
Gray made it to the Instagram feed of Vogue Thailand after the Miss Universe candidates visited The Grand Palace in Bangkok, Thailand and after she attended the Thai night, where the beauties promoted Thai silk.
The Bicolana beauty sported a pink suit designed by Erwin Flores when she visited the royal palace.
She also took a photo with other beauties like Colombia's Valerie Morales, South Africa's Tamaryn Green, Thailand's Sophida Kanchanarin, and Japan's Yuumi Kato.
According to the organizers, the Miss Universe candidates witnessed Thailand's traditional arts and cultural architectures built during the founding of Chari Dynasty's capital city.
They added that the Miss Universe bets also went to the Temple of Emerald Buddha within the precincts of the Grand Palace. They also paid respect to the city's most sacred Buddha image for prosperity in life and success in the competition.
Meanwhile, during the Thai night held on Wednesday evening, Gray donned a purple v-cut silk gown designed by Asava Group. This was also featured by Vogue Thailand.
Asava Group also featured Gray on its Instagram account as she graced the Thai night and posed with her elegant look.
The organizers said Miss Universe wore silk dress collections from Thailand's greatest designers to promote Thai culture.
"I'm so passionate about Filipino fabrics, so I love that we were able to celebrate craftmenship and locally made fabrics of Thailand," Gray said.
Gray is currently in Thailand to compete for Miss Universe 2018. The coronation night will be held on December 17 at the Impact Arena in Bangkok.