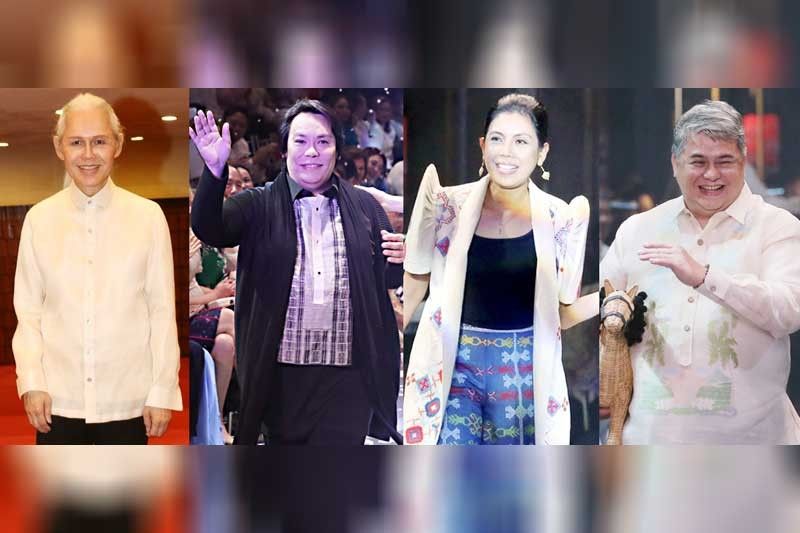 Ternos designed for the Filipina today
For the culminating event of Bench and the Cultural Center of the Philippines' 2018 iteration of the Ternocon, the prime seats of the CCP Main Theater are empty. That's because the decadent trains and ripples of taffeta donned by hovering mannequins leave little room for anybody else as the space occupies Inno Sotto's terno exhibition. Inno, the Ternocon chief mentor laments the butterfly sleeves have been shrinking, signaling the terno's path to extinction — so, he responds with ternos that are bigger, bolder, and more grandiose than anything that's been made in recent years. Floating over guests in contemporary looks like skinny pantsuits with flattened terno sleeves, Inno's sleeves appear even larger as each mannequin appears to float with the aid of panuelos in cape-like proportions instead of near-invisible nylon threads. Here, Inno references the late Imelda Ongsiako Cojuangco and a time long gone by.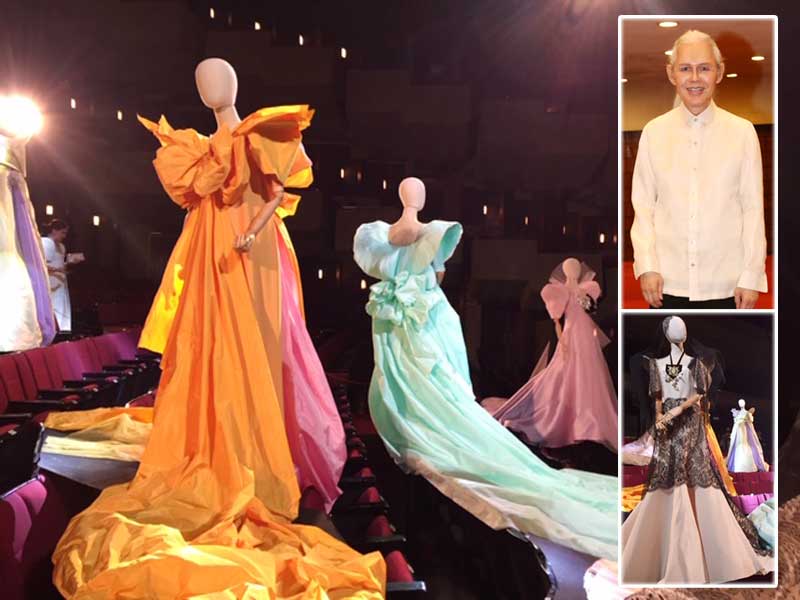 "Untitled Exhibit" - Inno Sotto makes ternos more grandiose than anything made in recent years.
It could feel alienating — or it could be aspirational. Fittingly, they are meant to be looked up to.
Led through the seats to watch from the Main Theater stage, the audience sits in bleachers underneath the warm glow of capiz chandeliers. Showing up in a terno, you feel as though you are part of the show.
* * *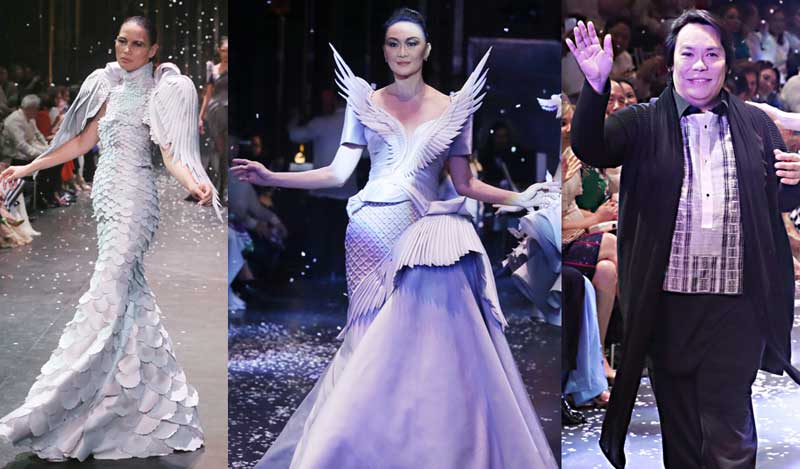 "Aviary" - Cary Santiago is like a bird whose career has reached greater heights.
Now the chandeliers have descended on cue; they have been slightly dimmed. It's time for Visayas mentor Cary Santiago's butterfly sleeves and other winged creatures. Model Ria Bolivar glides in the first look to a gentle rain of confetti, her every step and gesture deliberate. Her mermaid bodice is covered in manipulations made to appear like feathers. Her sleeves are birds. Marina Benipayo follows, graceful as a swan in a ball gown with more traditional butterfly sleeves but with a bodice and skirt sculpted with feathers.
Cary is like a bird whose design career has reached great heights, flying all the way to the Middle East, and in 2004, he chose to soar even farther from his nest. "Aviary" is Cary revisiting his fascination with winged creatures but it's also his love letter for the Filipina, something he shares with the rest of the mentors -- to take flight, to be free.
* * *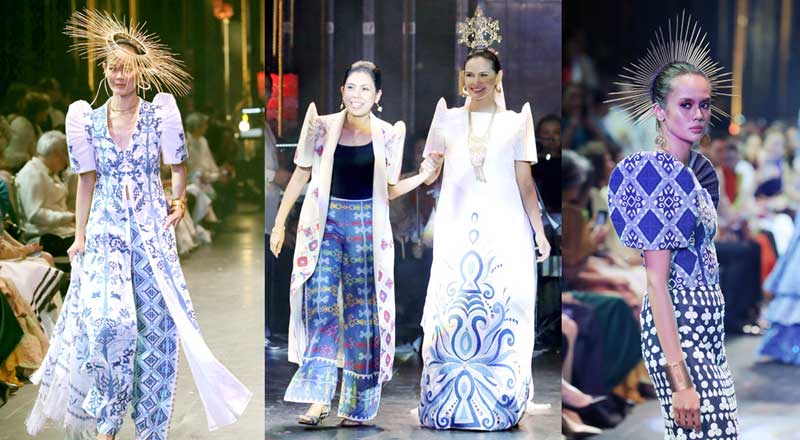 "Talang Silanganan" with jewelry by Natalya Lagdameo - Len Cabili remains true to her heritage and identity.
Ternocon 2018 presents the Filipina with all the possibilities that she can be, while remaining true to her heritage and identity. In her first collection of ternos, Mindanao mentor Len Cabili pays homage to the women of Philippine folklore — the strong, wise figures who preceded the submissive, meek femininity that the Spanish occupation lauded. While her mother owned a beautiful collection, the terno is not part of the Mindanaoan regional dress, nor was it a silhouette included in the ready-to-wear offerings of her 10-year-old line Filip + Inna until recently. But the way the terno makes a woman stand tall complements her vision of what it means to be a woman. Headpieces depicting the sun's rays are worn like saintly halos, all by Natalya Lagdameo punctuate that she is worthy of reverence in a juxtaposition of predominantly Muslim textile codes and the Catholic imagination. With ball gown looks, the Reyna Elena comes to mind. (Len hails from Iligan City, where Muslims and Catholics peacefully coexist.) Model and photographer Joan Bitagcol opens the show with a slitted tunic in embroidered Luhol tapestry by the Tausug from Jolo, accentuating her androgynous swagger. Embellished pants highlight her every confident stride. A veiled Tweetie de Leon closes the show with a gown worthy of the Mother of Christ.
* * *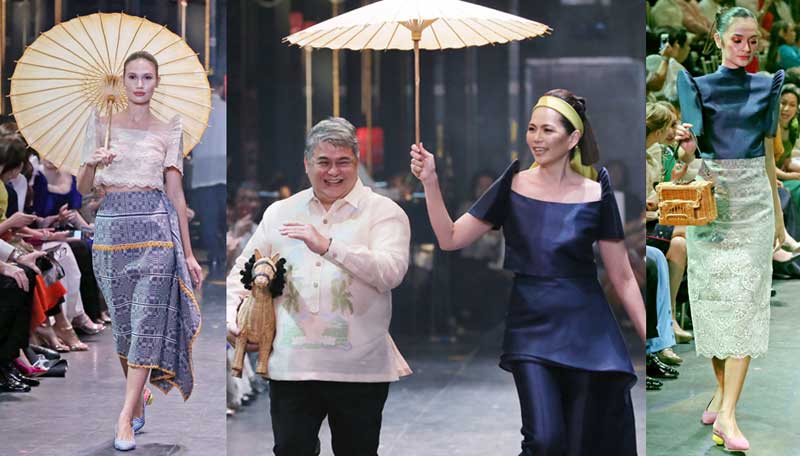 "Jessica" with bags and shoes by Zarah Juan - JC Buendia, inspired by a young Audrey Hepburn, makes ternos more accessible.
Luzon mentor JC Buendia created his collection of Balintawak ternos -- a dress code that could easily translate to today's cocktail attire -- to make it accessible to a new generation of wearers, turning it into a two-piece ensemble, not necessarily matching. In one look, he pairs a high-neck blusa in silk gazar with a wrap skirt in Inabel weaves. All are in a gamine silhouette that accommodate the mobility required of modern living and even the constrained spaces in urban spaces for storage. But the fantasy of each piece remains. Inspired by the young Audrey Hepburn in Roman Holiday, the circle skirts like that on Sabina Gonzalez are fitting for a young royal playing hooky for a day that will change her life. Zarah Juan's jeepney, sorbetes cart, and carabao rattan bags are fitting companions, and so are her trumpo heels. Eighties supermodel Suyen Chi cheekily holds a parasol over JC's head as the designer takes a bow. Together they flit off into a near future where the Filipina chooses to wear her cultural identity because it finally matches her reality.