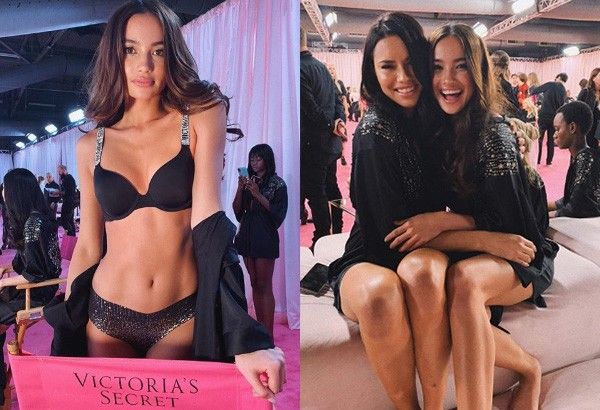 Filipina Victoria's Secret Angel Kelsey Merritt (left); Kelsey with Adriana Lima (right)
Screenshots from Instagram/Kelsey Merritt
Kelsey Merritt finally walks as first Filipina Victoria's Secret Angel, poses with retiring Adriana Lima
MANILA, Philippines — After months of photo shoots, physical training and other preparations, Filipina model Kelsey Merritt has finally made it to the runway as the first ever Filipina to become part of the world-renowned Victoria's Secret Fashion Show held in New York.
On her Instargam account, Kelsey gave updates on the show. She also posted a photo with retiring VS model Adriana Lima.
"Growing up watching the @victoriassecret fashion show, I wanted to be like @adrianalima! She is such an inspiration. I can't believe I get to say I've walked the show with her and all the beautiful VS models!!!!" she captioned her photo with Adriana.
On her first post, Kelsey was wearing a black bra and a black shining panty. She captioned the photo: "IT'S SHOWTIME!!! #VSFashionShow"
On another post, Kelsey shared she was moved by a song from the first segment because she can relate to it.
"This song from first segment of the fashion show always brings me to tears... So powerful. 'When the sharpest words wanna cut me down I'm gonna send a flood, gonna drown them out. I am brave, I am bruised. I am who I'm meant to be, this is me'," she wrote.
Kelsey also posted a video of herself wearing the same outfit.
"About to do our second show!!!! Ahhhhh The energy here is crazy!!!! #VSFashionShow," she wrote.
Kelsey walked the runway with some of the world's most famous models, including Kendall Jenner, Gigi and Bella Hadid, to name a few.
The show will be aired on December 2 on ABC, with musical performances from Bebe Rexha, The Chainsmokers, Halsey, Rita Ora, Shawn Mendes, Kelsea Ballerini, and the Struts.