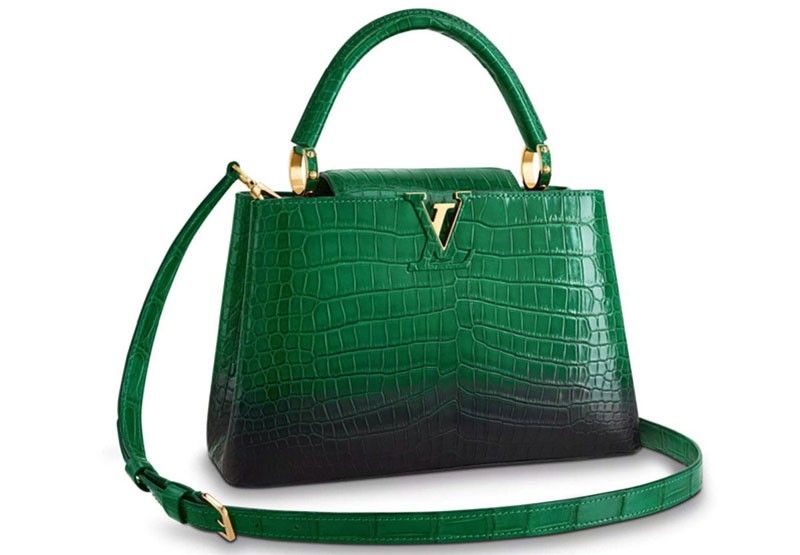 Louis Vuitton Greenbelt now accepts orders to custom exotic leather handbags. The most popular color globally is emerald, as seen on this Capucines in gradient brilliant-to-matte finish.
Louis Vuitton Greenbelt now carries exotic leathers
If you can dream it, you can have it," says Louis Vuitton Philippines exotic leathers expert Keon Tan, as he holds a navy croc skin Minaudiere V, custom-made for a client. Louis Vuitton Greenbelt is now part of an exclusive network of boutiques around the world that accepts orders for made-to-order bags made of exotic leather.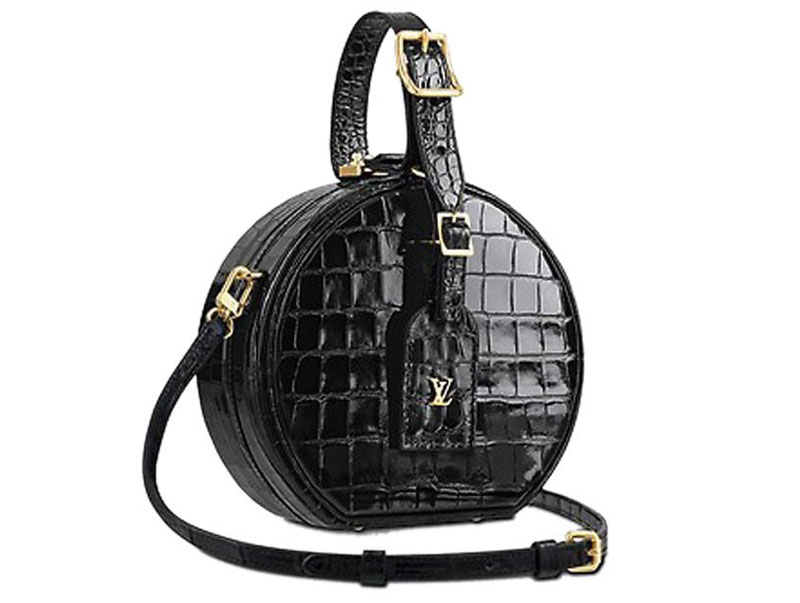 The newest style in the Louis Vuitton family is the Petite Boite Chapeau. Production time is longer for this design as the artistans are still new to it.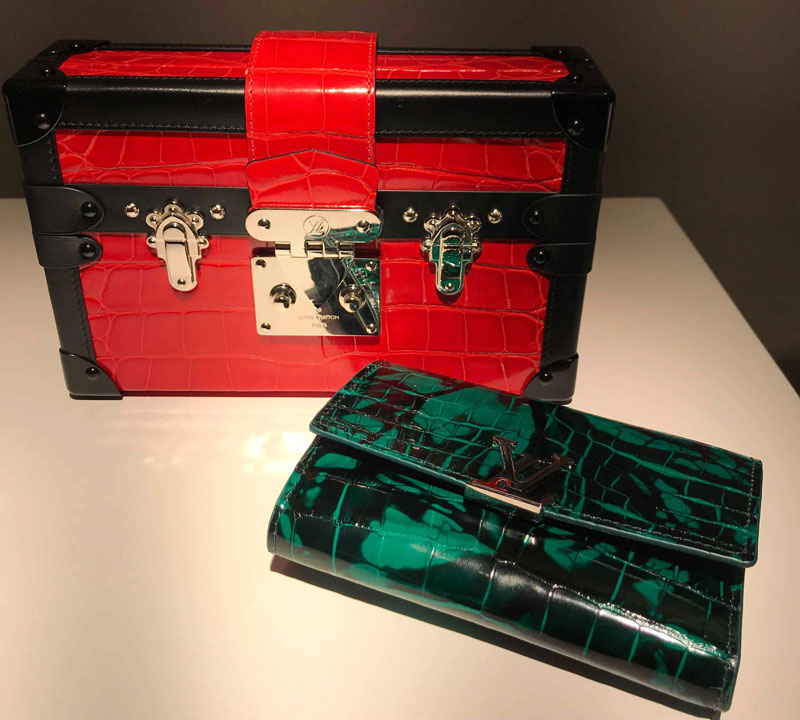 Crowd favorites Petite Malle and Capucines wallet in Shibori finish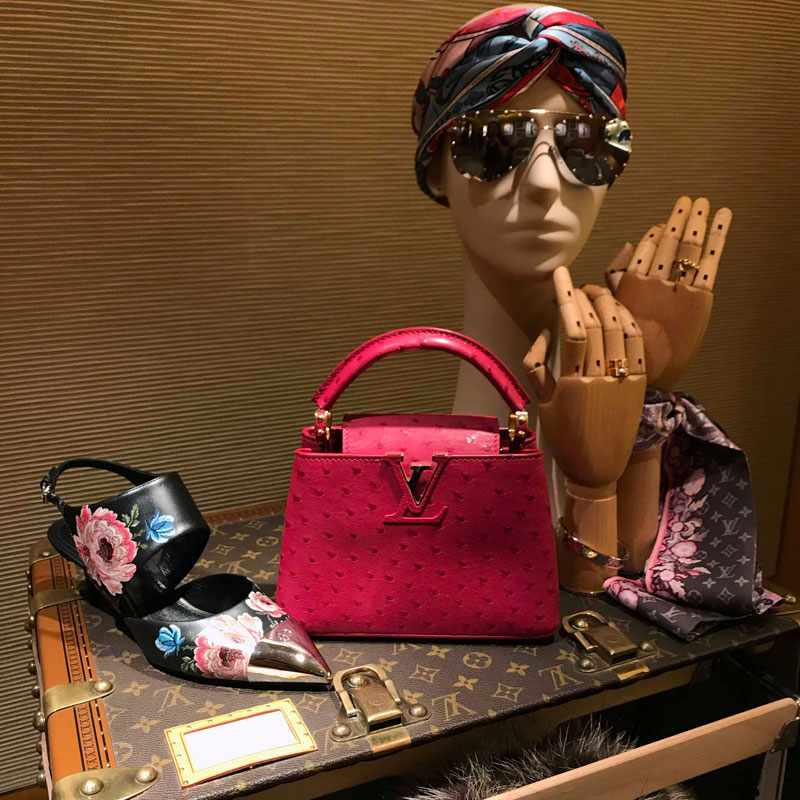 Autruche skin Capucines Mini on a Louis Vuitton Trunk
Currently, the Greenbelt boutique offers customers 17 colors to choose from. The rest of the 24 shades will follow soon. There are two permanent finishes available: brilliant and matte, however, just for this season, Louis Vuitton is also offering an ombre effect, as seen on the emerald Capucines in-store, which goes from brilliant to a matte noir. It is priced at P2.4 million.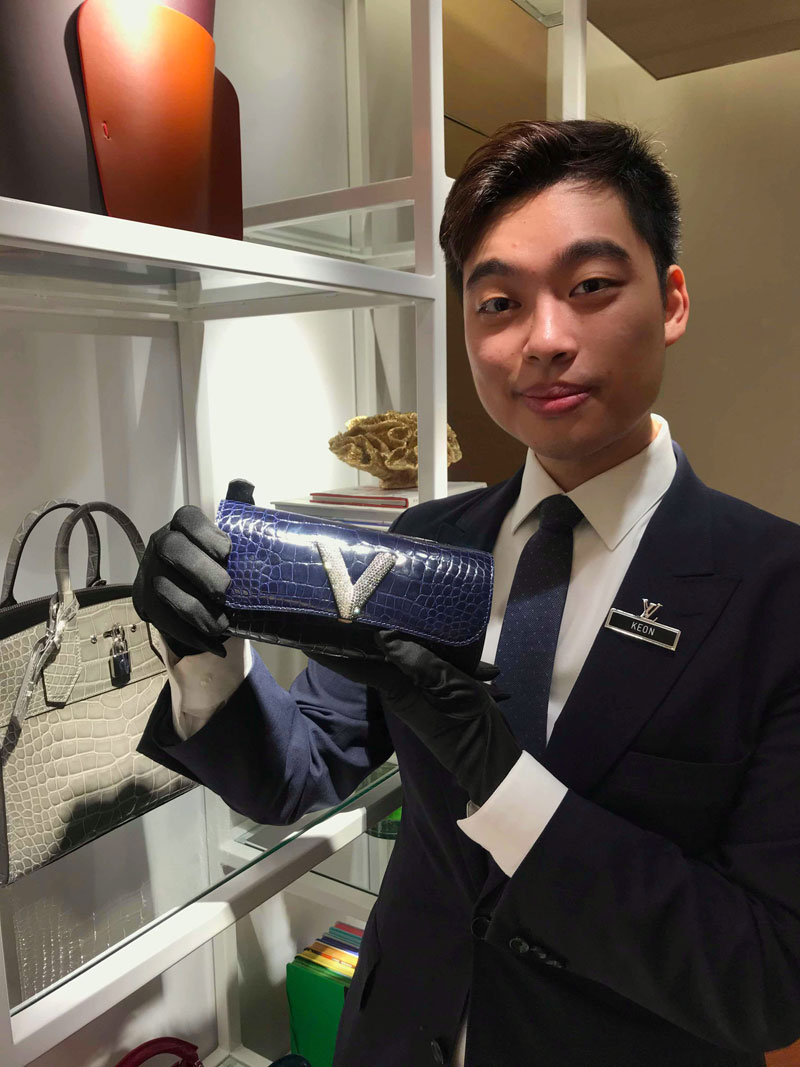 Louis Vuitton Philippines exotic leathers expert Keon Tan holds a custom-made Minaudiere V in Saphir croc skin.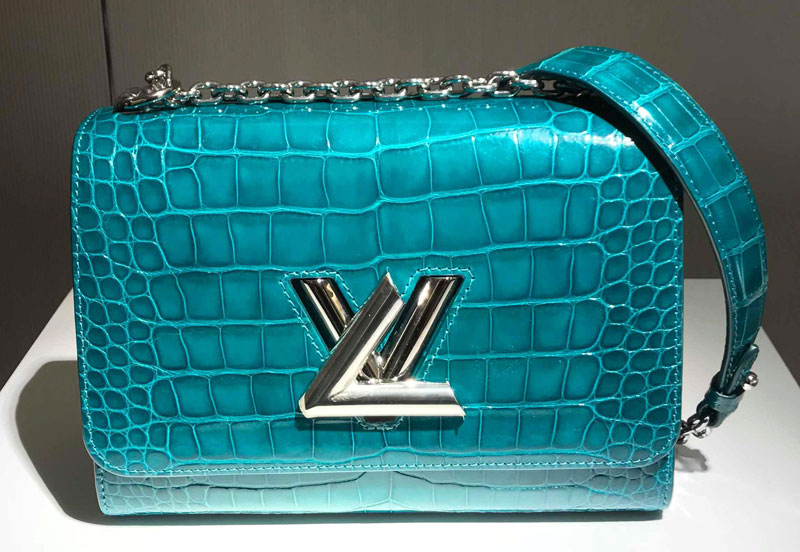 LV Twist in Bleu Canard croc skin: It is lined with luxurious goatskin and features the distinctive Capucines flap.
"Everything will take about 100 days for production," says Tan, save for a few pieces that require longer lead time, such as the Petite Boite Chapeau or Mini Hatbox, and the special Shibori on exotic leather finish. "For the Mini Hatbox, it's 160 days because the artisans are still new to the design." For the Shibori finish, it may take longer.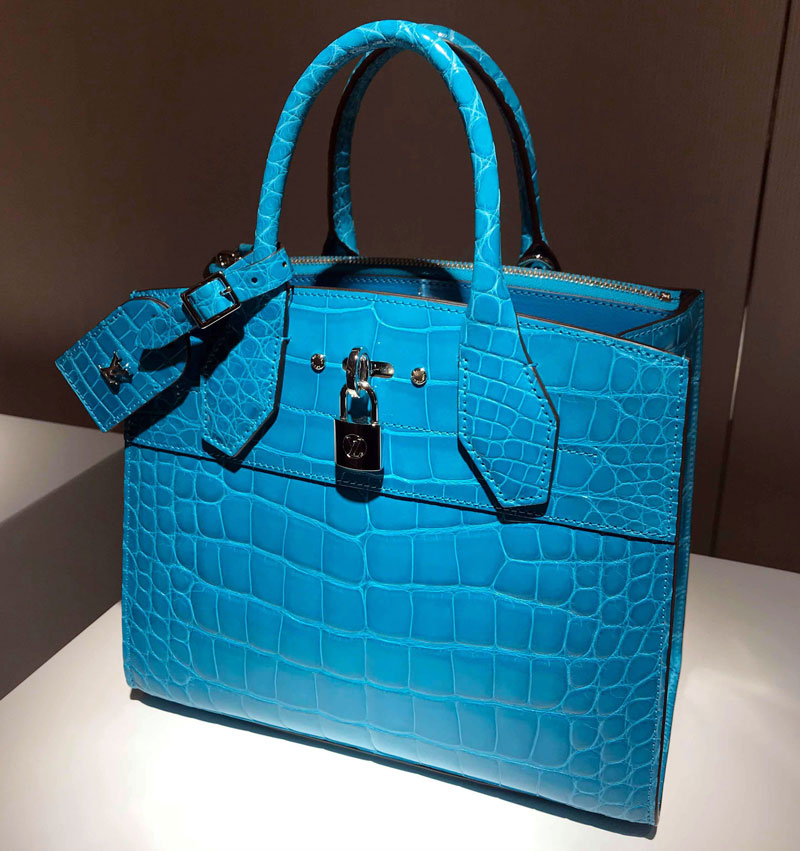 Louis Vuitton's popular City Steamer — the front and back of the bag is made of croc belly skin, while the sides are made from the tail.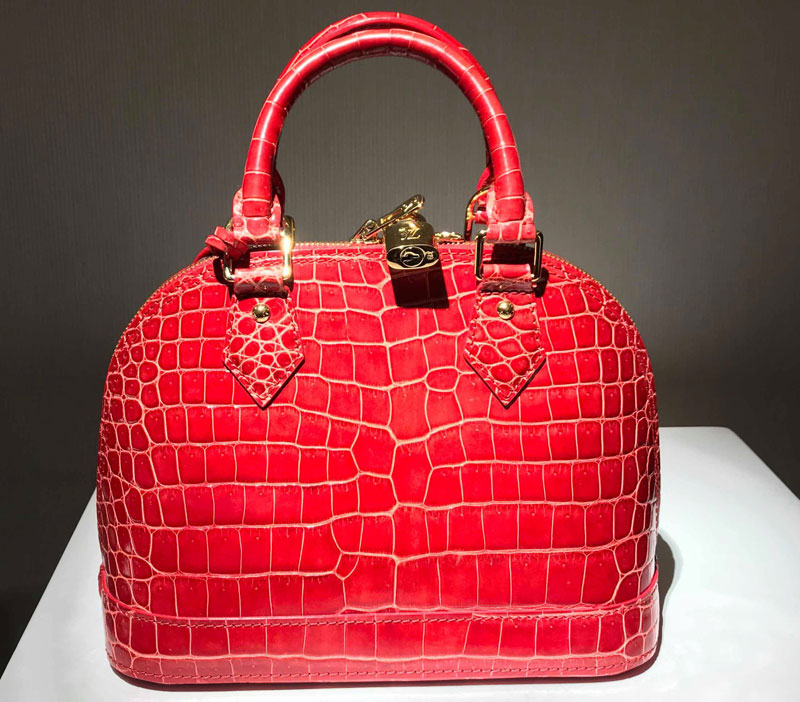 The Alma BB in porosus leather
According to Tan, Louis Vuitton Greenbelt offers top-of-the-line crocodile porosus leather, which is rare and more expensive because of its pattern and reproduction rate, which is at six percent of the world's crocodile population. "In 2011, we got a new tannery in Singapore, where we always have first priority on skins. We always pick the skins with less to no bites or less to no scratches, so all our skins are of premium quality," he says.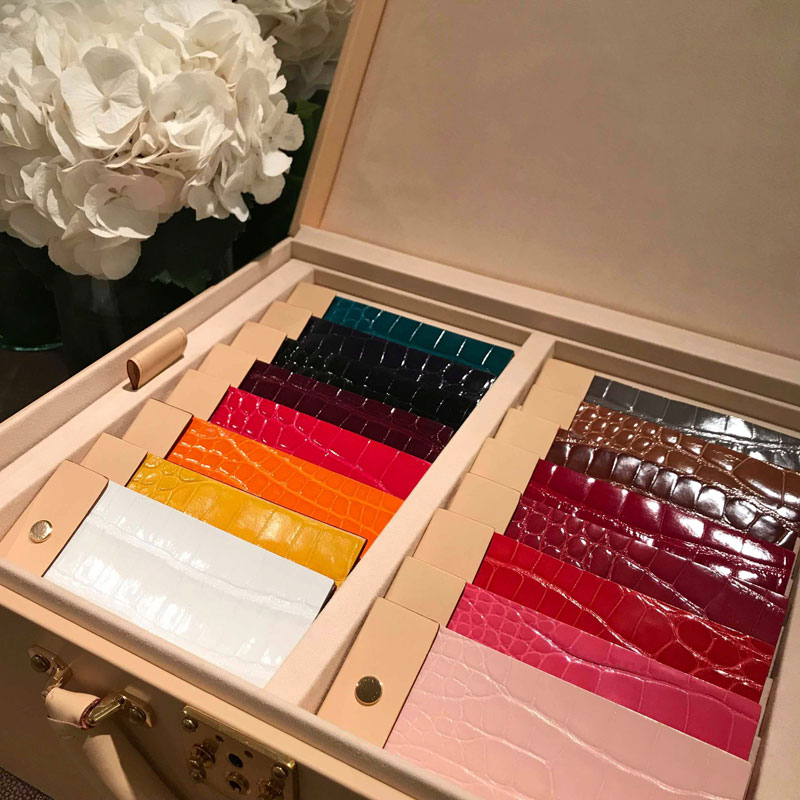 There are currently 17 swatches available to choose from at the store — more to come in the next months.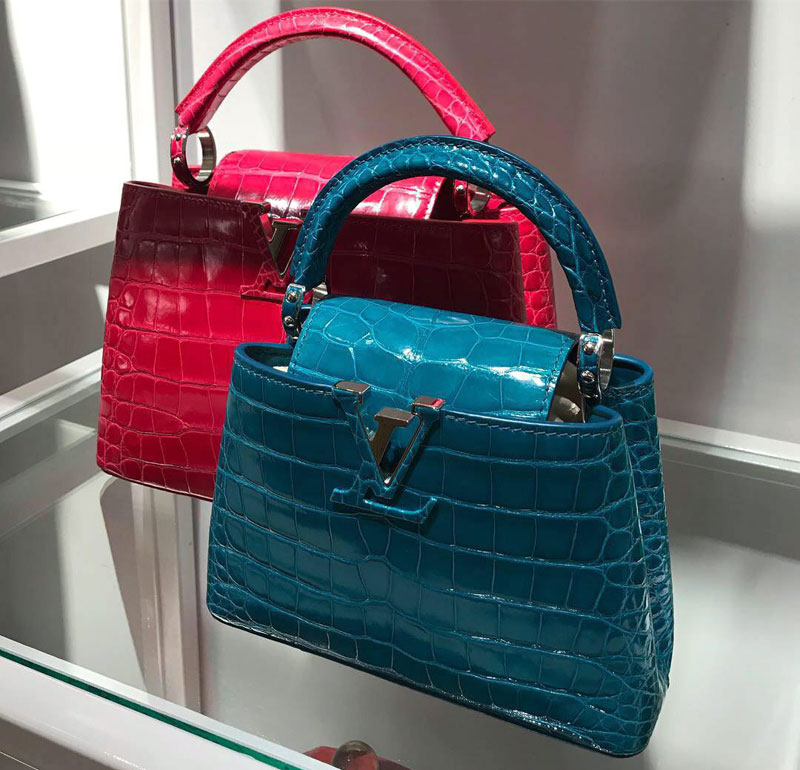 Capucines Mini in croc leather
If you take a close look at any exotic leather Louis Vuitton product, the leather is pristine. "The tail is what the crocs use to defend themselves, but you'll see that the tail part of our skins don't have any scratches. With a good croc, we only use the belly area, but for a better croc, we use the entirety of the skin and that's what we're aiming for."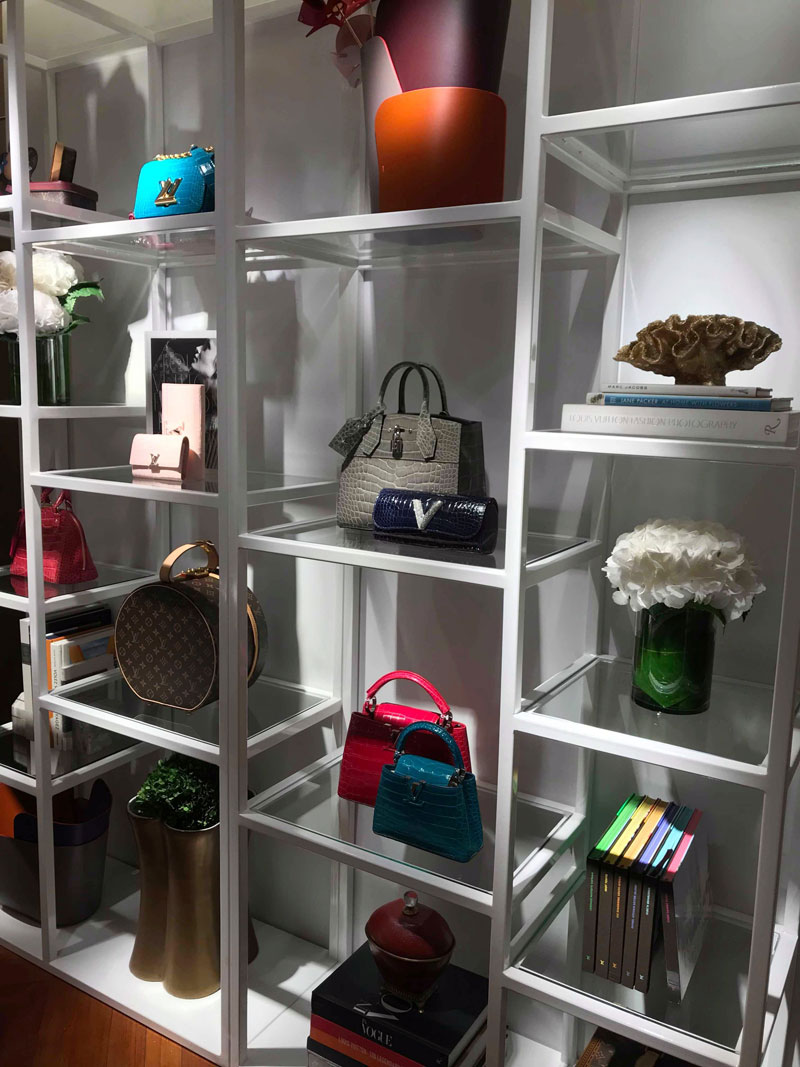 Shelfie goals at Louis Vuitton Greenbelt 4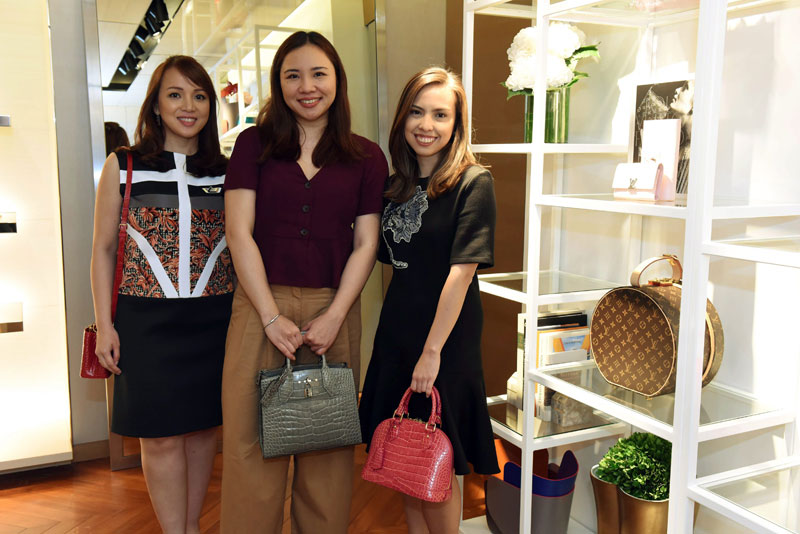 Louis Vuitton Philippines general manager Rhea Aguirre and PR manager Mary Reyes (carrying the Alma) and the author with a City Steamer in Taupe.
* * *
To order an exotic leather handbag, visit Louis Vuitton at Greenbelt 4, Ayala Center, Makati Avenue, Makati City, or call (02) 756-0637.